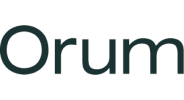 When Stephany Kirkpatrick was growing up in Portland, Oregon, her family wasn't well off. "My father was an immigrant from Yugoslavia, and we didn't always have a lot," says the 41-year-old, who is now based in New York. "We were constantly thinking about how to do more with less. It very much shaped who I am today." It's perhaps why she became a Certified Financial Planner—and also why that experience struck such a chord. It brought home the fact that financial infrastructure and services could often be exclusionary. And it made her want to do something about it.
In 2019, Kirkpatrick founded Orum. "The idea was: how can I help those who have less, have more?" She concluded that focusing on payments—solving people's money-movement problems—would make a notable difference. "For people in underserved communities, the inability to access money quickly is crippling. Oftentimes, the fastest payment rails are not offered by the smaller, community banks that serve these populations, so communities are left stranded on nights, weekends or holidays. For people that live paycheck to paycheck, faster access to their money could be the difference between avoiding overdraft fees or paying rent on time."
On some occasions, it can take days for money to move from one financial institution to another. Orum's fix is to analyze the available payment rails that a company or consumer might have access to, and select the optimal route for each payment—similar to how a cell phone might select the best carrier network to ensure the fastest connectivity. As a result, Orum is able to cut payment transfer times from days to minutes—or even seconds in the best-case scenarios. What's more, the platform runs all day, every day, so it is not restricted to bank operating hours or delayed by public holidays.
It was quite an undertaking. There are more than 11,500 financial institutions in the US, so figuring out how to connect them, determine which payments they accept, and then come up with a methodology to plan the smartest route was a challenge. Orum spent two years developing its proprietary software stack.
"For people in underserved communities, the inability to access money quickly is crippling."
But the opportunity, says Kirkpatrick, is enormous. At present there are 250 million households in the US that could use faster payments, yet only 61 percent of US instant-access deposit accounts offer them, according to The Clearing House, a banking association which operates payments infrastructure in the US. "Personally, I'm very motivated by the constant need to leave the world better than I found it," says Kirkpatrick. "There are hundreds of millions of Americans that can have access to a better financial system if we keep working on this problem." orum.io
BY J.P. MORGAN