Commercial Real Estate
Build to Suit's Evolving Role in Real Estate Development
Steve Van Amburgh, CEO of KDC, a national real estate developer, and David Arena, Head of Global Real Estate for JPMorgan Chase, offer insights on the past, present and future of build-to-suit corporate office projects.
---
The new JPMorgan Chase offices in Plano, Texas have everything from a backup child care center to a designated meditation area. These aren't standard office amenities, which is why the 50-acre campus was a build-to-suit (BTS) project, or a building constructed to meet the exact specifications of a particular tenant.
The Plano campus is one of many BTS projects JPMorgan Chase has worked on with national real estate developer KDC over the course of a 20-plus-year relationship. In that time, KDC's CEO Steve Van Amburgh has seen a lot of changes in the BTS market.
Similarly, JPMorgan Chase's Head of Global Real Estate, David Arena, manages corporate real estate around the world, including the firm's New York headquarters at 270 Park Avenue, a BTS office project currently under development.
I sat down with each of them to get their thoughts on BTS and how its decreased financial risk can benefit developers throughout the real estate cycle. We discussed everything from how to attract a new generation of employees to what great party hosts and BTS real estate developers have in common.
Why Choose Build to Suit?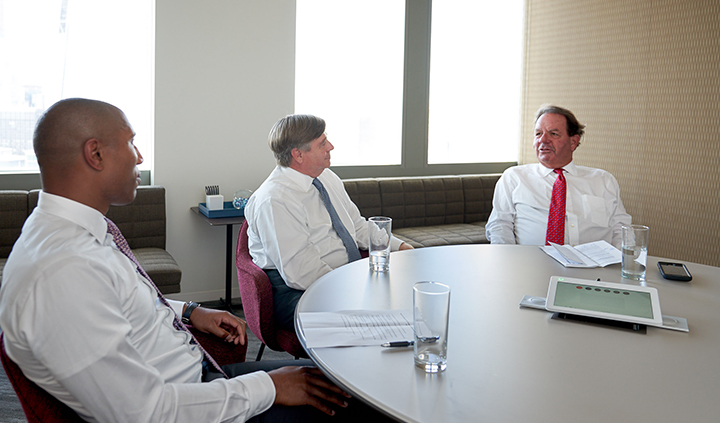 Tredway: I know that you've worked in build-to-suit development for decades, Steve. But if you're talking to a new entrant thinking about a build-to-suit office, how would you address risk?
Van Amburgh: When you build a spec, it's like the field of dreams: You build it and hope they will come. When the market softened about 20 years ago, borrowing money to build anything with any risk or speculation was difficult. So after evaluating our future, we focused entirely on the build-to-suit business.
Steve Van Amburgh, CEO of KDC
We need a lender that knows the tenant, sees our investment opportunity and is willing to be flexible through the process.
Currently, when we sit down with a prospective client's CFO we say, "We have a letter that essentially gives us the assurance that the bank is going to stand behind this project."
Tredway: David, why did the firm choose the build-to-suit strategy versus building a new structure via the standard model?
Arena: Ultimately, your surroundings impact people, both positively and negatively. If you agree with that, then you have to take a look at your environment.
Our building at 270 Park was constructed in the 1950s for a 3,500-employee chemical company. Today, we have a very different environment with 7,000 employees, so in many ways the building was outdated. I think that intersected with the journey of JPMorgan Chase and communicates to a new workforce that we're a company to be reckoned with.
Me Versus We Space

Arena: At 270 Park, the intent is to make each floor incredibly flexible for whoever is using it. Then we ask how we can provide an experience and how we can give them "me" spaces where they can do heads-down work in a quiet setting.
Tredway: So it's similar to how we run the business—no matter what you see changing in the environment, you're going to adapt to it.
Steve, how do you look at "me" versus "we" space?
Van Amburgh: We're seeing a lot more open and flexible team spaces where employees sit down to quickly solve issues. There are also more formal meeting spaces where employees can gather to collaborate and discuss projects. Previously, it used to be 70 percent "me" space and 30 percent "we." Now, that ratio is flipped.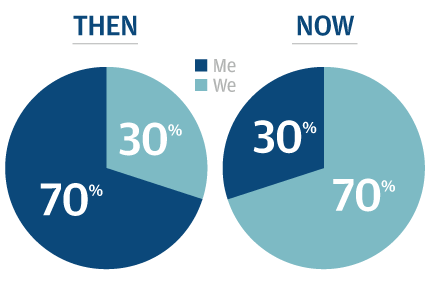 The individual workspaces are smaller, and everybody has to work a little closer together. Yet the team areas lead to great communication. Sharing is key.
Finding the Right Mix of Workplace Amenities

Arena: Creating a build-to-suit space is difficult. It's not an exact science.
Tredway: It sounds so simple, but it's really hard to execute.
Arena: Every one of our projects is an experiment. And whether they're in Dallas or Bangalore, we test and refine the spaces. For example, we had a new space in Jersey City for coders. When we first designed the location, we thought, "OK, lots of 'we' space." Coders don't leave their desks much, though. We had all these foosball tables and great places to sit right by windows that the coders didn't use, so we made modifications.
Tredway: I think, Steve, you're very uniquely positioned to talk about how the configuration of spaces has evolved. What have you seen over time?
Van Amburgh: The amenities that companies and employees value change over time. Security is huge. Take parking. Overwhelmingly, the No. 1 amenity that employees desire today are parking structures. So we're converting a lot of surface spaces into well-lit, secured parking garages with card access. Employees today like amenities that are walkable and close by. In the war for talent, this helps optimize recruitment and retention.
Recruit and Retain Talent With a Curated Experience

Van Amburgh: Placemaking has become a high priority at all top companies.
Tredway: How do you guys define placemaking?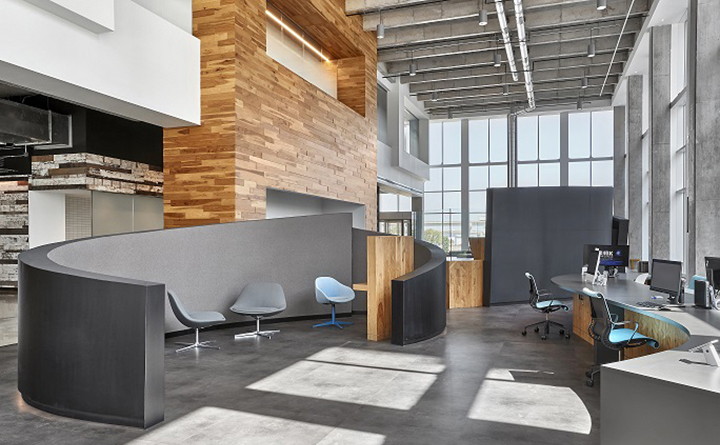 Van Amburgh: At the Plano facility, there's an amazing feel. When you walk in, you know you're in a great place. Everything seems balanced. It doesn't overpower you. It's transparent and free-flowing. It's collegial—you feel like you're walking on a high school or college campus.
It's tough to recruit if you don't have that sense of place. I think that's very important in the younger employees' minds. If the place is thoughtful and employee-centered, I think they feel a lot more confident that they'll be treated well and can excel.
Tredway: So you're really talking about the war for talent and using your building to give the company a competitive advantage.
Van Amburgh: Absolutely! Think of it this way: When hosting a dinner party, it is important that you think about each attendee and ask yourself questions. What kind of food do they like? What kind of wine do we serve? Where should we seat each guest? Essentially, how are we going to make the night enjoyable for everyone? If you're a great party host, you'd probably be a good real estate developer because you're good at creating a sense of place. Sensitivity and empathy for all employees is the key to success.
Tredway: David, how do we attract amazing talent to JPMorgan Chase using our building?
Arena: We are competing for the same talent as major tech companies and other big banks. And the social experiences of these individuals are at work. So we have to find a way to attract and inspire them, help them be healthier and more creative, and give them a workplace they can be proud of and where they can generate great ideas for our customers. In large part, our job is to curate their experience through a combination of things: the food and beverages, interior and exterior light—even the air you breathe.
Van Amburgh: The past five years have been incredible, yet I think our next five will be even better. Leading companies are allowing KDC to develop new facilities for recruitment and retention. It's a large part of the HR strategy today, and I think it's going to stay that way for some time.

---