COVID-19 Guide for Your Business
Updates on CARES Act assistance along with resources, analysis, and insights to help your business manage the impact of the novel coronavirus.
PAGE UPDATED JANUARY 21, 2021
COVID-19 GUIDE FOR YOUR BUSINESS
Your Business is Our Priority
Thank you for trusting us to be your financial institution in good times and in challenging times like these. We're working diligently to help you navigate through economic uncertainty. Whether diving into the latest research, analyzing fast-moving market trends, or delivering expert-driven thought leadership, you can continue to look to us for support.
---
We'll be refreshing this page regularly with updates on our response to COVID-19. We hope you'll explore our resources, read the insights, talk to your banker, and remember: we're here to help.
---
LAST UPDATED JANUARY 21, 2021
Paycheck Protection Program
The SBA Paycheck Protection Program (PPP) is an initiative offering primarily small businesses access to capital for payroll and other overhead costs.
We are excited to share that we are now accepting applications online for first and second-time PPP loans in order to help your business.
If you're thinking of applying, here's how to prepare:
Review the highlights of the program
Gather key documents
To apply through JPMorgan Chase, you will need an active DDA account. If you don't have one, click here to get in touch with a representative that can help.
You may want to contact your accountant, attorney or other trusted advisors.
We are not accepting applications for increases for first-time loans at this time. Please keep checking back for updates.
For full program details, visit SBA.gov and Treasury.gov.
LAST UPDATED JANUARY 8, 2021
Loan Forgiveness for the Paycheck Protection Program
We continue to invite clients with a PPP loan to request Forgiveness, generally starting with those who received funding first.
We're working to get the simpler Form 3508S into our Forgiveness request process because it may help those of you with loans of $50,000 or less, though it's still some weeks away. As a reminder, Form 3508S requires fewer calculations, and borrowers who qualify to use this form are exempt from reductions in loan Forgiveness amounts based on reductions in FTE employees or salary/hourly wages. If you have a loan that is $50,000 or less, you can wait for us to incorporate the 3508S requirements or use Form 3508EZ or 3508 once you receive your email invitation.
To prepare any Forgiveness request, we encourage you to review our helpful resources below.
Continue to check this page for updates and visit SBA.gov and Treasury.gov for full program details.
LAST UPDATED JANUARY 15, 2021
COVID-19 Emergency Rental Assistance
The Emergency Rental Assistance appropriates $25 billion through the Treasury to states, US Territories, tribes, and large cities ("grantees") to provide financial assistance and housing stability services to eligible rental households.
The Emergency Rental Assistance appropriates $25 billion through the Treasury to states, US Territories, tribes, and large cities ("grantees") to provide financial assistance and housing stability services to eligible rental households.

The National Low Income Housing Coalition created a guide that contains state and city resources for COVID-19 pandemic hardship rental housing assistance. This resource may be helpful should your tenants need to seek assistance. In referencing the National Low Income Housing Coalition guide, understand that we do not provide any assurance regarding eligibility. Information contained in the guide is subject to change, so you should check back regularly for updates. Other resources may be available.
The information in this content is not advice on legal, tax, investment, accounting, regulatory or other matters. You should consult your own financial, legal, tax, accounting, or similar advisors. Further, additional resources may exist. Nothing contained herein shall change or modify the provisions of your loan with JPMorgan Chase or any other financial product and service you may have.
Eligible Households: To be eligible, a household must be obligated to pay rent on a residential dwelling and (i) have one or more household members who qualify for unemployment benefits or experienced financial hardship due to the pandemic, (ii) have one or more household members who can demonstrate a risk of experiencing homelessness or housing instability (e.g., past due utility/rent notice or eviction notice), and (iii) the household's income is not more than 80% of the area median income (p. 2278-79). Landlords and property owners may apply on behalf of their tenants but must notify the tenant and obtain their consent (p. 2270-71).
Prioritization of Emergency Rental Assistance

:

Grantees must prioritize eligible applicant households with (i) household incomes of 50% or less of the area median income and/or (ii) one or more household members who have been unemployed for 90 days or more (p. 2267-68)
Use of Emergency Rental Assistance Funds: 90% of funds received by the grantees must be used to provide financial assistance to eligible households (e.g., payment of rent, rental arears, utilities/home energy costs, and other housing related expenses incurred due to COVID-19) (p. 2264). Assistance shall be provided for a maximum of 12 months, except that a grantee may provide assistance for an additional 3 months of prospective rent if necessary, to ensure housing stability (subject to availability of funds) (p. 2264) The remaining 10% may be used for housing stability services, including case management, (p. 2267) or administrative costs (e.g., data collection and reporting requirements) (p. 2268). Unused funds will be recaptured by the Treasury on September 30, 2021 to be reallocated among other grantees. Funds remain available through December 31, 2021 (p. 2270).
Eviction Moratorium: (Sec. 502) extends the CDC eviction moratorium until January 31, 2021 (p. 2281).
---
LAST UPDATED DECEMBER 3, 2020

Main Street Lending Program
LAST UPDATED APRIL 16, 2020
Coronavirus Aid, Relief & Economic Security Act

The CARES Act was signed into law on March 27, 2020 providing $2.2 trillion in emergency assistance for individuals and businesses affected by COVID-19.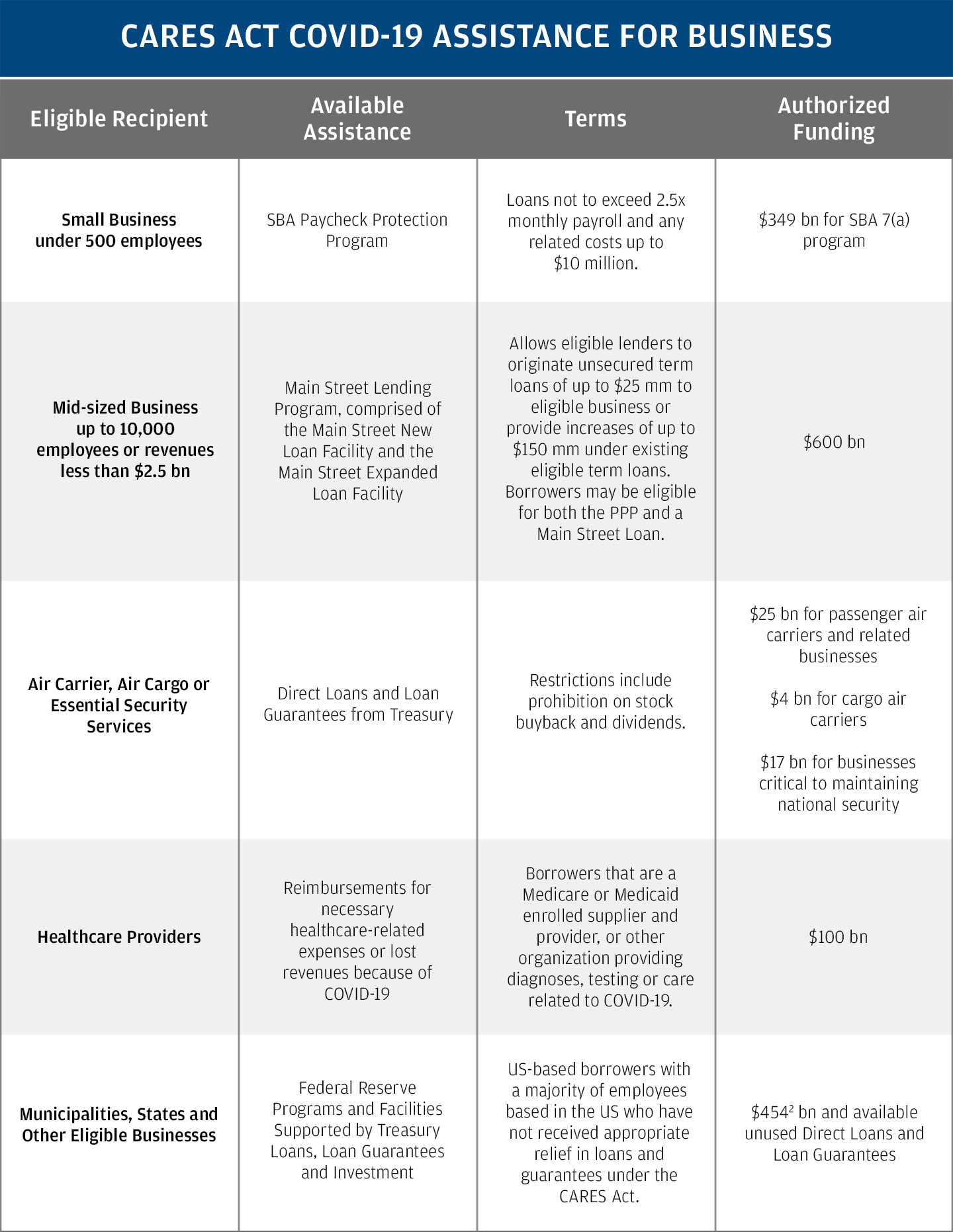 Commitment to Communities
We know that managing the global impact of COVID-19 is about more than helping you manage your balance sheet. We're also doing our part to help communities recover in the face of uncertainty. That's why JPMorgan Chase has committed $50 million to address immediate public health and long-term economic challenges from the COVID-19 global pandemic.
Our initial $15 million commitment includes:
$5 million
---
to provide immediate healthcare, food and other humanitarian reief globally
$2 million
---
to existing nonprofit partners around the world that are responding to the COVID-19 crisis in their comunities
$8 million
---
to assist small businesses vulnerable to significant economic hardships inthe U.S., China and Europe
Business Resiliency and Fraud Protection Insights
Keep your business running with tips and best practices.
Market and Economic Update Insights
Stay up to date on our latest research and anaylsis.
Get in Touch and Stay Informed
To route you appropriately, if your business has revenues of $20 million or above, please submit contact information in the fields below. For smaller businesses, please visit chase.com/PPP.
You're now leaving J.P. Morgan
J.P. Morgan's website and/or mobile terms, privacy and security policies don't apply to the site or app you're about to visit. Please review its terms, privacy and security policies to see how they apply to you. J.P. Morgan isn't responsible for (and doesn't provide) any products, services or content at this third-party site or app, except for products and services that explicitly carry the J.P. Morgan name.