COVID-19 Guide for Your Business
Updates on CARES Act assistance along with resources, analysis, and insights to help your business manage the impact of the novel coronovirus.
PAGE UPDATED AUGUST 6, 2020
COVID-19 GUIDE FOR YOUR BUSINESS
Your Business is Our Priority
Thank you for trusting us to be your financial institution in good times and in challenging times like these. We're working diligently to help you navigate through economic uncertainty. Whether diving into the latest research, analyzing fast-moving market trends, or delivering expert-driven thought leadership, you can continue to look to us for support.
---
We'll be refreshing this page regularly with updates on our response to COVID-19. We hope you'll explore our resources, read the insights, talk to your banker, and remember: we're here to help.
---
LAST UPDATED AUGUST 6, 2020
Loan Forgiveness for the Paycheck Protection Program
As we prepare to help you with PPP Forgiveness, we're monitoring SBA guidance and are working to make our process easier for many small business owners.
We expect to open up our online Forgiveness process in August. We understand how important this is to you and remain confident you'll have plenty of time to request Forgiveness.
We keep watching Forgiveness program developments for you so you can focus on your business. We'll post updates and email you regularly.
Please check back on this page for updates and visit SBA.gov and Treasury.gov for program details.
LAST UPDATED MAY 13, 2020
Paycheck Protection Program
The SBA Paycheck Protection Program (PPP) is an initiative offering primarily small businesses access to capital for payroll and other overhead costs.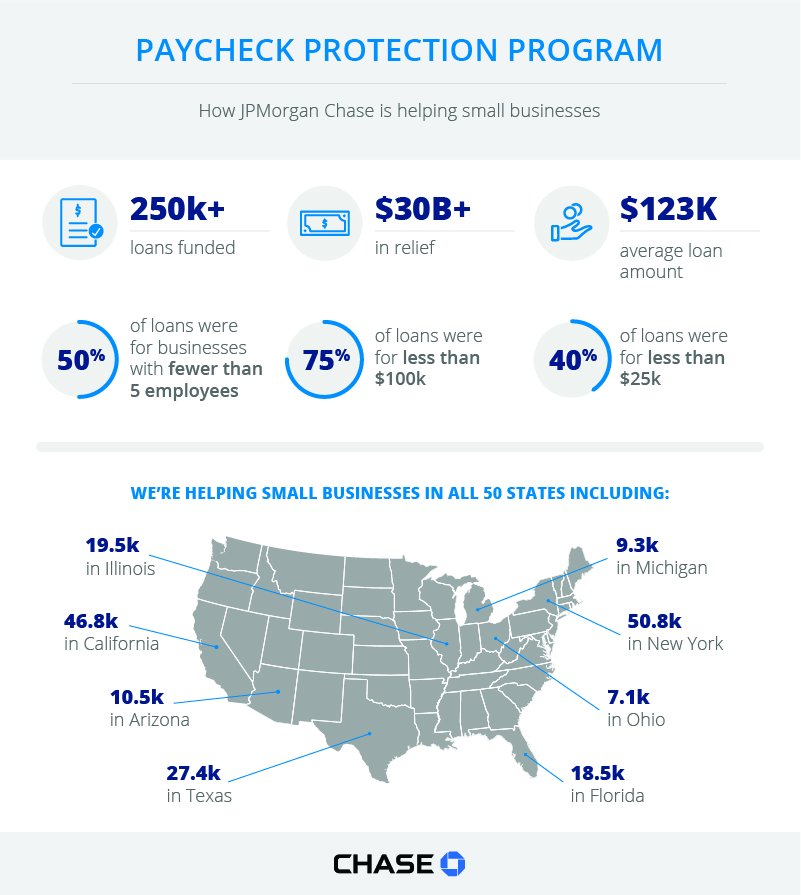 Paycheck Protection Program
How JPMorgan Chase is helping small businesses
250k+ loans funded
$30B+ in relief
$123k average loan amount
50% of loans were for businesses with fewer than 5 employees
75% of lonas were for less than $100k
40% of loans were for less than $25k

We're helping small business in all 50 states including
19,500 in Illinois
46,800 in California
10,500 in Arizona
27,400 in Texas
9,300 in Michigan
50,800 in New York
7,100 in Ohio
18,500 in Florida
---
LAST UPDATED JULY 15, 2020

Main Street Lending Program
LAST UPDATED APRIL 16, 2020
Coronavirus Aid, Relief & Economic Security Act

The CARES Act was signed into law on March 27, 2020 providing $2.2 trillion in emergency assistance for individuals and businesses affected by COVID-19.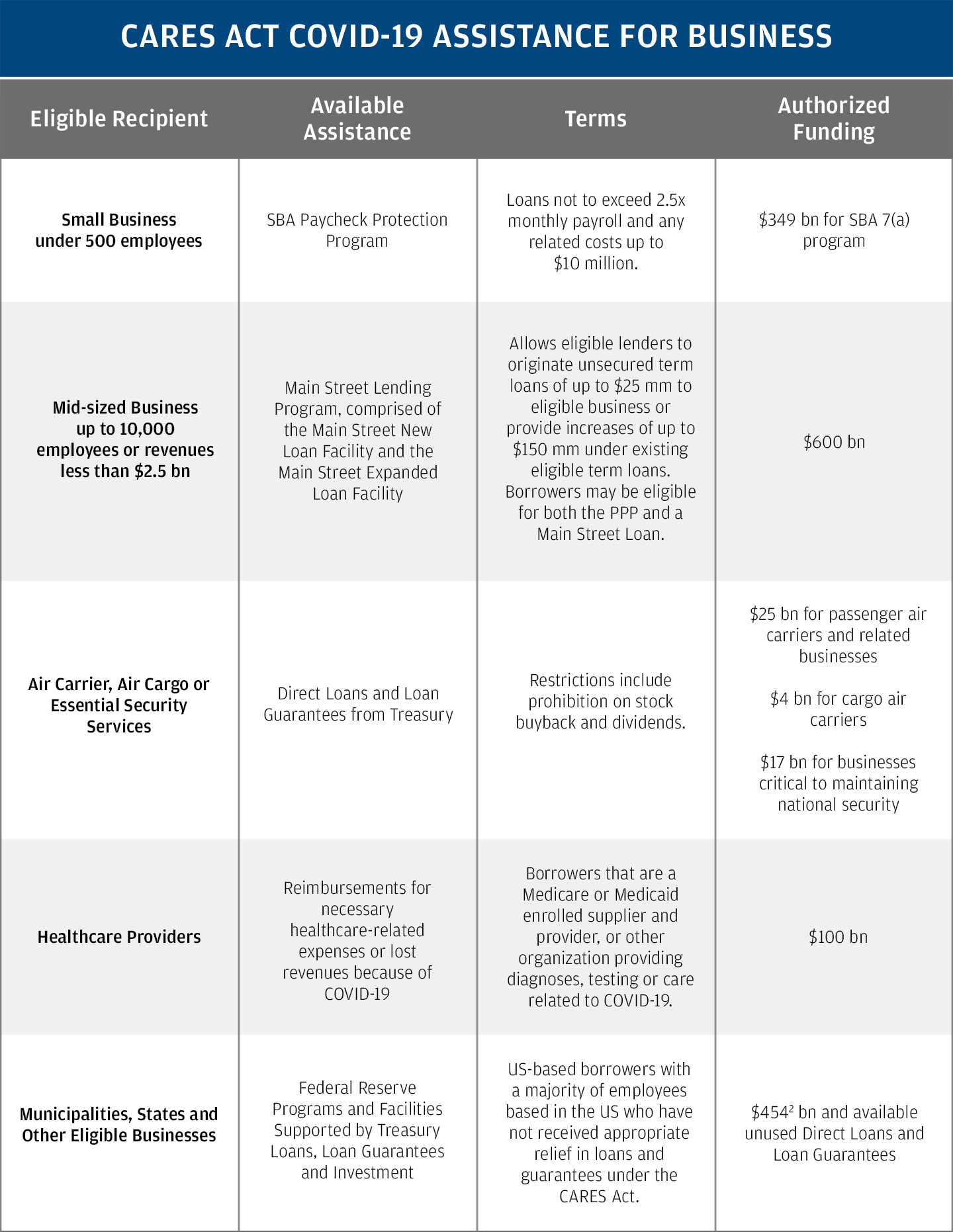 Commitment to Communities
We know that managing the global impact of COVID-19 is about more than helping you manage your balance sheet. We're also doing our part to help communities recover in the face of uncertainty. That's why JPMorgan Chase has committed $50 million to address immediate public health and long-term economic challenges from the COVID-19 global pandemic.
Our initial $15 million commitment includes:
$5 million
---
to provide immediate healthcare, food and other humanitarian reief globally
$2 million
---
to existing nonprofit partners around the world that are responding to the COVID-19 crisis in their comunities
$8 million
---
to assist small businesses vulnerable to significant economic hardships inthe U.S., China and Europe
Business Resiliency and Fraud Protection Insights
Keep your business running with tips and best practices.
Market and Economic Update Insights
Stay up to date on our latest research and anaylsis.
Get in Touch and Stay Informed
If you are a Chase Business Banking client, visit chase.cares.com for more information.
You're now leaving J.P. Morgan
J.P. Morgan's website and/or mobile terms, privacy and security policies don't apply to the site or app you're about to visit. Please review its terms, privacy and security policies to see how they apply to you. J.P. Morgan isn't responsible for (and doesn't provide) any products, services or content at this third-party site or app, except for products and services that explicitly carry the J.P. Morgan name.