Liquidity Management
The Digital Transformation: Speed and convenience drive B2C payments
Despite a cost of $7.8 billion annually for U.S. businesses to pay customers by check, certain types of transactions have defied paper-to-electronic conversion.
---
For one-time, low-value consumer payments such as refunds, rebates, incentives and claims reimbursement, the cost and effort involved in paying electronically can often outweigh the benefits. That effort includes contacting consumers to collect banking details and securely recording this information.
Now customer preferences, market trends and technology innovations are intersecting to enable payers to digitize this set of payments. Customers can receive funds faster than by check in their preferred manner and at lower expense to payers.

CHANGING THE CUSTOMER EXPERIENCE

Banks can easily embed payments services within any commercial context thanks to the convergence of mobile technology, the use of apps and Web sites for transacting, and tools such as Application Program Interfaces (APIs). As a result it's easy for businesses to fit payments into the consumer experience anytime, anywhere.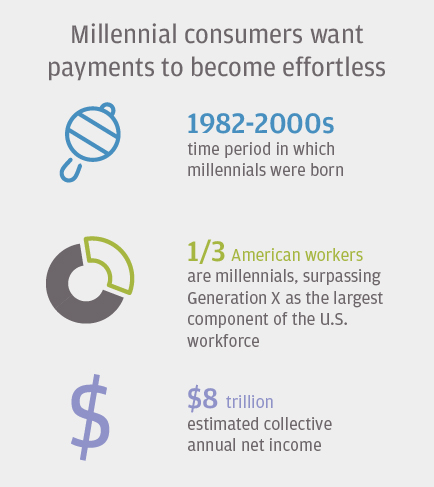 This is particularly attractive to businesses targeting Millennials, or adults born between 1982 and the early 2000's.
Millennials have surpassed Generation X as the largest component of the U.S. workforce, comprising more than one-third of American workers[1] and touting an estimated collective annual net income that exceeds $8 trillion.[2]Millennials are among the population of consumers that want payments to become effortless, which implies that they would rather not do anything, not even click a button, to make payment. They need not provide their banking information transaction by transaction to receive funds.
Companies are looking to enrich the consumer payment experience by adopting payments practices that align with emerging consumer preferences as part of a diversified, omnichannel approach that reaches consumers through their preferred payment channels.

THE NETWORK EFFECT

Payment networks enable seamless payer-payee connectivity. The growth and interconnectivity of these networks are key to sending digital payments via email or mobile phone as part of easing the customer payment experience.

Payment networks use directories to securely link a payee's email address or mobile phone number and bank account details. The payment networks provider—whether a bank or consortium of payment provider participants—securely maintains customer contact and banking information. This ensures payee privacy while removing the onus from payers of collecting, storing, maintaining and safeguarding customer data. Payers no longer identify customers by their bank account numbers but rather by their email addresses or mobile phone numbers.
Key to fast-growing payment networks is that payees need only register once to join. Companies can reach customers who already participate in a network without the need to register them.
ANOTHER DRIVER OF CONSUMER ADOPTION IS THE INCREASING INTEROPERABILITY AMONG PAYMENT NETWORKS.
Banks can tap their own proprietary networks and connect into others like clearXchange to increase their payments reach. Longer-term digital payment solutions will explore how to expand to even more payment channels, such as social networks, and payment methods like digital currencies.

CONTEXTUAL REMITTANCE

Making payments blend conveniently into the background shouldn't mean a loss of control for tracking purchases. A key differentiator among emerging solutions is the ability to include additional context with remittance details. This increases the comfort level for accepting digital payments by reminding customers of the associated interaction, such as related product information and the time and date of a purchase. Contextualization helps to drive consumer acceptance by increasing trust in transaction legitimacy. The information also helps payers with reconciliation.

DELIVERING VALUE

The result is a strong value proposition that benefits both payers and their customers. Benefits include:

Cost reduction. A mobile alternative for paying electronically reduces the cost to payers of distributing and reconciling checks. It also eliminates the time and expense involved in managing customer remittance information.
Security and control. A directory allows payers to outsource the storage of customer information and avoid the need to address the rigorous demands of a cyber environment, relying instead on the assurance of their bank's advanced security measures. Strong authentication of outbound emails increases customer trust. While email recipients set spam controls, solutions with anti-phishing checks will help email service providers identify payment communications as legitimate emails.
Customer satisfaction. In addition to being much faster than payment by check, converting to electronic payment with the convenience and simplicity of a mobile channel enhances the customer payment experience.

MOVING FORWARD


Banks are looking to apply lessons learned in the B2C payments realm to tackle the more complex area of B2B vendor payments. The use of payments networks and directories are proving promising in connecting all of the parties that are vital to straight-through processing for B2B payers and payees.

B2C payments are breaking the barriers to digitization. Consumer preferences, technology and payments networks are enabling a leap to electronic payments. For companies looking to increase electronic payments it's worth reviewing the latest market developments and solutions.
---