Benefits of Commercial Card Acceptance
It pays to accept commercial card payments. Get paid faster, reduce manual check processing and increase confidence and security.
92%
---
In a recent RPMG EAP Benchmark survey, up to 92 percent of North American businesses experience late B2B payments.
68%
---
Nearly 70 percent of buyers consider card acceptance to be very important, important or required.1
50%+
---
More than half of all US suppliers accept virtual card payments, and 68 percent accept Purchasing Cards.1
98%
---
Nearly 100 percent of suppliers are satisfied with the quality and speed of help from our Supplier Support team.
What We Do
Now more than ever, buyers are relying on their suppliers to accept commercial card payments to do business, and there are clear benefits for suppliers who accept them. When you consider the entire cost of acceptance, commercial card payments can save your organization a significant amount of money. You can increase your cash flow, protect your customer base and grow your business.
Get Paid Faster
Put your profits to work faster with card payments that limit days sales outstanding and reduce check-related expenses, like collections and lockbox costs. Maximize your organization's working capital with funds available immediately (or within 24 hours) and eliminate common hassles such as late, lost, damaged or fraudulent checks.
Increase Confidence and Security
Enjoy a secure payment processing experience delivering maximum fraud protection and guaranteed payment. Unlike ACH, you don't need to share sensitive banking information for card payments—granting you and your organization peace of mind.
Maximize Efficiency
By accepting card payments, your Accounts Receivable team can expedite their efforts, save time and reduce errors seen in manual processing of checks. Since electronic remittance data is paired with the payment, it can be uploaded directly into your ERP system. Options like Straight-Through Processing can even make acceptance payments completely automated.
Strengthen Relationships
Discover opportunities to expand business with existing customers and attract new clients. Most buyers consider card payment acceptance important or even required when choosing suppliers. Help your business stay competitive while also making it easier for your buyers to conduct business.
Show Me the Money: Savings on a $500 Transaction
Accepting card payments saves suppliers money compared to traditional payment methods (wire, ACH and check).
$24.47 in supplier savings
$1.18: Reduces buyer side errors by 20 percent
$16.29: Lowers bad debts from 3.26 percent of A/R receivables to 0 percent
$1.27: Increases working capital by 36.7 days
$5.73: Saves 8.1 minutes of FTE time by eliminating invoices
- $13.87 in supplier expenses
$0.12: Cost for 1.3 minutes of FTE time; less lockbox savings
$13.75: Cost for merchant discount fee of 2.75 percent for a $500 transaction
= $10.60 Overall savings
31 percent saved on total card costs
Individual costs of payment types, based on fully loaded costs for a $500 transaction: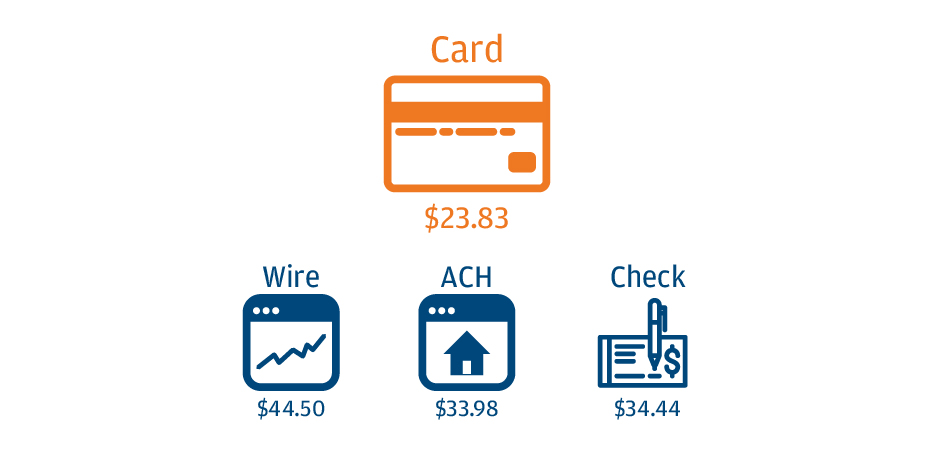 Source: Calculations for transaction made at point-of-sale; Acceptance Matters and Now We Know How Much, Mastercard and Kaiser Associates, Commercial Card Acceptance Cost-Benefit Study, November 2016.
    Streamline with Single-Use AccountsSM
Every organization is different, and you need payment acceptance options tailored to your organization's needs. With J.P. Morgan's virtual card solution, Single-Use AccountsSM, you can access our online self-service portal, SUA ConnectionSM, and mobile application, SUA PaySM, to easily process transactions, track receivables and access remittance data. Our dedicated Supplier Support team will help you understand what to expect, share best practices for processing SUA payments and provide one-on-one help when you need it.
How SUA Works
Get In Touch and Stay Informed
You're now leaving J.P. Morgan
J.P. Morgan's website and/or mobile terms, privacy and security policies don't apply to the site or app you're about to visit. Please review its terms, privacy and security policies to see how they apply to you. J.P. Morgan isn't responsible for (and doesn't provide) any products, services or content at this third-party site or app, except for products and services that explicitly carry the J.P. Morgan name.