DEVUP Conference Celebrates Firm's Top Engineering Talent
Conference Kick Off
DEVUP kicked off in Plano, TX bringing together top engineers from across JPMorgan Chase in for a unique event designed by engineers for engineers to showcase the breadth of innovation excellence of our community. Over the next two days, participants will have the opportunity to solve business challenges strategically, discuss the future of technology, and connect with a community of like-minded peers.
Lori Beer, our Chief Information Officer, delivered the keynote address, reinforcing the firm's commitment to building an industry leading engineering community that differentiates us in the marketplace. This event is a great opportunity for software engineers to share personal perspectives and ideas, connect with each other and showcase engineering excellence at JPMorgan Chase.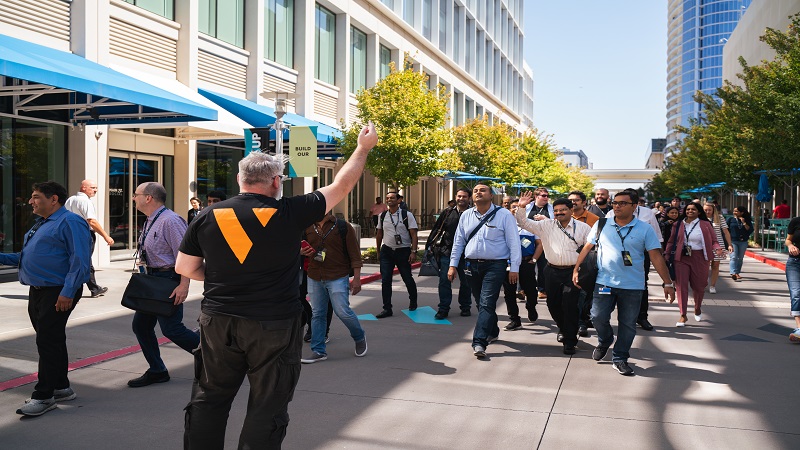 Day 2

"We Build, So You Don't Have To…"
By Sarah, Core Engineering Enablement Lead, Finance, Risk, Data and Controls Technology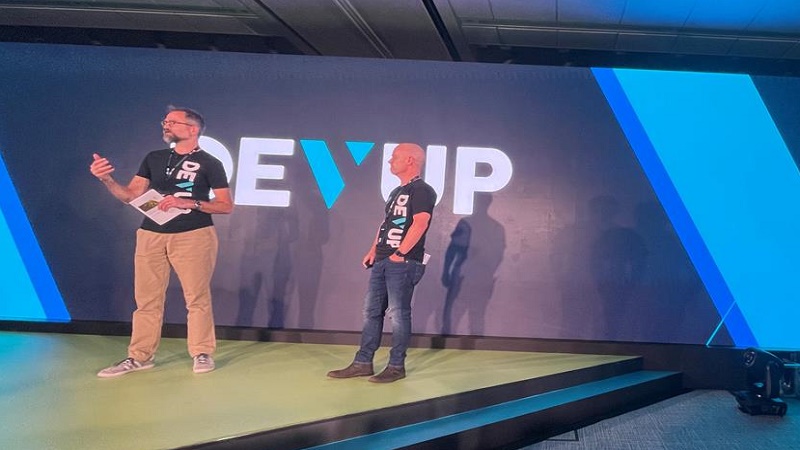 When a platform is built well – like a stool, a car or even a technology platform – you don't think about what's under the surface; it just works. That, said speakers Matthew and Ian, from Global Technology Infrastructure, is the experience our technology platforms should provide.
Matthew began the session with a level-set around what he views as his mission, which is "to deliver a scalable, secure and stable cloud-based platform, that every developer at the firm leverages, because it offers them appropriate innovation, the least friction and the best experience."
In listening, I was particularly struck by the use of the concept, "appropriate innovation" instead of the most innovative, which for me implies innovation that is customer-driven and well-balanced. The flashiest and latest isn't always the best experience for the customer and the developers. All platforms (even the most complex, opinionated systems) have basic foundations to make it function. Connecting these basic foundations enables us to innovate.
One person can't do EVERYTHING well. Pick something you are good at and passionate about and be GREAT at it. Allow others the space to be great at their strengths. Come together for collaboration. As engineers, we should consider specialization more so that we can get better at scaling things. No one person can do everything and do it well.
There were so many great tips and ideas that both Ian and Matthew presented, but here are a few that stuck with me:
Avoid undifferentiated heavy lifting

Leverage others and their strengths
Constantly ask yourself and your team, "Why are we doing that?"

Partner with others and collaborate equally

Open Source & Insource Internally - share code (where possible) and work across teams, areas and lines of business
Leverage your network

Culture

Great culture builds great teams; great teams build great products
Allow people to go fast and give them the safety to fail

Be opinionated

Know your product; know your customers
Speak up!

Be long-term greedy

Build your product thinking about how to scale and support it in the future

DEVUP Session: The 3 Characteristics of a Fast Product Team
By Heather, Global Technology Communications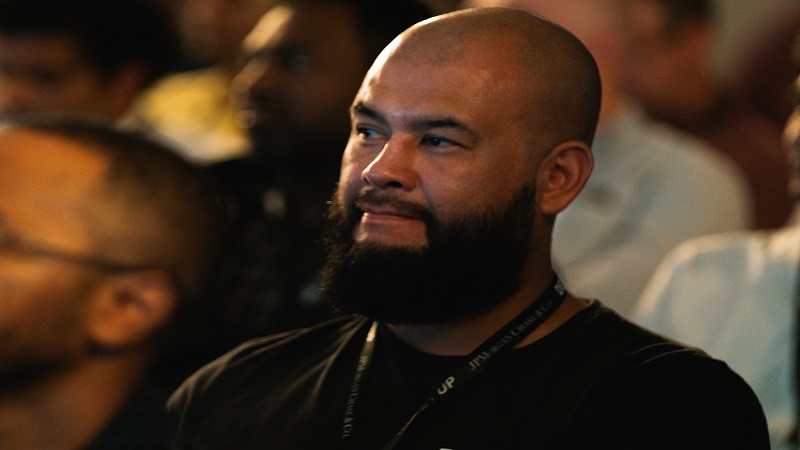 At a usual conference, learning about the three characteristics of a fast product team would be a multi-page slideshow. The audience would sit in rows, absorbing. But DEVUP isn't a regular conference and its goals to encourage collaboration and teamwork were on display during the Sept 29 session, "The 3 Characteristics of a Fast Product Team."

Led by Simon and Shaila, from JPMorgan Chase's Global Technology Infrastructure and Product Agility Office teams, respectively, the session focused on understanding — and practicing— the characteristics needed to form a well-functioning and efficient team.

Of course in a 50 minute session, it wasn't practical to be developing new software solutions. The team used an interactive, symbolic game instead, in order to illustrate the importance of working together. For technologists in the room, the goal was to see how many balls each team could toss through the group in a minute. Working in sprints with a clearly defined set of rules, each of the three teams worked through the best, most efficient way to meet the expectations.

With balls being lobbed and dropped across five "sprints," a few things became clear :
You need to know what you're doing and why
You need to be able to explain your purpose clearly
You need to be adaptable
Throughout the activity, teams were re-organized and the "deadlines" were shifted but the same goal remained. Each sprint forced the teams to work through the different scenarios all while still aiming to keep their productivity high.
And wouldn't you know — these three insights aligned nicely to examining the characteristics of a high-performing, fast product team.

When reflecting on what was learned from the challenge, each team mentioned a few commonalities - the most successful teams were clear about members' roles and were open to feedback about how to further improve.

It was a great way to meet new colleagues, get hands-on and learn some useful tips to put into practice for the future.

Day 1

By Rebecca, Employee Experience and Corporate Technology
DEVUP – Where we evolve, we innovate, we elevate, and we unleash the power of our community and build our future together.
I attended the DEVUP kickoff and am excited that this week is finally here! I have been looking forward to networking with my colleagues from around the globe and learning from their experiences. The DEVUP team did an incredible job transforming the Plano office into a conference venue, and I am grateful that I am here to experience this inaugural event.
DEVUP kicked off with an empowering video focusing how developers intuitively know what it takes to innovate by elevating experiences through:
V is for value, because we know the worth of a winning idea
V is for vibrant, working together with authenticity, energy and passion
V is for victory, when we deliver something incredible
Sandhya Sridharan, Head of Core Engineering and Development Platform and a DEVUP Co-Sponsor, welcomed the 500+ technologists and data scientists who have traveled from 26 metro cities to Plano, Texas for the 2022 DEVUP Conference.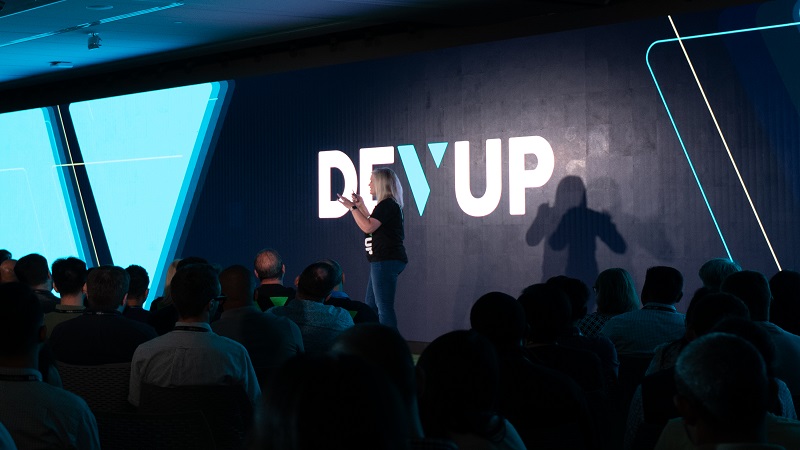 Sandhya challenged everyone to bring their authentic self, be present and to be curious in every conversation. She reminded us that we have to build the experience we want to have for ourselves. This resonated with me because I can be task-focused and don't always take the time to invest in myself.
Lori Beer, our global chief information officer, delivered a keynote focused on inspiration. She asked everyone to consider how inspiration is the foundation of innovation.
Lori spoke about how the technology we create inspires our community and the profound impact we as technologists at JPMorgan Chase have on millions of people on a daily basis. This inspired the audience to think about their opportunities to solve complex problems and innovate.
She asked the other JPMorgan Chase technology leaders to join her on stage and share what inspires them. We heard from our business CIOs that they're inspired by our unique culture and how we are able to coordinate across businesses and functions; our diversity and the energy in the room; the creative force we are, and how the conference was created by engineers for engineers to focus on engineering excellence, and the impact that we can make collectively.
Everyone was encouraged to take the insights back to their teams and pay it forward.
I am inspired by the 700 abstracts that were submitted, the 500+ technologists that traveled here, the JPMorgan Chase technology leaders that made this a priority, the 150+ speakers that invested their time in creating content, the DEVUP team that poured hours of time into creating this unique experience and the endless opportunities that will result from this incredible conference.
By Samdeep, Software Engineer
Delivering Operational Efficiency and Exceptional Customer Experience Leveraging AI/ML Technologies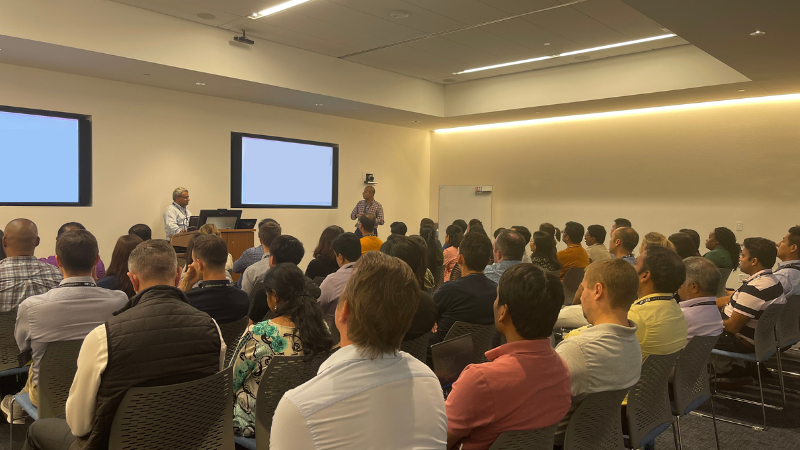 Samdeep leads the Core Development team in India and drives engineering products focused on improving developer productivity and engagement using AI/ML.
AI/ML is here to stay and make life simpler for Operations at JPMorgan Chase. An example of how the Corporate & Investment Bank deployed AI/ML and made an impact was beautifully explained by Software Engineer Sitalakshmi N. from Singapore on Day 1 of DEVUP.
Sitalakshmi, the session presenter, took us through the Operations work flow and the challenges with scaling the support model. Typically, an operator responds to issues as they arise and routes the response accordingly. This manual process is one that's able to be made more efficient through the use of AI/ML, providing significant time savings to the team.
In reviewing the implementation details of this AI/ML deployment, what impressed me was the modular design, continuous learning using feedback loops and the API integration library. Several teams have already started collaborating to build out solutions using the foundation. The results are impressive!
This solution is not unique to this use case. It's something we could use across the firm to improve our customer experience and increase the productivity of all the Operations teams at JPMorgan Chase. It also highlights the horizontal role technology plays in our organization.
You're now leaving J.P. Morgan
J.P. Morgan's website and/or mobile terms, privacy and security policies don't apply to the site or app you're about to visit. Please review its terms, privacy and security policies to see how they apply to you. J.P. Morgan isn't responsible for (and doesn't provide) any products, services or content at this third-party site or app, except for products and services that explicitly carry the J.P. Morgan name.