Digital Innovation
E-commerce and Fintech Forum: How to win in an evolving landscape 
Disruption comes in waves - innovation is constant. And the players who win are those who continuously innovate and evolve to meet their customers' expectations.
---
At the J.P. Morgan E-Commerce and Fintech Forum, the assembled investors, founders, e-commerce and fintech leaders, J.P. Morgan's Global Head of Wholesale Payments Takis Georgakopoulos and JPMorgan Chase Chairman and CEO Jamie Dimon led spirited discussions on the different approaches to succeed in a fast-paced environment.
But there was vocal agreement on one important point: payments are about more than just the payment transaction – they are about creating an ecosystem that allows merchants and retailers to focus their attention on servicing the customer.
Here we've distilled the key takeaways from the day into a single story.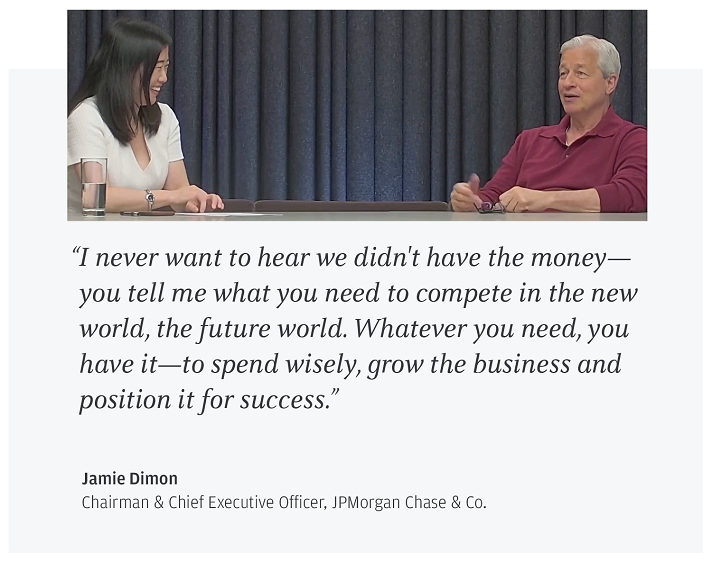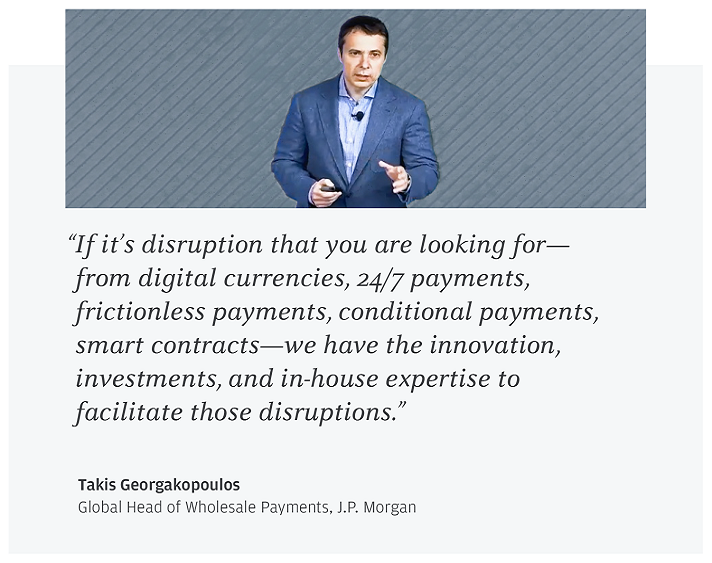 The ecosystem has become so much richer, things are happening so fast. Things were slower
moving 5 to 10 year ago. Now, you have your phone in your pocket, your bank in your pocket. It can be overwhelming, frankly.
Peter Christodoulo, Partner, Francisco Partners
Partnerships are all about the culture – how you collaborate together. That's how you make 1+1 = 3 and take things forward together.
Marc-Alexander Christ, Co-Founder and Chief Financial Officer, SumUp
If you're not innovating, someone else is doing it instead of you, and probably thinking of better ways to do it.
Dushyant Sharma, Chief Executive Officer and President, Paymentus
How do we push your innovation agenda forward? Innovation is actually around the continued focus, improvement and iteration on the customer, and the outcomes that we want to enable.
Keala Gaines, Vice President, Global Payment Services, eBay
---
Connect with your J.P. Morgan representative to learn more about innovating to help your customers.
---
Watch replays from the E-commerce and Fintech Forum
Takis Georgakopoulos, Global Head of Wholesale Payments, J.P. Morgan, looks at how leading disruptors are evolving their business models to meet new customer demand, while J.P. Morgan's Umar Farooq and Christine Moy discuss blockchain solutions and the next frontier in payments.
Stay informed and stay ahead with our monthly newsletter
Receive key updates and news with relevant actionable insights and best practices — including the latest intelligence on treasury trends, digital payments innovation, regulatory change, ESG and sustainable financing and much more.
The views and opinions expressed herein are those of the author and do not necessarily reflect the views of J.P. Morgan, its affiliates, or its employees. The information set forth herein has been obtained or derived from sources believed to be reliable. Neither the author nor J.P. Morgan makes any representations or warranties as to the information's accuracy or completeness. The information contained herein has been provided solely for informational purposes and does not constitute an offer, solicitation, advice or recommendation, to make any investment decisions or purchase any financial instruments, and may not be construed as such.
JPMorgan Chase Bank, N.A. Member FDIC.
JPMorgan Chase Bank, N.A., organized under the laws of U.S.A. with limited liability.
© 2021 JPMorgan Chase & Co. All Rights Reserved.