Treasury and Payments
Five Steps For Financial Institutions To Deliver Agile Transformation
The unique 2020 edition of Sibos delivered a far-reaching and forward-thinking agenda on the power of innovation and the future of sustainable banking. Here we reflect on the key takeaways for our financial institutions community.
---
1. Accelerate automation and harness the power of digital
Banks and financial institutions are automating paperwork processes and turning to tools such as e-signatures.
Manual processes are being automated where possible and digital transformation is seen as necessary to reduce costs.
Observations from Sibos:
Define the purpose of your digital transformation program.
Ensure that the client is at the center of that purpose.
Adopt agile prioritization processes help to allocate resources that increase revenue and productivity.

2. Reduce costs but also celebrate continuous improvement
Our industry is currently characterized by high volumes with margins decreasing on the traditional services. Maintaining operations to support these volumes is increasing the cost of doing business, while clients want to drive down costs in a negative or low interest rate environment.
We are now at a very mature stage of cost-cutting and the standard approaches are delivering ever-decreasing returns.
Observations from Sibos:
The solution is to scale up our ambitions: as an industry we are no longer just keeping costs down, we are celebrating continuous improvement.
As well as reducing cost, we are also coming together as a community to help reduce risk, leading to less errors and less complexity in the system.
A.I. will continue to present opportunities to speed up productivity, so look for the best use cases and then apply and iterate until we see results.

3. Work with agile co-creators that will help you deliver speed-to-market solutions
New client-centric digital platforms and client experience improvements remain challenges for banks coping with legacy platforms. This has led to a significant loss of market share to new players.
By working together and co-creating digital solutions, financial institutions and fintechs can help bring the best of both to our clients
Observations from Sibos:
Remember that more often than not, banks and fintech are complementary and together we can help deliver a better experience for clients at a lower cost.
Traceability, transparency and simplification of cross-border payments remain the touchstones for the industry. Stay on top of those priorities.
Lead from the top by generating a commitment to co-creation so that we build best-in-class digital solutions.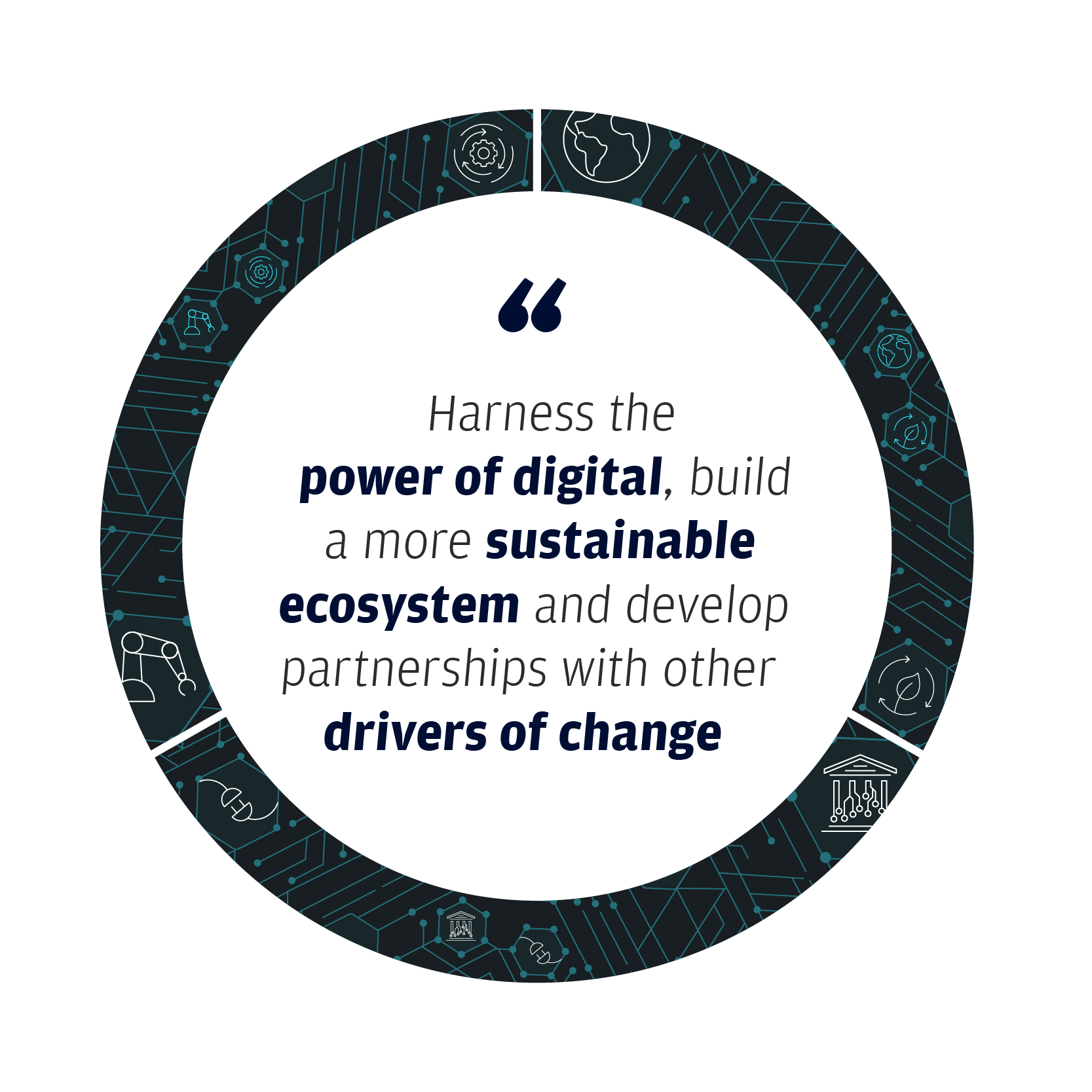 4. Create diverse and inclusive communities
Bankers are human too and digital transformation can't happen without cultural change. A chosen theme for Sibos 2020 was Banking for Humanity and the conversations that still resonate now were the ones that focused on diversity.
Observations from Sibos:
Analyse how we recruit and ensure that our language is inclusive. Even with best intentions, job ads can inadvertently appeal to only certain types of individuals.
Use data to identify gaps and measure the success of action plans. Any process that starts with data science is one with which our community will be very comfortable.
Look at both qualitative data, such as themes from exits interviews, and quantitative, using the same data-driven KPIs we apply elsewhere.

5. Sustainable banking: the environmental, social and governance (ESG) agenda
Our community has a responsibility to drive a virtuous circle between social change and positive environmental impact.
We must be ambitious in our long-term vision, modest in our short-term goals and commit to changes that we can realize.
Observations from Sibos:
Invest in companies and activities that are not only going green but have the potential to be social and environmental leaders in tomorrow's economy.
Are they incorporating broader environmental and social risks into their day to day risk system? Is their business model aligned with sustainable development?
Sustainable investment also means making decisions on where we are not going to invest. Set objectives and then set boundaries.
"We will do whatever it takes to lead in payments"
Through conversations at Sibos and in regular meetings with clients, partners and industry experts, we have integrated these key drivers into our overall strategic agenda: digital innovation, agile partnerships and sustainable banking.
We recall the plenary session at Sibos and the conversation between Jamie Dimon, Chairman and CEO of JPMorgan Chase & Co., and Takis Georgakopoulos, Head of J.P. Morgan Wholesale Payments – particularly when Takis asked: when do you build, when do you buy and when do you partner?
"We will do whatever it takes to lead in payments, "said Dimon. "I don't mind if we 100% build it ourselves and compete, partner or outsource. They're all fine with me. It really relates to the specific business issue at hand."
In the last 18 months we have added over a hundred new team members focused on innovation, exposed dozens of APIs, engaged several hundred clients on innovation and co-creation, and engaged over a hundred FinTechs in this space.
We have launched Onyx by J.P. Morgan – a new model for innovation in financial systems.
And we continue to work with clients to help build a more sustainable and inclusive world for tomorrow. This is the right way to go and the only way to go, but it is also a long-term journey. We will achieve the necessary transformation together by being clear about our intent and delivering those intentions into results.
---

We would be delighted to meet and discuss these takeaways in greater detail. Please contact your J.P. Morgan representative.


---
How J.P. Morgan Supports Sustainable and Inclusive Banking
We offer solutions to help clients meet a range of ESG goals: reduce single-use plastics and carbon emissions, support small and medium enterprises, support racially inclusive initiatives and capitalize on the long-term economic and environmental benefits of transitioning to a low-carbon world.
We also practice what we preach:

Manage our buildings and branches sustainably, with a goal of using 100% renewable energy1
Our Supplier Diversity program cultivates diverse business relationships with firms owned and operated by ethnic/racial minorities, women and other historically underrepresented groups. Annual spend in 2019 exceeded $2 billion.2
Women on the Move is the firm's commitment to provide women with opportunities to succeed in their professional and personal lives3
Our diversity strategy Advancing Black Leaders to increase hiring, retention and development of talent within the black community.4
Disclaimer
This material was prepared exclusively for the benefit and internal use of the JPMorgan client to whom it is directly addressed (including such client's subsidiaries, the "Company") in order to assist the Company in evaluating a possible transaction(s) and does not carry any right of disclosure to any other party. This material is for discussion purposes only and is incomplete without reference to the other briefings provided by JPMorgan. Neither this material nor any of its contents may be disclosed or used for any other purpose without the prior written consent of JPMorgan.
J.P. Morgan, JPMorgan, JPMorgan Chase and Chase are marketing names for certain businesses of JPMorgan Chase & Co. and its subsidiaries worldwide (collectively, "JPMC"). Products or services may be marketed and/or provided by commercial banks such as JPMorgan Chase Bank, N.A., securities or other non-banking affiliates or other JPMC entities. JPMC contact persons may be employees or officers of any of the foregoing entities and the terms "J.P. Morgan", "JPMorgan", "JPMorgan Chase" and "Chase" if and as used herein include as applicable all such employees or officers and/or entities irrespective of marketing name(s) used. Nothing in this material is a solicitation by JPMC of any product or service which would be unlawful under applicable laws or regulations.
Investments or strategies discussed herein may not be suitable for all investors. Neither JPMorgan nor any of its directors, officers, employees or agents shall incur in any responsibility or liability whatsoever to the Company or any other party with respect to the contents of any matters referred herein, or discussed as a result of, this material. This material is not intended to provide, and should not be relied on for, accounting, legal or tax advice or investment recommendations. Please consult your own tax, legal, accounting or investment advisor concerning such matters.
Not all products and services are available in all geographic areas. Eligibility for particular products and services is subject to final determination by JPMC and or its affiliates/subsidiaries. This material does not constitute a commitment by any JPMC entity to extend or arrange credit or to provide any other products or services and JPMorgan reserves the right to withdraw at any time. All services are subject to applicable laws, regulations, and applicable approvals and notifications. The Company should examine the specific restrictions and limitations under the laws of its own jurisdiction that may be applicable to the Company due to its nature or to the products and services referred herein.
Notwithstanding anything to the contrary, the statements in this material are not intended to be legally binding. Any products, services, terms or other matters described herein (other than in respect of confidentiality) are subject to the terms of separate legally binding documentation and/or are subject to change without notice.
JPMorgan Chase Bank, N.A. Member FDIC.
JPMorgan Chase Bank, N.A., organized under the laws of U.S.A. with limited liability.
© 2020 JPMorgan Chase & Co. All Rights Reserved.