Treasury and Payments
APAC Treasury Transformation Hinges On Digitization
J.P. Morgan's Sridhar Kanthadai and Karen Webster, CEO of PYMNTS.com, discuss how digital transformation is driving payment and treasury excellence for the future. This is the tenth episode in a podcast series on the "Digital Transformation of Treasury." This podcast was originally published on

PYMNTS.com.
---
Highlights
COVID-19 has accelerated the adoption of digitization among businesses, particularly in Asia Pacific where roughly 70 percent of firms sped up their own "digital journeys" and transformations, higher than the percentages registered in other regions such as EMEA and Latin America.
The legacy of manual payment modes – like the use of physical checks for payment – as well as regulatory requirements in many markets in APAC that necessitate paper documentation for cross-border movements of funds, have contributed to the digitization shift.
Treasury transformation hinges on true digitization and not just simply electronification or moving away from paper. Corporates should look to digitize the entire set of processes that govern operations, whether with their own clients or suppliers, and with banking partners in the middle.
"Digital native companies," especially ecommerce firms, have been able to take faster leadership in digitization because of the nature of their business. The more traditional brick and mortar firms will be more challenged in this journey because of the manual and physical processes they have to overcome.
Treasurers are becoming more strategic in their outlook toward using data for cash flow forecasting and liquidity management. The next steps would be to use real-time data, and availability of that data, to make better decisions for the company.
Looking ahead, there is a clear move toward a more eCommerce style or "direct-to-consumer" form of transactions, which would challenge business models while giving rise to unique opportunities within the real-time and eWallet payments space.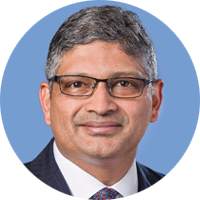 SRIDHAR KANTHADAI, HEAD OF TREASURY SERVICES FOR ASIA PACIFIC AT J.P. MORGAN
Sridhar Kanthadai is Managing Director and head of Wholesale Payments, Asia Pacific, for J.P. Morgan, based in Hong Kong. In this role, Sridhar is responsible for Treasury Services, Merchant Services and Trade Finance. He leads the firm's efforts to deliver market-leading solutions to clients by leveraging J.P. Morgan's unique global capabilities and technology investments.
Sridhar joined J.P. Morgan in April 2017 and brings over 30 years of experience in transaction banking across Asia Pacific to this role. Throughout his career, Sridhar has held leadership positions within product management, client origination, advisory solutions and services implementation.
Prior to joining J.P. Morgan, Sridhar was the head of Transaction Banking, Greater China and North Asia, for Standard Chartered Bank where he delivered services to clients across Cash, Trade and Securities Services businesses. He also held a number of roles over 12 years at Citi, including the head of Treasury and Trade Solutions for Asia Pacific, Chief Operating Officer for Global Transaction Services for Asia Pacific as well as running business lines within Cash Management.
Sridhar has been recognized as a leading practitioner, and in the last few years, has also been named Transaction Banker of the Year for North Asia and a top 10 leader of Cash Management in Asia Pacific.
Sridhar holds a Masters in Science and a Bachelors in Engineering degrees from Birla Institute of Technology and Science, Pilani (India).
This material was prepared exclusively for the benefit and internal use of the JPMC client or prospect to whom it is directly addressed (including such entity's subsidiaries, the "Company") in order to assist the Company in evaluating a possible transaction(s) and does not carry any right of disclosure to any other party. In preparing these materials, we have relied upon and assumed, without independent verification, the accuracy and completeness of all information available from public sources or which was provided to us by or on behalf of the Company or which was otherwise reviewed by us. This material is for discussion purposes only and is incomplete without reference to the other briefings provided by JPMC. Neither this material nor any of its contents may be disclosed or used for any other purpose without the prior written consent of JPMC.
J.P.Morgan, JPMorgan, JPMorgan Chase, Chase and InstaMed are marketing names for certain businesses of JPMorgan Chase & Co. and its subsidiaries worldwide (collectively, "JPMC"). Products or services may be marketed and/or provided by commercial banks such as JPMorgan Chase Bank, N.A., securities or other non-banking affiliates or other JPMC entities. JPMC contact persons may be employees or officers of any of the foregoing entities and the terms "J.P.Morgan", "JPMorgan", "JPMorgan Chase" "Chase" and "InstaMed" if and as used herein include as applicable all such employees or officers and/or entities irrespective of marketing name(s) used. Nothing in this material is a solicitation by JPMC of any product or service which would be unlawful under applicable laws or regulations.
Investments or strategies discussed herein may not be suitable for all investors. Neither JPMC nor any of its directors, officers, employees or agents shall incur in any responsibility or liability whatsoever to the Company or any other party with respect to the contents of any matters referred herein, or discussed as a result of, this material. This material is not intended to provide, and should not be relied on for, accounting, legal or tax advice or investment recommendations. Please consult your own tax, legal, accounting or investment advisor concerning such matters.
Not all products and services are available in all geographic areas. Eligibility for particular products and services is subject to final determination by JPMC and or its affiliates/subsidiaries. This material does not constitute a commitment by any JPMC entity to extend or arrange credit or to provide any other products or services and JPMC reserves the right to withdraw at any time. All services are subject to applicable laws, regulations, and applicable approvals and notifications. The Company should examine the specific restrictions and limitations under the laws of its own jurisdiction that may be applicable to the Company due to its nature or to the products and services referred herein.
Notwithstanding anything to the contrary, the statements in this material are not intended to be legally binding. Any products, services, terms or other matters described herein (other than in respect of confidentiality) are subject to the terms of separate legally binding documentation and/or are subject to change without notice.
Changes to Interbank Offered Rates (IBORs) and other benchmark rates: Certain interest rate benchmarks are, or may in the future become, subject to ongoing international, national and other regulatory guidance, reform and proposals for reform.
For more information, please consult: https://www.jpmorgan.com/global/disclosures/interbank_offered_rates
JPMorgan Chase Bank, N.A. Member FDIC.
JPMorgan Chase Bank, N.A., organized under the laws of U.S.A. with limited liability.
© 2021 JPMorgan Chase & Co. All Rights Reserved.