Liquidity Management
Provider of Renewable Packaging Solutions
First-in-market customised entrustment loan solution
---
About
This Shanghai-based company is a provider of renewable solutions in packaging, biomaterials, wood and paper. The company is involved in forestry, raw material sourcing, manufacturing and distribution of its products in China through multiple majority-owned joint ventures (JV) in Guangxi, Guangzhou, Jiangsu, Hebei, Shandong, and others.
The Challenge
The packaging provider offers working capital funds to its JVs through entrusted loans, a common funding method in China. However, as the number of JVs increased, so did the amount of loans the company was servicing, which raised overall debt levels and compromised the provider's liquidity position. An overhaul of the company's cash management structure was needed to provide more effective funding solutions to JVs, while keeping leverage ratios in check. Risk and control measures were also needed.
The J.P. Morgan Solution
A unique, first-in-the-market liquidity solution allowed the packaging provider's entities to leverage excess balances within the group before activating the overdraft facility. By centralising residual balances at the concentration account, the company is also able to pool balances together to maximise yields on investments.
This innovative solution auto centralises or decentralises end-of-day balances based on group cash position.
Additional features of the solution include Sweep-as-required combined with an in-country Zero Balance Account, a single overdraft facility shared between the provider and JVs, and the capability to invest excess balances.
J.P. Morgan ACCESS® Host-to-HostSM solution was integrated with the provider's SAP solution to automate payments, AR reconciliation and reporting.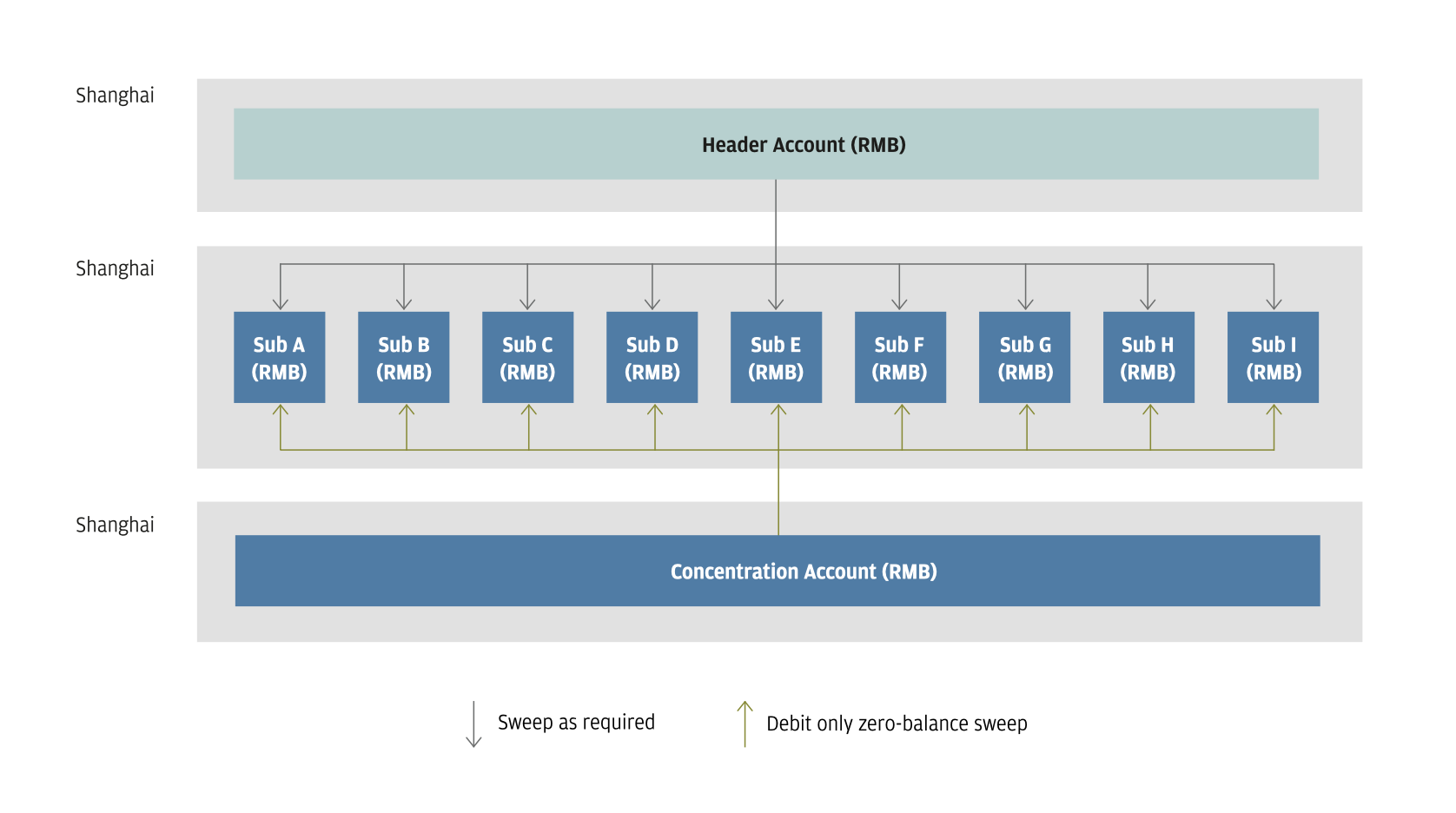 The Impact
The treasury team turned to J.P. Morgan to provide a solution that offered customised data mapping with host-to-host connectivity, which resulted in improved matching of accounts receivables (AR) and quicker release of customer credit.
By streamlining the packaging provider's account structure, treasury was able to take advantage of an optimal and efficient single overdraft facility.
J.P. Morgan provided the flexibility the company needed to manage complex entrustment loan relationships amongst the company's joint ventures and minority shareholders in China.
This solution provided treasury access to real-time liquidity positions through automatic reconciliation of payments and balances.
J.P. Morgan is the marketing name for the Treasury Services business of JPMorgan Chase Bank, N.A. and its affiliates worldwide.

The products and services described in this document are offered by JPMorgan Chase Bank, N.A. or its affiliates subject to applicable laws and regulations and service terms. Not all products and services are available in all locations. Eligibility for particular products and services will be determined by JPMorgan Chase Bank, N.A. or its affiliates. You should examine the specific restrictions and limitations of local law that may be applicable to your company when using the products and service described in this material. This presentation does not constitute a commitment by any JPMC entity to extend or arrange credit or to provide any other products or services and JPMorgan reserves the right to withdraw at any time. All services are subject to applicable laws, regulations, and applicable approvals and notifications. Please note: Virtual Account Management is under development and timelines are subject to change
J.P. Morgan AG is authorised and supervised by the German Federal Financial Supervisory Authority (Bundesanstalt für Finanzdienstleistungsaufsicht – BaFin).
J.P. Morgan Bank Luxembourg S.A. European Bank and Business Centre, 6 route de Treves, L-2633, Senningerberg, Luxembourg. R.C.S Luxembourg B10.958 - SWIFT BIC CHASLULX - VAT Number 19732200242. J.P. Morgan Bank Luxembourg S.A. is regulated by the Commission de Surveillance du Secteur Financier (CSSF) and is jointly supervised by the European Central Bank (ECB) and the CSSF. J.P. Morgan Bank Luxembourg S.A. is authorized as a credit institution in accordance with the Law of 5th April 1993
JPMorgan Chase Bank N.A. at its London Branch is authorised by the Office of the Comptroller of the Currency in the jurisdiction of the U.S.A. Authorised by the Prudential Regulation Authority. Subject to regulation by the Financial Conduct Authority and limited regulation by the Prudential Regulation Authority. Details about the extent of our regulation by the Prudential Regulation Authority are available from us on request (Firm Reference Number: 124491).
This presentation was prepared exclusively for the benefit and internal use of the JPMorgan client to whom it is directly addressed (including such client's subsidiaries, the "Company") in order to assist the Company in evaluating a possible transaction(s) and does not carry any right of disclosure to any other party. This presentation is incomplete without reference to the other briefings provided by JPMorgan. Neither this presentation nor any of its contents may be disclosed or used for any other purpose without the prior written consent of JPMorgan.
J.P. Morgan, JPMorgan, JPMorgan Chase and Chase are marketing names for certain businesses of JPMorgan Chase & Co. and its subsidiaries worldwide (collectively, "JPMC"). Products or services may be marketed and/or provided by commercial banks such as JPMorgan Chase Bank, N.A., securities or other non-banking affiliates or other JPMC entities. JPMC contact persons may be employees or officers of any of the foregoing entities and the terms "J.P. Morgan", "JPMorgan", "JPMorgan Chase" and "Chase" if and as used herein include as applicable all such employees or officers and/or entities irrespective of marketing name(s) used. Nothing in this presentation is a solicitation by JPMC of any product or service which would be unlawful under applicable laws or regulations.
Investments or strategies discussed herein may not be suitable for all investors. This presentation is not intended to provide, and should not be relied on for, accounting, legal or tax advice or investment recommendations. Please consult your own tax, legal, accounting or investment advisor concerning such matters.
Notwithstanding anything to the contrary, the statements in this presentation are not intended to be legally binding. Any products, services, terms or other matters described herein (other than in respect of confidentiality) are subject to the terms of separate legally binding documentation and/or are subject to change without notice. The information may describe or refer to products, services and features that have not been fully developed or are not generally available ("Pre-Launch Products"). We do not guarantee that we will proceed with development or that Pre-Launch Products will become available. We may change features, capabilities and other aspects of Pre-Launch Products without notice.
JPMorgan Chase Bank, N.A. Member FDIC. Deposits with JPMorgan Chase Bank, N.A., Toronto Branch, are not insured by the Canada Deposit Insurance Corporation
©2018 JPMorgan Chase & Co. All rights reserved.