Community Impact
Women-owned businesses are ready for anything
We spoke with women business owners and their advocates about how companies can capitalize on opportunities and differentiate themselves.
---
Women-owned businesses of all types and sizes face many of the same challenges as other companies of similar composition—overcoming supply chain issues, recruiting talent and managing a flexible workplace through a pandemic chief among them.
Beyond these universal concerns, women-owned businesses also face barriers rooted in gender disparity, including access to capital.
How will these businesses continue to overcome adversity and seize opportunities? According to leaders surveyed by the Women Presidents Organization (WPO) for its 2021 50 Fastest Growing Women-Owned/Led Companies list, success comes from leaning into what differentiates them: innovation, adaptability, community and culture.
"It's the gift of the entrepreneurial mindset, to be willing to experiment and adapt," said Camille Burns, CEO of the WPO. "We've had a lot of members grow and do really well throughout the pandemic. They're reaching new markets and expanding their businesses despite all these challenges."
Speed bumps, not dead ends
Supply chain shortages brought all sorts of disruption to Merrilee Kick and her family-owned company, BuzzBallz/Southern Champion LLC, which produces ready-made cocktails. Shipping containers were stuck at ports and many raw materials­—like strawberries from Europe—could no longer be sourced efficiently.
Kick wasted no time adapting. Taking a cue from her experience early in the pandemic, when BuzzBallz shifted to producing hand sanitizer it then donated, Kick lined up alternative suppliers to ensure minimal disruption of her company's products.
"Keeping pace with growth is hard," Kick said. "But keeping pace with growth while still innovating is even harder."
All this happened as the company prepared to expand overseas. Now, BuzzBallz has 21 international target markets in addition to growing business across all 50 states. And it continues to create new products that "reinvent happy hour."
Carrie SiuButt, CEO of SimpleHealth, also found opportunity in a foreboding challenge. Her company provides online access to reproductive health consultations and medications. As the pandemic forced patients and doctors to be physically apart, SiuButt and SimpleHealth recognized the importance of telehealth.
"The pandemic pummeled us, but telehealth is the place to be," SiuButt said. "The future is digital, and providing services online allows more people across the country to access high-quality healthcare without the stress of coordinating transport, finding a local provider, or delaying or missing appointments."
Telehealth services do more than improve outcomes and access, SiuButt said. They help ease some historical inequities in the healthcare system.
That type of forward-thinking leadership and quick decision-making makes it possible for women-owned businesses to thrive amid challenges, according to the WPO's Burns.
"Women owners and entrepreneurs don't wait for things to come back to normal," Burns said. "They see a change in the market, and they go for it."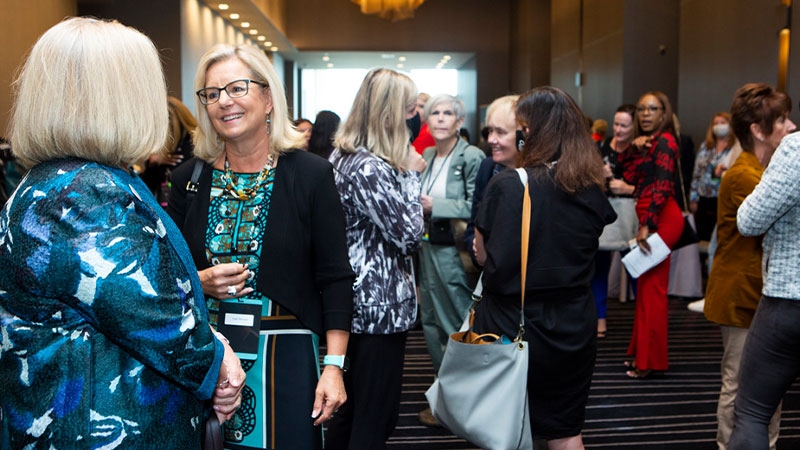 Women Presidents Organization Annual Conference
Women business owners, like those who attended the WPO's 50 Fastest luncheon in November 2021, cite fellow business owners among their most trusted advisors.
Leveraging culture for results
It's not strategy alone that powers BuzzBallz, SimpleHealth and other women-owned businesses to success. It's the employees of these businesses who help bring plans and values to life.
Many women-owned businesses prioritize culture and operations in equal measure. The commitment to identity, mission and values differentiates them and helps them recruit, develop and retain talent.
SimpleHealth invested in building a team that would lead on diversity, equity, inclusion and belonging. Those efforts encompassed everything from onboarding and compensation to development and culture—the holistic employee experience, SiuButt said.
SimpleHealth also understands the importance of recognizing diversity among its patients. SiuButt said the company plans to deploy more diverse and inclusive marketing campaigns to help patients feel comfortable on the online platform.
For Kick and BuzzBallz, a focus on culture translates to an array of real-world resources and support. Employees have access to English as a second language (ESL) courses and a child-care center with state-certified teachers, for example. The company also serves free on-site lunch every day and offers employees paid time off for birthdays and 10 days of paid leave over the Christmas holiday season, in addition to regular paid time off.
"Those extra things that you do for your people, like having empathy, are the things that matter most," she said. "It's not always the day-to-day job that's important; it's the management and love for the people that differentiates the company."
Such compassion contributes to low turnover at BuzzBallz—and is an important factor for growing companies in a tight labor market.
"Aligning organizational values with skills for the job leads to hiring people who fit the culture and are really excited about work," Burns explained. "Even if they're not 100% qualified, you can train them. Working hard to make everyone feel appreciated isn't always about dollars, but about feeling like you do good work and are a part of a team, which plays into retention. Women business owners are good at taking those extra steps."
Leveling up leadership
To overcome gender barriers in the business world, women owners benefit from leadership training and entrepreneurial acumen. Thelma Ferguson, Managing Director and Northeast Segment Head for Middle Market Banking at JPMorgan Chase, sees education and mentorship as a major piece to this growth journey.
"The more immersed that owners are in educating themselves about the various components of their company, the better positioned they are to be successful," she said. "Whether that's networking with subject matter experts in the industry, learning about acquisition opportunities, creating diversified revenue streams, understanding various types of capital, or creating effective advisory boards—the more they learn, the more they can level the playing field."
Networking is also essential.
"Build your network and invest in yourself," Kick said. "As business owners, it can be hard to take time and network. But it's important to get out there and toot your own horn. You need to talk to other people who are going through—or have already been through—what you are going through."
Leaders must be aware of "decision fatigue" and how to balance professional pressures with their personal lives.
"Self-care is important," SiuButt said. "No matter how many things need to get done, a healthy CEO is the best CEO."
What's next
All business owners faced adversity in 2021. But women business owners in particular are accustomed to managing their businesses and their families, preparing them for the leadership task at hand.
"They've successfully turned challenges into opportunities by prioritizing self-care, for themselves and for their employees, and by adapting quickly," Burns said. "If you see a change in the market, move. Don't wait for things to go back to the way they were."
---