Markets and Economy
The Global Move Away From LIBOR
Major changes in the pricing of global financial products are coming over the next several years as the transition away from LIBOR approaches a 2021 deadline. Here's what businesses need to know today.
---
Often called "the world's most important number," the London Interbank Offered Rate (LIBOR) is a benchmark interest rate that was originally intended to reflect the rate at which banks could borrow from one another in London. It's been in broad use across financial products since the late 1980s, but following regulatory guidance and reform of benchmark rates, regulators have signaled the need to use other benchmarks.
As part of this benchmark reform, it's likely that LIBOR will be discontinued after 2021 when its UK regulator will no longer compel banks to submit rates needed to publish the benchmark.
Although LIBOR may no longer be representative of the interbank borrowing it was set up to reference, it's still widely used for a variety of financial instruments—everything from mortgages to corporate loans to currency swaps—so advance preparation on the part of regulators, banks and businesses is necessary to ensure markets function properly beyond the 2021 transition deadline.
New Rates to Replace LIBOR
Regulators across the globe are working to develop more robust and transaction-based risk-free rates (RFRs) that are compliant with IOSCO financial benchmark standards for almost $400 trillion of wholesale and consumer products. In the United States, the Federal Reserve created the Alternative Reference Rates Committee (ARRC) in 2014 to develop an alternative RFR for US Dollar (USD) LIBOR.
The ARRC has identified the Secured Overnight Financing Rate (SOFR) as its preferred RFR alternative and has published it since April 2018 on an overnight basis. SOFR is a new reference rate calculated based on overnight US Treasury repurchase transactions. The industry is developing a methodology for determining a SOFR forward-looking term rate to operate similarly to LIBOR as well as a methodology for determining a credit-spread adjustment to SOFR-based LIBOR fallbacks. The credit spread adjustment would account for SOFR being a secured rate (whereas LIBOR is an unsecured rate).
The ARRC has also published a paced plan for the transition to SOFR by the end of 2021. The growth of the SOFR futures market is promising and will be critical to the development of forward-looking term rates.
Other proposed RFRs are shown below: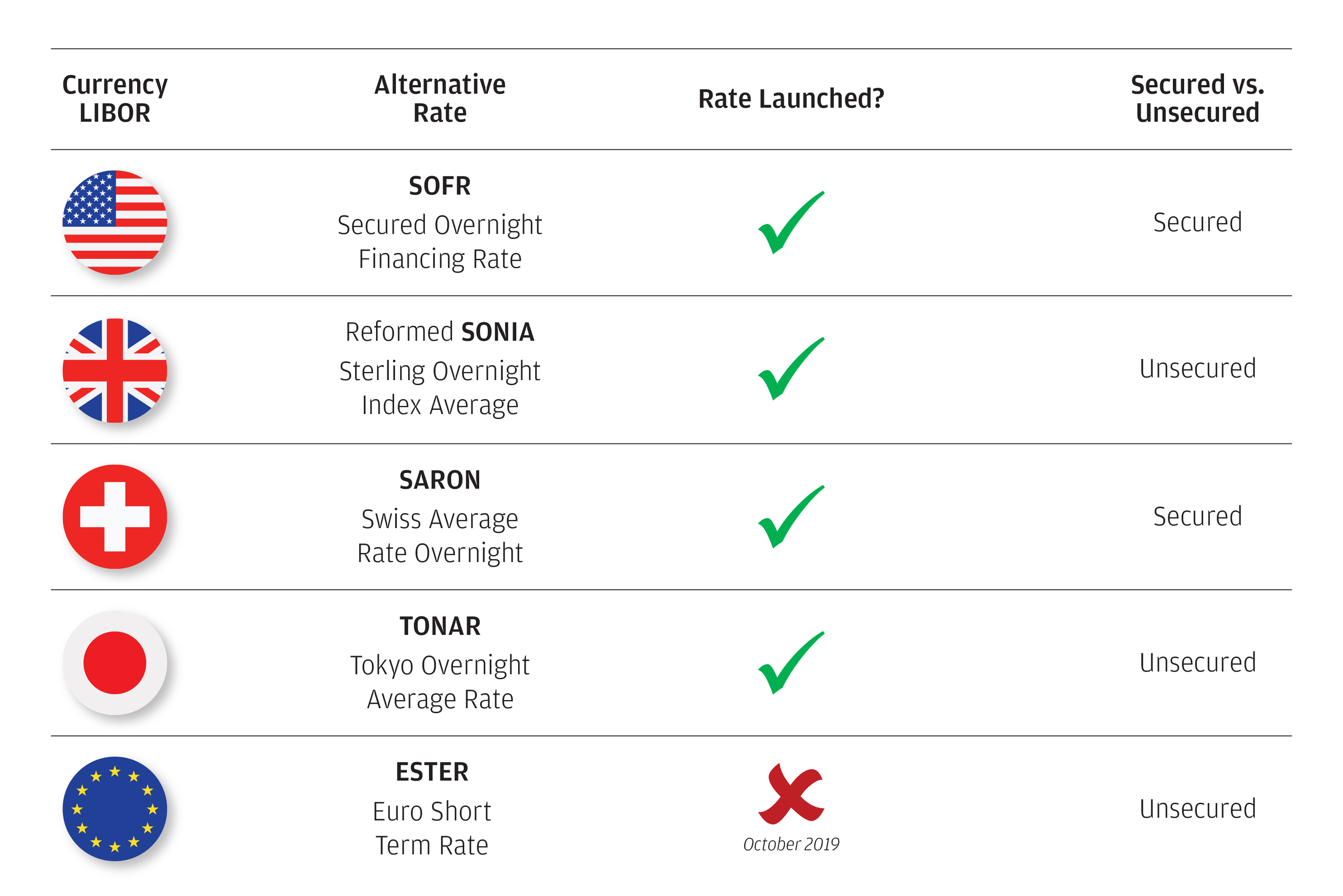 J.P. Morgan's Approach to the Transition
J.P. Morgan is playing a leadership role in global efforts to design and implement new RFRs. Across our lines of business, we're working to ensure that our clients and our firm are prepared for the transition by the end of 2021 and beyond. We're undertaking major legal, operations, systems and communications work related to the transition. Issues we're addressing include the assessment of fallback rates, document amendments, multicurrency facilities, syndicated loans, hedge accounting and coordination across RFRs, among others.
To help clients prepare, we're now including disclosure language in new facilities advising of the likely upcoming cessation of LIBOR at the end of 2021.
What's Next for Businesses?
Although the timing of the origination of new deals with alternate methodologies has yet to be determined, the terms of existing loans and derivatives that reference LIBOR and mature later than the end of 2021 will need to be amended prior to that date to provide for the new fallback rate methodologies for USD LIBOR (and other currencies, if applicable).
To ensure the broadest possible industry engagement, we're encouraging our clients to participate actively in public consultations and follow developments closely in the months and years ahead.
Please contact your banker to discuss what the LIBOR transition means for your business.
David S. Watson, Managing Director, Commercial Banking
As Head of the LIBOR Transition Program for Commercial Banking, David Watson is responsible for all legal, operations, systems and project work related to the transition.
---