Treasury
Are You Ready to Go Virtual?
With all the buzz around managing accounts virtually, treasury teams must exercise due diligence to determine if they can—and should—leverage a virtual structure.
---
As corporate treasurers move rapidly toward centralized structures, they need tools to help them. Although numerous innovations support centralization, virtual accounts have attracted the most attention—and with good reason. Not only can virtual accounts assist with cash management centralization at various stages, but they also have the potential for thousands of dollars in fee and efficiency savings.
What Is a Virtual Account?
A virtual account is a subledger account linked to a physical bank account. Virtual accounts are not bank accounts, but do serve as a means to allocate different physical account transactions and balances. Each virtual account is a subledger that tracks associated transactions and a balance from transaction activity. Like a standard account, it has a valid account number, as well as a valid routing and transit number or International Bank Account Number, to facilitate payments and collections from other parties.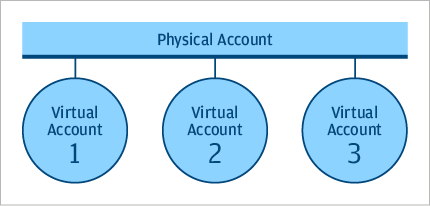 However, there is a key difference between a virtual and physical account: The virtual account doesn't hold actual balances. Instead, the funds representing the balance attributed to a virtual account are held in the virtual account's respective physical bank account. Similarly, the bank's ledger views a virtual account's balance as belonging to the owner of the physical account, rather than the virtual account holder. This is not an issue for single-entity structures in which the physical account and virtual account holder is the same entity. But for more complex, multi-entity structures with different owners, the ability to track and manage the individual subledgers of participating entities is the key enabler of in-house banks and on-behalf-of structures.
What Are the Benefits of a Virtual Account?
A virtual account can offer a wide range of benefits, including increased efficiency, visibility and control. Rather than operating different physical accounts for business units, payables, receivables and special projects, a virtual account structure allows you to concentrate funds into a single account while maintaining records that track the separation of activity. As a result, you not only have fewer accounts, but fewer associated fees. The resulting hard dollar savings can provide treasury teams with more available operating cash for funding or investment.
The reporting benefits of virtual accounts are just as important. The myriad ways to classify virtual accounts—by function, legal entity, project, etc.—provide a solid base for analytics and data-driven decisions. Likewise, back-end maintenance and management of the accounts are much less complicated and can be enacted through a self-service platform, thus simplifying processes and reducing the administrative burden. Through a combination of fewer physical accounts and centrally managed entitlements and limits, a virtual account can also help enhance data security and reduce the risk of fraud. For instance, if a virtual account is compromised, it can be closed and replaced quickly, leaving the physical account's security intact.
Why Aren't More Companies Moving to Virtual Accounts?
Treasury teams may be clamoring for virtual accounts and the associated benefits, but that doesn't mean they're positioned to leverage a virtual structure. With this in mind, consider your individual treasury's circumstances and objectives—along with potential stumbling blocks—as you determine if a switch is right for you.
Treasurers and their virtual accounts are subject to the same market requirements and similar regulations as physical accounts, including restrictions on commingling of funds. To ensure you're building a viable structure, involve your tax and legal teams in the vetting process.
---
As the name implies, virtual account functionality involves solely electronic transactions. However, just because you need to support checks or currency transactions doesn't mean you should abandon virtual accounts altogether. Instead, consider a hybrid structure of both physical and virtual accounts to support subsidiaries in need of paper solutions.
---
Of course, virtual accounts still need oversight. Internal books must be updated, and the physical account owner's transactions made on behalf of its parties must be recorded to both the physical and virtual account holder's ledgers. Fortunately, this feat can be greatly simplified by using a single instance enterprise resource planning (ERP) system, which allows for customized rules to create necessary journal entries automatically across all ledgers. If you're not in a single ERP environment, reporting can still be parsed across the multiple ERPs; this may require building new interfaces or coding more complex booking rules.
---
A virtual structure may simplify some aspects of KYC, but don't expect it to eliminate your requirements. Entities that own virtual accounts are still subject to due diligence by the bank.
---
Ultimately, It Comes Down to Fit

Like most technology solutions, virtual accounts are a means to an end. Before you think about capabilities or pros and cons, you need to ask yourself a few questions: What are your ultimate treasury objectives? What banking account setup will best support your company's overall goals and structure? What structure do you anticipate in one, three or five years—or even a decade from now?
If the result of your analysis finds that a virtual account is a viable fit for your company, get ready to go virtual. And if your analysis reveals now isn't the right time, don't be discouraged. Banks are continually expanding the functionality of their virtual account solutions, so it might be worthwhile to revisit the topic in a few months.
Next Steps
Before you go all in with a virtual structure, consider these four steps.
1. Look before you leap: Assess the viability of the virtual account solution for you in today's context as well as in the future when your environment may be different.
2. Explore other ways to achieve efficiency wins: Are there immediate opportunities to streamline your bank relationships and accounts? Do you need to take steps to reduce paper transactions in your operations? You don't have to wait for a virtual structure to take advantage of these easy wins.
3. Stay informed: The market will continue to evolve, and new solutions are being introduced regularly. Look to your banking team to keep you updated and help you determine the best solutions and timing for implementing a virtual account.
4. Create the case for change: Get involved in planning efforts to create a virtual-friendly environment within your organization.
Are you ready to go virtual? Fill out the form below to get in touch and learn more about our digital solutions, including Virtual Account Management.
---