Commercial Real Estate
The women behind 5,000+ affordable housing units
From South Carolina to Seattle, five affordable housing leaders share their career journeys. 
---
The community development industry's resilience has been proven time and again. Whether it's finding creative ways to build and preserve affordable housing or learning from the COVID-19 pandemic, leaders always rise to the occasion.
Here, five affordable housing leaders from across the U.S. share how the industry has evolved, where they see it going and why community development is so rewarding.
Susan Boyd, CEO, Bellwether Housing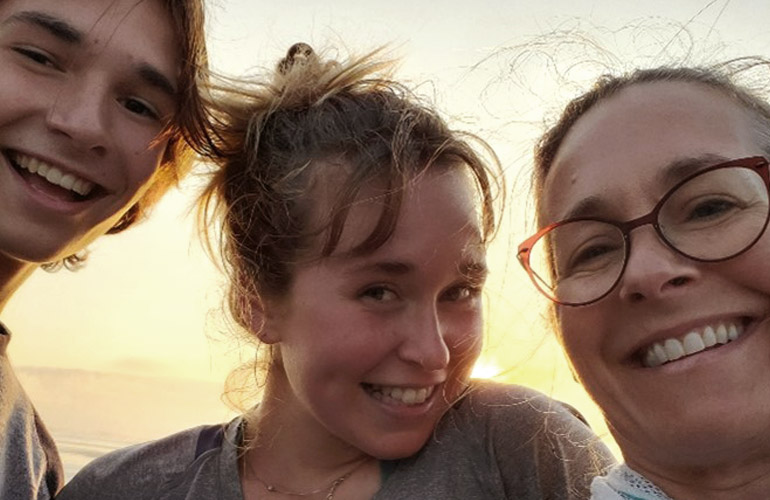 Boyd poses for a photo with her children at sunset. Boyd cites her biggest accomplishment as "raising two children who are far more talented, insightful and charismatic than I am."

How many years have you been in community development?

I've worked in housing and homelessness my entire career. I wrote about homelessness in school, volunteered and interned in shelters in college and worked in homeless services organizations. I returned to school to get a graduate degree in public policy and a law degree with a focus on land use and urban housing economics. I worked for 12 years at Kantor Taylor, a law firm specializing in affordable housing and community development financing. I've been at Bellwether Housing for nearly 11 years.
What makes you a great leader?
I'm curious, tenacious and passionate. I want to understand. I want to get things right. And I want to do right by my team, my community and those we serve. My expectations for my organization are high—we should have integrity, ask hard questions, take risks and keep our mission at the fore. I believe there's a lot we can learn from others in our sector, and I take a lot of pride in the ways Bellwether has built trusting partnerships to accomplish more than we could alone.
What's your favorite part about your job?
I get to work with an incredibly dedicated, talented and delightful group of people every day. While the solutions to our affordable housing crisis often seem elusive, we continue to find ways to do more and do it better. It's incredibly exciting and fulfilling work.
Holly Douglas Schaumber, Principal, Holliday Development and Douglas Development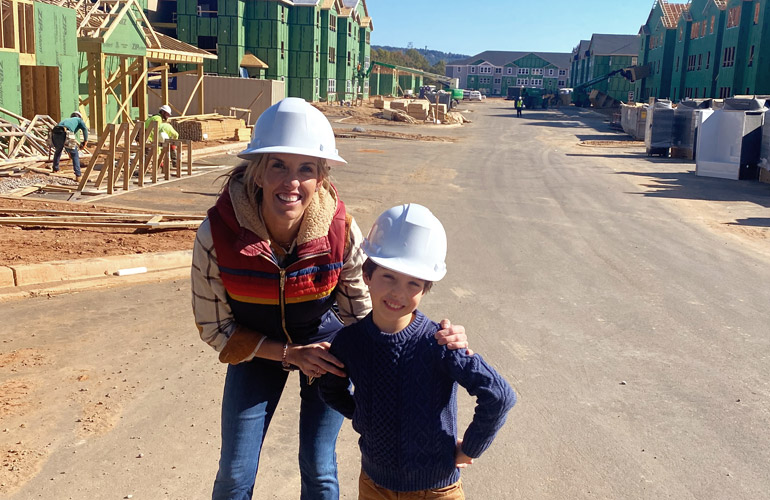 Douglas Schaumber frequently brings her sons to properties so they have a better understanding of what she's working on when she can't be with them. Her father did the same when Douglas Schaumber was a child.

How many affordable housing developments have you helped create in your career?
Since starting Holliday Development and becoming a principal of Douglas Development in 2011, I've materially participated in or co-developed 21 communities in North and South Carolina totaling 1,269 units.
Does running your own business make work-life balance easier or harder?
It's a blessing and a curse—but mostly a blessing. If I didn't have the latitude of being an entrepreneur, I couldn't serve my family and commit to my job. It's always a balancing act of where to put my energy and focus. I answer emails from 11 p.m. to 1 a.m. so I can come into school and read in the morning or take my kids to an after-school activity at 4 p.m. I have to really care about what I do to reconcile spending time away from my kids.
What qualities have helped you succeed as a leader in community development?
More than anything, I think passion is what has helped me in this career path. I feel passionate about what we do, and that makes it easier to deal with a lot of the bureaucracy surrounding housing programs. But at the end of the day, I fundamentally believe everyone is entitled to safe, decent housing. No one living in this country should have to worry about whether they'll have somewhere to go home to at night. I think the private sector has a vital role to play in increasing the affordable housing supply, and it's really rewarding to be able to participate in that.
Diana McIver, President and Owner, DMA Companies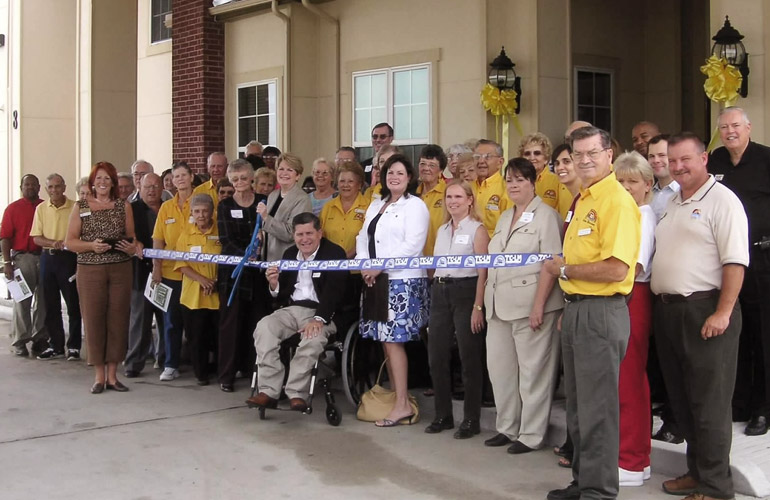 McIver attends the grand opening of the Village at Morningstar, a 100-unit affordable senior community, in Texas City, Texas.

How many affordable housing developments have you helped create in your career?
As a consultant for nonprofits developing Section 202 senior housing, I developed more than 12,000 apartment units across the country. As an owner and developer since 1998, I've created 3,200 affordable units, with an additional 260 units currently under construction.
How has community development changed throughout your career?
I've seen a policy change in how we address people's affordable housing needs. The 202 program, for instance, was a one-size-fits-all program with strict cost controls that were applied at the national level. What I liked about the Low Income Housing Tax Credit (LIHTC) program was the statute provided flexibility to state and local governments to create programs that reflected area needs.
I also like the trend of mixed-income housing. A mixed-income community is a healthy community. I grew up in a rural town in Idaho where people of various income levels lived side by side. You weren't defined by your income; you were defined by how you treated others.
What has been your biggest success thus far?
I'm proud of the company we've built. It's truly a boutique development firm. Large cookie-cutter deals aren't in our repertoire. We are cognizant of the land and the neighborhood and create a building that fits in with its surroundings and is compatible with the needs of our future residents.
Cissy C. Watson, CEO, Mansermar Development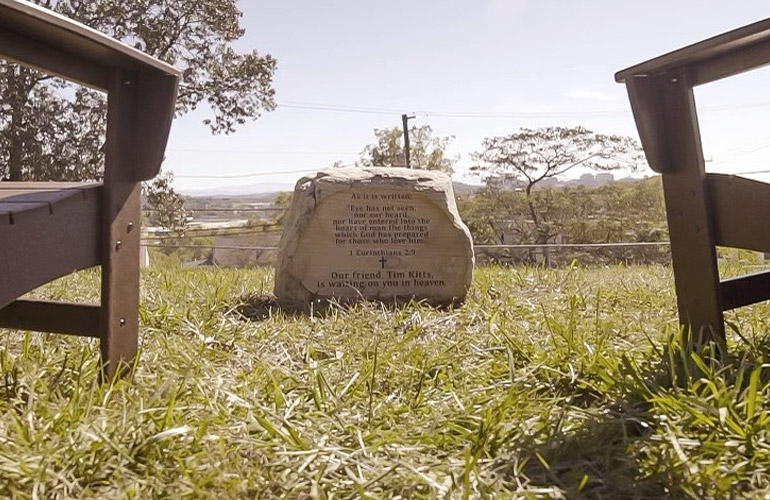 During renovation of a Knoxville, Tennessee, apartment building, Watson and the Mansermar team included a memorial rock honoring project superintendent Tim Kitts, who died before construction was complete.

How many years have you been in community development?
Forty years; I started in our family business in 1983.
What COVID-era organizational changes are you implementing long term?
We've made several changes that will be long term for our organization. The ability to do everything remotely from the corporate perspective is a given going forward. When we renovated, we added nooks so residents and staff have a designated area for private communication. We're also more sensitive to the mental health and happiness of our senior citizen residents. And we now include two extra months of time for all construction schedules due to some hard lessons we learned about supply chain issues.
How do you think the industry will change in the future?
I'm concerned about the availability of affordable housing for seniors—our country must address this shortage in coming years. I want to see more government or public-private partnership funding for very low-income and extremely low-income seniors. This is the most difficult demographic to provide quality housing for, and it's the most vulnerable population. Ultimately, this specific housing impacts the homelessness crisis in our country. I would love to see more creativity with additional LIHTC, Community Reinvestment Act credits and governmental rental subsidies.
Yolanda Winstead, President and CEO, DHIC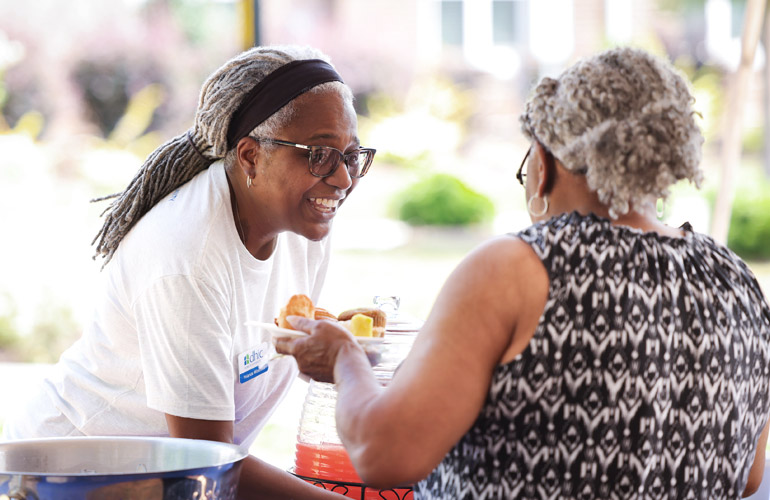 Winstead, who joined DHIC as President and CEO in June 2020, serves an attendee at a recent DHIC event. Winstead is the third leader in the organization's nearly 50-year history.

How long have you been in community development?
28 years.
How many affordable housing developments have you helped create in your career?
I've spent the majority of my career focused on deploying capital into affordable housing developments. And I put that number in the range of 100 or more.
How has community development changed throughout your career?
The leadership of community development organizations is much more diverse than when I began my career. There's a broader range of perspectives and voices included in refining strategies and best practices for serving the needs in our community.
How do you think the industry will change in the future? How do you want it to change?
The cost of housing continues to increase across all housing types and at all income levels. The industry must continue to develop new financing models to close the affordable housing supply gap for low- to moderate-income households.
Spend the day with three affordable housing leaders.
© 2023 JPMorgan Chase & Co. All rights reserved. JPMorgan Chase Bank, N.A. Member FDIC. Visit jpmorgan.com/CB-disclaimer for disclosures and disclaimers related to this content.
---