Treasury
Integration Roadmap for Your Treasury Transformation Journey
Each treasury organization is unique, but the end goal following a merger or acquisition remains the same for all: to optimize cash management by leveraging the strengths of both companies. Learn best practices to help you manage the operational and strategic aspects of a treasury integration.
---
Given the complexity of mergers and acquisitions (M&A), it's understandable that organizations often focus exclusively on deal execution, which typically includes coordinating changes with lawyers and initiating the transactions needed for closing.
However, companies should also use the deal-planning stage to develop a roadmap to combine the operational and strategic aspects of a treasury integration. By doing so, you can help position your organization for lasting transformation following an M&A deal.
The Roadmap: Key Milestones for the Journey
Treasury integration looks different for every company. An M&A transaction creates an opportunity to combine two unique treasury organizations—each with their own processes, portals and platforms—in a way that achieves optimal efficiency. Regardless of your beginning state, it's important to formulate a roadmap like the one below that organizes your transformation journey along expected events. To meet those milestones, it will help to have senior-level sponsors to shepherd the plan as well as project managers to coordinate its execution across the enterprise.
Sample Roadmap for an M&A Integration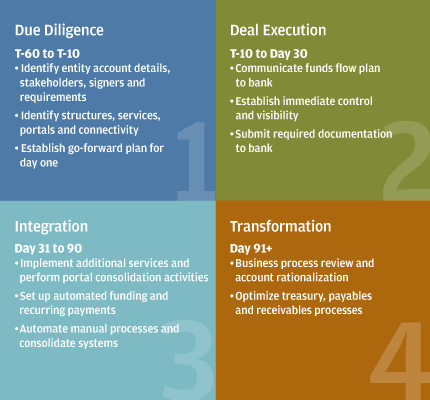 The Operational Integration: Visibility and Control From Day 1

When building your roadmap for a treasury integration, your initial integration steps should be operational in nature. Now is the time to combine the current day-to-day activities of each organization—and, ideally, clean up any accounts or processes that are redundant or outdated.
As soon as possible after the deal closes, it's critical to gain visibility and control of all accounts across your bank relationships. This includes submitting legal documentation to your banks to change authorized signers and entitling required users on all online bank portals for cash reporting and transaction initiation purposes, as needed.
Much of establishing visibility and control will happen via the online portals. There, you can update security administrators and account entitlements to remove inactive users, closed accounts and products linked to inactive accounts. You can also establish user groups with controls and transaction limits.
Protecting the larger firm is crucial toward gaining control; you'll want to establish fraud protection on each account and update your email policies so that messages from outside your company are flagged "external" as an added safeguard against cyber fraud.
The Strategic Integration: Efficiency and Scale for the Long Term
As you integrate operationally, you should also strategically examine how to optimize your treasury. Technology is a central component of any strategic treasury integration. You'll want to ask yourself: What are the organization's long-term operating needs for enterprise resource planning (ERP) and treasury management system (TMS) software—and is consolidation of existing systems an option? Identify where automation could further enhance operations, such as by implementing Host-to-Host (or Swift) connectivity for payment processing and balance reporting.
With the visibility you've gained from the operational integration, you should now review your manual processes to identify where automation and other technology can make your organization more efficient. Explore whether vendor and payroll payments could be made directly from an ERP, perhaps via a single payment file solution. Look into consolidating receivables into one file, automating cash application and pursuing a remittance-matching service. You can even go deeper into the purchase-to-pay and order-to-cash cycles to determine how to best integrate invoicing, procurement—including supplier preferences, terms and settlement type—and other functions.
Taking a deep-dive review of bank providers and accounts can also help you identify redundancies. By having fewer accounts at fewer banks, your volume at each provider will be larger, which can generate cost savings and uncover pricing advantages. Plus, reducing the complexity of your banking structure can ease your regulatory reporting process. As you determine the right approach for centralizing your accounts, it can help to determine a standard set of key performance indicators to provide a framework for measuring success.
Finally, with consolidation and automation plans underway, you can focus on redeploying experienced treasury staff members for responsibilities that add more value to your organization.
The Transformation: Optimizing for the Future
Once you've fully integrated your treasury from the operational and strategic perspectives, keep going. The integration is only one aspect of your transformation journey; there are even more opportunities ahead to enhance your processes and refine your structure. After the integration is complete, continued transformation of your treasury could include:
Reviewing and mapping business processes to identify ways to increase automation and streamline for greater efficiency
Optimizing working capital
Leveraging access to a greater pool of data
Exploring robotic process automation and utilizing application program interfaces for real-time treasury capabilities
Pursuing forward-thinking centralization initiatives, such as establishing an in-house bank, shared services center or a regional treasury center
As you continue to optimize your treasury, the integration experience will serve as a valuable educational model to support the future growth of your newly combined company.
J.P. Morgan's Corporate Treasury Consulting team can support clients like you on your transformation journey to help build a timeline that works for your organization. Fill out the form below to get in touch with us today to learn how to get started.
Read a more detailed version of this article that ran in Treasury & Risk.
---