Commercial Real Estate
3 social media marketing tips for multifamily property owners
If your rental property isn't active on social media, you're overlooking potential residents and opportunities. 
---
Roughly 70% of Americans use social media, whether it's for sharing news or searching for apartments, according to the Pew Research Center. That makes social media marketing critical for real estate. If you don't have a social media presence, you're missing out on potential residents and other opportunities.
"Today, there's nothing more powerful than social media," said Roger Daniel, President and Founder of Daniel Management Group (DMG). "It's the modern-day word of mouth."
DMG uses social media for its corporate entity and properties to drive awareness and reputation. But it's only one part of DMG's marketing efforts.
These three tips can help establish and amplify a social media presence for your property that could lead to business results.
1. Choose your social media platforms wisely
Just because your property is active on social media doesn't mean it has to be on every platform. Before you join TikTok, Instagram or any other channel, ask yourself a few questions:
Who's your audience?
"Start by defining who you want to reach and why, and what message you want to deliver," said Marci Rankin, Head of Commercial Real Estate Marketing at JPMorgan Chase. "You can find demographics for each social channel's user profile on their advertising pages. Which one has your audience?"
For example, DMG properties focus on Facebook and Instagram users who reflect their prospective residents. The former has a large user base of Gen X and baby boomers, and the latter is the top platform for millennials.
What are you trying to achieve?
If you want to develop brand awareness and attract and retain residents, you might start your social media journey on Facebook or Instagram. If you're looking to connect with owners, investors, brokers and others in the industry, LinkedIn can be a useful tool for networking, insights and event invitations.
How much time and budget do you have?
It can take time to establish your profile and following. It's important to be patient, but you can also explore opportunities to boost your profile, such as paid search engine promotion or social media advertisements that target your audience. If you have a steady stream of content, you can save time by using a platform that lets you automate posts on a regular cadence to drive engagement.
2. Invest in high-quality imagery
You want to show your property in its best light—figuratively and literally. Your photos and videos don't need to be perfect, but they do need to be high quality. If you aren't able to hire professionals, be sure to brush up on your photography or videography skills via free online courses. And don't forget to make use of editing tools and filters offered by many platforms to enhance your visuals.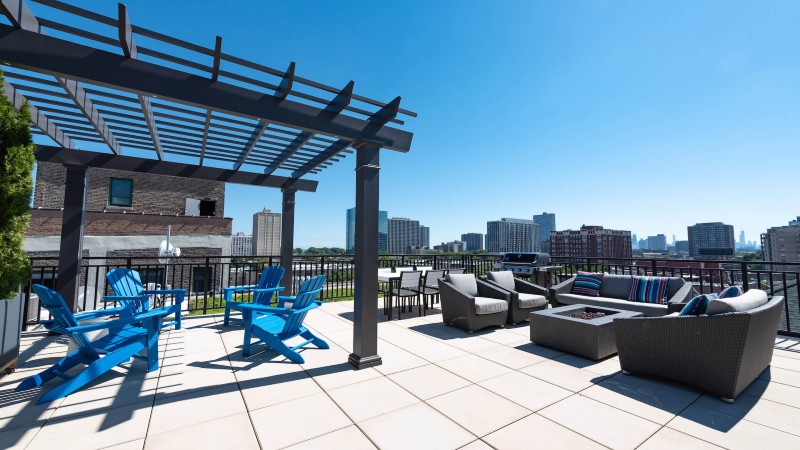 High-quality images are crucial in social media for real estate. Source: DMG Instagram
You can use imagery to give a more comprehensive view of your property via:
Tours of the building: Property owners and operators can save time by providing tours of available units on YouTube, Facebook, Instagram or TikTok. Whether you opt for a series of photos or a short video, be sure to include in-unit and building amenities, such as storage units, expansive walk-in closets, and washers and dryers.
Neighborhood details and recommendations: Although most posts should focus on your property, renters also likely want to know about the surrounding neighborhood. Don't be afraid to sprinkle in images of nearby restaurants, the dog park down the street and other spots that make the area great.
A peek into what it's like living at your property: You don't have to create all your social media content yourself. User-generated content—including online reviews, customer testimonials, and posts or images that tag your property—can be just as impactful. To help generate this content, you can hold raffles for gift cards and other prizes for current residents who tag you in their posts.
We always have to watch trends, see what impacts algorithms and ensure our content is in a format that will reach and resonate with our audience.
Roger Daniel, President and Founder of DMG
3. Stay active
"Oftentimes, social media marketing is trial and error, so don't get discouraged," Rankin said. Instead, look at metrics to see what is performing well and what isn't. "What types of images are your audience engaging with the most? Do they want to see puppies in the courtyard or movie nights in the community room? Do they want to see floor plans or resident testimonials?"
As you continue on your social media journey, it's important to spend time researching trends and following other profiles and influencers in your space for inspiration to help grow your following.
"We always have to watch trends, see what impacts algorithms and ensure our content is in a format that will reach and resonate with our audience," Daniel said. "DMG is always looking to see how social media evolves, including what formats and content are most relevant and impactful. For example, we learned that video content is critical to social and ensuring our content gets to potential residents and clients." As a result, DMG has invested in videos to showcase communities.
"Potential residents want to see what life will be like at the property and are most interested in content that showcases the lifestyle of the community," Daniel said. "A quick, 15-second video can capture the essence of the property and the attention of a prospect."
© 2022 JPMorgan Chase & Co. All rights reserved. JPMorgan Chase Bank, N.A. Member FDIC. Visit jpmorgan.com/cb-disclaimer for disclosures and disclaimers related to this content.
---