Treasury Services
How to maximize your business rewards card
Ask yourself these three questions to help determine how a commercial card could make running your business even more rewarding.
---
Ask yourself these three simple questions to determine which commercial card could make running your business even more rewarding.
Whether you're a business owner, CFO or treasury officer, you likely have a common goal: to continuously improve the financial health of your company. That means optimizing working capital, reducing costs, tracking employee spend and more—like maximizing card rewards.

If you have already introduced a commercial card program for your business, you're ahead of the pack. You might even have an all-star program administrator who manages the daily operations. Commercial card programs offer businesses several benefits. In addition to robust controls, simplified reconciliation and improved working capital, businesses can also earn value on purchases just like a consumer credit card. Think redeemable rewards points across a range of categories, or an annual refund on all card purchases in the form of a cash rebate.
But there is a difference between having a basic commercial card program and having a great program that allows you to maximize card rewards. Here are three questions to help you improve your program or guide an implementation that delivers the strongest value.
1. How much does your business spend annually?
Start by looking at your annual spend. Typically, organizations with higher spend see more value from an annual rebate program. Alternatively, rewards might be a stronger incentive for businesses that want to use their points throughout the year.
With no minimum spend requirement, your business can earn one reward point for every dollar spent—and there's no limit on the number of points your business can earn. You know exactly how many points are available to reinvest in your organization at any time.
As your business spends more, you will move up tiers of cash back rebate eligibility. In doing so, your business can gain a higher rebate rate. Businesses spending $3 million or more annually could potentially see a stronger impact to their bottom line from rebates over rewards.*
2. How often will you redeem your rewards?
Some organizations prefer receiving a lump-sum rebate annually, while others might value the ability to get rewards anytime throughout the year.
Your business has the flexibility to use its rewards points whenever you want. Because your points never expire, there's no pressure to redeem corporate card rewards by a certain date. Instead, your business can use its points anytime at its discretion.
Your business will receive an annual cash rebate payment that can be factored into future fiscal planning. Potential uses for the rebate can include covering business expenses or reinvesting money back into your company.
3. What works best for your business?
Define your business objectives and how rewards or a rebate will match. Are you trying to boost your employee recognition program? Want to replenish office supplies next month? Maybe you want to increase liquidity at the end of a slow quarter. Or do you have large, predictable initiatives like strategic projects or annual employee bonuses?
With 1% cash back on every purchase**, you can reinvest in your business on a monthly, quarterly or annual basis. Earn gift cards from top brands to fuel your employee recognition program. Or outfit your organization with the latest technology and office equipment.
Optimize your expenses, improve your bottom line and apply your rebate to your annual spend. Organizations have the freedom to spend their rebate however they want, which may mean paying employee bonuses, funding a strategic IT project or refurnishing the office space.
Choosing a commercial card that's right for you
Aligning rewards with your business spend and needs is essential. When businesses use the J.P. Morgan One Card, for instance, they have the potential to double their business rewards value across:***
Cash back
Gift cards
Merchandise
Travel (air, hotel, car rental)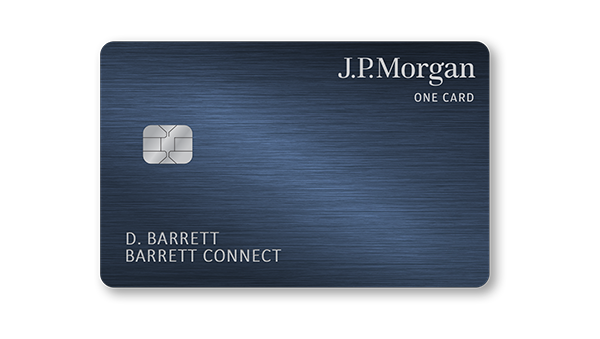 Commercial card: One Card
Typical use: Business-to-business purchases and travel and entertainment expenses.
Ideal for: Organizations that want a single card program for any type of spend, from travel to everyday business expenses. Learn more.
Building a robust commercial card program
Other areas of your corporate rewards card program to manage are transparency and control, intuitive reporting, flexible payment terms and fraud protection. Look at how your commercial card provider can also help you achieve more with resources like customer service, card acceptance across a broad base of suppliers and the scale to grow alongside with you.
As you evaluate whether a rewards or rebate program fits your business best—including the broader benefits of a commercial card program—you don't need to figure it out all at once or on your own. Connect with us, and we'll help you find the right solution.
*For illustrative purposes only.
**Earn 1% cash back, which equates to one point per dollar spent on every purchase. One hundred points is redeemable for the value of one dollar.
*** J.P. Morgan One Card with Rewards calculations and competitor calculations.
© 2022 JPMorgan Chase & Co. All rights reserved. JPMorgan Chase Bank, N.A. Member FDIC. Visit jpmorgan.com/cb-disclaimer for disclosures and disclaimers related to this content.
---