Leadership
2020 Business Leaders Outlook
After 10 years, executives still see a bright future for business, but global complexity casts a shadow of uncertainty.
---
2020 is here and middle market executives remain largely confident about their businesses, but optimism beyond their own balance sheets is increasingly couched in caution. According to the data—and our experts—their concerns reflect the ever-growing complexity and costs of finding qualified talent while growing in the global marketplace.
But the responses are not unexpected. Headlines in the last year have touted anxieties of a pending downturn as the pace slows on the longest-running US economic expansion on record.
In the 10 years of the Business Leaders Outlook, our survey has followed the recovery's progress and provided a yearly snapshot of the big shifts and nuances of doing business today, from tracking the decline of concern over regulatory requirements to the rise of hiring difficulties.
Read on to learn more about 2020 trends to watch, tips to manage your challenges and highlights from our look back on 10 years of the Business Leaders Outlook.
Over the 10 years of our survey, the business environment has changed dramatically. Through ups and downs in outlook, business leaders have continued to keep their fingers on the pulse of the latest trends and economic changes to face their toughest challenges and maximize growth.
John Simmons, Head of Middle Market Banking & Specialized Industries, Commercial Banking
BIG IDEAS

OUTLOOK OVERVIEW
Business confidence persists despite fading economic optimism
What leaders see
Going into 2020, business leaders are less optimistic the further from home they look, with the sharpest declines on the global, national and industry fronts. However, if businesses are retreating to caution, it's an incremental shift; there's a nearly even split in the increased share of those who are neutral versus pessimistic in their global, national and industry outlooks.
Indeed, a majority of leaders—albeit a smaller share than last year—are still positive about their own company's prospects for revenue and profit growth.
Expectations for their companies



Behind the numbers
Commercial Banking Head Economist Jim Glassman says that in 2019 many businesses felt the effects of a stalling industrial sector, caused by reduced oil drilling and limited aircraft production—even though the overall economy was strong.
Businesses are starting to report some decline in optimism as the pace of economic expansion naturally settles down and they become used to a new normal. But it's important to note that slowing economic growth isn't a sign of weakness, and many of the concerns business leaders have point toward an economy that's running at its full potential.
Jim Glassman, Head Economist, Commercial Banking

What leaders plan to do
To meet their own company's performance expectations, businesses' primary strategy is to grow their customer base.
Growth strategies




HIRING AND TALENT
Hiring difficulties are a people issue more than a skills issue.
What leaders see
Although less than last year, the majority of leaders (55 percent, down 11 PPTS) do still plan to increase hiring next year.
Reasons for increasing hiring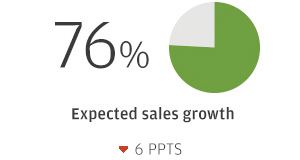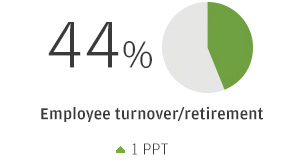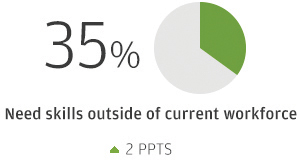 For the fifth year in a row, talent issues comprise two of the top three challenges facing businesses in the new year.
Top challenges for 2020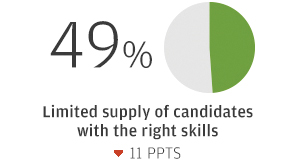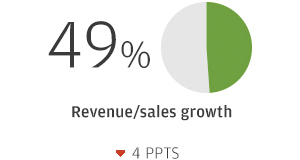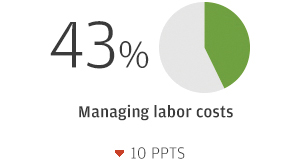 With most businesses planning to grow by attracting new customers, leaders are finding it more difficult to fill sales positions compared to last year.
Hardest positions to fill
Hardest positions to fill—industry breakdown
Respondents included traditional manufacturing companies as well as early-stage companies with steep growth trajectories and disruptive product and service offerings that are classified as part of the innovation economy. This breakdown shows that technical and trade roles are some of the hardest to fill among all companies, but other hiring needs vary dramatically by industry.
Behind the numbers
With the unemployment rate sitting at its lowest point since the 1960s, businesses must primarily contend with a lack of people to fill open roles.
Reasons for a talent shortage
Other obstacles respondents noted include a remote or undesirable location and a lack of interest among job-seekers in industries like construction and agriculture.
Companies are being called on to articulate and live their values. Culture, flexibility, diversity and inclusion, along with professional and personal development opportunities are all crucial investments in creating a valuable employee experience. For organizations, this represents a path of continual growth in support of attracting and retaining top talent and running strong businesses.
Katrina Craigwell, Head of Employer Brand, JPMorgan Chase & Co.

What leaders plan to do
Compensation and benefits still top the list of companies' strategies to get and keep talent, but many are also focusing on value-driven offerings—like professional development, a positive culture and better aligning with and communicating company values. Learn more.
Strategies for attracting and retaining talent

GLOBAL BUSINESS
Businesses are expanding globally despite headwinds.
What leaders see

Although optimism about the global economy has dropped since last year, nearly half of respondents (47 percent) are doing business internationally and most remain bullish about expanding their global footprint.
Expected global sales in next 5 years
Consistent with the sentiment of the last few years, international businesses said they were most concerned about currency risk (39 percent), managing a global supply chain (28 percent) and managing business rules/regulations/risk in Europe (27 percent) in the coming year.
However, 47 percent of respondents expressed worry about tariffs and trade barriers impacting their business1.
Expected impact of tariffs in 2020
Brexit ranks as another international concern, but for a smaller share of midsized companies. Of the 16 percent (up 6 PPTS) of respondents who anticipate a negative impact from Brexit, re-evaluating their supply chains (40 percent) is the leading action they're planning to take.
Behind the numbers
Many respondents noted how certain geopolitical complexities—such as the unpredictability of US trade policy and the increased costs from tariffs—were making it more difficult to do business internationally.
While there are challenges in today's international business environment, companies continue to remain heavily invested overseas. This is becoming increasingly true for smaller companies and technology companies, which are going global earlier in their lifecycle as the ease of technology and travel allows them to develop international business much more quickly.
Morgan McGrath, Head of International Banking, Commercial Banking

What leaders plan to do
Despite concern about tariffs, more than half (52 percent) of respondents aren't taking any actions as a result of them this year.
Plans for addressing tariffs




TECH AND CYBER
Across all industries, cybersecurity risks are top of mind.
What leaders see

To prepare for myriad potential disruptions in the new year, respondents noted plans including training employees on new technologies, backing up systems, hiring IT teams and strategically acquiring other companies.
For cyber threats specifically, 94 percent of companies said they've taken actions to prepare.
Cybersecurity preparations completed in 2019
Greatest cyber threat in 2020
Behind the numbers
According to the Association for Financial Professionals' annual Payments Fraud and Control Survey, a record 82 percent of businesses were targets of payments fraud in 20192 —a number that's been steadily ticking upward year after year, making security an important priority for businesses in 2020 and beyond.

What leaders plan to do
Companies across all industries are taking advantage of tech, but strategically using what makes sense for their unique business needs.
Planned technology use in 2020
Planned technology use in 2020—industry breakdown
Emerging technologies don't have to be seen as a threat or a use case limited to only high-growth startups. Small and midsize companies are increasingly learning to work with and embrace these technologies to drive changes in their operations and ensure they remain ahead of the curve in their industries.
Melissa Smith, Head of Specialized Industries, Commercial Banking

2020 STRATEGIES
Opportunities abound in 2020 despite slowing economic growth.
What our experts see
The Business Leaders Outlook survey is a snapshot of the top-of-mind issues for businesses for the year ahead. Businesses should keep these considerations in mind throughout 2020 to help navigate these issues:
Considerations from our experts

ABOUT THE SURVEY
In its 10th year, the 2020 Business Leaders Outlook online survey is a snapshot of the current business environment based on the responses of 885 senior executives from US middle market companies with annual revenues from $20 million to $500 million. Industries include manufacturing, technology and disruptive commerce, heavy equipment, agribusiness, beverage and many others.
This year's survey was conducted Oct. 29 to Nov. 19, 2019. For year-over-year trends, 2020 and 2019 data is compared to data collected in the early first quarter of 2011-2018.
Results are within statistical parameters for validity; the error rate is plus or minus 3.33 percent at the 95 percent confidence interval.
Who took the survey
Company size by number of employees

Chase, JPMorgan and JPMorgan Chase are marketing names for certain businesses of JPMorgan Chase & Co. and its subsidiaries worldwide (collectively, "JPMC"). The material contained herein is intended as general market/economic commentary. Opinions expressed herein are those of the individuals quoted and may differ from those of other JPMC employees and affiliates. This information in no way constitutes J.P. Morgan research and should not be treated as such. Further, the views expressed herein may differ from that contained in J.P. Morgan research reports. In no event shall JPMC or any of its directors, officers, employees or agents be liable for any use of, for any decision made or action taken in reliance upon, or for any inaccuracies or errors in or omissions from, the information herein. © 2020 JPMorgan Chase & Co. All rights reserved.
1.
  Note: This survey was conducted Oct. 29 to Nov. 19, 2019; this was prior to the initial trade deal reached between the US and China in December.