Leadership
2020 Business Leaders Outlook Pulse Survey
At midyear, most business executives remain hopeful about their outlook, and 1 in 2 predict a full return to pre-pandemic business conditions within 12 months.
---
At midyear, most executives remained hopeful about their prospects, but predict a full return to pre-pandemic business conditions could take significant time.
Call it a Tale of Two 2020s–the one before mid-March and the one at midyear.
Before the COVID-19 pandemic surfaced, most business leaders were wondering if the longest-running U.S. economic expansion on record was finally coming to a close. By March, they received an abrupt answer as governments forced closure of all but the most essential product and service industries around the world.
By late June, 1 in 2 business leaders (53%) were expecting their companies to return to normal within the next 12 months. However, more than three-fourths (83%) reported they were operating at some level of reduced capacity with more than half (59%) voicing concerns about growing revenue. A third (33%) of respondents said changing consumer habits due to the pandemic was a leading concern for their future.
But in the midst of disruption, a historic story of optimism, adaptability and change was playing out as fast decision-making and smart use of digital capabilities loomed large in these survey results.
By June, more than half of executives (56%) had already made or planned to make permanent changes to their operating model as a result of shifting to working from home. Additionally, more than half (54%) reported that they had shifted or plan to shift their operating model to be more online in the future in response to the continuing pandemic and shifting consumer habits.
It's been a turbulent start to the year, but business leaders can look to the experiences and insights of their peers to help navigate what's to come.
Outlook Overview
Business confidence continues at the company level–but local, national and global forecasts are a different story.
What leaders see
At midyear 2020, there was one familiar viewpoint common to past annual Business Leaders Outlook surveys–executives still believe in the success of their enterprises above all forecasts for their industries and their local, national and global economies. However, the vast majority of business leaders surveyed described economic uncertainty–both domestically and globally–as the leading challenge facing their business operations.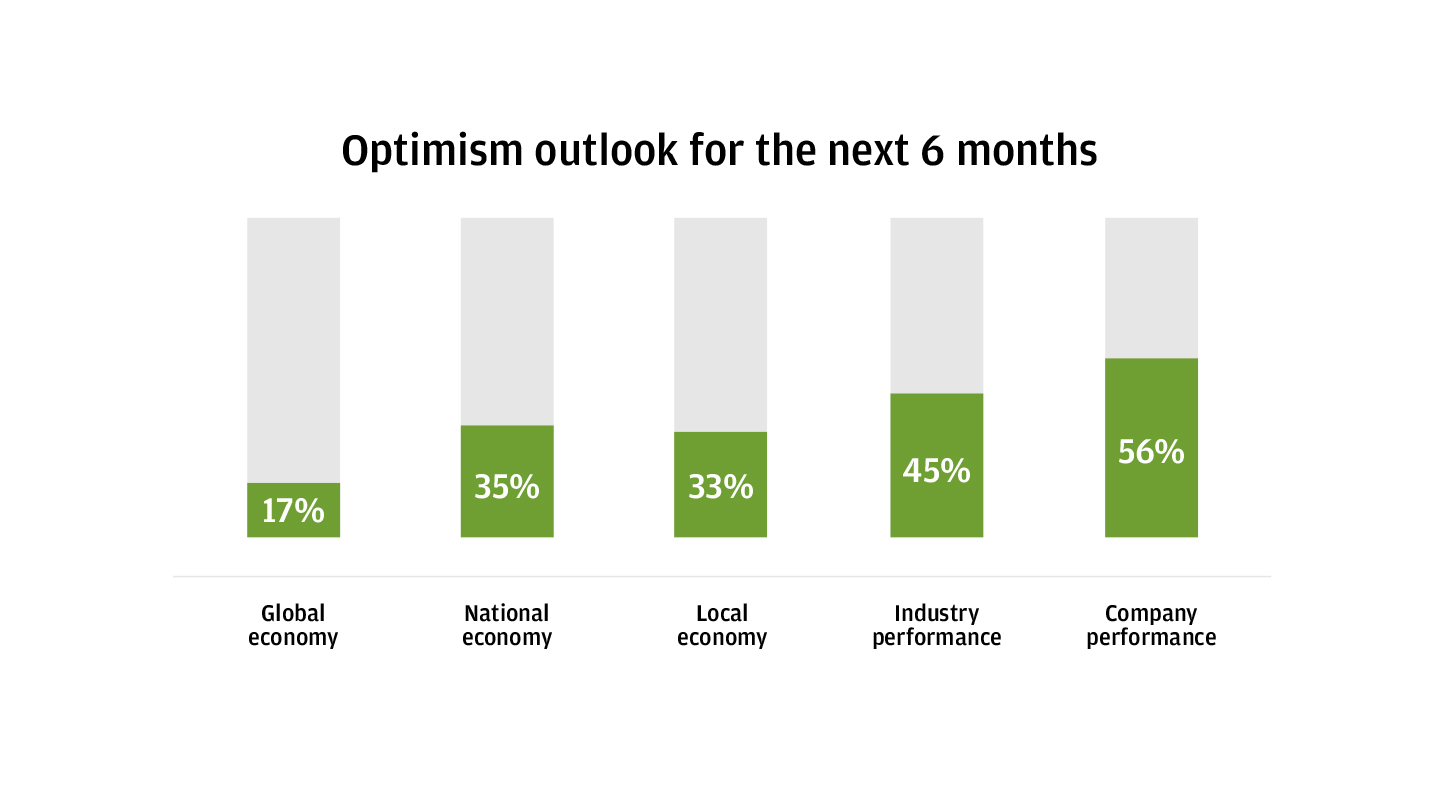 Optimism outlook for the next 6 months
Global economy 17%

National economy 35%

Local economy 33%

Industry performance 45%

Company performance 56%

---
Less than half of executives (47%) expect sales and profits to grow and most (71%) have cut back on capital expenditures for the duration of the year or plan to do so.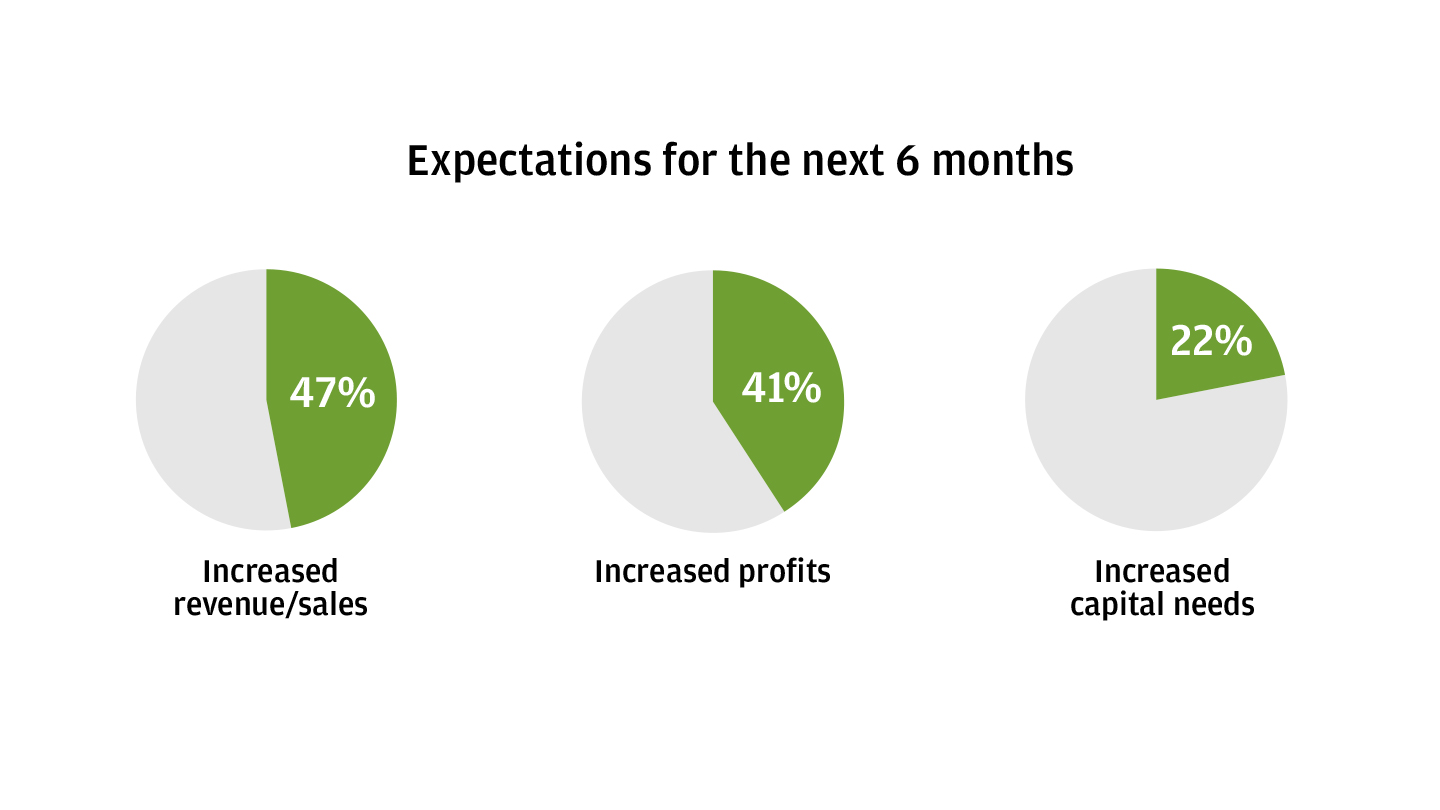 Expectations for the next 6 months
47% Increased revenue/sales
41% Increased profits
22% Increased capital expenditures
---
COVID-19 Business Response
Work-from-home and increasing digital dependence are driving new-and possibly permanent—business models.
What leaders are doing now
Pivoting to the COVID-19 pandemic changed business tactics practically overnight–and possibly permanently. Moving top executives and staff to work-from-home status has sparked increased use of digital banking and treasury tools and new thinking about how businesses may focus operations more online in the future.
Significantly, most (82%) executives at midyear said that they were readying their organizations to deal with a potential repeat of early 2020 disruptions.
Time to Recovery
Getting back to "normal" will take time–and big challenges remain.
What leaders see
At midyear, very few executives were operating at pre-COVID capacity, but more than half remained hopeful about a return to normal operations in the next 12 months. Still, most aspects of the business environment remained too unsettled for significant planning.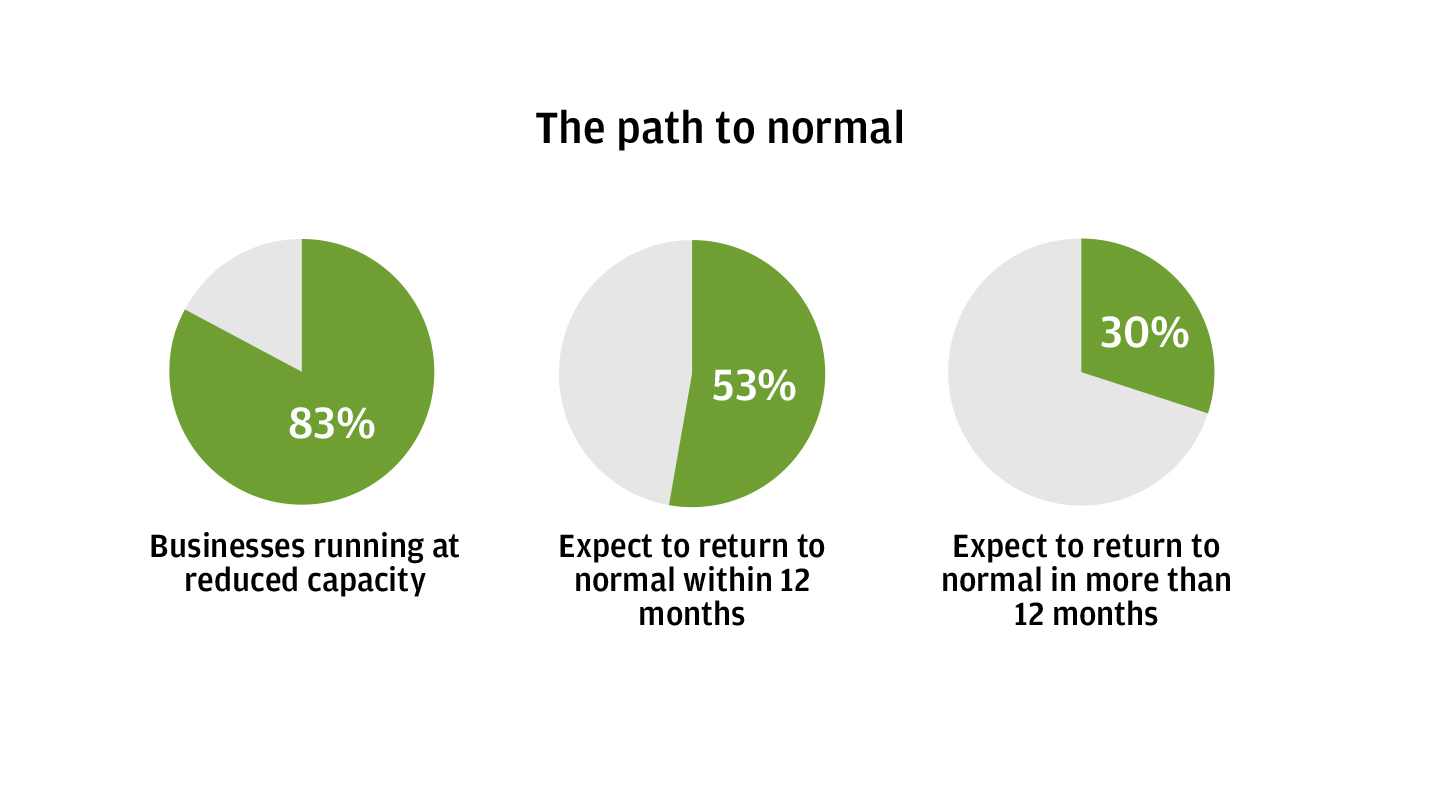 83% Businesses were running at reduced capacity
53% Expect to return to normal within 12 months
30% Expect to return to normal in more than 12 months
---
With so much uncertainty, business executives are planning ahead in case disruptions continue. They described their biggest current challenges as uncertain economic conditions (70%), revenue and sales growth (59%) and shifting consumer habits due to COVID-19 (33%).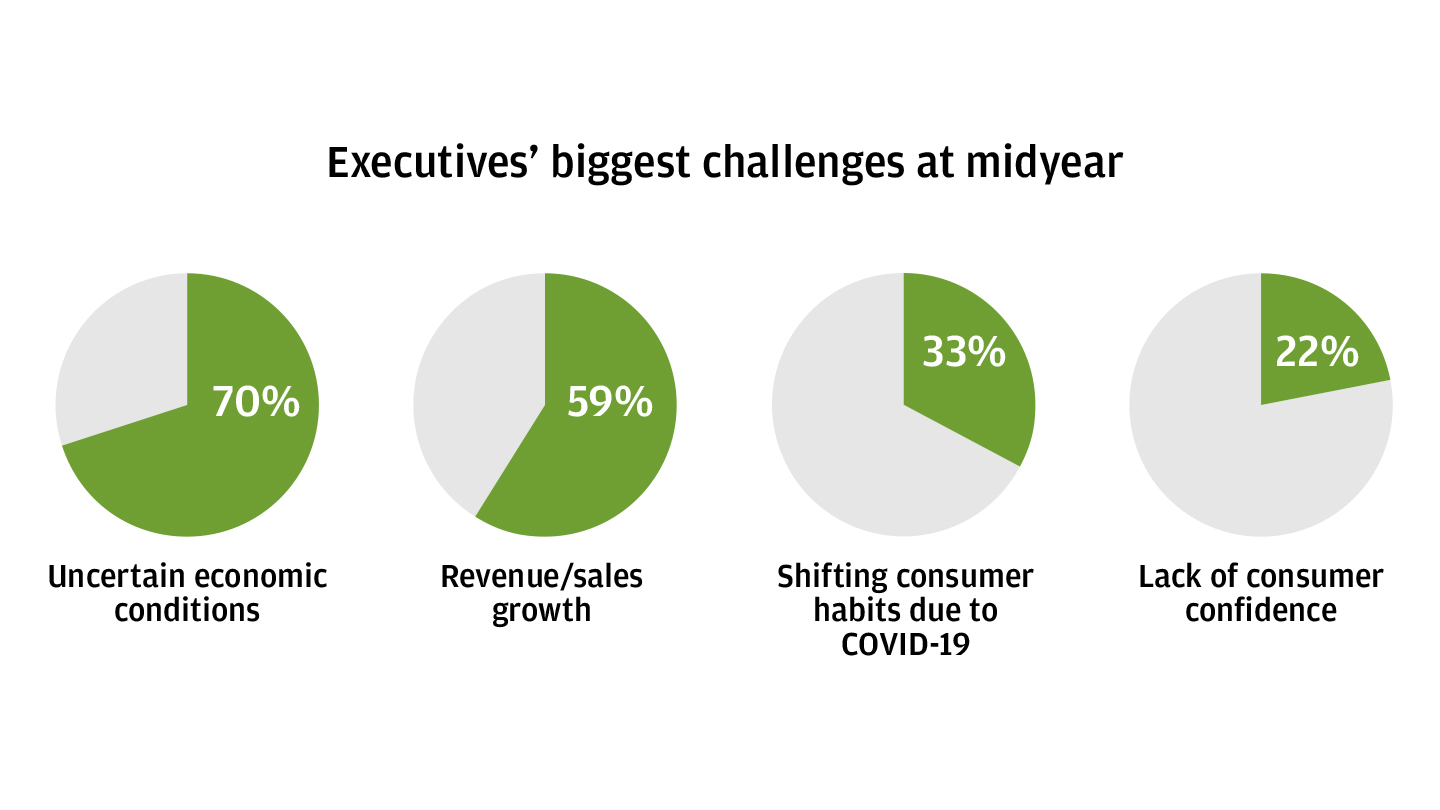 The biggest challenges in the way of recovery
70% Uncertain economic conditions
59% Revenue and sales growth
33% Shifting consumer habits due to COVID-19
22% Lack of consumer confidence
---
2020 Strategies
These tactics will be essential for the rest of 2020.
What our experts see
The Business Leaders Outlook Pulse survey offers an intermediate snapshot of top-of-mind issues for companies now and in the months ahead. To help you navigate one of the most turbulent economic years on record, keep these considerations in mind:
Considerations from our experts
Harness the power of workplace technology. COVID-19 has accelerated the evolution of remote working, and now is the time for businesses to implement digital tools to enhance productivity. Learn more here.
Enhance digital security protocols. Business email compromise (BEC) is among the most serious threats that businesses face–particularly in times of crisis. Learn how to help prevent BEC and other types of fraud here.
Proactively prepare for future disruption. Recent events have reinforced that businesses of all sizes and industries must have solid resiliency plans in place before crises happen. Learn more here.
About the Survey
This 2020 Business Leaders Outlook Pulse survey is a snapshot of the current business environment based on the responses of more than 520 executives from U.S. middle market companies with annual revenues from $20 million to $100 million across a range of industries including manufacturing, professional services, technology and disruptive commerce, heavy equipment, agribusiness, beverage and distribution.
The survey was conducted online from June 22-29, 2020.
Results are within statistical parameters for validity; the error rate is plus or minus 4.3% at the 95% confidence level.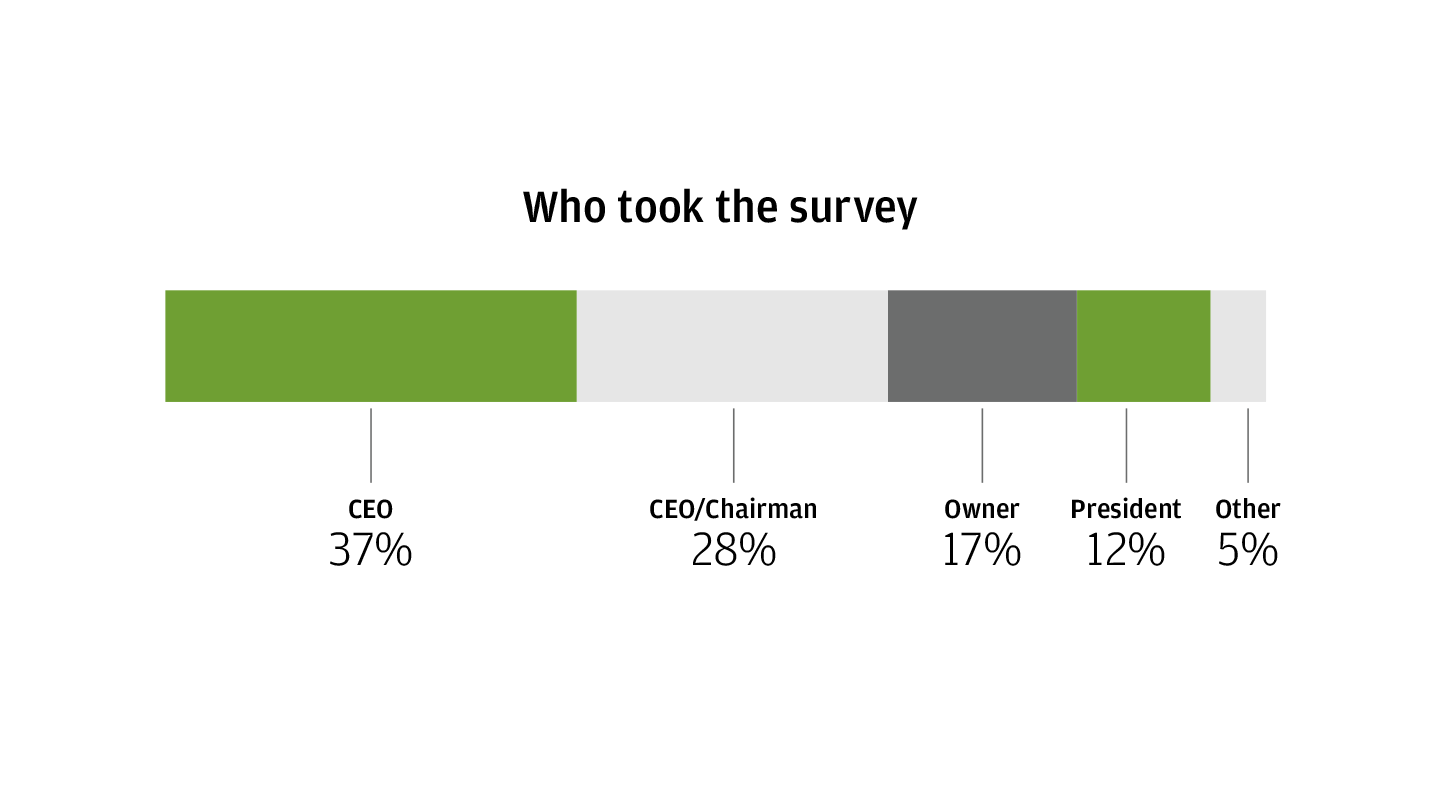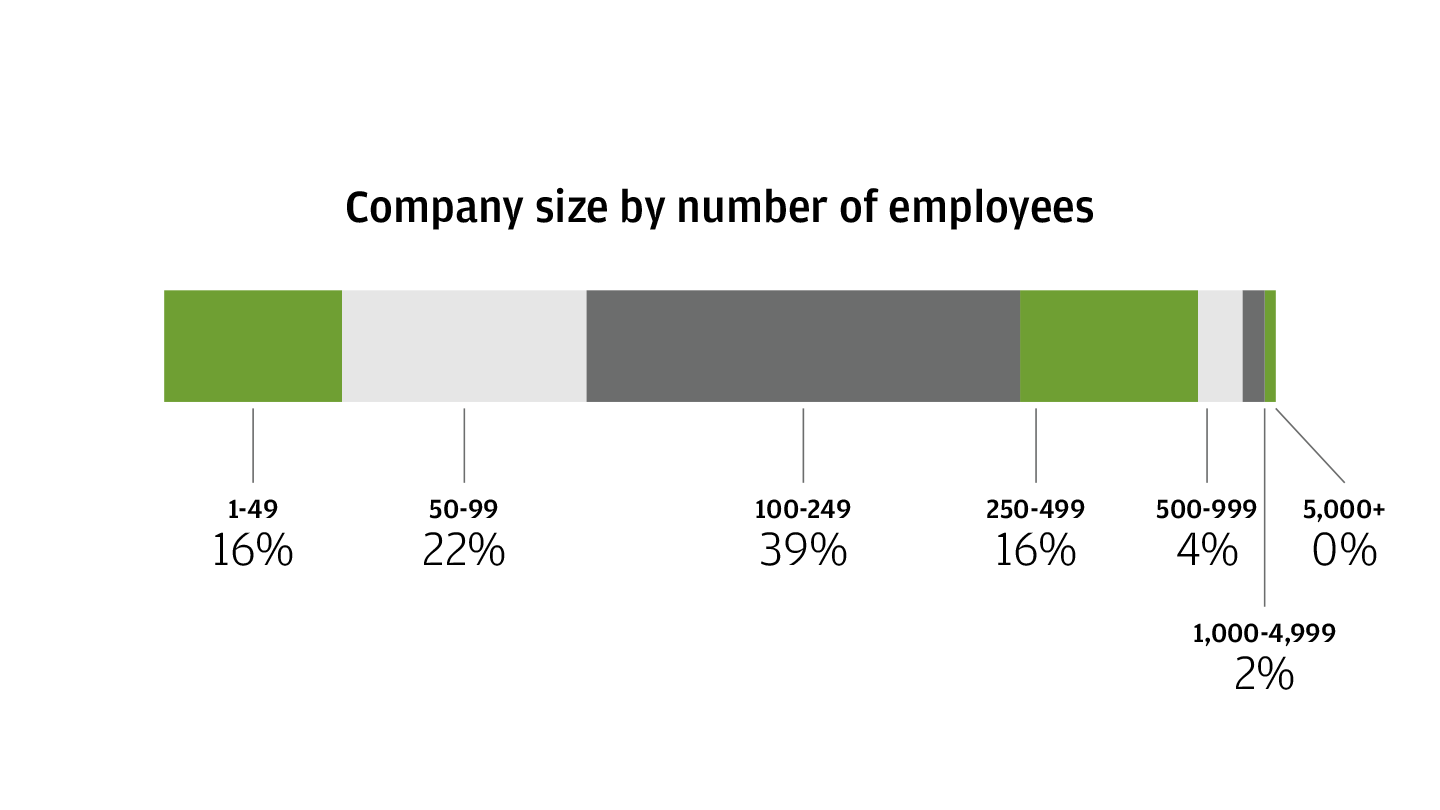 Company size by number of employees
39% 100-249
22% 50-99
16% 250-499
16% 1-49
4% 500-999
2% 1,000-4,999
0% 5,000+
---
J.P. Morgan, JPMorgan and Chase are marketing names for certain businesses of JPMorgan Chase & Co. ("JPMC") and its subsidiaries worldwide. Products and services may be provided by banking affiliates, securities affiliates or other JPMC affiliates or entities. Not all products and services are available in all locations. Eligibility for particular products and services will be determined by JPMorgan Chase Bank, N.A. or its affiliates.
This is a general communication being provided for informational purposes only and is intended as general market/economic commentary. The content of this webpage is educational in nature and not designed to recommend any specific financial or investment product, strategy, plan feature or other purpose. In preparing this content, JPMC has relied upon and assumed, without independent verification, the accuracy and completeness of all information available from public sources. The views, opinions, estimates and strategies, as the case may be, ("views") expressed in linked content are those of James Glassman (Head Economist, Commercial Banking) and/or the other respective authors and speakers named in those pieces and/or the JPMC departments that publish the content, and may differ from those of J.P. Morgan Commercial Banking. This communication in no way constitutes J.P. Morgan research and should not be treated as such. These views are often based on current market conditions and are subject to change without notice.
Any examples used are generic, hypothetical and for illustration purposes only. Prior to making any financial or investment  decisions, a client or prospect ("Client") should seek individualized advice from financial, legal, tax and other professional advisors that take into account all of the particular facts and circumstances of the Client's own situation. Any information related to cybersecurity provided is intended to help clients protect themselves from cyber fraud, not to provide a comprehensive list of all types of cyber fraud activities nor to identify all types of cybersecurity best practices. In no event shall JPMC or any of its directors, officers, employees or agents be liable for any use of, for any decision made or action taken in reliance upon or for any inaccuracies or errors in, or omissions from information in this content. We are not acting as any Client's agent, fiduciary or advisor, including, without limitation, as a Municipal Advisor under the Securities and Exchange Act of 1934. JPMC assumes no responsibility or liability whatsoever to any Client with respect to such matters, and nothing herein shall amend or override the terms and conditions in the agreement(s) between JPMC and any Client or other person.
JPMorgan Chase & Co. will provide reasonable accessibility accommodations brought to our attention. 

© 2020 JPMorgan Chase & Co. All rights reserved. JPMorgan Chase Bank, N.A. Member FDIC. JPMorgan Chase Bank, N.A., organized under the laws of the USA. with limited liability.
---