Firm is exclusive sponsor of MIT's TR35 Festival Honoring Innovators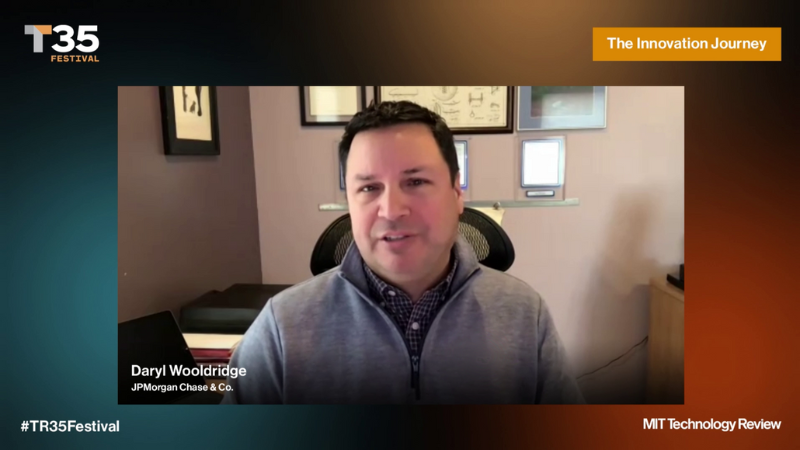 JPMorgan Chase was the exclusive sponsor of MIT Technology Review's (TR) second annual TR35 Festival, where attendees got to hear first-hand from global honorees about their inventions. Sponsorship of the festival, which celebrates global innovator honorees under the age of 35, is part of the firm's relationship with MIT Technology Review.
To kick off the virtual conference, Daryl Wooldridge, Managing Director and Global Head of Intellectual Property at JPMorgan Chase, discussed strategies and tools to help innovators protect intellectual property and their inventions.

Identify what your IP assets are, and then identify how to protect them, which can be challenging, but is critical.
Daryl Wooldridge, Managing Director and Global Head of Intellectual Property, JPMorgan Chase.
"Controlling IP rights becomes an important part of your business model for the future," Wooldridge said. "Controlling doesn't necessarily mean preventing others, but importantly it does mean creating freedom to operate, so you can continue to operate your products, your services, your business model uninterrupted," he added.
IP is becoming an increasingly valuable asset, and it is more important for innovators to understand how to employ the intellectual property portfolio of patents, copyrights, trademarks and trade secrets to protect product, ideas and technologies, Wooldridge explained.
"For new and emerging businesses or as an individual, you have to balance the value of investing in IT protections against all other needs of a new start. You want to protect your rights, while ensuring you're not infringing upon someone else's rights " he said.
Listen to how to safeguard intellectual property
Learn more about Technology at JPMorgan Chase.
This article is for informational purposes only and it is not intended as legal, tax, financial, investment, accounting or regulatory advice. Opinions expressed herein are the personal views of the individual(s) and do not represent the views of JPMorgan Chase & Co. The accuracy of any statements, reported findings or quotations are not the responsibility of JPMorgan Chase & Co.
You're now leaving J.P. Morgan
J.P. Morgan's website and/or mobile terms, privacy and security policies don't apply to the site or app you're about to visit. Please review its terms, privacy and security policies to see how they apply to you. J.P. Morgan isn't responsible for (and doesn't provide) any products, services or content at this third-party site or app, except for products and services that explicitly carry the J.P. Morgan name.