Looking Back on 10 Years of Code for Good
2022 marks the 10th anniversary and 100th hackathon of JPMorgan Chase's Code for Good program, which brings together students and JPMorgan Chase technologists to solve problems for nonprofits across the globe. The premise is simple: put technology enthusiasts and experts in a room together for 24 hours and watch what they can accomplish. There's something that brings people together — maybe it's the pizza, the matching shirts, or the magic of caffeine. Most likely, people are drawn to the opportunity to use their coding skills to make a difference.
Every year, Code for Good empowers a group of aspiring technologists to hatch solutions that will shape the nonprofit world for years to come. Here are some of the big ideas that started at Code for Good.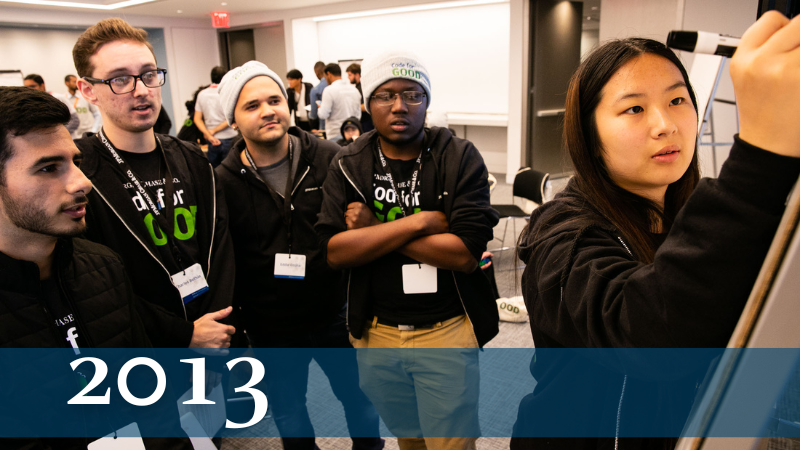 A flood safety platform for New York City
In 2012, Hurricane Sandy swept through New York City, uprooting thousands of families and leaving many more with property damage. Code for Good joined with the Center for NYC Neighborhoods to figure out what they could do. The answer came in the form of FloodHelpNY.org. Since 2013, the site has educated over 200,000 people on flood safety and provided over 700 free elevation certificates — typically costing up to $1,500 — which allow homeowners to get a fair price on flood insurance. The site drew the attention of the New York State Governor's Office of Storm Recovery and the Mayor's Office of Climate and Environmental Justice, who made their own investments in the platform to ensure that New York residents could rely on it for years to come. Laura Cheung, Senior Development Manager at the Center for NYC Neighborhoods, put it simply: "Without Code for Good, FloodHelpNY.org would not be the success it is today."
Helping "unbanked" communities get considered for loans
How do you get approved for a loan if you have no credit score or income documents? It's a problem faced by many underserved families, who often do not have the option of using loans to start a business, fund an education, or just to get through a difficult period. This, in turn, makes it even harder to rise out of poverty. Code for Good teamed up with Musoni in 2014 to propose an algorithm that would allow such families to be considered for small-scale "microloans" based on the limited credit information. Today, Musoni's technology helps microfinancing institutions around the world offer loans to communities that lack access to conventional banking.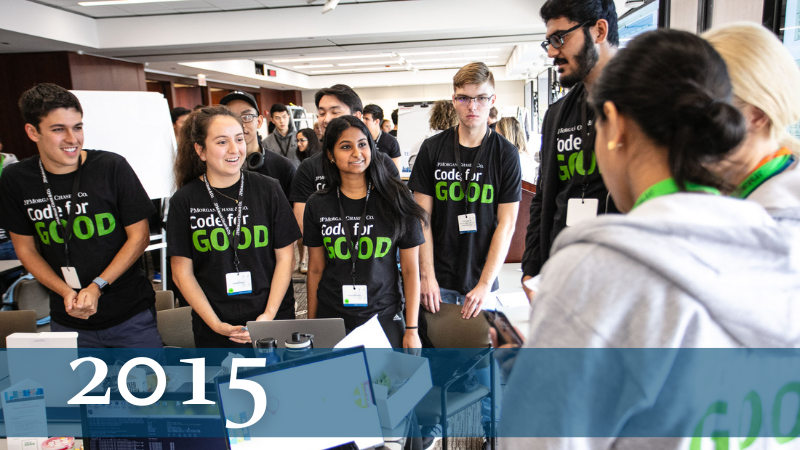 Rebuilding after tragedy in Nepal
In the wake of disaster, most of the attention is directed towards the immediate response: rescue efforts, medical care and emergency supplies. The mission of All Hands and Hearts is to also address the longer term recovery needs of communities and help rebuild. The 2015 earthquake in Nepal destroyed thousands of schools. With so many communities in need of aid, All Hands and Hearts required a better way to keep track of how they were allocating their resources – which schools already had funding, and how much more they would need, based on the local infrastructure. The Code for Good hackathon produced a mapping tool to automate funding allocations, allowing the foundation to use all their hands in the field, rebuilding schools and lives. "My favorite moment is when students come in with questions," said Petra Nemcova, co-founder of All Hands and Hearts. "They're excited, knowing they're working on something that can change lives."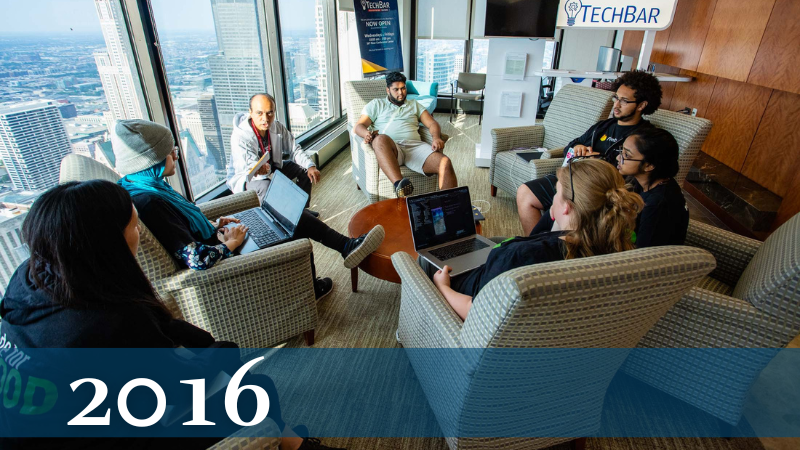 Breaking barriers for students with autism
Some individuals with autism may have unique speech patterns that can be difficult for others to understand when they interact with them. At the Eden II school, a New York-based school for students with autism, this communication barrier can pose as a challenge to their development and some students may feel angry and frustrated for being misunderstood. JPMorgan Chase technologists and hackathon participants ideated with Eden II during the hackathon and then collaborated over the next eight months to develop a first-of-its-kind speech-to-text iOS app that interprets unique speech patterns using a personalized dictionary for each child. "It's moments like these that make you realize how technology and creativity can really move the needle in the social sector," said Julia, a volunteer. "It can give people a voice, and create a space for them to be heard."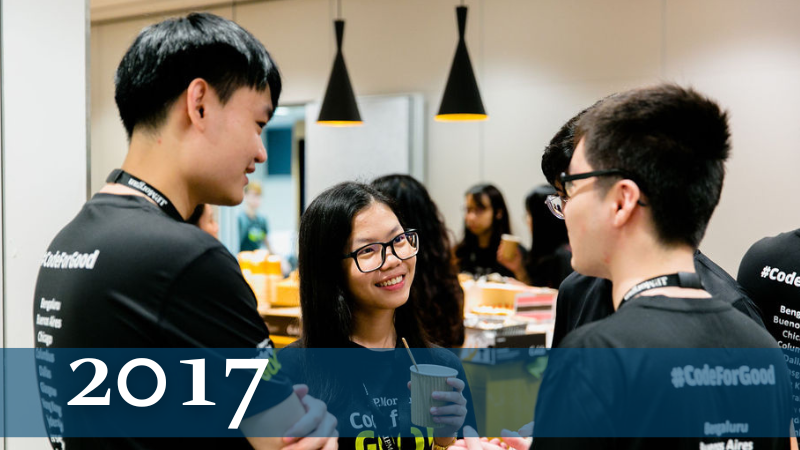 Giving food bank beneficiaries a choice
Those who face food insecurity have access to fewer nutritious food when it comes to their meals and often have no idea what they'll receive from donors. But what if we could connect donors with beneficiaries and allow beneficiaries to make requests? Donors would be better able to meet people's needs, and The Food Bank Singapore's staff could make better purchasing decisions using the donors' financial contributions. This bold idea became a reality when Code for Good collaborated with The Food Bank Singapore in 2017. "Code for Good brings the public together to brainstorm, allowing us to implement more impactful solutions here at The Food Bank Singapore," said manager Jameson Chow.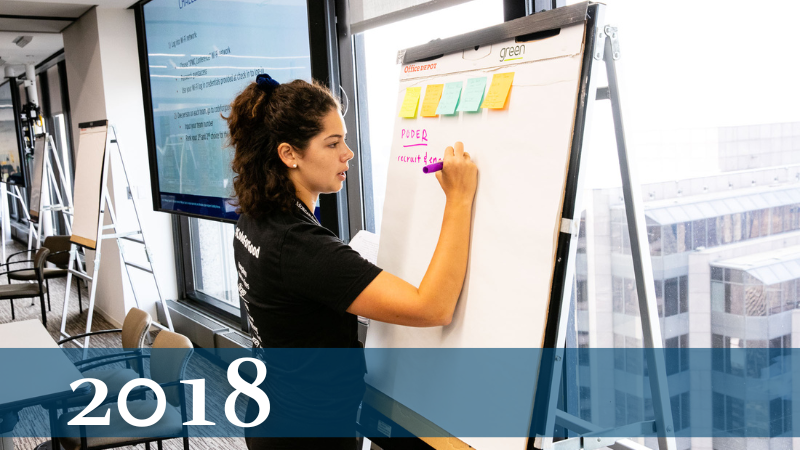 Helping vocational graduates keep in touch
PESCAR is an Argentina-based vocational training program for youth from under-resourced backgrounds. With thousands of alumni in the workforce, PESCAR needed a way to keep in touch with them and measure the impact their program has had over the years, so that they could better serve future classes. JPMorgan Chase technologists devised a web application where alumni could build out profiles and communicate directly with the organization and the rest of their alumni network. Cristian, a software engineer at JPMorgan Chase, said, "It's easy to get lost in the gritty details of coding, but at the end of the day, this is what working in tech is about: bringing people together. Helping them stay connected."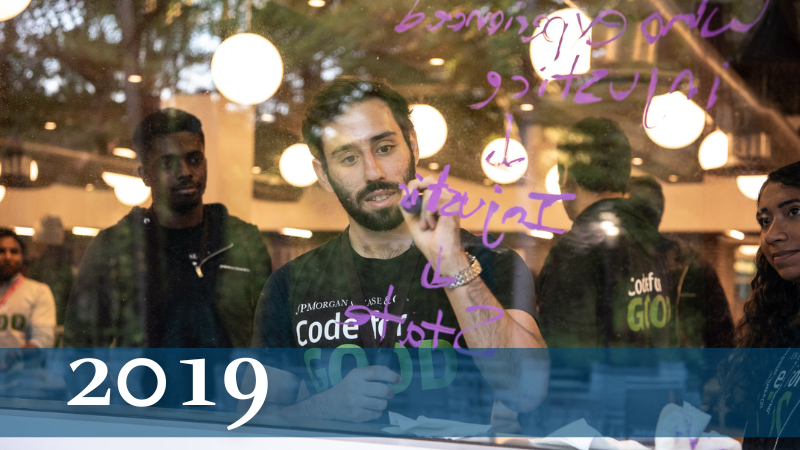 An online community for teenagers around the world
Global Nomads Group's mission is to bring students from different countries in conversation with each other to foster empathy, understanding and action. The nonprofit envisioned a program where teenagers from across the globe could chat about anything from homework to world hunger. They needed a platform to match students and host calls – one that would live up to the needs of tech-savvy users. Code for Good came together to conceptualize the app and worked with Global Nomads to build it out over the next eight months. Christine Goussous, Global Nomads regional director in Jordan, estimates that JPMorgan Chase's work saved the nonprofit anywhere from $80,000 to $120,000. Today, the app is available for download.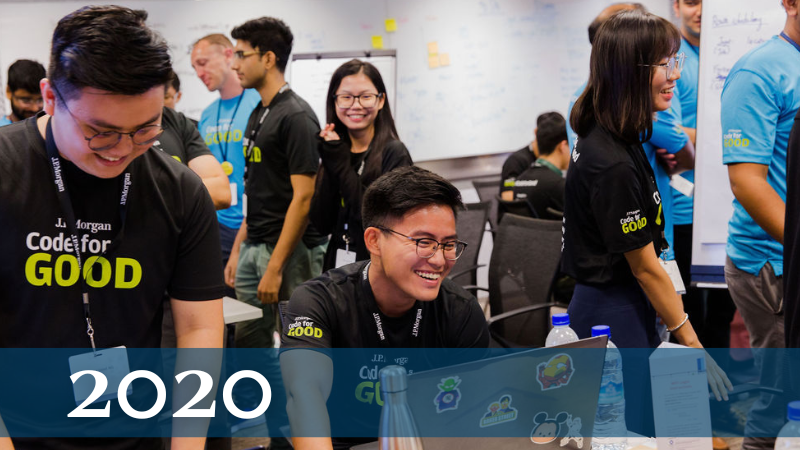 Bridging the gap between school and work for youth in Hong Kong
Junior Achievement (JA) Hong Kong offers practical employment and entrepreneurship programs for young people to ease their transition into the workforce. The programs are run by volunteers from across the professional world, each of whom would use their own style of communication – email, text message, group messaging platforms and more. In the past, many participants fell behind on their learning goals, in part due to the assigned projects being scattered across many different channels. Code for Good helped JA Hong Kong design and build an app that would keep all of the program's communications in one place and allow students to track their own progress. Within six months of its launch, 75 percent of students were now on track within their program, and the app saved an estimated 500 hours of administrative work for staff. JA Hong Kong CEO Vivian Choi said, "Code for Good has marked an important milestone in our much-needed digital transformation during the pandemic. It has reinforced our capacity to serve both our students and volunteers."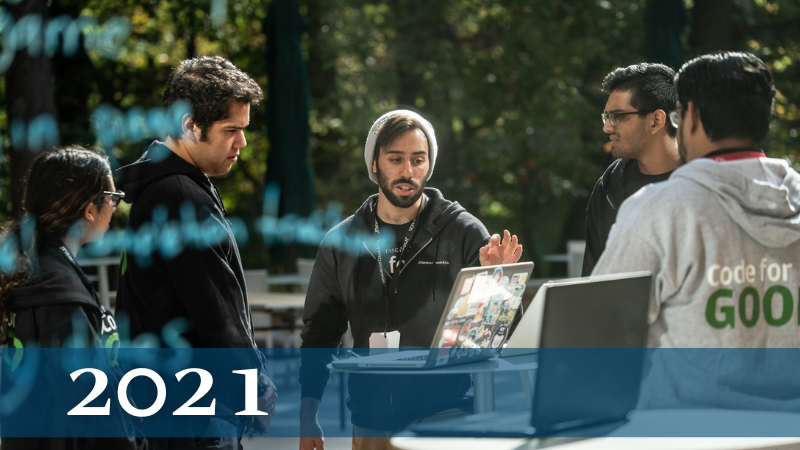 A support platform to prepare patients for therapy
2021 was a challenging year for mental health, and even more so among those with past traumatic experiences. Speak Out Scotland (SOS) provides therapy for survivors of childhood sexual abuse. Like many health organizations, the nonprofit found itself overworked and understaffed in 2021. They realized they could serve more patients by automating portions of the therapy intake process that don't require human interaction. SOS turned to Code for Good to devise an interactive support platform that could bring patients up to speed on the intensive process of therapy and confirm that they are ready to have the difficult, often uncomfortable conversations required of them. Over the course of the eight-month development period that followed, volunteers described feeling more open to their own emotions, as well. "Before starting this project, if I simply said the words 'anxiety' or 'depression' in any office environment, I'd have felt a bit uncomfortable, I guess in case people judged me somehow," said Murphy, a software engineer for JPMorgan Chase. "Working with SOS has really shown us you don't need to hide any issues you're having."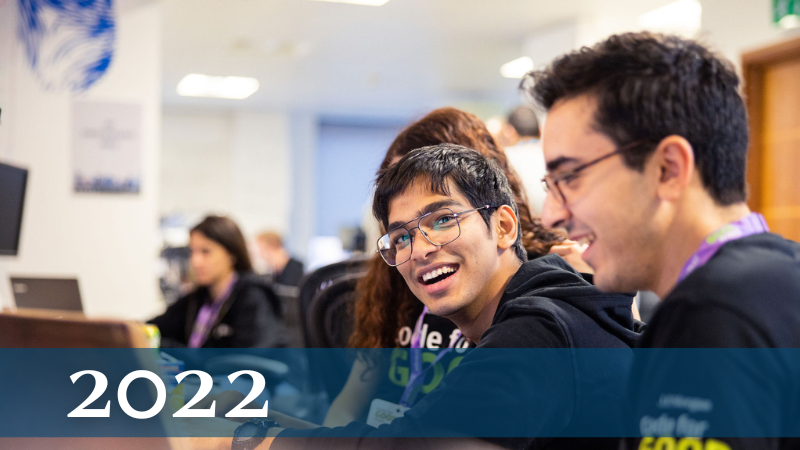 Driving engagement in India's democratic process
In India, citizens have the ability to share feedback with the government before a law is passed. However, many people don't share their feedback because they are unaware about their ability to do so and also have difficulty understanding legal terminology. Civis is a platform that makes it easier for citizens of India to voice their perspectives on a law by summarizing policy content and collecting the public's feedback for lawmakers. People are intrinsically motivated to make their voices heard, and Civis wanted to build on that by rewarding them for participating. Code for Good helped Civis explore ways to gamify their site, using non-monetary incentives to make the democratic process more fun. A recent hackathon in March generated lots of strong ideas, and we look forward to helping Civis incorporate them into the platform. We can't wait to see what they'll be able to achieve!
You're now leaving J.P. Morgan
J.P. Morgan's website and/or mobile terms, privacy and security policies don't apply to the site or app you're about to visit. Please review its terms, privacy and security policies to see how they apply to you. J.P. Morgan isn't responsible for (and doesn't provide) any products, services or content at this third-party site or app, except for products and services that explicitly carry the J.P. Morgan name.