Treasury and Payments
J.P. Morgan's E-Commerce and Fintech Forum
The J.P. Morgan EMEA E-Commerce and Fintech Forum brings together experts from across the fintech ecosystem to discuss creator economy, marketplaces and investor perspectives as well as a fireside chat on performance and rethinking winning with former England footballer Jill Scott.
---
In the creator economy, every individual is a small business — monetizing their individuality. This exciting part of our ecosystem is buzzing with possibilities, and core to the theme of the J.P. Morgan Payments E-Commerce and Fintech Forum.
Ecommerce and Fintech Forum

Event highlights

Tuesday 13 March
It's London, it's live, and for the very first time, it was the E-Commerce and Fintech Forum in Europe. It was also a historic week in banking and that rippled through the conversations on the investor landscape, the creator economy, marketplaces, gaming, A.I and…football.
Opening the day-long event, Lia Cao told the audience: "This is the opportune time to get together and share our guidance to navigate the current environment".
In the first session of the day, Takis Georgakopoulos concurred. "There are three things at the core of our business: firstly, be conservative. This can be painful but when something goes bad, we are always protecting our shareholders and our customer. Secondly, scale. This give you the capacity to continue investing, which we do in controls, investment, technology and support. Thirdly, and crucially, we aim to be there for our clients no matter what they need and where they need it".
A rousing opening to a jam-packed, insightful day.
The future is fintech
Takis also joined a panel, moderated by Veronique Steiner and featuring GoCardless CEO Hiroki Takeuchi, looking ahead to the e-commerce and fintech future. Referencing the GoCardless 'journey of discovery', Hiroki didn't let his lack of payments experience prevent his team solving for the consumer pain points they themselves had experienced. His experience since starting the company has informed his view of the future. "The previous fintech mentality was growth at any cost, but that has changed to a much more conservative view – now the aim is to get to profitability and conserve cash. I think that some really strong companies will emerge from these challenges; now is an awesome time to start up. Funding may be harder to come by but hiring is a win, there is some amazing talent out there. Remember, some of the biggest and most successful companies have been formed in the hardest of times."
Investor speak
Short term survival is what it takes to win, as your competitors fall away. So say the esteemed panelists on the 'Investor Perspectives' session: Luca Bocchio, Accel; George Robson, Sequoia Capital; Avid Larizadeh, OTPP. Focusing on Europe, the key takeaways included the growth of open banking. The main thing now, the audience heard, was to keep on pushing forward and take the global opportunities that are coming.
Collaborate, collaborate, collaborate…
Eynat Guez (Papaya Global), Diana Avila (Wise), and Brent Warrington (Planet Payments) took to the stage to extol the virtues of collaboration and the mutually beneficial solutions that can be built from connections. Brent summed it up best: "The payments piece is a DNA - it should be invisible: use your payments to understand your customer, and if its built right, that seamless model will be your differentiator".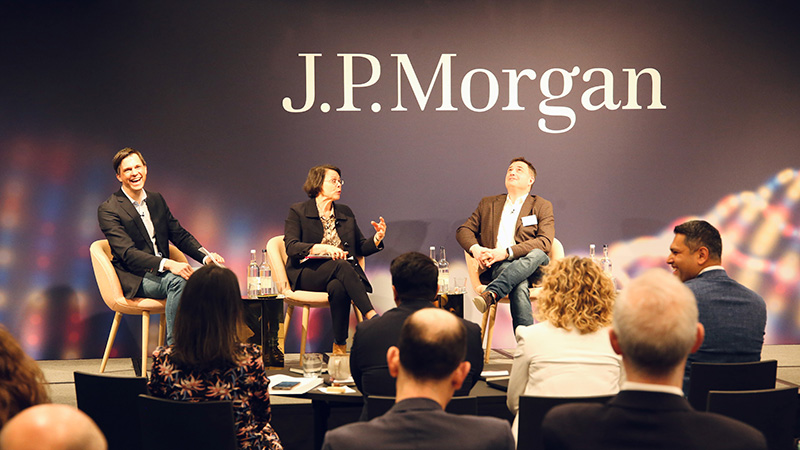 Marketplace evolution

'Powering commerce with marketplaces', moderated by Max Neukirchen, began with some history before speeding us right up to date. The trouble, Masha Cilliers from Payment Options wisely noted, was that payments can often be an afterthought in marketplaces – leading to problems for companies down the line. What can help? "I think there will be a lot more development and evolution of the model – but the tools will need to be universal. Modularity needs to be offered." She added, "Marketplaces were originally thought of as a global platform, replacing local distribution. On the other hand, local marketplaces have grown. Brand and corporates are now trying to get more localized on the local markets, and to broaden their appeal by letting others sell on their platforms. That collaboration cross-border is definitely happening. It's an exciting time".
Creators: behind the screens
A real highlight of the day was hearing directly from the creators. Max Klymenko gave a revealing behind-the-screen view of what it takes, day to day, to stay current and adapt to platforms, audiences and brands – all while staying true to your values. Nilam Atodaria had the marketing angle… how do you retain this authenticity for brands? Behind all this creativity is the need to get paid, quickly, painlessly and using the method of payment of choice. Lots of learnings from this session to give fintechs another perspective into this burgeoning economy.
Tread carefully, AI is here
Amongst the positivity of those on the 'A.I., machine learning and cloud - the next quantum leap?' panel, there was a clear warning. "Technology should be an enabler, to help you deliver the promise that you need for your users. You want to own and control the tech, not the other way around" Sylvain Rouri of OVH Cloud said. The others agreed. Simon Proffitt from Faculty, Allie Gillon-Livesey from J.P. Morgan and Christopher Marsh-Bourdon from Oracle joined Sylvain and moderator Manuel Costescu in considering the examples of AI already embedded in our everyday lives, as well as predicting the new career opportunities it may provide. The future is wide open… if we're careful.
Blurring the lines
Online and offline… the real world and the virtual. Its all becoming one, the penultimate panel agreed. Where payments fits in this world centers around rewarding the creators and developers, improving the experiences for players and helping to build new worlds that can help with mental health and managing emotions. Lofty ambitions, but the experts such as Catherine Porter from Tilia, James Whatley from Diva and J.P. Morgan's Adit Gadgil, counselled that it is already happening. Seeing the opportunities to accept and pay out, as well as supporting the communities, could be the game changer that the users are already expecting.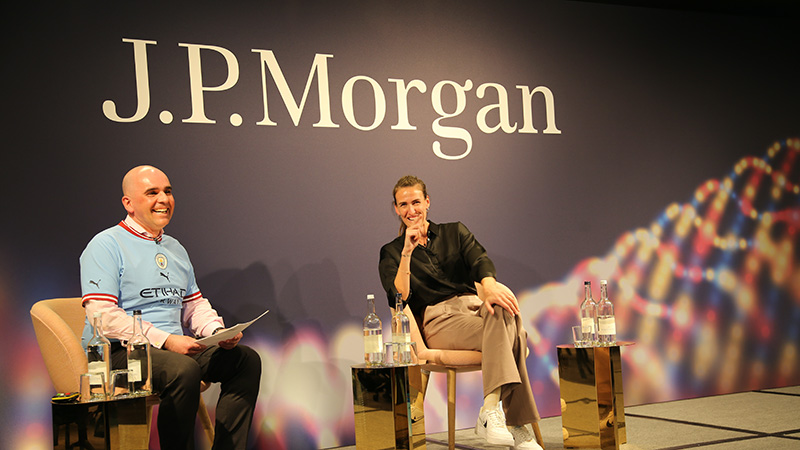 Football focus

Wrapping up the day was the inspirational Jill Scott. One of England's most decorated football players, the second most capped player for her country and winner of the challenging 'I'm a Celebrity… get me out of here' TV show, Jill talked performance, aspirations and teamwork to host J.P. Jolly. Drawing parallels between her sporting and entrepreneurial lives, Jill had the best advice of the day: I'm happy that I followed the dream, even if it didn't exist while I was dreaming it. Like many in the room, dreaming big can lead to great things.
EVERYONE'S TALKING ABOUT:
The week that was in US banking
The surprise guest that caught everyone off guard. Shhhh…
Who had the best photobooth style for the experiential green screen. And a few that need to work on their model poses!
The unicorns in the audience – billion dollar companies, but just as mysterious as the mystical creatures
London transport delays *tears hair out*
Stay informed and stay ahead with our monthly newsletter
Receive key updates and news with relevant actionable insights and best practices — including the latest intelligence on payments trends, digital innovation, regulatory change, ESG and sustainable financing and much more.
Subscribe to THE MONTH IN…Treasury & Payments

Discover payments solutions
Whether your business is a large multinational or a small business enterprise, we can support you through every stage of growth with award-winning client service, global reach and local expertise
Discover payment solutions customized for your business

Disclaimer
J.P. Morgan is the marketing name for the Wholesale Payments business of JPMorgan Chase Bank, N.A. and its affiliates worldwide.
The products and services described in this document are offered by JPMorgan Chase Bank, N.A. or its affiliates subject to applicable laws and regulations and service terms. Not all products and services are available in all locations. Eligibility for particular products and services will be determined by JPMorgan Chase Bank, N.A. or its affiliates.
© 2023 JPMorgan Chase & Co. All rights reserved. JPMorgan Chase Bank, N.A.