Resource Guide for Rebate
This information will help you manage and make the most out of your One Card program.

---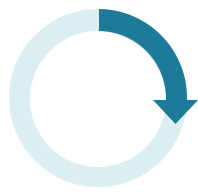 Set your program up for success
Get your program off to the right start by reducing check payments. Use your One Card for business expenses, including utilities, staff services, property charges and more.
As you spend more, add new employee cards and promote their use across your organization.
View your accounts online to update cardholder information and to review your growing program.
Add your card to your mobile wallet

to unlock faster, easier payments on the go.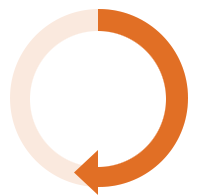 Keep your program working for you
Keep up the momentum and utilize these tools to streamline and manage transactions.
View your statements conveniently online.
Use the built-in accounting features to run a transaction detail report and easily reconcile your account.
Manage account controls to reduce declined transactions.
Set up fraud alerts to minimize your fraud risk.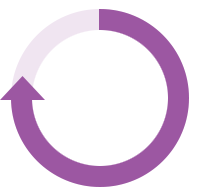 Identify growth opportunities to scale your program
As your program continues to grow, use reporting tools to assess results, identify hidden spend, maximize your annual rebate or rewards and promote card program value across your organization.

Log in to PaymentNet® and view the built-in reports designed to help you:

Examine overall spending with transaction summaries and central reconciliation reporting.
Transaction Detail
Transaction Summary
Central Bill Reconciliation
Statement of Account
Analyze travel program performance.
Travel & Entertainment Transaction Activity
Travel & Entertainment Expense Activity by Cardholder
---
As you expand your program, you can add new cardholders from the Accounts menu in PaymentNet®.

Manage accounts

1. Select Accounts > Manage from the PaymentNet toolbar.
2. Find an account to use as a template for creating a new one and click the account number to view details.
3. On the Account Detail screen, click Create New Account.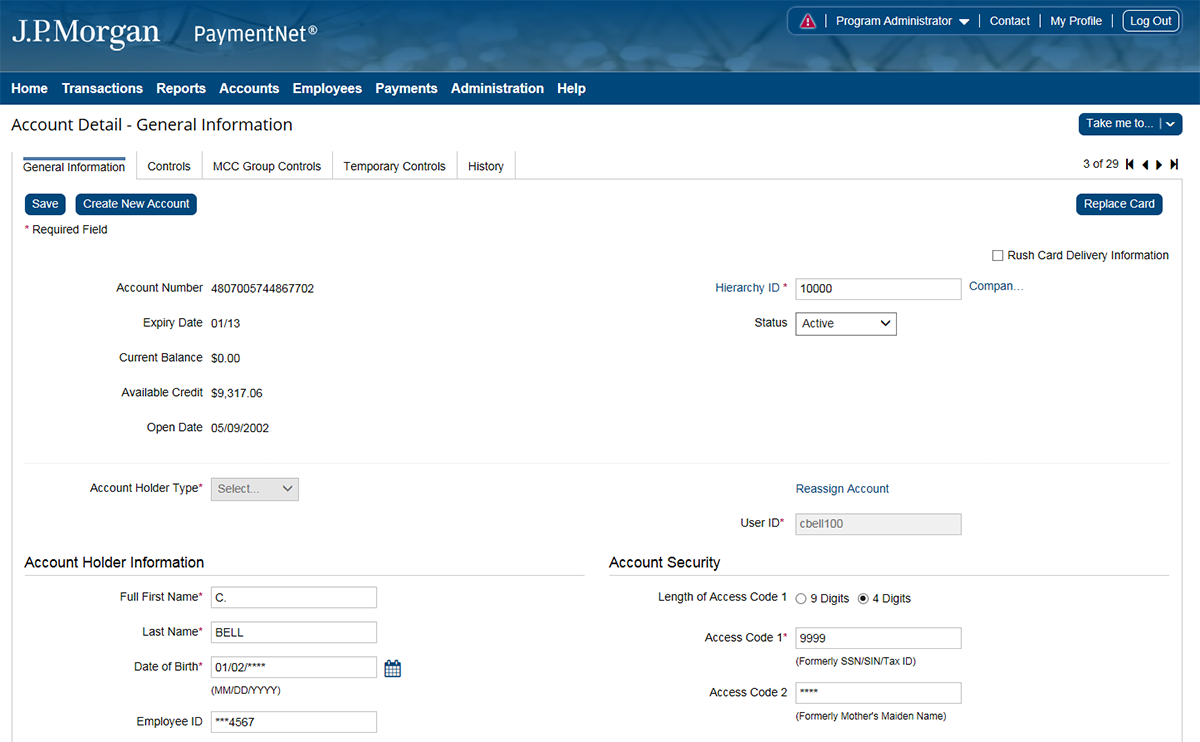 Account holder type
4. From the Account Holder Type list, select Individual.

Type of employee
5. If the cardholder will be logging in to PaymentNet, you can create a PaymentNet User ID at the same time.
From the Type of Employee list, select New Employee, enter a User ID and select Generate Login Information.
If the cardholder will not be logging in to PaymentNet, select No Employee from the Type of Employee list.
6. Enter the cardholder information, including the cardholder's name, date of birth, mailing address, home address, and access codes. All fields marked with an asterisk (*) are required.
Employee ID should be included only if you are using a third-party file feed.
Cardholder Address is the address where the card will be shipped.
Home Address is required for regulatory reasons.
For Access Code 1, you must use the date of birth (MMDD format).
For Access Code 2, we recommend using the last four digits of the business phone number.
Click Continue.
7. Review the Cardholder Acknowledgment form, select the check box and click Continue.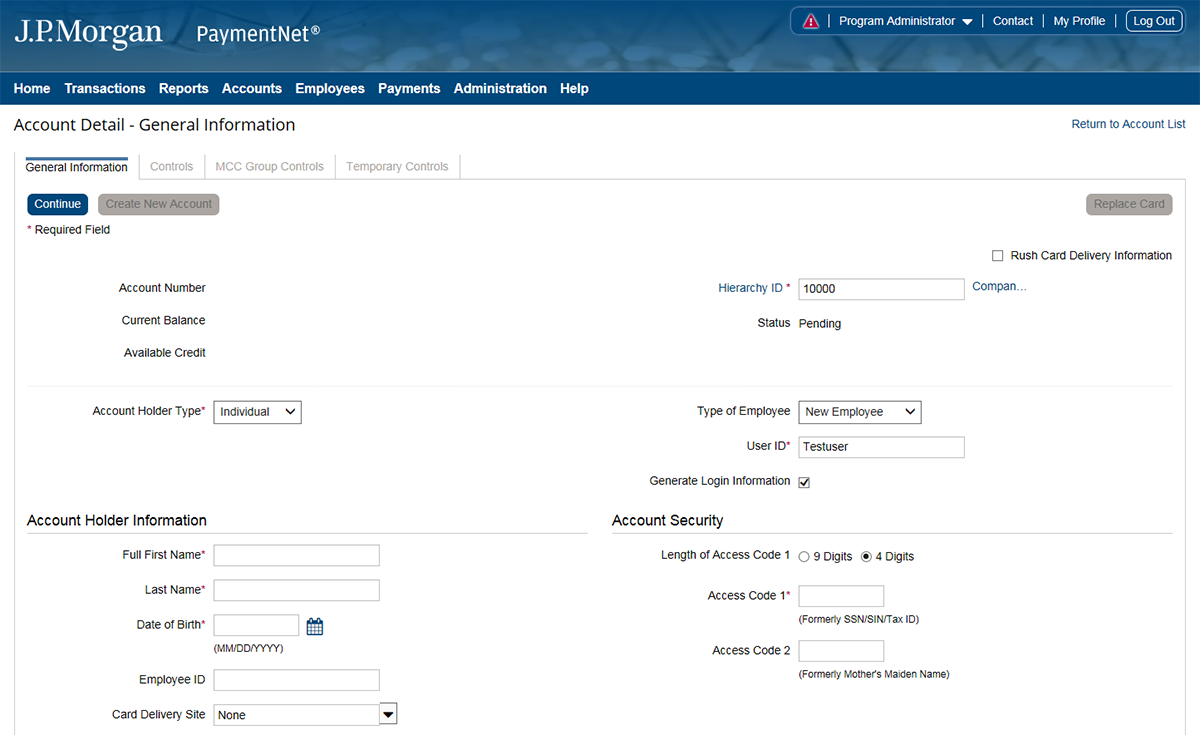 ---
You can access and update cardholder account information directly from the Accounts menu in PaymentNet®. Step-by-step instructions are below.

Manage account
To view a list of cardholder accounts, select Accounts > Manage from the PaymentNet toolbar.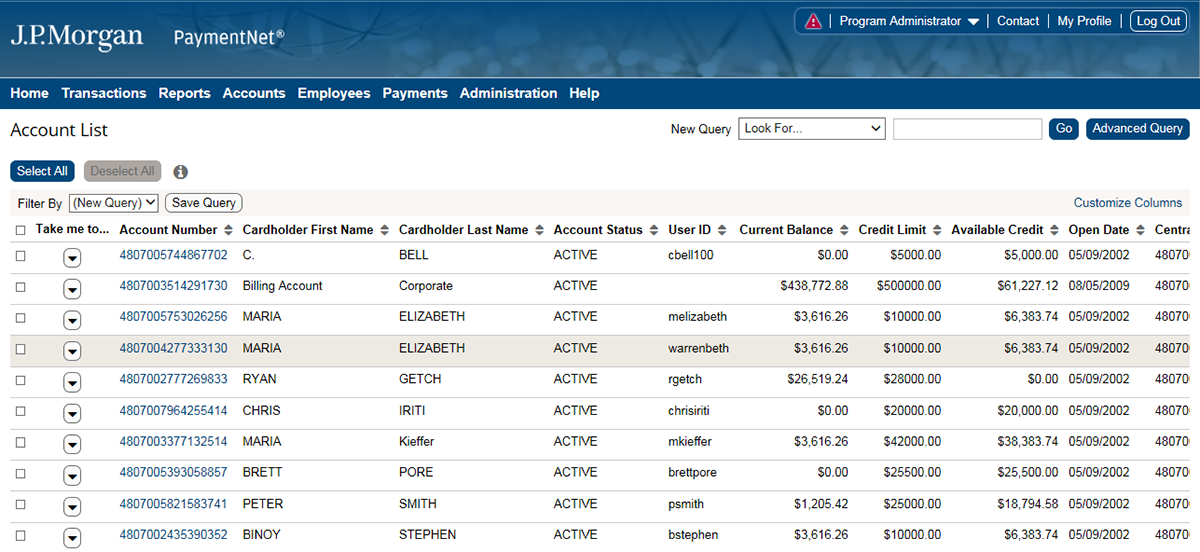 Account detail
1. You can view account details and make changes to your account by clicking Account Number.
2. The Account Detail page presents a cardholder's current balance, available credit and status.
Active — The card is activated and available for use.
New — The card has been issued but the cardholder hasn't activated it yet. At this point, the card is not ready for use.
You can change the status if an account needs to be closed or suspended or if a card has been reported as lost or stolen.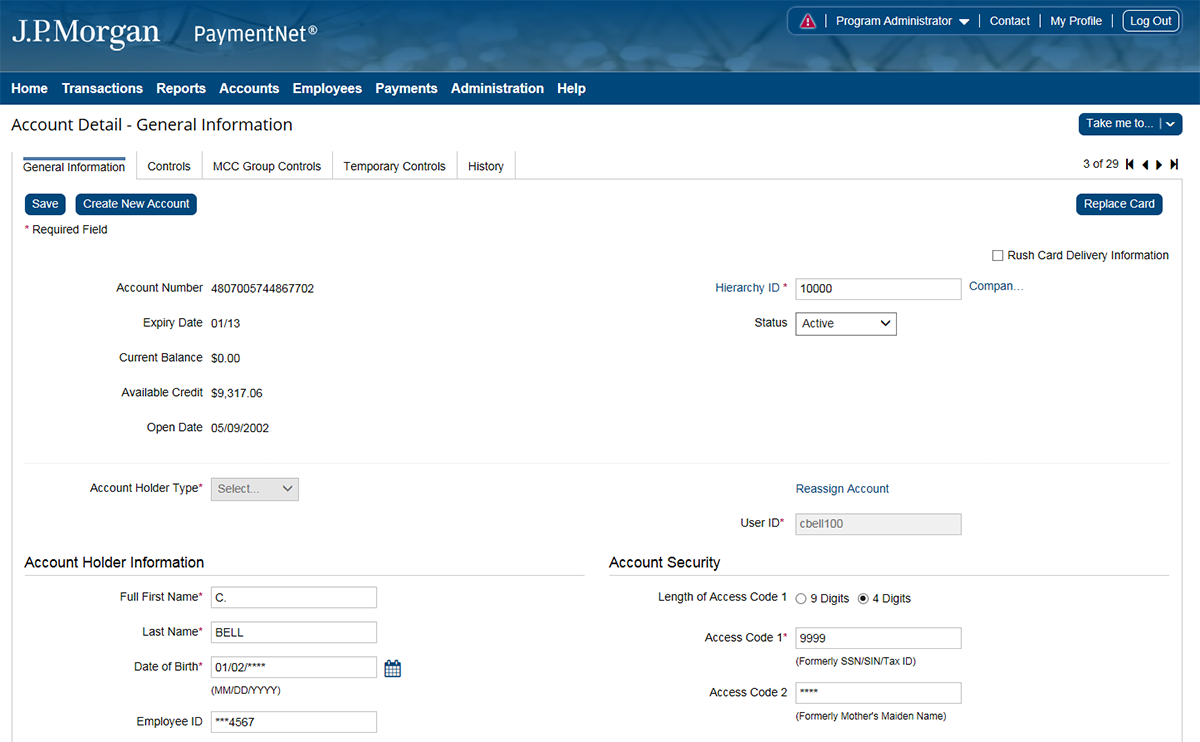 ---
You can add your J.P. Morgan Commercial Card to Apple Pay, Google Pay and Samsung Pay to use as a convenient and secure payment method for business purchases—in-store, in-app and online.
Tap. Pay. Go.
1. Open your mobile wallet
2. Add and authenticate your card
3. Pay, choose your corporate card, tap, and go
You may be asked to authenticate by using a one-time passcode, which will be sent to the email address or mobile number currently on file with your Commercial Card. The one-time passcode could take up to five minutes to receive. Messaging and data charges may apply.
Mobile wallets can be used with millions of businesses and in apps, such as Grubhub, Starbucks®, Uber™, Dunkin' Donuts® and more.
Contact a Program Coordinator for more information on your program's mobile wallet capabilities, and learn more about our cardholder-facing communications to get your cardholders all the information they need.
*Please note cardholders in Canada only can utilize Google Pay.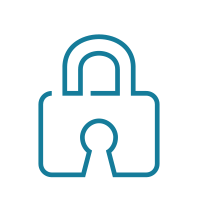 Security
Mobile wallet usage benefits security and protection of card numbers. A merchant never receives your primary account number.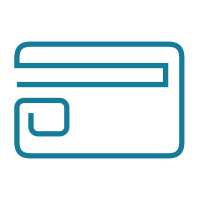 Convenience and efficiency for cardholders
Business purchases are quicker and more efficient when using a mobile wallet.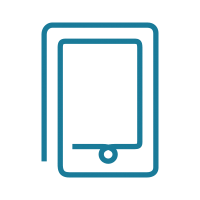 A modern payment experience for cardholders
Give your cardholders the same experience they are already taking advantage of with their personal cards for every day purchases.
---
Use the Accounts menu to view and save statements once your cardholders are spending. Follow these steps to view and print statements in PaymentNet®.

Manage accounts
1. Select Accounts > Manage from the PaymentNet toolbar.
2. Locate your Central Bill Account on the Account List screen
Statement detail
3. Use the Take me to dropdown list to select Statement Detail.
The Statement Detail screen lists all of the cardholder transactions in the current cycle that have been applied to your Central Bill Account.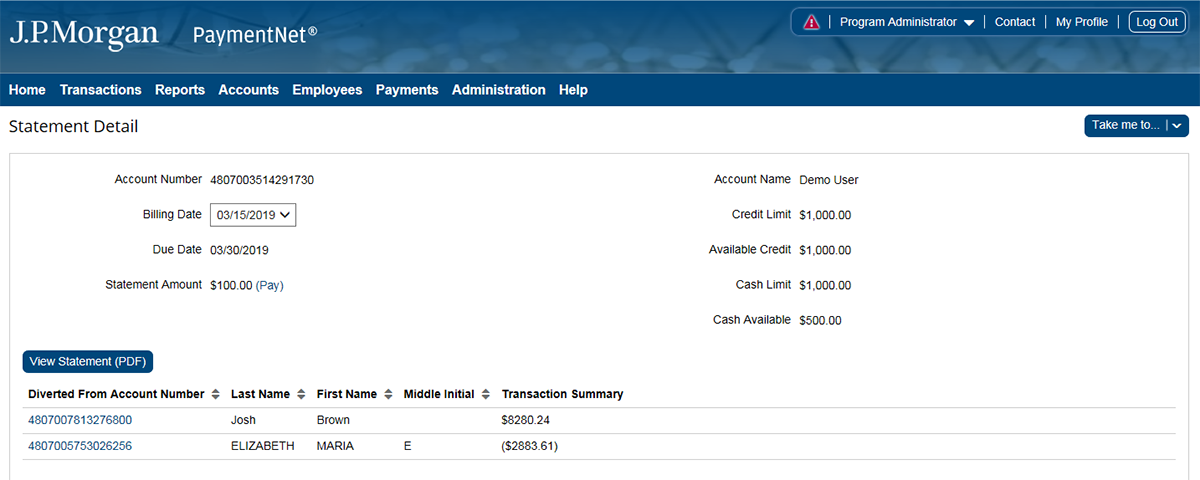 4. Click View Statement (PDF) to open or save the statement.
Note:
Most Central Bill Accounts are set up to be paid in full by auto-debit on the due date. If your card program is set up with individually billed accounts, contact a Program Coordinator for more information about payments.
---
You can download a Transaction Detail report to view the latest transactions and reconcile your accounts. Use your Transaction Detail report to compare to those in your Central Bill report and Enterprise Resource Planning (ERP) System, if used.

Run report
1. Select Reports > Report List from the PaymentNet® toolbar.
2. Enter "Transaction Detail" in the Keyword Search to find the report as shown below.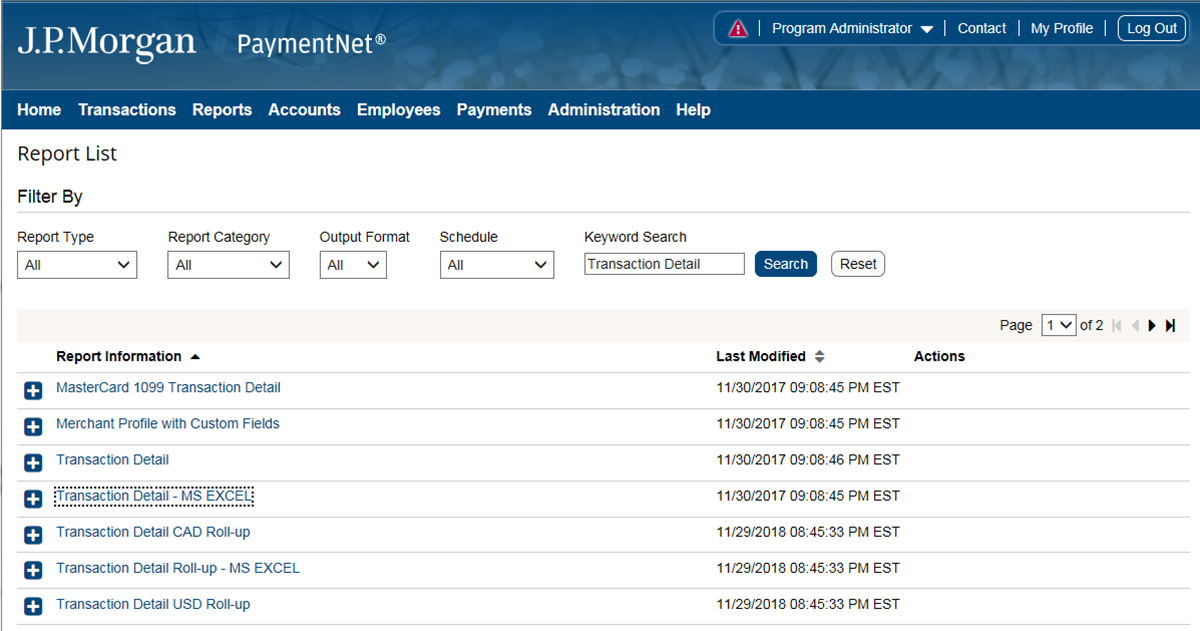 3. Click Transaction Detail — MS Excel and select Run to run the report.
4. Return to the Report List to search for the Central Bill report. Click Central Bill Reconciliation - MS Excel and select Run to run the report.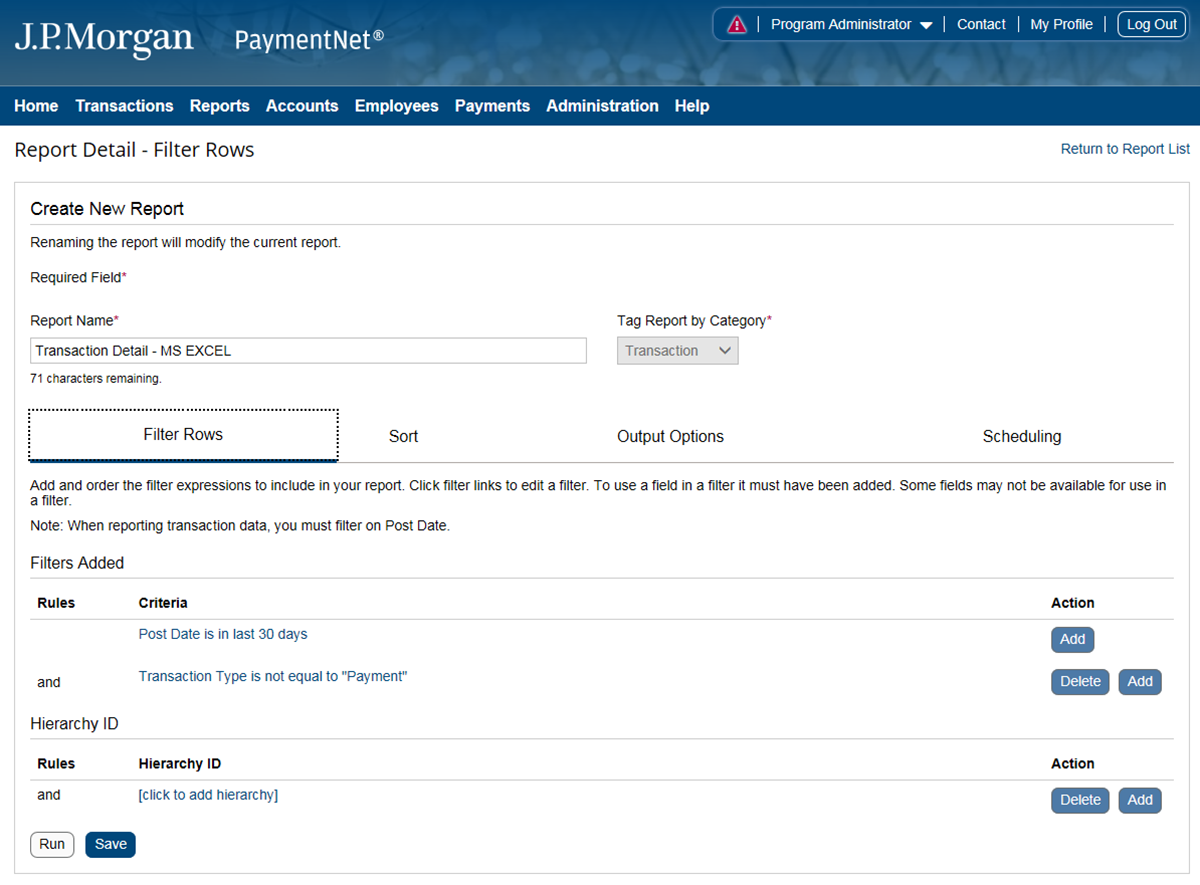 Download reports
5. Select Reports > Downloads from the PaymentNet toolbar.
6. Click the links in the Output column to download the reports.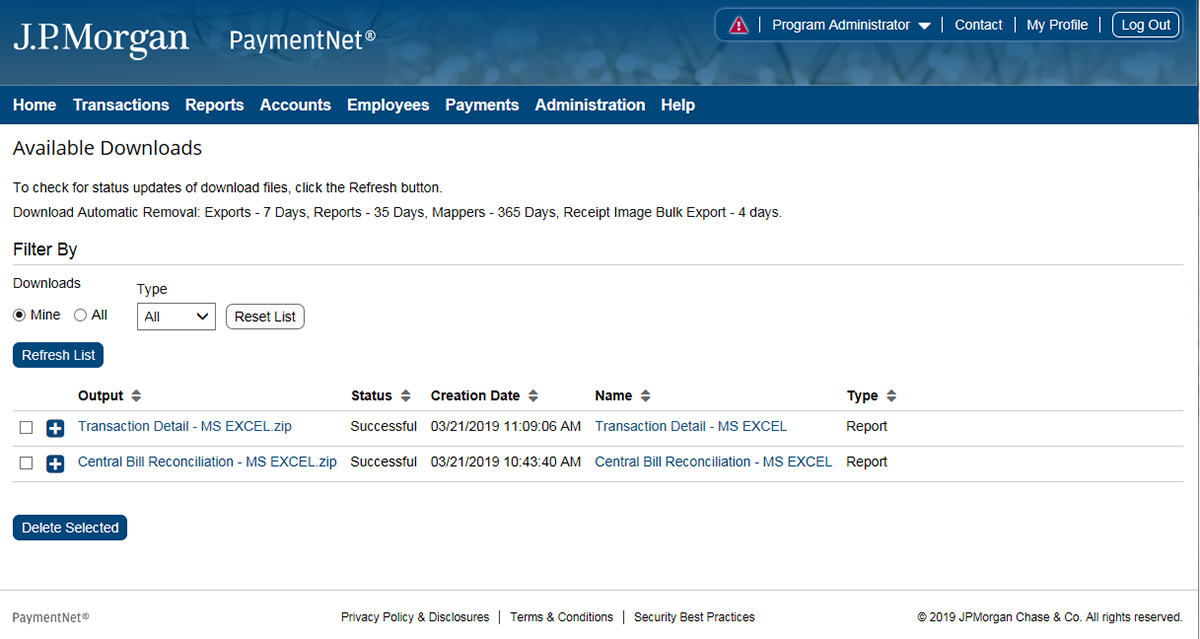 Reconcile transactions
7. Compare the Transaction Detail report to your Central Bill report and ERP system to:
Verify that all transactions have been approved or allocated to the appropriate cost centers.
Confirm any credits that were added post-statement.
Identify discrepancies and potential fraudulent charges.
The Transaction Detail report contains Level III addendum data (additional details about a transaction provided by the Merchant), which can be helpful during reconciliation.
The Excel and CSV versions of these reports are searchable, so you can quickly find the information you need.
Dispute transactions
You can dispute a transaction up to 60 days after the transaction date. To dispute a transaction:
1. Select Transactions >Manage.
2. Click the transaction you want to dispute.
3. Click Dispute.
4. Enter your email address in the Email Address field.
5. Select a dispute reason from the Dispute Reason list.
6. Click Submit.
Helpful tip:
If cardholders are responsible for submitting payments (individual billing), please refer them to Cardholder Servicing for assistance using the number on the back of their card.
---
In the Accounts menu in PaymentNet®, you can access account details and adjust limits.
Account list
1. On the Account List screen, click the Account Number to view a cardholder's account information.

Account detail
2. Next, on the Account Detail screen, click the Controls tab.
You can change any of the account limits including:
Credit Limit — Total outstanding balance allowed.
Cash Advance Limit — Total cash amount available to the cardholder.
Amount Limit — Total monthly or a cycle charge limit.
Transaction Limit — Total transactions allowed per month or cycle.
Daily Amount Limit — Maximum chargeable amount in a single day.
Daily Transaction Limit — Most permitted transactions in a single day.
Single Amount Limit — Chargeable limit for a single purchase.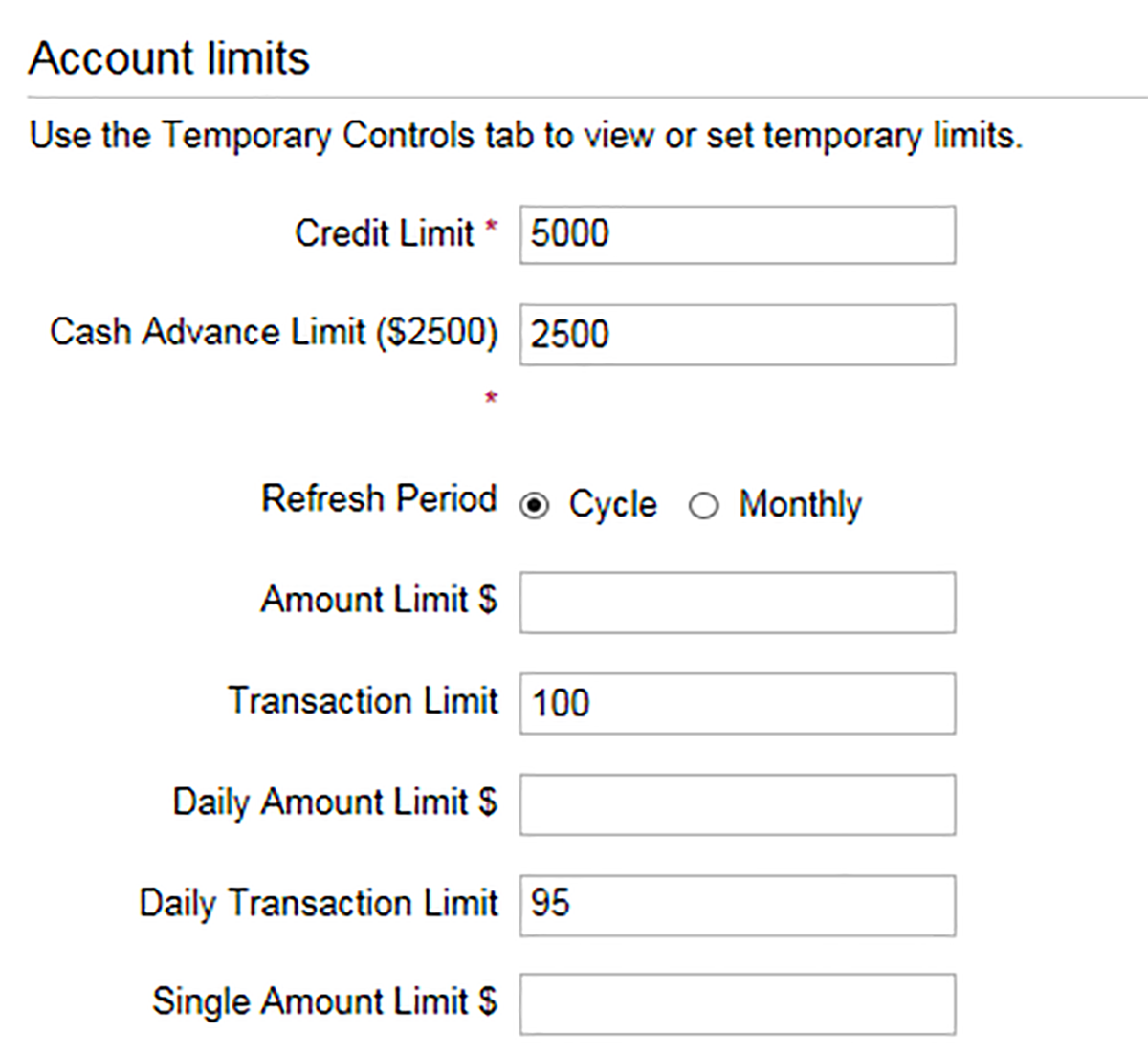 ---
Fraud alerts are an easy way for cardholders to protect their account from fraud. Cardholders can manage suspicious transactions by confirming transactions are fraudulent or valid for continued usage without disruption.
How do cardholders enroll in fraud alerts?
Cardholders self-enroll individually. The alert is tied to their individual account and their mobile device, which requires content.
To promote Fraud Alerts to your cardholders, we recommend sending an email to your employees with cards with the below message.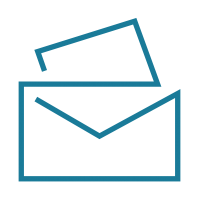 Help safeguard our business and yourself against fraudsters.
Cardholder fraud alerts notify you of suspicious activity on your account and allow you to quickly reply or call customer service. If you confirm a transaction, your account is updated and available without disruption. If the transaction is not valid, you quickly identify fraudulent activity and minimize the damage done.
Enrolling is as easy as 1-2-3!
Click on this link ccportal.jpmorgan.com or copy the address into your browser.
Enter your commercial card account number and billing zip code.
Add your alert device(s) and your contact information.
For SMS text alerts, reply "AGREE" to the confirmation text message. For email alerts, once you enter your contact information, your enrolled alerts will populate on the bottom of the page.
Now you are ready to receive fraud alerts!
---
---
Contact our Program Coordinators, 24 hours a day, 7 days a week. Have your
company number and verification ID available.


---
Log in to PaymentNet to get started today.
Have your Org ID and Password available.
You're now leaving J.P. Morgan
J.P. Morgan's website and/or mobile terms, privacy and security policies don't apply to the site or app you're about to visit. Please review its terms, privacy and security policies to see how they apply to you. J.P. Morgan isn't responsible for (and doesn't provide) any products, services or content at this third-party site or app, except for products and services that explicitly carry the J.P. Morgan name.