February 10, 2023
The health care industry was under the microscope recently as J.P. Morgan staged its 41st annual Healthcare Conference in San Francisco from January 9–12, 2023 — back in person again for the first time in three years.
The Conference is the industry's biggest gathering, bringing together more than 8,000 investors, industry professionals, senior government officials and 550 global health care companies — ranging from Fortune 100 corporations to small-cap and emerging private companies — to discuss the latest market trends and medical innovations.
Breakthrough Drugs
Every year, the event brings news and updates on new drugs and breakthrough treatments. This year, pioneering drugs for Alzheimer's and diabetes grabbed headlines.
A new class of medicines has started to come to market to prevent the onset of diabetes and combat obesity, thereby lowering the risk of heart attacks and stroke, the audience heard. Companies including Eli Lilly, Amgen, Pfizer and Regeneron are fighting to develop medications in a market estimated to be worth more than $30 billion per year.
Elsewhere, Biogen CEO Chris Viehbacher discussed his company's new Alzheimer's drug lecanemab, developed with Japanese partner Eisai, which recently received the green light from the Food and Drug Administration. The FDA's approval comes after clinical trial results published in November 2022 indicated that lecanemab slows cognitive decline in people with mild forms of Alzheimer's. Currently, people with Alzheimer's are given other drugs to help manage their symptoms, but none change the course of the disease.
Lecanemab is a breakthrough drug and offers hope to many people, said Viehbacher. But along with the job of marketing the drug, it is critical to educate the public about Alzheimer's, he stressed. "People think Alzheimer's is a little bit of memory loss and don't fully understand that this is a fatal disease."
Birthplace of Deals
The Conference is also the birthplace of a lot of deals, with companies announcing major transactions in the run-up.
Building off the momentum at the end of 2022, when J.P. Morgan's Global Head of Health Care Investment Banking, Mike Gaito, and his team led the industry's biggest merger — the $28 billion sale of Horizon Therapeutics to Amgen — more than $3.5 billion worth of deals were announced to coincide with the Conference. Chiesi's $1.25 billion acquisition of rare disease drugmaker Amryt Pharma and AstraZeneca's $1.3 billion buyout of CinCor Pharma, which gives it access hypertension and kidney disease treatments, were among the highlights.
These biotech buyouts gave the Conference a jumpstart, suggesting that the uptick in M&A activity that began in the second half of last year could stick around.
The M&A environment should "be really vibrant in 2023," said Gaito, who opened the conference.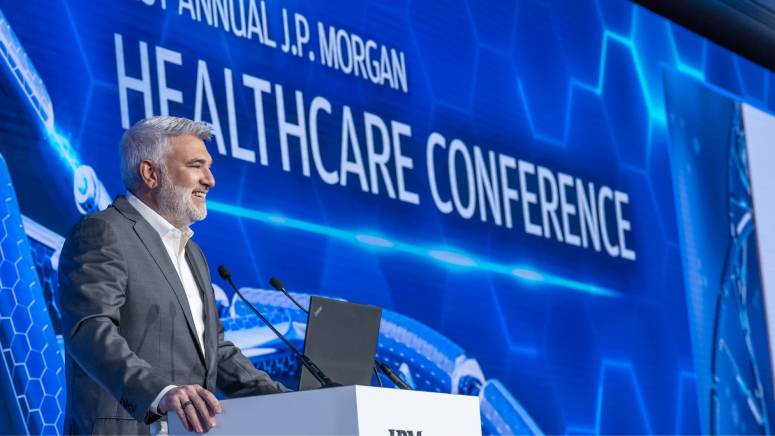 Mike Gaito speaks at the 41st annual J.P. Morgan Healthcare Conference. (Photo credit: Lucy Kennedy Photography)

"We'll continue to see growth acquisitions across all parts of the industry. There's a drive for growth right now and there's a recognition that we've had a valuation reset over the last 12 to 18 months so that makes the buyers even more aggressive and even more interested," he told Bloomberg.
In late 2022, J.P. Morgan also led the $6 billion sale of Nimus to Takeda, as well as advised Johnson and Johnson on its $17 billion acquisition of medical devices company Abiomed.
Many big pharma companies are seeking to replenish revenues as their top-selling drugs reach the end of patent protection, sparking fierce competition for new medicines and a flurry of deals, especially with biotech firms.
The convergence of health care and technology is also driving deal activity, Gaito added, "whether it's AI and machine learning for drug discovery, or the same for diagnostic discovery, or new technologies brought into the health care services realm for patient care in the digital health world."
Health of the Economy
Other sessions explored the broader economic and geopolitical environment. In press interviews and his keynote address, Chairman and CEO Jamie Dimon shared his outlook on inflation, Fed policy and the health of the U.S. consumer amid looming recession fears.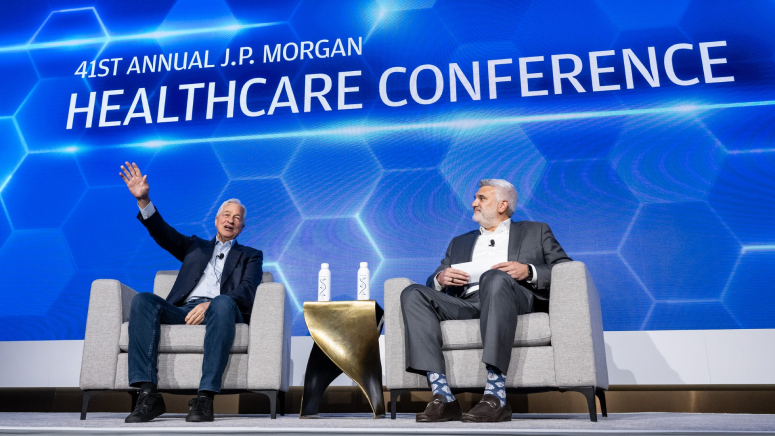 Jamie Dimon and Mike Gaito in conversation at the 41st annual J.P. Morgan Healthcare Conference. (Photo credit: Lucy Kennedy Photography)

"The consumer is still strong," Dimon told Fox Business. "Their balance sheets are in good shape. They're spending 10% more than pre-Covid. They have more in their checking account, companies are in good shape and that's driving a strong economy."
On the outlook for J.P. Morgan, he noted: "We have a lot of growth plans" and continue to invest through all economic cycles. "I tend not to stop growing because of a recession. Even in a recession, we're opening in new countries," he said, highlighting the overall resiliency of the U.S. economy and the financial system.
Related Insights

For Corporate Clients only - This material (including market commentary, market data, observations or the like) has been prepared by personnel in the Healthcare Group of JPMorgan Chase & Co. and/or its affiliates (collectively, "J.P Morgan"). It has not been reviewed, endorsed or otherwise approved by, and is not a work product of, any research department of J.P. Morgan. This material is intended merely to highlight market developments and is not intended to be comprehensive and does not constitute investment, legal or tax advice, nor does it constitute an offer or solicitation for the purchase or sale of any financial instrument or a recommendation for any investment product or strategy.
RESTRICTED DISTRIBUTION: This material is distributed by the relevant J.P. Morgan entities that possess the necessary licenses to distribute the material in the respective countries. This material is proprietary and confidential to J.P. Morgan and is for your personal use only. Any distribution, copy, reprints and/or forward to others without permission from, or attribution to, J.P. Morgan is strictly prohibited.
Copyright 2023 JPMorgan Chase & Co. All rights reserved. JPMorgan Chase Bank, N.A., organized under the laws of U.S.A. with limited liability.
You're now leaving J.P. Morgan
J.P. Morgan's website and/or mobile terms, privacy and security policies don't apply to the site or app you're about to visit. Please review its terms, privacy and security policies to see how they apply to you. J.P. Morgan isn't responsible for (and doesn't provide) any products, services or content at this third-party site or app, except for products and services that explicitly carry the J.P. Morgan name.