Investing
Will interest rates go negative?
Are U.S. interest rates heading into negative territory? We don't think so.
---
Our Top Market Takeaways for May 15, 2020.
Market Update
It looked like it could get ugly

By mid-morning on Thursday, the S&P 500 was down over -5.5% on the week. Small cap stocks were down -11.5%. Sentiment was sour, and we couldn't wait for Friday. What's to blame?
Dr. Anthony Fauci poured more cold water on the idea that there would be a quick resolution to the COVID-19 crisis at a congressional hearing.
Investing titans like Stan Druckenmiller and David Tepper cited excesses in the stock market.
South Korea had to reclose bars and nightclubs after a flare-up in new COVID cases.
Los Angeles will probably not reopen until after July 4.
And finally…another three million Americans applied for unemployment insurance.
Bank stocks were the main character this week. By 10:00 a.m. on Thursday, U.S. banks had lost -13.5% throughout the week. Investors seem concerned about three main issues: the prospect of dividend cuts, reserve builds (banks have to add reserves in time of economic stress; when they do this, they can't lend as much, which lowers their profits), and the threat of negative interest rates in the United States (more on that in a bit).
However, bank stocks reversed course and ended Thursday up almost +4%. The entire stock market took their lead. The S&P 500 ended Thursday up about 1% on the day, as did the NASDAQ, and small cap stocks even eked out a gain after being down by roughly -4% at one point. There was no clear catalyst for the move, but it seems notable that stocks had every justification to sell off further, but didn't.
The day-to-day price action seems intense, but when you zoom out, the stock market seems to be stuck in a relatively narrow range, as do high yield and investment grade credit spreads and U.S. Treasury yields. As we mentioned last week, the dust from the first phase of the crisis is settling, and bulls and bears are fighting over where we go from here.
Spotlight
Are U.S. interest rates taking a turn for the negative?

As worries over the economic fallout from the COVID-19 crisis have intensified, investors have priced in negative policy rates in the United States. In fact, some options traders are even betting that the federal funds rate will be as low as -0.70%! This is surprising because the effectiveness of negative interest rate policy (NIRP) has been debated for years, and most economists agree that it just isn't right for the United States. In fact, just this week, Fed Chair Powell went out of his way to reiterate that NIRP is not a tool the Federal Open Market Committee is considering. That being said, we think negative interest rates are very unlikely in the United States, especially given that the Fed has better tools to use to stimulate the economy.

Here are three questions we're getting on negative rates, and our answers.
Q: Why would a central bank choose to set policy rates in negative territory?
When central banks want to stimulate the economy, they lower short-term interest rates. When you push policy rates lower, you incentivize people to spend (because they are earning less interest in their checking/savings accounts) or to borrow (because they have lower interest costs). In central banker speak: You ease financial conditions to stimulate economic activity.
It might sound odd, but negative interest rates, while newer to the economic ecosystem, still follow this framework. In theory (and big stress on "theory"), bringing policy rates below zero—say from 0% to -0.25%—should be largely the same as lowering rates from 0.25% to 0%. Further, some argue that negative rates actually amplify easy central bank policy. Because negative rates mean your average bank would have to pay to park their excess capital at a central bank like the Fed, NIRP could incentivize such banks to lend more, or to purchase assets at longer maturities or with lower credit quality (in order to make a profit). Second, breaking the "zero lower bound" (when short-term policy rates are set below zero) also helps to keep long-term interest rates low because investors have to price in the probability that rates, too, are below zero in the future.
Q: What are the challenges of negative interest rates in practice?
Turns out, there is a big gap between theory and reality for three key reasons.
1. Bank profitability is challenged. This has been particularly acute, as banks in NIRP jurisdictions (the Eurozone, especially) have been hesitant to pass on negative rates to end consumers (like businesses or your average person who wants to borrow and invest). In effect, banks have chosen to shelter their depositors from negative rates at the expense of profitability—shouldering the costs of negative interest rates themselves. With lower profitability, the ability to absorb any loan losses is compromised, and that inhibits banks from making future loans, which in turn hurts economic growth. From there, the merry-go-round continues.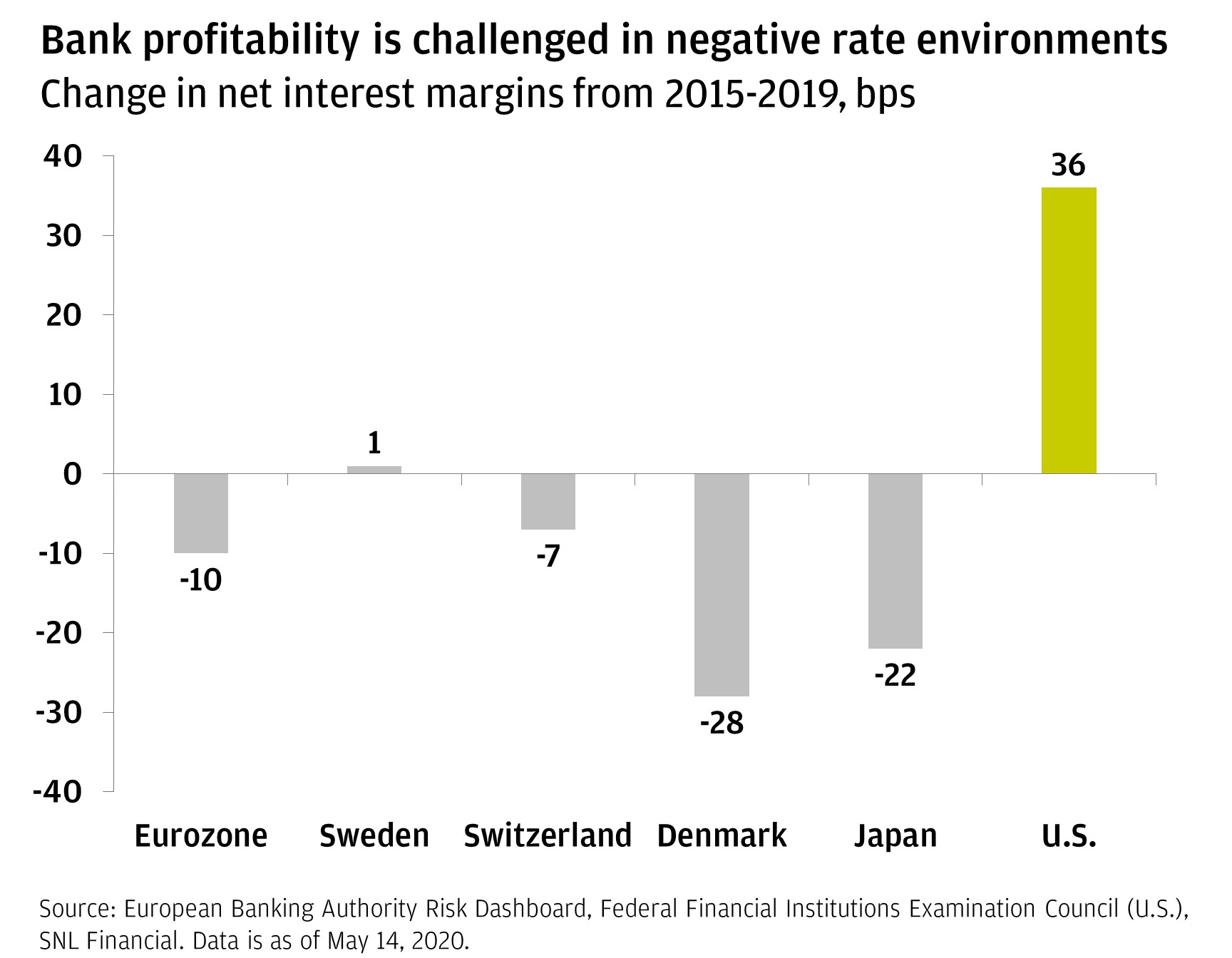 Description: The chart shows the change in net interest margins from 2015 through 2019 to reflect the profitability of banks. It depicts the Eurozone, Sweden, Switzerland, Denmark, Japan and the United States over this time period.
2. Money market funds struggle to operate with negative interest rates. The U.S. money market fund industry is an important part of financial plumbing. Savers use it to park cash, and businesses and financial institutions rely on it for short-term borrowing. Currently, it is nearly ~$4 trillion. Roughly 75% are government and Treasury-only products (i.e., very safe); importantly, these carry a fixed-rate net asset value (you put in a dollar today and get at least a dollar back in the future). But if you have negative interest rates, a fixed-rate NAV is not possible.
3. Rates can't go that negative. At some point, a very negative interest rate incentivizes people to hold hard currency (like bundles of bills under the mattress). Of course, stockpiling currency and keeping it safe comes with a cost: ECB research suggests -0.75% is the point where citizens will rotate from deposits to holding cold, hard cash.
Q. So what could the Fed do if economic conditions intensify?
Long story short, we think it would do a lot of other things before it took the federal funds rate to negative territory. Beyond taking Chair Powell at his word, the frictions between NIRP theory and reality are significant, and we think the Fed has better tools.
Negative rates look like they would be a step in the wrong direction, and we don't expect the Fed to take it. 
In fact, the Fed doesn't even need to really flex its muscles—it can just say it will do something. This is what central bankers call "credibility." Case in point: The Fed has been able to effectively cure a liquidity crunch in a matter of two months (a feat that took it 6.5 months post–Global Financial Crisis). Furthermore, liquidity conditions have been restored to pre-COVID-19 levels merely on the promise that the Fed will act; so far the Fed's alphabet soup facilities have only extended ~$125 billion of loans (a mere 2% of the Fed's balance sheet).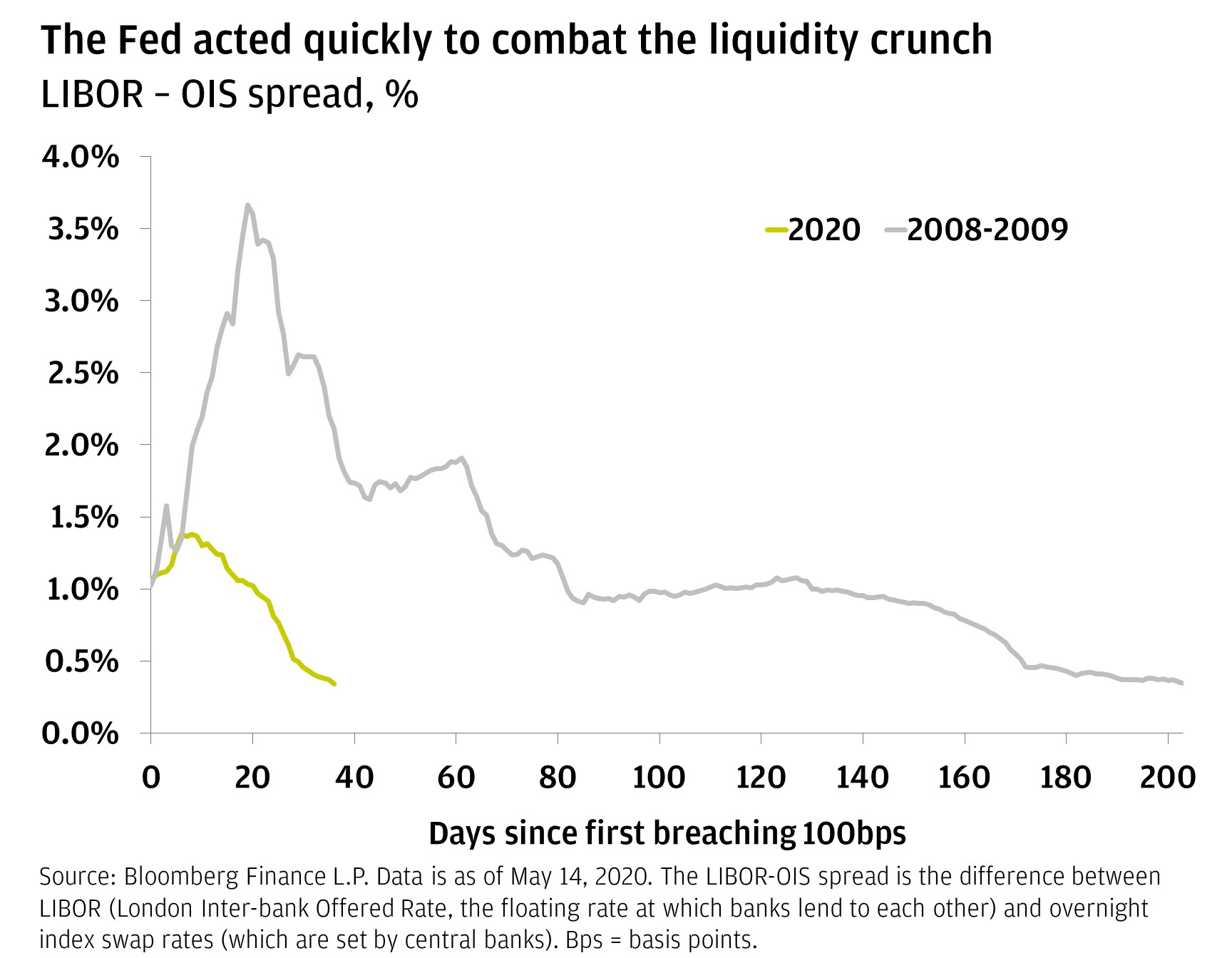 Description: The line chart depicts the LIBOR OIS spread as a percentage, comparing the COVID-19 era in 2020 to the Global Financial Crisis era in 2008–2009. It indicates that, comparing 2020 to 2008–2009, the spread has reduced at a quicker rate in 2020, which signals that the Fed has been able to help with the liquidity crunch more effectively than in 2008–2009.
If things did turn south, we think the Fed would be more likely to increase its purchases of mortgage-backed securities (MBS). The depth and efficiency of the U.S. MBS market is unique. The market gives the Fed a direct channel to impact average Americans where it matters most: their mortgage payments. When the Fed buys MBS, it drives their prices up and their yields (mortgage borrowing costs) down. As of year-end 2018, there was about $11 trillion of home mortgages in the United States—if mortgage rates were to go down by 1% and everyone refinances, $110 billion of aggregate disposable income would be available to consumers. There is political beauty here too, as Main Street is the direct beneficiary.
Any quantitative easing program would naturally include buying Treasuries too, but the ability to buy MBS is critical. The total agency MBS market is ~$8.5 trillion, of which the Fed owns ~$1.5 trillion. There is a ton of room to expand in this area.
The Fed's policy response to the COVID-19 crisis thus far has been impressive. Negative rates look like they would be a step in the wrong direction, and we don't expect the Fed to take it.
All market and economic data as of May 2020 and sourced from Bloomberg, FactSet and Gavekal unless otherwise stated.
We believe the information contained in this material to be reliable but do not warrant its accuracy or completeness. Opinions, estimates, and investment strategies and views expressed in this document constitute our judgment based on current market conditions and are subject to change without notice.
RISK CONSIDERATIONS
Past performance is not indicative of future results. You may not invest directly in an index.
The prices and rates of return are indicative, as they may vary over time based on market conditions.
Additional risk considerations exist for all strategies.
The information provided herein is not intended as a recommendation of or an offer or solicitation to purchase or sell any investment product or service.
Opinions expressed herein may differ from the opinions expressed by other areas of J.P. Morgan. This material should not be regarded as investment research or a J.P. Morgan investment research report.
Important Information
All companies referenced are shown for illustrative purposes only, and are not intended as a recommendation or endorsement by J.P. Morgan in this context.
All market and economic data as of May 2020 and sourced from Bloomberg, FactSet and Gavekal unless otherwise stated.
The information presented is not intended to be making value judgments on the preferred outcome of any government decision.
This material is for informational purposes only, and may inform you of certain products and services offered by
J.P. Morgan's wealth management businesses, part of JPMorgan Chase & Co. ("JPM"). Please read all Important Information.
The MSCI China Index captures large- and mid-cap representation across China H shares, B shares, Red chips, P chips and foreign listings (e.g., ADRs). With 459 constituents, the index covers about 85% of this China equity universe. Currently, the index also includes Large Cap A shares represented at 5% of their free float adjusted market capitalization.
The Standard and Poor's 500 Index is a capitalization-weighted index of 500 stocks. The index is designed to measure performance of the broad domestic economy through changes in the aggregate market value of 500 stocks representing all major industries. The index was developed with a base level of 10 for the 1941–43 base period.
The STOXX Europe 600 Index tracks 600 publicly traded companies based in one of 18 EU countries. The index includes small-cap, medium-cap and large-cap companies. The countries represented in the index are Austria, Belgium, Denmark, Finland, France, Germany, Greece, Holland, Iceland, Ireland, Italy, Luxembourg, Norway, Portugal, Spain, Sweden, Switzerland and the United Kingdom.
This material is for informational purposes only, and may inform you of certain products and services offered by
J.P. Morgan's wealth management businesses, part of JPMorgan Chase & Co. ("JPM"). Please read all Important Information.
GENERAL RISKS & CONSIDERATIONS
Any views, strategies or products discussed in this material may not be appropriate for all individuals and are subject to risks. Investors may get back less than they invested, and past performance is not a reliable indicator of future results. Asset allocation does not guarantee a profit or protect against loss. Nothing in this material should be relied upon in isolation for the purpose of making an investment decision. You are urged to consider carefully whether the services, products, asset classes (e.g., equities, fixed income, alternative investments, commodities, etc.) or strategies discussed are suitable to your needs. You must also consider the objectives, risks, charges, and expenses associated with an investment service, product or strategy prior to making an investment decision. For this and more complete information, including discussion of your goals/situation, contact your J.P. Morgan representative.
NON-RELIANCE
Certain information contained in this material is believed to be reliable; however, JPM does not represent or warrant its accuracy, reliability or completeness, or accept any liability for any loss or damage (whether direct or indirect) arising out of the use of all or any part of this material. No representation or warranty should be made with regard to any computations, graphs, tables, diagrams or commentary in this material, which are provided for illustration/reference purposes only. The views, opinions, estimates and strategies expressed in this material constitute our judgment based on current market conditions and are subject to change without notice. JPM assumes no duty to update any information in this material in the event that such information changes. Views, opinions, estimates and strategies expressed herein may differ from those expressed by other areas of JPM, views expressed for other purposes or in other contexts, and this material should not be regarded as a research report. Any projected results and risks are based solely on hypothetical examples cited, and actual results and risks will vary depending on specific circumstances. Forward-looking statements should not be considered as guarantees or predictions of future events.
Nothing in this document shall be construed as giving rise to any duty of care owed to, or advisory relationship with, you or any third party. Nothing in this document shall be regarded as an offer, solicitation, recommendation or advice (whether financial, accounting, legal, tax or other) given by J.P. Morgan and/or its officers or employees, irrespective of whether or not such communication was given at your request. J.P. Morgan and its affiliates and employees do not provide tax, legal or accounting advice. You should consult your own tax, legal and accounting advisors before engaging in any financial transactions.
IMPORTANT INFORMATION ABOUT YOUR INVESTMENTS AND POTENTIAL CONFLICTS OF INTEREST
Conflicts of interest will arise whenever JPMorgan Chase Bank, N.A. or any of its affiliates (together, "J.P. Morgan") have an actual or perceived economic or other incentive in its management of our clients' portfolios to act in a way that benefits J.P. Morgan. Conflicts will result, for example (to the extent the following activities are permitted in your account): (1) when J.P. Morgan invests in an investment product, such as a mutual fund, structured product, separately managed account or hedge fund issued or managed by JPMorgan Chase Bank, N.A. or an affiliate, such as J.P. Morgan Investment Management Inc.; (2) when a J.P. Morgan entity obtains services, including trade execution and trade clearing, from an affiliate; (3) when J.P. Morgan receives payment as a result of purchasing an investment product for a client's account; or (4) when J.P. Morgan receives payment for providing services (including shareholder servicing, recordkeeping or custody) with respect to investment products purchased for a client's portfolio. Other conflicts will result because of relationships that J.P. Morgan has with other clients or when J.P. Morgan acts for its own account.
Investment strategies are selected from both J.P. Morgan and third-party asset managers and are subject to a review process by our manager research teams. From this pool of strategies, our portfolio construction teams select those strategies we believe fit our asset allocation goals and forward-looking views in order to meet the portfolio's investment objective.
As a general matter, we prefer J.P. Morgan managed strategies. We expect the proportion of J.P. Morgan managed strategies will be high (in fact, up to 100 percent) in strategies such as cash and high-quality fixed income, subject to applicable law and any account-specific considerations.
While our internally managed strategies generally align well with our forward-looking views, and we are familiar with the investment processes as well as the risk and compliance philosophy of the firm, it is important to note that
J.P. Morgan receives more overall fees when internally managed strategies are included. We offer the option of choosing to exclude J.P. Morgan managed strategies (other than cash and liquidity products) in certain portfolios.
The Six Circles Funds are U.S.-registered mutual funds managed by J.P. Morgan and sub-advised by third parties. Although considered internally managed strategies, JPMC does not retain a fee for fund management or other fund services.
LEGAL ENTITY, BRAND & REGULATORY INFORMATION
In the United States, bank deposit accounts and related services, such as checking, savings and bank lending, are offered by JPMorgan Chase Bank, N.A. Member FDIC.
JPMorgan Chase Bank, N.A. and its affiliates (collectively "JPMCB") offer investment products, which may include bank-managed investment accounts and custody, as part of its trust and fiduciary services. Other investment products and services, such as brokerage and advisory accounts, are offered through J.P. Morgan Securities LLC ("JPMS"), a member of FINRA and SIPC. Annuities are made available through Chase Insurance Agency, Inc. (CIA), a licensed insurance agency, doing business as Chase Insurance Agency Services, Inc. in Florida. JPMCB, JPMS and CIA are affiliated companies under the common control of JPMorgan Chase & Co. Products not available in all states.
References to "J.P. Morgan" are to JPM, its subsidiaries and affiliates worldwide. "J.P. Morgan Private Bank" is the brand name for the private banking business conducted by JPM.
This material is intended for your personal use and should not be circulated to or used by any other person, or duplicated for nonpersonal use, without our permission. If you have any questions or no longer wish to receive these communications, please contact your J.P. Morgan representative.
---