Wealth Planning
The bucket list: Will your assets last beyond your lifetime?
Thinking about passing on your wealth isn't easy—but knowing who will benefit, what's being given, when and how you're giving can offer peace of mind.
---
Many humans understand that they should organize their money with intent—but why is doing it such a different story? Many of us know what we should do, but that often conflicts with what we want to do.1 Think about this: Would you rather have pizza or salad (be honest!)? We know we probably should have salad, but we'd like the slice of pizza. Similarly, we understand that we should plan for the future (including assets that will endure beyond our lifetimes), but focusing on the present is so much more fun!
Research suggests that pre-committing to what we should be doing can actually help us avoid focusing exclusively on doing only what we want to do. And that's what the "bucket list" approach that we've described in previous articles is all about. We've written about setting up a liquidity bucket, which contains cash and other forms of liquidity to give you peace of mind, cover operating cash flow, allow for big ticket purchases and support opportunistic investments. Thinking about this bucket is, generally speaking, pleasant since it allows us to concentrate on what we want in the short term. We've also covered the lifestyle bucket. A little less exciting, it contains money we know we should set aside to reliably provide for our lifetimes' needs and wants.
In this article, we discuss the division or preservation bucket, which may be one of the most avoided buckets. Why? We know we should make plans beyond our lifetimes, but many of us don't want to imagine a world without us. (Philosophers and psychologists have written great tomes on the subject!) So what can we do to motivate ourselves to plan in the way we know we should?
Divide and/or preserve—and always act with intent
Think about it this way: When you pass, you will leave behind a collection of assets. The money has to go somewhere, to specific people, organizations or entities. Essentially, if you do nothing, those assets will travel to others by default, based on a variety of factors, including the legal environment you live in. Or you can choose to be intentional and either divide your assets among beneficiaries who will receive your wealth upon your death, or structure your wealth to be preserved and sustained across several generations beyond your lifetime. You can be intentional or unintentional about where the money will go. When you're intentional, you are making deliberate, considered choices based on your personal values and goals.
Now, imagine you are the one receiving the assets. Would you rather have had the giver be intentional or unintentional? Thinking about how our decisions affect others may motivate us to be more intentional. Identifying who you want to benefit from your assets—which you can reframe as a gift—can be a constructive starting point for taking action. Once you've identified who, you can then address the what, when and how. Doing so will help you make the choices that give you and your family the best chance of dividing or preserving your assets in a way that aligns with your desired outcomes.
You can also think about this bucket as a net worth floor. The money is meant for your heirs and beneficiaries, but it is also there just in case. While the assets in the lifestyle bucket are meant to be consumed in your lifetime, the assets in the division or preservation bucket can be shifted over if your lifestyle bucket needs a funding boost—as long the assets in the division or preservation bucket don't contain a gift that can't be undone. As you might expect, there is a tradeoff to consider—between maintaining a certain level of wealth for yourself during your lifetime and maximizing potential gifts for your heirs and beneficiaries.
Who, what, when and how
We've set the stage: You have accumulated a store of assets—it's a significant gift that you want to give. As we've discussed, the first step is to ask yourself who is the money meant for? Your spouse, partner, children, grandchildren, future generations? A community-based organization or philanthropy? Some or all of the above?
In my work with families, I've seen that people have different perspectives on how their wealth might impact their children, and their varied philosophies on this important subject inform their choices. Some feel that it will be empowering for their children to receive all, or part, of their accumulated wealth. Others feel that inheriting significant wealth would actually be disempowering for their children. So identifying who will receive your assets is a critical first step.
What exactly are you giving? That's the second point to clarify. You might have a mix of belongings, investments, real estate and businesses. You'll want to think about what value they hold now and what they might be worth in the future. That will help you determine what portion of your assets you want divided among beneficiaries upon your death, and what portion of your assets—a property or business, perhaps—you will try to preserve for generations.
Next, you need to think about when you want to make your gift. Will be it be during or after your lifetime? You'll want to decide when the gift will begin and when it will end. For example, will there be many distributions to people over a long period of time, or one distribution at a single time (e.g., your passing)? If you're concerned that it may be difficult to preserve your wealth long after you're gone, know that that concern makes sense. A considerable body of research confirms what is often referred to as the "shirtsleeves to shirtsleeves" phenomenon—in which 90% of wealth is typically gone within three generations (that is, by the time of the wealth creator's grandchildren).
Finally, you'll want to work with your financial, tax and legal advisors to determine how to make your gift in a way that will most faithfully reflect your intentions. For example, do you divide your wealth equally among your children, or do you choose a different division that you believe will be more appropriate? For many families, fair is not always equal. Other factors such as psychological readiness, financial need, and contribution to the family play a large role in perceived fairness in how assets are divided.
Perhaps there is a portion of your wealth that you plan to give to your children. You also know that they could make good use of it while you are still alive. It might be a house whose value you feel confident you won't need to access in your lifetime. As a result, you feel you can comfortably relinquish control of the asset and give it to your children (see table below). Focusing on your practical and psychological need for control is key—once an asset is given, at least some of that control is gone. Tax planning and asset protection are also key factors to evaluate when thinking about how you are making a gift.
Determining what goes in your division and/or preservation bucket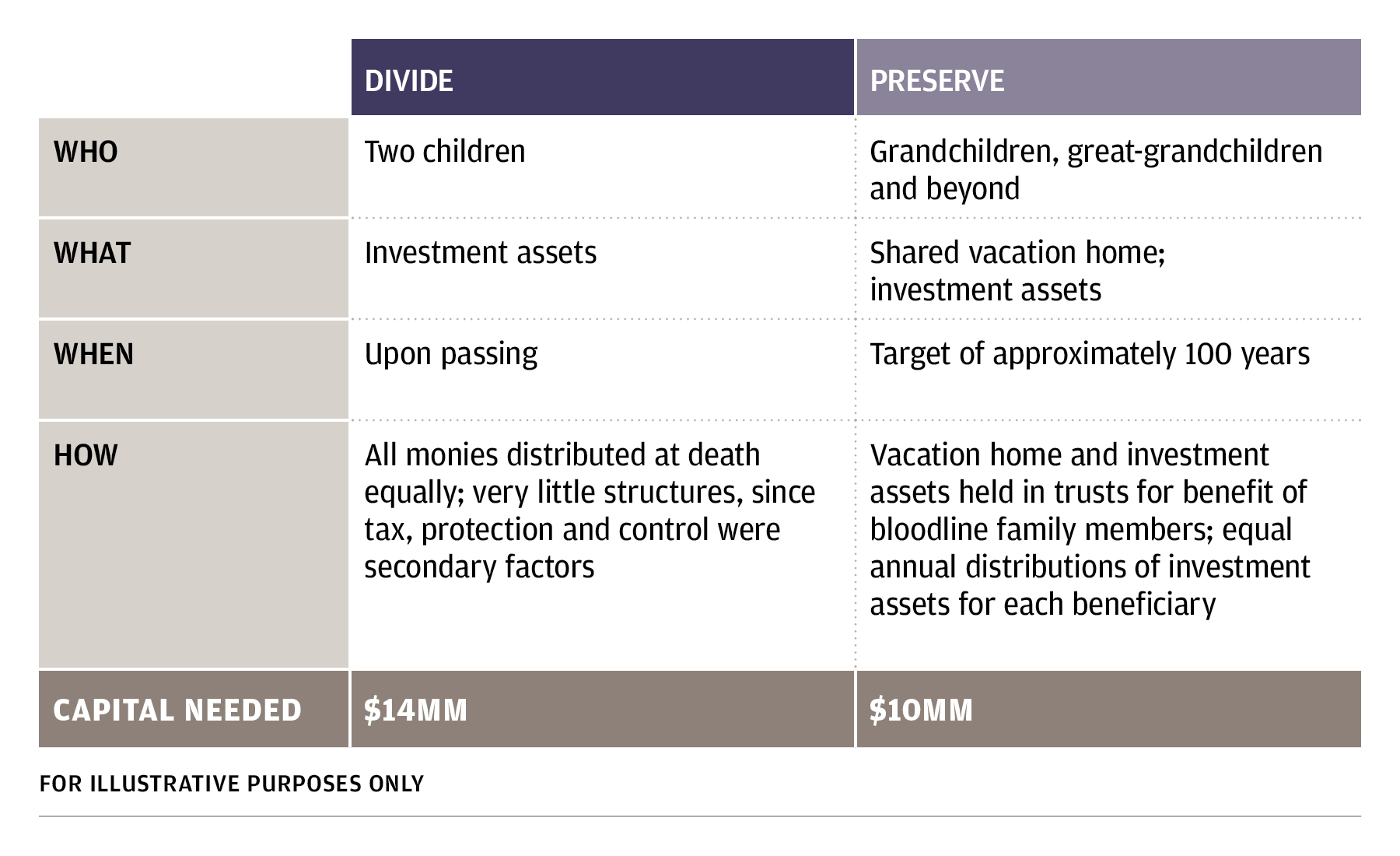 Here's another consideration. If you intend to give your children the full amount of your lifetime gift tax exclusion, those assets clearly belong in the preservation bucket. But money targeted for discretionary annual exclusion gifts to your children belongs in the lifestyle bucket.
Final thoughts
Whatever choices you make in deciding who, what, when and how your wealth will be divided and/or preserved, be clear about your intent. It's important that your family members and beneficiaries understand what your goals are. Be open and transparent about roles, responsibilities and expectations. That's what it means to make plans for your wealth with intent. "There is no legacy so rich as honesty," wrote William Shakespeare in All's Well That Ends Well. Indeed.
1 Gilbert, Sarah Jane. "Understanding the 'Want' vs. 'Should' Decision." Working Knowledge, Harvard Business School, 16 July 2007, hbswk.hbs.edu/item/understanding-the-want-vs-should-decision.
Important Information
LEGAL ENTITY, BRAND & REGULATORY INFORMATION
In the United States, bank deposit accounts and related services, such as checking, savings and bank lending, are offered by JPMorgan Chase Bank, N.A. Member FDIC.
JPMorgan Chase Bank, N.A. and its affiliates (collectively "JPMCB") offer investment products, which may include bank-managed investment accounts and custody, as part of its trust and fiduciary services. Other investment products and services, such as brokerage and advisory accounts, are offered through J.P. Morgan Securities LLC ("JPMS"), a member of FINRA and SIPC. JPMCB and JPMS are affiliated companies under the common control of JPM. Products not available in all states.
References to "J.P. Morgan" are to JPM, its subsidiaries and affiliates worldwide. "J.P. Morgan Private Bank" is the brand name for the private banking business conducted by JPM. This material is intended for your personal use and should not be circulated to or used by any other person, or duplicated for non-personal use, without our permission. If you have any questions or no longer wish to receive these communications, please contact your J.P. Morgan representative.
© 2019 JPMorgan Chase & Co. All rights reserved.