Investing
How to navigate U.S. municipals in a liquidity crunch    
Don't join the panic. Your guide to discerning investment in munis.
---
In the face of a COVID-19–led downturn and the worst liquidity crunch since the financial crisis of 2008, investors have been selling what they can, not what they want to. The $4.3 trillion U.S. municipal bond market locked up as investors looking to sell their securities for cash found themselves with no bids for their bonds.
We view the movement more as a liquidity squeeze than a credit concern, and favor holding and/or adding exposure. That said, some credits are more vulnerable to virus disruption and—with more than one million municipal CUSIPs available—it pays to be discerning.
This is what a municipal liquidity crunch looks like
Municipal bonds are traditionally quite low on the risk frontier, offering investors low relative yields in exchange for low relative risk.
But in late February, early March, that risk frontier framework collapsed, and investors may not be pricing risk rationally. Volatility has increased more for less risky asset classes, the opposite of what you might expect if credit risk was the only variable at play. Over the last 50 years, municipal defaults have been roughly 0.2% versus roughly 2.3% for investment grade (IG) corporate issuers.1
Suddenly, muni volatility skyrocketed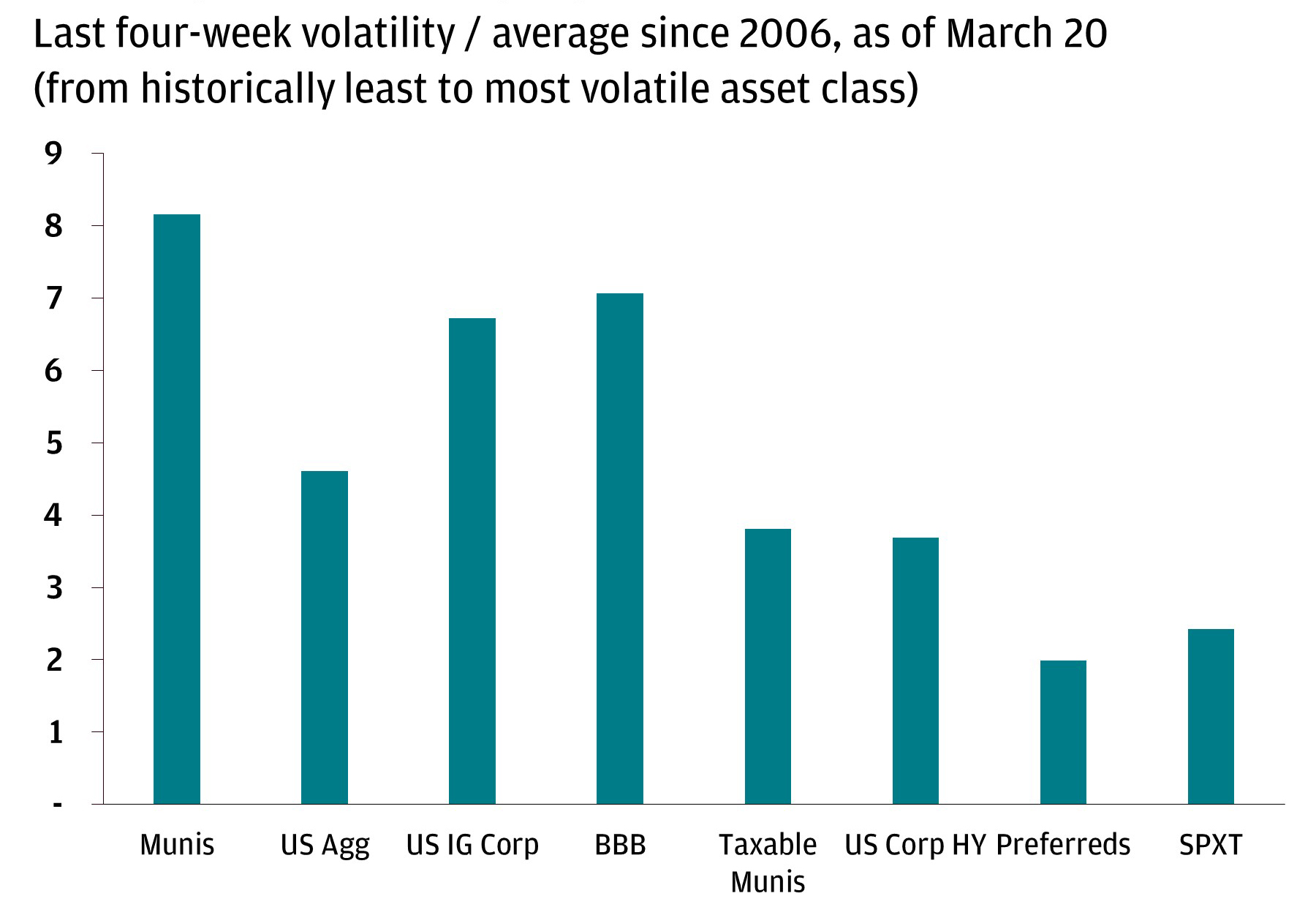 Source: Bloomberg Finance L.P., data from January 2006 to March 2020.
Bar chart compares performance of munis with US Aggregate, US IG Corp, BBB, Taxable Munis, US Corp HY, Preferreds, and SPXT, showing their 4-week volatility (as of March 20, 2020). Chart highlights that munis, which used to have the least volatility compared to this group, have experienced the highest level of volatility in recent weeks.
Enter stage right a liquidity crunch in which investors sought to sell what they could. Lipper reported combined weekly and monthly record municipal outflows of $12.2 billion for the period ending March 18. While alarming for municipal markets, record outflows were seen across the fixed income market complex.
Fixed income outflows broke records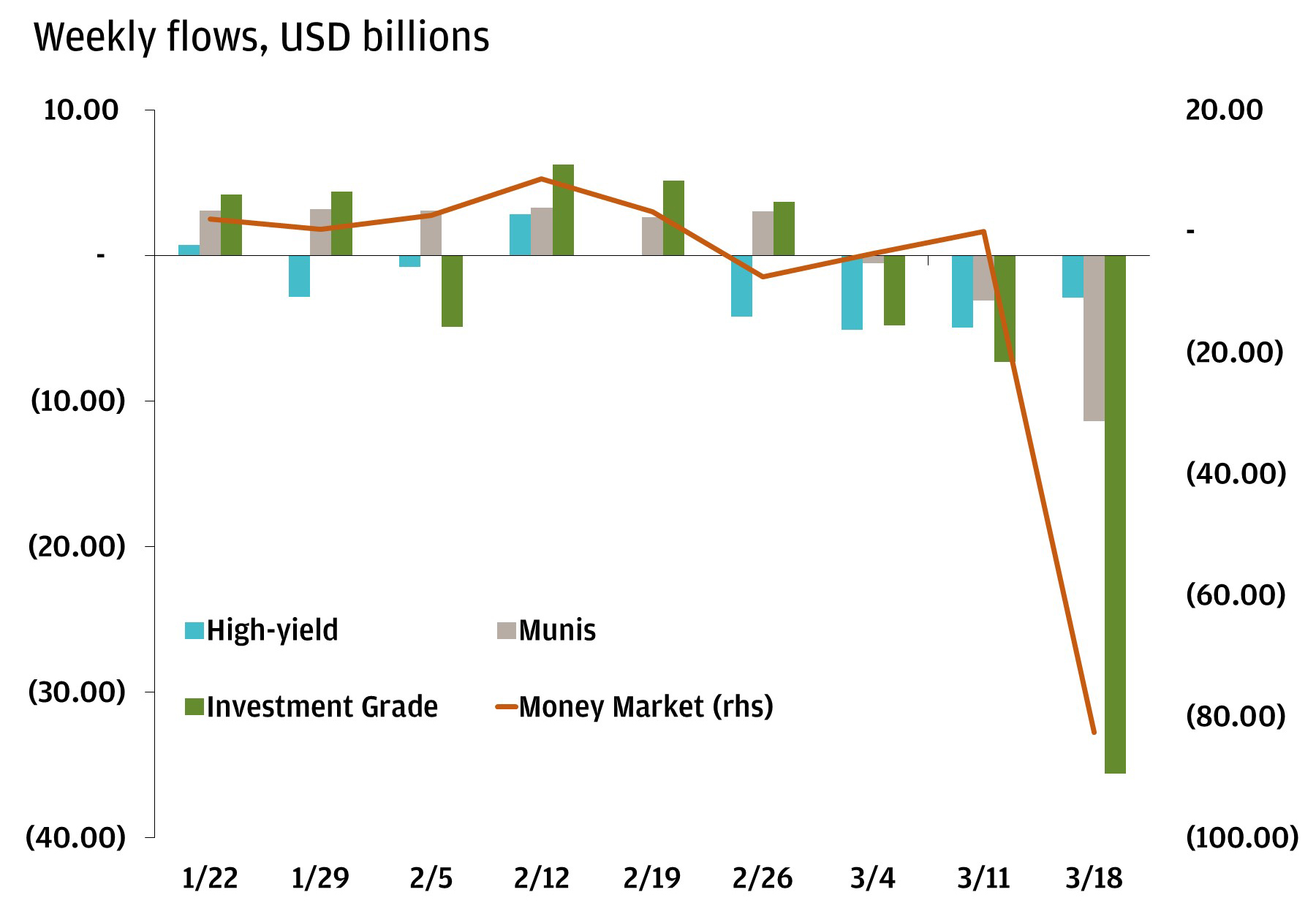 Source: Bloomberg Finance L.P. JP Morgan, as of March 23, 2020
Bar chart shows the weekly flows (in USD billions) of high-yield bonds, munis, investment grade bonds and the Money Market index from January 2020 to March 2020. This highlights that in March 2020, all four have seen the largest outflows ever experienced during this time period; most affected have been investment grade bonds.
The liquidity crunch has been particularly acute in the short end of the municipal bond market. The variable demand note market rate (VRDN) rose above 5% by March 20. VRDNs help municipalities to manage operating cash needs, comparable to the way corporates use commercial paper. The extraordinarily high VRDN rates are a function of excessively high dealer inventories that have ballooned to levels not far from the all-time highs reached during the crisis of 2008–2009. As a result of this buildup, SIFMA rates were reset to the highest level since the 2008 financial crisis.2
Municipal bonds reach their cheapest valuation, relative to Treasuries, in 10 years
Since the start of 2020, the municipal yield curve has sold off approximately 140 basis points (bps), on average. The majority of this volatility occurred in March and culminated with a historic 50 bps selloff, across the curve, on Friday, March 18.
Municipal/Treasury ratios (a relative value tool to help determine richness or cheapness) are now at their highest since 2008—which suggests municipal bonds are at their cheapest level, relative to Treasuries, since the financial crisis.
Municipal yields march higher, led by short-dated maturities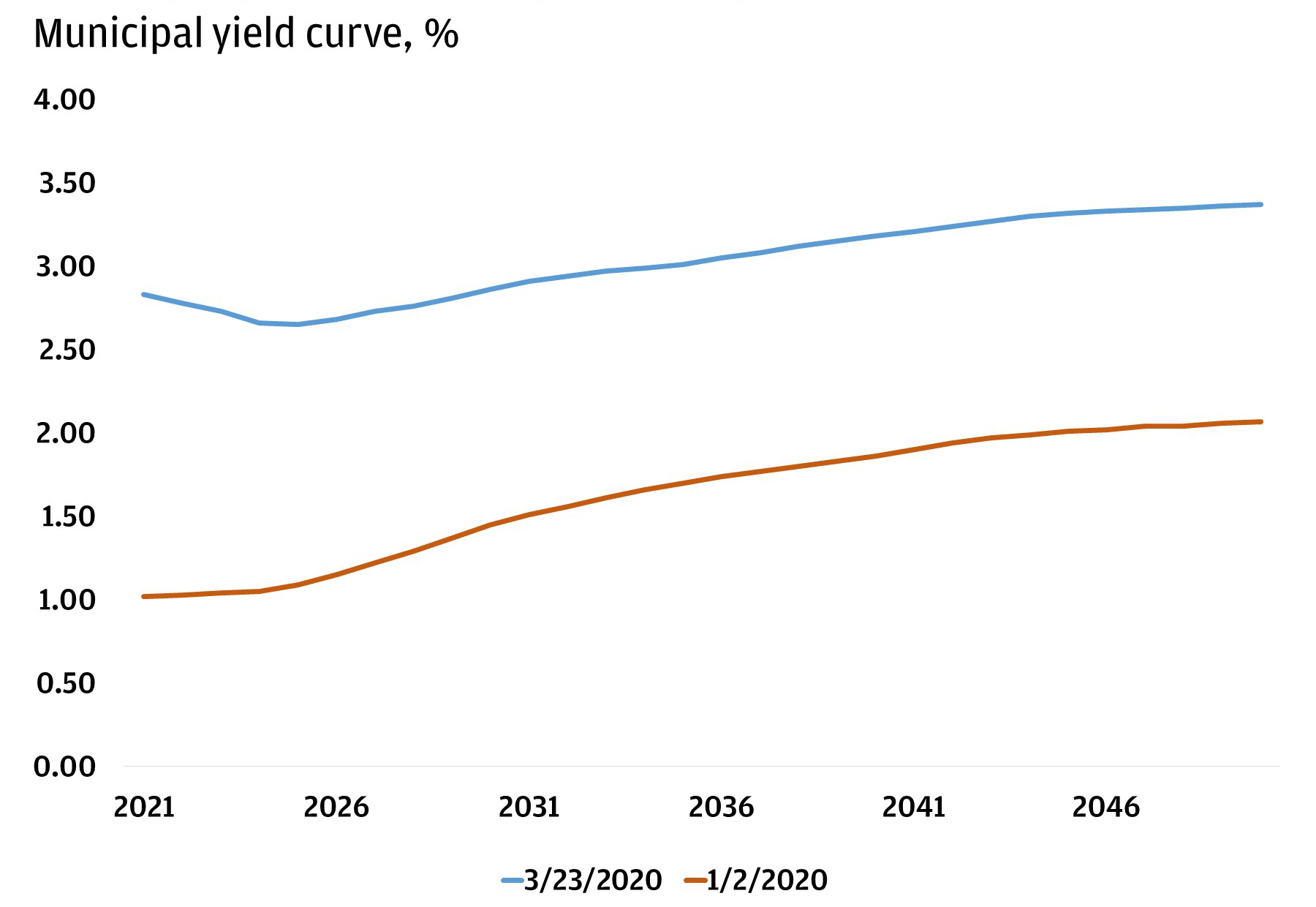 Sources: Bloomberg Finance L.P. JP Morgan, as of March 23, 2020.
Two charts—one showing the expected municipal yield curve from now through 2049. The second shows the municipal/treasury ratio – the 30 year Tenor lines with a 3.37% muni yield, 1.55% treasury yield, and a 217% ratio.
What can you do?
Given this environment, here are some actions you might consider taking now within the fixed income market:
Consider adding exposure to front-end municipal credits, as the Fed is offering a backstop to municipality liquidity needs. On March 23, the Fed announced that municipal credit is eligible for the Commercial Paper Funding Facility. Municipalities now can find short-term financing from the most creditworthy institution in the United States—at least through March 2021. The Fed also made municipal collateral eligible for the Money Market Mutual Fund Liquidity Facility. So mutual funds will have a place to sell collateral to meet municipal fund redemptions. It will take time for the liquidity to get through the system, but a backstop is now in place.
Be discerning with longer-dated municipal credits. We do not believe any state is currently a default risk. That said, some municipal bonds are more susceptible to virus disruption than others.

Stay defensive and consider buying "Local GOs/School Districts." These securities are supported by property taxes, which, generally speaking, should be more resilient and less volatile than a typical sales tax–backed bond.

Water & Sewer/Pubic Power fall into the essential service category, and it's possible that certain jurisdictions may see an uptick in revenue as shelter-in-place orders generate more essential service revenue.

Conversely, you might want to avoid student housing bonds, given the systematic shutdown of universities. Student housing bonds that are located on satellite campuses or from smaller, lesser-known universities could struggle to meet their debt service payments. Also, bonds backed by either hotel occupancy taxes or stadium revenues could see their ratings decline and a number of bond impairments.
How we see the fixed income market now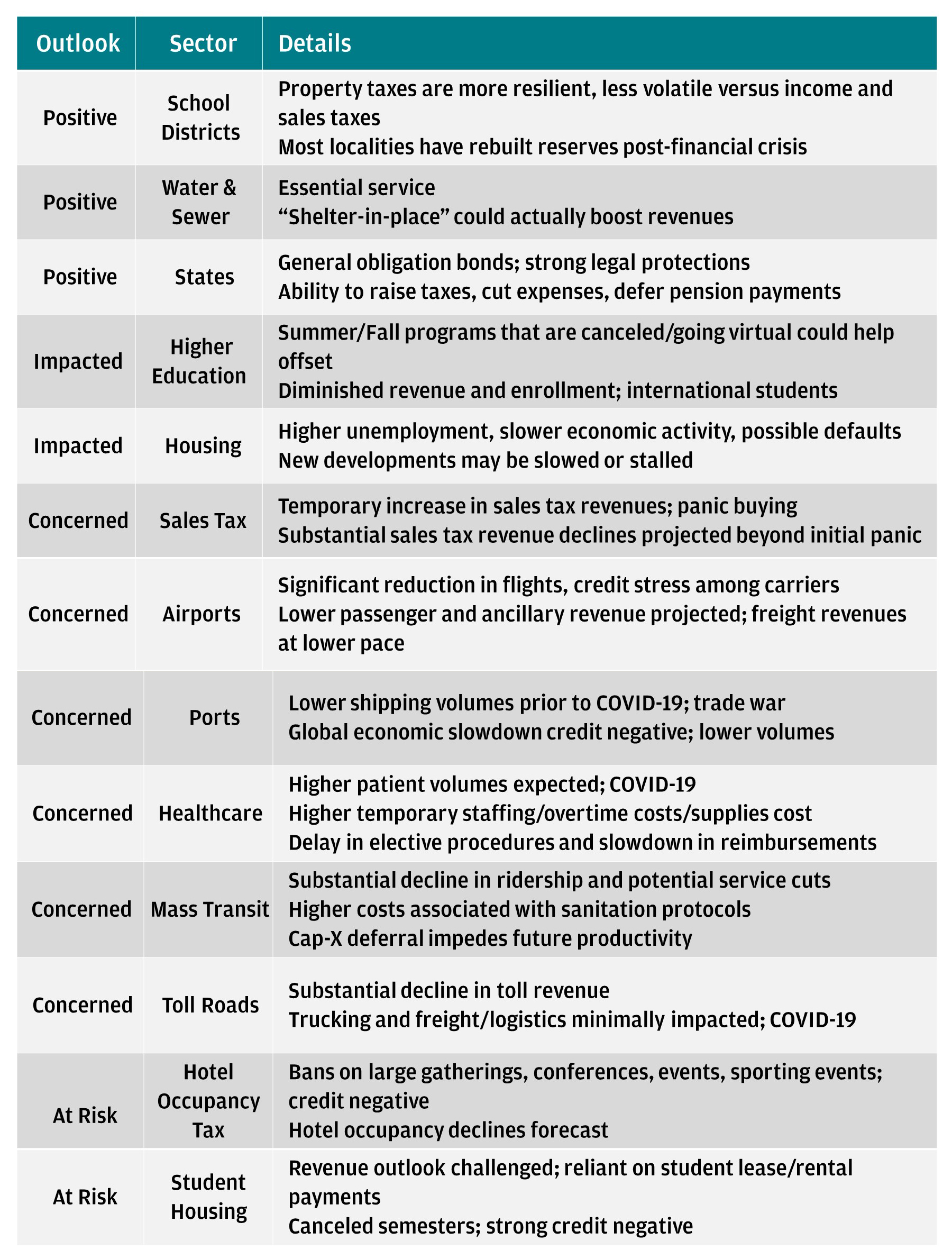 Source: Bloomberg Finance L.P., J.P. Morgan, as of March 23, 2020.
Chart goes through our outlook for various sectors, and providing detail for our outlook. For example—our outlook on school districts is positive because property taxes are more resilient and less volatile vs. income and sales tax.
We can help
One added precaution: Take the time to discuss with your J.P. Morgan advisor any move you're contemplating in order to make sure it is the right one for you now, and that it fits into your long-range wealth plan. We're here to provide you with the information you need so that your decisions—buy, sell or hold—are well grounded in current as well as future considerations.
1 Moody's Municipal Default and Recovery report for year ending 2018.
2 For those experiencing flashbacks to auction rate securities during the 2008 crisis, VRDNs are not the same. VRDNs have long-term nominal maturities but bear variable interest rates. (The most common type of VRDN has weekly interest rate reset.) Importantly, VRDNs have a put-back feature at par and don't require an auction to liquidate (as auction rate securities do).
Important Information
KEY RISKS
Investors should understand the potential tax liabilities surrounding a municipal bond purchase. Certain municipal bonds are federally taxed if the holder is subject to alternative minimum tax. Capital gains, if any, are federally taxable. The investor should note that the income from tax-free municipal bond funds may be subject to state and local taxation and the Alternative Minimum Tax (AMT).​
This material is for informational purposes only, and may inform you of certain products and services offered by J.P. Morgan's wealth management businesses, part of JPMorgan Chase & Co. ("JPM"). Please read all Important Information.

GENERAL RISKS & CONSIDERATIONS
Any views, strategies or products discussed in this material may not be appropriate for all individuals and are subject to risks. Investors may get back less than they invested, and past performance is not a reliable indicator of future results. Asset allocation does not guarantee a profit or protect against loss. Nothing in this material should be relied upon in isolation for the purpose of making an investment decision. You are urged to consider carefully whether the services, products, asset classes (e.g., equities, fixed income, alternative investments, commodities, etc.) or strategies discussed are suitable to your needs. You must also consider the objectives, risks, charges, and expenses associated with an investment service, product or strategy prior to making an investment decision. For this and more complete information, including discussion of your goals/situation, contact your J.P. Morgan representative.
NON-RELIANCE
Certain information contained in this material is believed to be reliable; however, JPM does not represent or warrant its accuracy, reliability or completeness, or accept any liability for any loss or damage (whether direct or indirect) arising out of the use of all or any part of this material. No representation or warranty should be made with regard to any computations, graphs, tables, diagrams or commentary in this material, which are provided for illustration/reference purposes only. The views, opinions, estimates and strategies expressed in this material constitute our judgment based on current market conditions and are subject to change without notice. JPM assumes no duty to update any information in this material in the event that such information changes. Views, opinions, estimates and strategies expressed herein may differ from those expressed by other areas of JPM, views expressed for other purposes or in other contexts, and this material should not be regarded as a research report. Any projected results and risks are based solely on hypothetical examples cited, and actual results and risks will vary depending on specific circumstances. Forward-looking statements should not be considered as guarantees or predictions of future events.
Nothing in this document shall be construed as giving rise to any duty of care owed to, or advisory relationship with, you or any third party. Nothing in this document shall be regarded as an offer, solicitation, recommendation or advice (whether financial, accounting, legal, tax or other) given by J.P. Morgan and/or its officers or employees, irrespective of whether or not such communication was given at your request. J.P. Morgan and its affiliates and employees do not provide tax, legal or accounting advice. You should consult your own tax, legal and accounting advisors before engaging in any financial transactions.
IMPORTANT INFORMATION ABOUT YOUR INVESTMENTS AND POTENTIAL CONFLICTS OF INTEREST
Conflicts of interest will arise whenever JPMorgan Chase Bank, N.A. or any of its affiliates (together, "J.P. Morgan") have an actual or perceived economic or other incentive in its management of our clients' portfolios to act in a way that benefits J.P. Morgan. Conflicts will result, for example (to the extent the following activities are permitted in your account): (1) when J.P. Morgan invests in an investment product, such as a mutual fund, structured product, separately managed account or hedge fund issued or managed by JPMorgan Chase Bank, N.A. or an affiliate, such as J.P. Morgan Investment Management Inc.; (2) when a J.P. Morgan entity obtains services, including trade execution and trade clearing, from an affiliate; (3) when J.P. Morgan receives payment as a result of purchasing an investment product for a client's account; or (4) when J.P. Morgan receives payment for providing services (including shareholder servicing, recordkeeping or custody) with respect to investment products purchased for a client's portfolio. Other conflicts will result because of relationships that J.P. Morgan has with other clients or when J.P. Morgan acts for its own account.
Investment strategies are selected from both J.P. Morgan and third-party asset managers and are subject to a review process by our manager research teams. From this pool of strategies, our portfolio construction teams select those strategies we believe fit our asset allocation goals and forward-looking views in order to meet the portfolio's
investment objective.
As a general matter, we prefer J.P. Morgan managed strategies. We expect the proportion of J.P. Morgan managed strategies will be high (in fact, up to 100 percent) in strategies such as cash and high-quality fixed income, subject to applicable law and any account-specific considerations.
While our internally managed strategies generally align well with our forward-looking views, and we are familiar with the investment processes as well as the risk and compliance philosophy of the firm, it is important to note that
J.P. Morgan receives more overall fees when internally managed strategies are included. We offer the option of choosing to exclude J.P. Morgan managed strategies (other than cash and liquidity products) in certain portfolios.
The Six Circles Funds are U.S.-registered mutual funds managed by J.P. Morgan and sub-advised by third parties. Although considered internally managed strategies, JPMC does not retain a fee for fund management or other fund services.
LEGAL ENTITY, BRAND & REGULATORY INFORMATION
In the United States, bank deposit accounts and related services, such as checking, savings and bank lending, are offered by JPMorgan Chase Bank, N.A. Member FDIC.
JPMorgan Chase Bank, N.A. and its affiliates (collectively "JPMCB") offer investment products, which may include bank-managed investment accounts and custody, as part of its trust and fiduciary services. Other investment products and services, such as brokerage and advisory accounts, are offered through J.P. Morgan Securities LLC ("JPMS"), a member of FINRA and SIPC. Annuities are made available through Chase Insurance Agency, Inc. (CIA), a licensed insurance agency, doing business as Chase Insurance Agency Services, Inc. in Florida. JPMCB, JPMS and CIA are affiliated companies under the common control of JPMorgan Chase & Co. Products not available in all states.
References to "J.P. Morgan" are to JPM, its subsidiaries and affiliates worldwide. "J.P. Morgan Private Bank" is the brand name for the private banking business conducted by JPM.
This material is intended for your personal use and should not be circulated to or used by any other person, or duplicated for nonpersonal use, without our permission. If you have any questions or no longer wish to receive these communications, please contact your J.P. Morgan representative.
© 2020 JPMorgan Chase & Co. All rights reserved.
---