Takis Georgakopoulos on how J.P.Morgan's Wholesale Payments business stayed resilient during Covid-19
This article was originally published in the China Business Journal.
---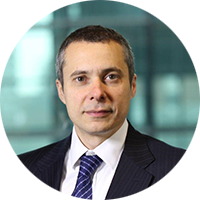 Takis Georgakopoulos is a Managing Director and the Global Head of Wholesale Payments at J.P. Morgan.
How has J.P. Morgan's Wholesale Payments business stayed resilient during the pandemic?
Obviously, the current environment is a unique one that has presented unprecedented challenges to us all. But I think our consistent strategy of staying focused on the wellbeing of our staff while being there for our clients has worked well for us, especially in a crisis like this.
At the start of the pandemic, we had to quickly figure out how to keep a proportion of our staff working from the office safely while they continued the important task of processing paper checks for the U.S. government, which is one of our biggest clients. For the rest of the employees who manage electronic payments, which is the bulk of what we do, we had to ensure they were able to effectively work from home. This turned out to be critical as during early days of COVID-19, around mid to late March, our clients' payment volumes spiked – where we were moving up to $10 trillion a day, a 40 percent increase from our average volume of $7 trillion – while our the call volumes from our customers tripled.
There has also been increasing cyber fraud attempts at our clients, but we are able to manage that by leveraging on our technology investments. These are challenging times, but I think our team has done an amazing job in ensuring no health issues for staff and no disruption to the business. I should add that this is not only true for J.P. Morgan; overall, the banking industry dealt with the crisis very, very well.
What were the key challenges clients faced and how did J.P. Morgan help?
I would separate our clients into two groups. First, you have the companies who are digital natives – a lot of our Chinese clients are in this category – where most of their payments are already electronic, they have direct connectivity, and they are already using technologies like APIs and machine learning in their platforms. These companies were naturally well prepared for the disruption and fared very well.
Then, you have the regular B2B large companies that manage very complex global supply chains and have disparate payment methods around the world that could be paper-based. This category of businesses are more challenged, and there has been a lot of work done with these clients to help them digitize the way they do payments, automate their payment processes and interactions with their banks and suppliers, free up working capital and stabilize their supply chains.
Also particularly hard hit are the clients of our Merchant Services business, a lot of whom are small businesses in the U.S. like restaurants and hair salons that had to shut for prolonged periods of time. We are having conversations about their digital journeys, how they can innovate and be creative about how their can service their customers remotely via electronic channels.
How do you see the payments business changing in a post-COVID world? Where are the opportunities?
I would say the biggest opportunity is the adoption of digital. This is a trend that will accelerate as no company knows how long the COVID-19 pandemic will last for and they need sustainable solutions to serve their clients without face-to-face interactions.
For me, it just reinforces the strategy that we always had, which is to support a world moving towards 24/7 real-time payment systems, with as little paper or manual process as possible. We've seen it in the adoption of our APIs where we've more than doubled the number of clients that we have had over the last three months. We have seen it in the signups for our Virtual Assistant that have gone from 500 to 20,000 clients within a span of a few weeks. There is nothing like a crisis to get people to adopt more efficient, more electronic payment processes.
I think the second change we will see is how people manage their suppliers in the current environment where supply chains are being disrupted. That's why we recently announced the partnership with Taulia (NOTE: Check correct name spelling), a leader in working capital and cash management solutions, to provide clients with advanced supply chain finance options. Given the liquidity stress supply chains are facing, our ability to serve the full spectrum of clients' supply chains needs is more important than ever, and our combined solution offers a mechanism to inject liquidity deep into supply chains and offer alternative sources of cash.
Technology has clearly been a key driver of change in the payment business. How is J.P. Morgan investing in this context?
The technology budget across the JPMorgan Chase franchise is close to $12 billion. Within Wholesale Payments, a significant portion of the firm wide technology budget is dedicated to building next generation platforms for our clients.
If you remember perhaps a decade ago, payments was a sleepy part of the banking business, where people sent money via wires or ACH, which will only be received days later. Fast forward 10 years – the way people pay today is changing rapidly because of the rise of e-commerce marketplaces. China, as you know, has moved directly from cash to e-wallets, and markets like the U.S. and Europe are half way there. My view is that trend towards electronic payments, wallets, digital currencies and real-time payments is real, and J.P. Morgan is a bank that invests at a scale to be able to keep up with the change and lead the change.
A priority with this change is investing to serve our e-commerce clients, to resolve challenges they grapple with like moving money from wallet to wallet in different parts of the world, ensuring 24/7 funds availability, managing FX effectively and connecting to real-time payments. These large companies have millions of wallets, and our job is to help make those wallets more efficient. This is a very, very exciting space and I'm very happy to be part of it, and to be with the bank that has the ability to invest at this scale.
Payments is a competitive space. What differentiates J.P. Morgan?
I would say we have three advantages. The first is that we are the only bank with the full suite of capabilities to manage all components of a payment. If you look at other banks, they will do the transaction side of things, but they will not do the merchant acquiring side of things. If you look at merchant acquirers, most of them are not banks. And if you look at fintechs, they provide the middle component – the wallet and that wallet infrastructure – but they can neither help you get money in nor pay money out. So, we are the only bank that combines all of these three components.
Second – because of our ability to invest, we have capabilities that are unmatched. We process 300,000 real-time payment transactions every day. We process five thousand transactions every second. We have an accuracy rate in six sigma, or well over 99 percent.
Third, we have the consistency. A lot of companies get excited by something they invest for a couple of years, then the environment changes. They change their minds, they change their priorities. At J.P. Morgan, we never waver in terms of our commitment to our clients, in good times and bad times. When markets go into recession, it really makes no difference to us; we are always going to be prudent in terms of risk management, but we are never going to waver in terms of our commitment to countries, clients, geographies, and technology investment.