London Showcases Future Tech Stars
Future unicorns gathered in London last week as clean energy and technology emerge as sectors set to supercharge new digital economy.
---
J.P. Morgan put Europe's technology sector on show last week.

If investors look beyond current economic storm clouds, the future for the industry is bright, according to panelists at the firm's inaugural Tech Stars Leadership Forum in London.

"The global trend of digitization and technology adoption is irreversible," Achintya Mangla, Global Head of Equity Capital Markets, told investors. "Companies which adapt will eventually emerge with sustainable and profitable growth models."

There are a few tailwinds.

"The tech sector in Europe is set to benefit from a nascent but fast-growing network of high-caliber entrepreneurs and increasing investment from venture capitalists," said Mangla, highlighting fintech, "deep tech" such as AI and quantum computing and "impact tech" like clean energy technology as areas where the region is outperforming.

J.P. Morgan's Tech Stars Forum brought together issuer companies and investors to hear from top industry players, government officials, academics and J.P. Morgan leaders about the factors shaping the future of the tech industry.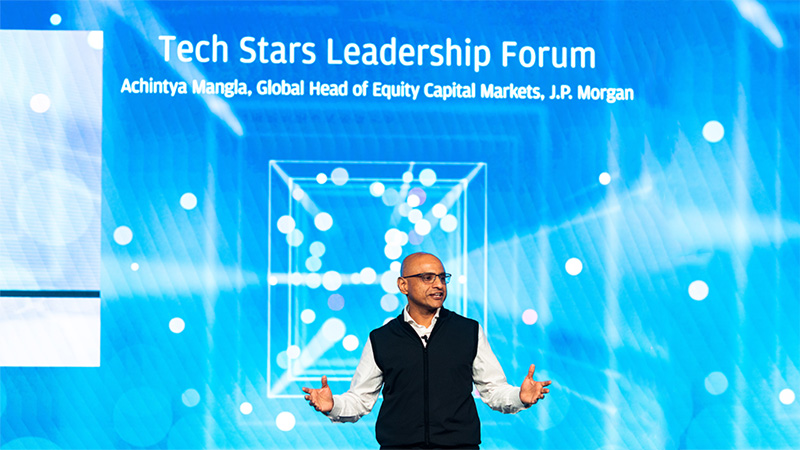 Photo Credit: Studio Collision
The global trend of digitalization and technology adoption is irreversible.
Achintya Mangla, Global Head of Equity Capital Markets
It comes as the U.K. government targets investment at renewable energy, zero-emission vehicle technologies and sustainable consumption as part of plans to kickstart growth and curb greenhouse emissions..

"Tech is always changing the world, it is the thing that has changed pretty much everything over the last 2,000 years," said Chairman and CEO Jamie Dimon, speaking to CNBC's Julianna Tatelbaum in a press interview.

But there are strengthening headwinds. Soaring inflation, rate hikes and the rising cost of capital are stalling dealmaking and making investors more cautious.

It's a very tough operating environment right now, Dimon told CNBC, warning that a "very, very serious" mix of headwinds is likely to tip the U.S. and global economy into recession by the middle of next year.

The U.S. economy is "actually still doing well" and consumers are in better shape compared with the 2008 global financial crisis, he noted.

However, the impact of soaring inflation, bigger-than-expected interest rate rises, quantitative tightening and Russia's war in Ukraine are taking a serious toll on the economy, "which I think are likely to push the U.S. and in some kind of recession six to nine months from now."

Geopolitical uncertainty and market volatility have caused many companies to hit the brakes with deal plans.

"The three-day Tech Stars event brought together 90 companies and close to 500 investors with a focus on Europe's fast-growing tech sector," said Matt Gehl, Head of EMEA Technology Investment Banking.

"While geopolitics, rate hikes and inflation worries are clouding the picture, the transformative power of technology and its ability to drive growth in the region over the long term are indisputable and continue to drive big investor interest in the sector."

Recent market volatility has been most pronounced in the U.K. following recent government fiscal plans to try and kickstart growth.

Vis Raghavan, CEO of EMEA and Global Head of Investment Banking, spoke to Treasury Minister Andrew Griffin about the government's efforts to boost the economy.

Other sessions showcased J.P. Morgan's own technology investments including its new Capital Connect platform.

Announced earlier this year, the platform digitizes the traditional capital raise, connecting investors with early-stage companies looking for equity funding. Michael Elanjian, Head of Digital Investment Banking & Digital Private Markets, described how technology on the platform can predict when companies might need to tap investors and how it harnesses data to connect companies with exactly the right type of investors.

Meanwhile, Susie Wolff, who made history in 2014 by becoming the first woman in 20 years to take part in a F1 race weekend at Silverstone, spoke about pursuing career dreams and what it takes to make it to the top in business and motorsport.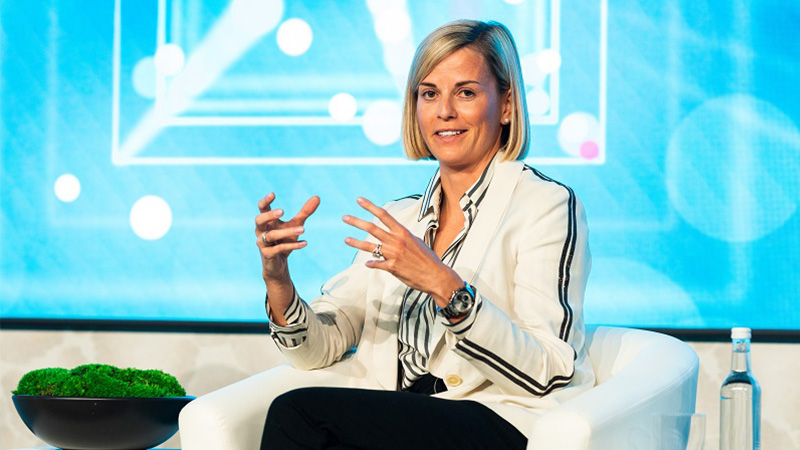 Photo Credit: Studio Collision
"Ultimately, it all comes down to opportunity," she said. "There's no question that, as a woman, you have to work harder to earn the respect initially. But once you do that, it's all about performance –and in motorsport, performance is power. The stopwatch doesn't see gender, race or any other factor; it just says whether you're quick or slow."

Also discussing diversity issues, Dr. Vivienne Ming outlined how companies can get the best out of their teams. Diversity combined with trust, lifts innovation and productivity, she said.

Finally, in a session entitled "Crossing the generational divide," author Jason Dorsey discussed how businesses need to adapt to a new generation of consumers.

Gen Z is a the "Throwback Generation," he said. This generation is more likely to save money for emergencies, want to have an impact on government, driving significant growth in vintage and upcycled goods and clothing and are coming together in new ways as a generation, often in support of social causes.