E-commerce Payments Trends
2020 E-commerce Payments Trends Report: Brazil
---
Brazil's e-commerce market offers huge potential, but ongoing cash payments and tough import rules can present a challenge to international merchants
Key Takeaways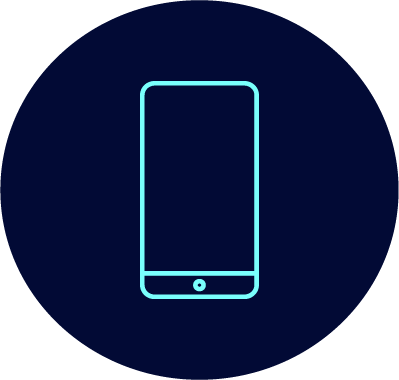 Brazil's huge population represents an exciting opportunity for merchants. However, digital and physical infrastructure is lacking in many regions, and annual basket spend at present is low.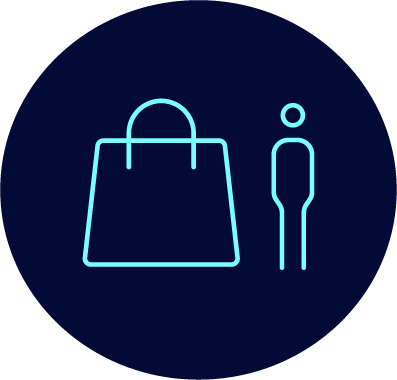 Brazil is a mobile-commerce first nation that prefers to shop and pay via smartphone apps. Developing slick apps that make card payments simple and secure will drive customer loyalty and trust.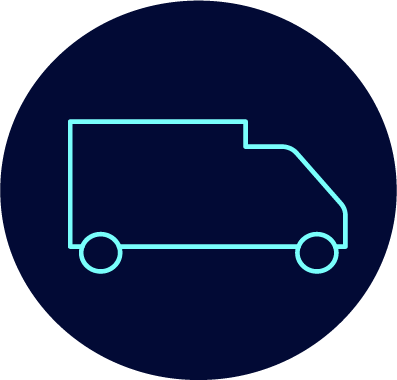 The sheer scale of Brazil's geography leads to logistical issues that e-commerce companies need to overcome. Issues range from areas where there is poor security surrounding product deliveries, to areas without coverage by delivery companies.1 Merchants will need to work with both local and international couriers and business partners to be able to fulfil orders effectively.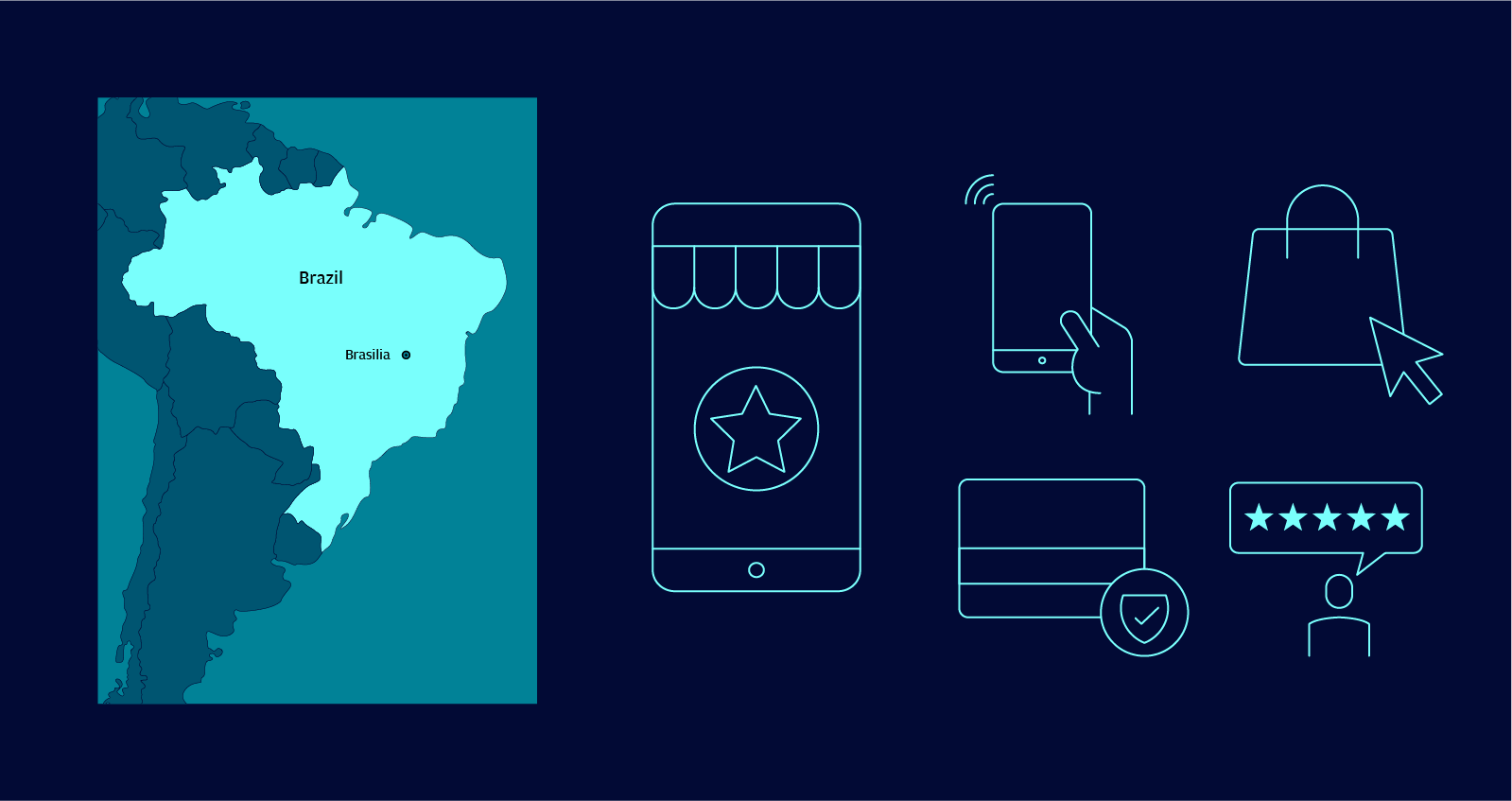 The BRL90 billion (US$22.8 billion) Brazil e-commerce market makes up 4.3 percent of the overall retail market in the country,2, 3 with 72 percent of the population yet to make their first online purchase.4 Uptake varies greatly across this country of 211.7 million people, with the south-east region accounting for the bulk—60 percent—of total e-commerce sales in Brazil.5
Growth has been patchy, in part down to a lack of the physical and digital infrastructure required to support high levels of e-commerce. Just over four out of 10 Brazilians (41 percent) say their internet connection is too unstable to make online purchases, with Brazilian internet speeds (18 Mbps) almost three times slower than the global average of 49 Mbps.6
Argentinian marketplace Mercado Libre dominates the Brazilian e-commerce space, and Americanas.com and US giant Amazon also make the top five.7 Both Mercado Libre and Amazon are investing in their logistics infrastructure in the north east of Brazil to compete with local retailers and make e-commerce more convenient than physical retail.
Major shopping holidays include Christmas, Mother's Day (the second Sunday in May), Valentine's Day (June 12), Father's Day (the second Sunday in August) and Easter. Carnival, Children's Day on October 12, Consumer's Day, Black Friday and Cyber Monday are also key shopping dates.8
Pandemic Led to E-commerce Surge in the First Half of 2020
The Brazilian e-commerce market has been expanding at a steady double-digit rate since 2017. Growth is expected to slow to a compound annual growth rate (CAGR) of 9.3 percent to 2023,9reflecting wider economic pressures created by COVID-19.
E-commerce use varies by region. The north east, with a 27 percent growth rate, is the fastest-growing region for e-commerce. This is followed by the north (22 percent), south (20 percent), south east (6 percent) and central west (5 percent).10


Certain areas of the e-commerce market spiked in the first half of 2020 due to the impact of COVID-19, which hit Brazil hard. Food and personal care, cosmetics/perfumes, furniture and electronics were some of the most popular categories.11
Rural Brazil Relies on Smartphones, Supporting Mobile Commerce Growth
Brazilian mobile commerce is outperforming overall e-commerce, and is expected to grow at a compound annual growth rate of 17.8 percent to 2023, when it will be worth BRL81.4 billion.12
Brazil is fast becoming a mobile-first nation. The proportion of internet users that exclusively use their smartphone to access the internet jumped from 49 percent in 2017 to 56 percent in 2018. Smartphones are the sole device used to access the internet for 77 percent of Brazilians in rural areas.13


Mobile commerce will increase as more and more Brazilians purchase their first smartphone. At present, smartphone penetration nationwide is at 44 percent,14 leaving a large percentage yet to own a device.
Apps are Preferred Over Browsers in Brazil, and Driving up Basket Value is a Priority
Lower income segments of the population typically own only one device—a smartphone. This has contributed to the growth of mobile commerce.15 More transactions are completed via an app than a mobile browser.16


Looking ahead, driving up basket value will be important. At present, the average annual basket spend for e-commerce overall in Brazil is BRL1,518.18 (US$345).17 Mobile devices are usually used for lower value purchases than those made with fixed devices. This can be achieved by improving mobile commerce user experience, and making security measures and payment options clear.
In terms of mobile commerce volume, perfumery, cosmetics and health, with a 17.8 percent market share, is the largest product category. This is followed by fashion (16.5 percent), home and decoration (12.8 percent), household appliances (10.6 percent) and sport and leisure (7.1 percent).18
Cards and Cash Dominate Brazilian Payments Market
Cash is the second-most popular option, taking 19 percent of payments.21 This can be explained by 30 percent of the population being unbanked,22 and the ongoing popularity of Boleto Bancário, a payment method regulated by the Central Bank of Brazil. Shoppers pay for online purchases in cash at banks, ATMs, or with an authorized payment processor, such as a drugstore or post office. Payment usually clears within two to three days.23
The introduction of open banking in the second half of 2020 is expected to boost alternative payment methods such as digital wallets and bank transfers. Consumers will be able to authenticate online payments on merchants' sites directly with their bank. At present, PayPalTM is the most popular digital wallet option.24
China and U.S. are Most Attractive Overseas Shopping Destinations, but Import Tariffs are High
China, the U.S. and Japan are the top three cross-border shopping markets.25 A large proportion of Brazil's online consumers have made a purchase from abroad—47 percent—but cross-border e-commerce makes up only 8 percent of the total e-commerce market, suggesting low-value items are preferred.26, 27
Brazilians are decreasingly buying from foreign websites. This has been influenced in part by long delivery times, currency fluctuations and the ensuing impact on pricing.28
Import taxes can also be prohibitively high. With a focus on encouraging domestic sales and businesses, imported goods with a value of less than $3,000, and delivered via standard postal services, incur an import tax of 60 percent, payable by the consumer, plus a BRL15 customs clearance fee.29
Brazil's Payments Regulations are Quickly Evolving to Onboard Open Banking
Regulation/trends
The Brazilian Central Bank is implementing open banking. It will require the country's top five banks, which together make up approximately 80 percent of the market, to share customer data with third parties. Open banking is expected to launch in Brazil later in 2020.30
Barriers or benefits to e-commerce market entry
Brazil is a diverse, rapidly evolving country. There are varying cultural, tax and consumer behavioral differences across regions, which e-commerce companies need to understand in order to succeed in the Brazilian e-commerce market.31
A local entity is recommended. Not all domestic payment cards are enabled for foreign currency transactions.32 Boleto Bancário payment processing requires a local partner and cannot be directly contracted with a bank from abroad.33
Factors driving the cost of payment acceptance
Debit card interchange fees on transactions are capped at 0.8 percent of transaction value. The average must not exceed 0.5 percent.
Boleto Bancário cost of acceptance varies by provider, ranging from BLR1 to BLR10. The cost of accepting PayPalä is higher than the average cost of accepting payment cards.34
J.P. Morgan has analyzed 34 e-commerce markets to decipher the trends and challenges driving global e-commerce in 2020. To access our insights on a country-by-country basis, click here.