Client Stories
When it comes to digital wallet implementation, "All Aboard" takes on new meaning at J.P. Morgan
Just ask the software developers at Hornblower's Encore Studio
---
Speed to market. Some say it's the ultimate competitive advantage. For Hornblower Cruises and Events, the California-based premier operator of entertainment and cruise experiences, it's an everyday way of doing business. Their team of in-house software developers, Encore Studio, never loses sight of their corporate mission: optimizing the Hornblower guest experience by introducing new software that makes it quicker, easier and more convenient to access, book, pay and enjoy a Hornblower cruise or event. When they chose J.P. Morgan as their digital wallet payments processor, they were looking for a simple integration to quickly offer their customers mobile payment options.
83 percent of traveling passengers today carry mobile devices and rely on them for all types of travel and entertainment activities.
World Travel & Tourism Council
More so than in many industry categories, travel and entertainment enterprises cater to an increasingly diverse — and global — target market. Fully 83 percent of traveling passengers today carry mobile devices and rely on them for all types of travel and entertainment activities, from searching for travel and event ideas to finding transportation and accommodations to securing reservations and, of course, purchasing tickets.1
For these companies, mobile payments are primed for explosive growth, driven in no small part by travelers from Asia, where mobile payment is fast becoming the default method of purchasing.2 In the U.S., Apple® is credited with boosting awareness and expansion by providing access to the Apple Pay® app for all major credit cards and inspiring merchants to accept digital wallet payments.
We were pleasantly surprised at the simplicity of the API integration that J.P. Morgan offered. This contributed to the ultimate driver of our decision — time savings!
Nasi Peretz, Vice President of Engineering, Hornblower
When Hornblower decided to expand their payment options to include Apple Pay®, they consulted J.P Morgan Merchant Services, their core processor, for potential support. To their delight, Encore developers found the implementation process "rather painless." So much so that they decided to implement Google Pay® and integrate Reserve with Google a few months later. Reserve with Google is an innovative feature that allows users to book directly through Google Search and Google Maps, improving the ease of making reservations and bookings for both clients and merchant partnerships. Each of these payment methods was implemented in about two weeks, which was record time.
Our Developer Center is a virtual candy store of DIY tools for software engineers. It's designed to simplify an otherwise complex implementation process reducing the cost and complexity of growing their business.
Aubrey Amatelli, Executive Director, J.P. Morgan
A self-serve emporium for software engineers
Empowering clients to onboard with us painlessly is a major focus of J.P. Morgan Merchant Services. In fact, "based on the project with Hornblower we were able to prove our capabilities and that opened doors" said Aubrey Amatelli, Executive Director, J.P. Morgan, "and led to more J.P. Morgan business." While proprietary technological infrastructure has always been an enterprise-wide source of pride, tech savvy clients like Hornblower are benefitting from our move to a true FinTech posture.
Our Developer Center helps clients take control by integrating leading edge, omnichannel and global payment acceptance methods into their payment systems on their terms. Web-accessed and seamless, the Developer Center currently offers 15 global APIs and a variety of software development kits to simplify merchant integration. J.P. Morgan also has dedicated teams of consulting and support staff available 24/7 to help clients through the process, from curating the suite of products for their unique business to end-to-end testing.
In fact, our Common Wallet API makes it easy for merchants to connect to all the major wallets with a single integration, alleviating the need to code to every wallet separately. The API is available in the most modern programming languages. We listened to our clients' demands and earlier this year we invested heavily into supporting many features in our digital wallets, like tipping, recurring transactions and profile management.
Centralizing commerce solutions pays off in more ways than one
Coming from a distributed payment gateway business model with five different gateways across 18 business units, Hornblower was especially pleased to consolidate their new commerce solutions with their J.P. Morgan banking relationship. Maintaining their J.P. Morgan Merchant Services transaction reporting and management pipeline was very important to the company. Our ability to optimize authorization rates, provide next-business-day funding3 and reduce processing times delivers great value to our merchants. With more than 100 years of global expertise, and our expanded footprint with our treasury services presence, clients can benefit from our coordinated coverage team who understands their business and can offer local expertise with global presence.
The reconciliation that our accountants had to do was a nightmare, fetching data from all types of reporting systems. Consolidating with J.P. Morgan is where the added value came in.
Nasi Peretz, Vice President of Engineering, Hornblower
As Hornblower's ability to accept digital wallet payments welcomes increased international traffic at their venues, their payments are backed by our secure platforms allowing them to quickly scale their revenue from this new channel. We consider innovation and technology to be a critical component of our business with a more than $11.5 billion per-year firmwide technology investment.4
Postscript: Go mobile or go home?

Forward looking retailers in all categories see the value of smartphones as not just a payment device, but also a customer relationship management tool that enables communications before, during and after the purchase to build engagement and drive growth. That understanding dovetails perfectly with the J.P. Morgan Merchant Services mission to enable our merchants to accept payments nearly anywhere at any time through nontraditional payment channels.
As smartphone penetration reaches critical mass all over the globe and consumer adoption of digital wallets continues trending upwards, accepting digital wallets creates a broad payment acceptance strategy for merchants who want to maximize their customer reach. The ability for one device to handle multiple credit, debit and loyalty cards in a single app helps modern customers pay faster, smarter and with less friction. It only makes sense to broaden your payment-acceptance capabilities by providing omnichannel solutions to support payments in-store, online or in a native app.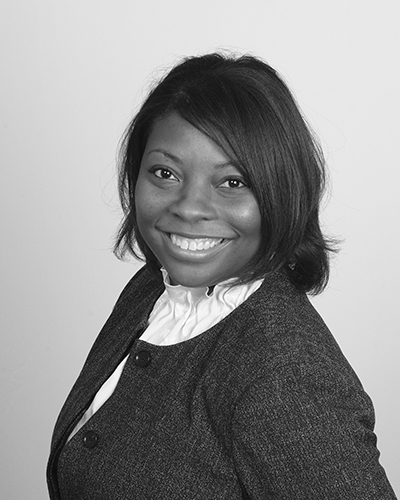 ROBYN THOMPSON, VICE PRESIDENT, J.P. MORGAN
Robyn Thompson is a Vice President, Senior Product Manager in J.P. Morgan Merchant Services.
Merchant Services is a leading provider of payment, fraud management and data security solutions, processing more than $1.4 trillion in card volume and capable of authorizing transactions in more than 130 countries.
Robyn is responsible for the product management, development and delivery of digital wallets and ecommerce payments. She is focused on making Merchant Services easier to implement. She has spent the last couple of years driving the digital payments transformation across J.P. Morgan's issuing and acquiring businesses.
Robyn has 15-plus years of product management, payments and accounting and finance experience with a bachelor's degree in Accounting from the University of South Florida and an MBA from Nova Southeast University.
---
1. World Travel & Tourism Council and The U.S.-Asia Center for Tourism & Hospitality Research, Mobile Payments In Travel & Tourism: Unlocking the Potential, March 2019
2. Ibid.
3. Next business day funding is available to eligible J.P. Morgan Merchant Services clients who deposit into a single business checking account (provided by JPMorgan Chase Bank, N.A. Member FDIC). Visa®, MasterCard®, Discover®, and American Express® OptBlue® credit and debit transactions are eligible. All businesses are subject to business credit approval and all funds are subject to fraud monitoring. In addition, funding is subject to the terms and conditions of the merchant processing agreement. Settled transactions must be received by 10:00 p.m. EST (some businesses may qualify for a 11:59 p.m. ET settlement; talk to your representative for more details). Funds are deposited on the next business day, excluding weekends and bank holidays. Some exclusions may apply.
4. JPMorgan Chase & Co. 2018 Annual Report
General Disclaimer
Any mentions of third-party trademarks, brand names, products and services are for referential purposes only and any mention thereof is not meant to imply any sponsorship, endorsement or affiliation. Apple, the Apple logo and Apple Pay are trademarks of Apple Inc., registered in the U.S. and other countries. Google Pay is a trademark of Google LLC. Visa is a registered trademark of Visa International Service Association and is used by the issuer pursuant to license from Visa USA Inc. Mastercard is a registered trademark of Mastercard International Incorporated. Discover is a registered trademark of Discover Financial Services. American Express and American Express OptBlue are registered trademarks of American Express Company.
The products and services described in this document are offered by J.P. Morgan Merchant Services or its affiliates subject to applicable laws and regulations and service terms. Not all products and services are available in all locations. Eligibility for particular products and services will be determined by J.P. Morgan Merchant Services or its affiliates.
©2020 JPMorgan Chase & Co. All Rights Reserved.