E-Commerce
3 Ways to Keep Your Business Moving Forward
Thriving in a digital first environment requires merchants to adapt to the always on world.  J.P. Morgan helps you find confidence in an ever-changing environment with contactless, checkout, and mobile experiences.
---
Over the past year, the pandemic has not only accelerated payment trends that were already in motion, but also changed key aspects of the customer experience. What, where, and how customers shop rapidly changed last year. For merchants that embrace this change, it's an opportunity to create more valuable and sustainable customer relationships.
J.P. Morgan is uniquely positioned to deliver the insight and technology you need to move forward into the 'New Normal.' Here are three key things to know to adapt to the always-on world of payments and the resources to get you there.
Meet Your Customers Where They Are By:

Optimizing contactless payments
Reimagining your checkout experience
Driving loyalty through your mobile app
1. Optimize contactless payments
It is looking clearer that contactless payments are here to stay.

Even before the pandemic, contactless payments were gaining traction around the world. In February 2020, Juniper Research forecasted that global contactless transactions would reach $6 trillion by 2024.1
While public safety is one driver of the higher rate of adoption for touchless transactions, speed and velocity of revenue are additional factors. Among other benefits, touchless payments reduce transaction times, increase processed volumes and contribute to higher customer satisfaction.
J.P. Morgan has a long head start in making strategic investments in this field through thousands of POS locations and mass transit tap-to-pay systems, where speed and accuracy are magnified over millions of monthly rides.
As customers become more comfortable making contactless payments and buyer behavior shifts from swiping to tapping, J.P. Morgan is here to help you optimize your contactless solution.
2. Reimagine the checkout experience
Underpinned by technology and pushed by the demands of consumers during quarantine and social distancing, the checkout experience –– both in-store and online –– is quickly evolving. The surge of customers flipping between online and offline checkout experiences means greater options for when and how they buy.
As consumers embrace new capabilities like Buy Online Pick Up in Store, Order Ahead, and Curbside Pick Up, connecting physical and digital shopping experiences with omni-channel solutions is paramount. Just as contactless payments are here to stay, 70% of consumers reported they will continue to use Buy Online Pick Up in Store in the future.2
As these new checkout experiences become more prevalent, you need flexibility between channels. J.P. Morgan is here to help you provide a seamless checkout experience with our omni-channel solutions.
3. Drive loyalty through your app
In the past year, the shift to mobile was accelerated by the pandemic. Now more than ever, your app is a critical part of how you engage with your customers. The building blocks behind app and merchant loyalty begin with ease of use, speed of checkout and security of transactions. If you master these practices, you can begin to earn the implicit trust of your customers.

J.P. Morgan works with merchants to make it easy for developers to integrate payments. This helps deliver a more seamless and efficient checkout experience. Even functions as simple as retaining a customer's preferences for payment and shipping create a bond. All of these incrementally boost loyalty, increase return business and reduce the average marketing cost per customer.
J.P. Morgan can enhance your digital presence with modern in-app technology designed to meet your unique needs now and as you continue to grow.
Meeting Customers' Expectations in the New Normal
What does this all mean? Simply put, consumer preferences are changing and the appetite for digital spending is surging. As evidenced by our own transaction processing on Black Friday, what was once a necessity for consumers in the early days amidst widespread closures is now a matter of habit or personal preference. In fact, these consumer habits are proving to be long-lasting with 24 percent of consumers shifting at least one daily activity online and 57 percent choosing where to shop based on the payment options offered.3

It's a digital awakening that's forced businesses to shift their focus to deliver the anytime, anywhere experiences their customers expect. As businesses evolve, they can further their reach and engage customers in new ways by optimizing contactless payments, reimagining the checkout experience, and driving loyalty through their mobile app.
Interested in Working with Us?

J.P. Morgan will help you every step of the way to keep you moving forward this year

Download Our Guide "Let's Keep Moving Forward"

How Does J.P. Morgan Help Move the World for Your Customers?
---
Meet the Team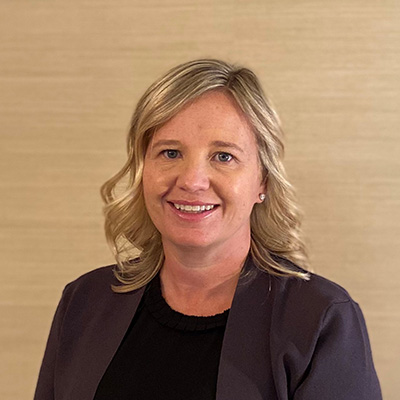 CINDY TURNER
Managing Director, J.P. Morgan
As head of Global Client Solutions for J.P. Morgan Merchant Services, Cindy has worked with large and small merchants on their acceptance strategies for more than a decade. Her deep and broad industry experience in Payments, including e-Commerce (both on the issuing and acquiring side), plus her direct experience working with consumer products, retail and restaurants on marketing, pricing and cost- savings initiatives, have more than prepared her for the job.
Prior to J.P. Morgan, Cindy partnered with the card networks and various wallet providers on their respective roadmaps and commercialization strategies, and supported retailers ranging from Fortune 500 companies down through small businesses. She also spent four years as an executive on KKR's portfolio team, primarily working with the First Data management team on profit improvement initiatives.
From sales effectiveness to procurement savings to product management and design, Cindy is a highly experienced business leader, with proven "nose for the money" instincts, who can help clients get things done.
---