Higher Education
The Gender Leadership Gap
Advancing Women in Leadership Roles

Women have made consistent and impressive gains in education attainment and the workplace—from boardrooms to classrooms—in the last 50 years. Despite this, men still outnumber women in high-ranking leadership positions by large margins across many industries.
---
Women are much less likely than men to be in leadership positions. In universities, businesses, courts, unions and religious institutions, male leaders outnumber female leaders by wide margins.
"Barriers and Biases: The Status of Women in Leadership" (March 2016)
Gender Inequity by Industry
US Private Sector Workforce by Gender
The glass ceiling is a barrier to career advancement that women reach in their careers, especially at mid-management levels. But women are not denied top leadership opportunities—these opportunities simply disappear at various points along their careers.
Private Sector Workforce

Private Sector Senior-Level Executives

The Glass Ceiling in Higher Education
In higher education, men outnumber women in positions with high faculty rank, salary and prestige.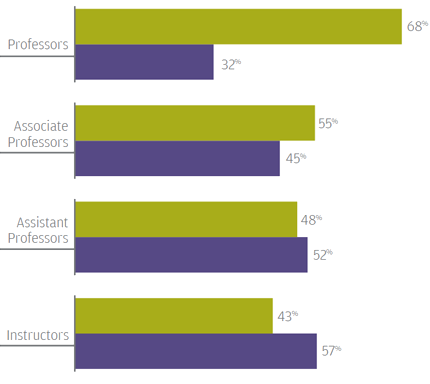 And There's Still a Pay and Tenure Gap
Nearly half of all tenure-track positions were held by women in 2015, yet they held just 38 percent of tenured positions.
The Pipeline Myth Busted
There is a persistent belief that there are not enough qualified women to fill existing leadership positions. However, data show that there are more than enough qualified women for leadership positions, and women now earn the majority of doctoral and master's degrees.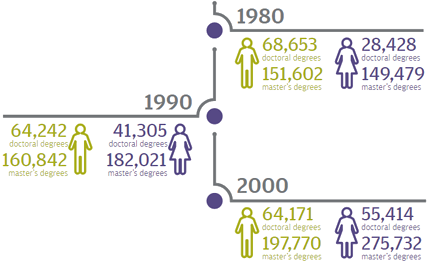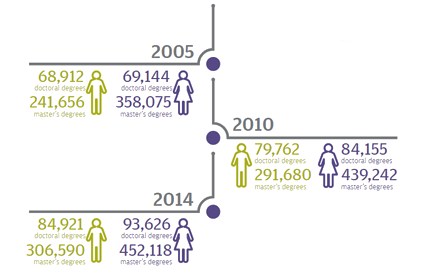 Change Starts From the Top
Gender diversity in leadership brings creative and diverse viewpoints to the business landscape, which has a lasting impact on organization culture and economic ideals. So, what can be done to promote gender balance in leadership?
Proactive hiring of women is important at all levels, but putting women on your board can set the tone for the rest of your hiring.
"Why Diversity Matters: Women on Boards of Directors" (July 21, 2016)

Many countries have adopted quota systems to encourage placement of women in leadership roles in government and at large companies. Some US companies, including Intel, Google and Apple, have voluntarily adopted diversity goals and publicly shared data on their diversity representation. Establishing hiring policies that support gender diversity, and talking about them, helps keep companies accountable to advancing women within the profession.

Diversity training can help people learn about unconscious or implicit biases that they see or experience in their lives in and out of the workplace. Research shows that by getting to know your own biases, you can learn to counteract them. Being aware of your own biases can help you think creatively and problem solve—and work toward reducing stereotypical thinking.

Employer support goes beyond hiring and training. Managers and HR personnel can help support gender diversity by promoting flexibility, fair expectations and equal treatment in the workplace, regardless of gender. They also can establish mentor and sponsorship programs where leaders can guide and support the next generation of leaders—and share credit when there are achievements to celebrate.
---