2018 Housing Summit
5 Insights on the Mortgage Business Today
---
The mortgage industry is going through challenging times, with rising interest rates, increased competition, and disruption from fintechs and other businesses that can offer lower rates, faster time to market and less expensive processing. As the industry evolves, here are five insights from leaders in Chase and J.P. Morgan's home lending division, commercial bank and investment bank that focus on how to move business forward during changing times.
The housing market is being driven by a lot of positive factors in the market today: a strong US economy, low unemployment, a growing gross domestic product (GDP), a healthy consumer market, sound loan performance, and an expanding purchase market. However, there are market headwinds that are impeding growth and contributing to industry-wide losses. Higher interest rates and a smaller population of customers looking to refinance have resulted in even more competition in today's aggressive market.
The correspondent banking business is incredibly competitive, and businesses are struggling to cover costs and make a profit. In the retail banking business, looking at the broader relationships with customers—including the value of deposits and investments—helps Chase manage the rise in interest rates. Mortgage businesses need to be prepared for a shakeup in the industry and make sure they survive it—all while continuing to invest and plan for the future.
---
The mortgage industry is experiencing rapid change, and the rise in fintechs has forced the industry to operate more quickly and efficiently than ever. Companies are relying more and more on digital channels, and processes that were once complex and time-consuming are being simplified and automated with technology. Securing a mortgage has long been a painful process for home buyers. Lenders and mortgage companies are investing in tools to digitize and simplify this process, either by developing technology themselves or partnering with other developers. Consumers are going to be more empowered, and the home-buying experience is going to get easier.
---
The US economy is performing well, but rising interest rates have led to a flat curve in the housing market. The Federal Reserve is ahead of inflation and is moving accommodation at a reasonable pace. Mortgages will be range-bound, and if the economy continues to perform well, we may see pressure on the long-term view. A larger share of the market will be purchase and cash-out only and will have an impact on supply. The 30-year fixed-rate product will continue to dominate the market.
---
Single security will serve as a common mortgage-backed security that will be issued by Fannie Mae and Freddie Mac to finance fixed-rate mortgages, under the direction of the Federal Housing Finance Agency. In 2019 and beyond, treasuries want to use single security as a utility that's available for everyone. The hope is it can be used to inform government-sponsored enterprises (GSE), and guarantors can be delivered into single security with a guarantee. The path forward for GSE reform is unlocking the ability for anyone to be a guarantor into a single security.
---
Broadly speaking, financial companies should grow at the same rate as GDP, but there are a few factors impeding growth. Buying assets and M&A are more of a challenge due to the current regulatory environment. There is a lot of excess cash out there, which has been pushing spreads down. The industry has worked hard to address these issues but has not seen it impact the bottom line. A normalization of spreads and a more flexible regulatory environment will help unleash market forces, whether it's in M&A, assets or other sectors.
---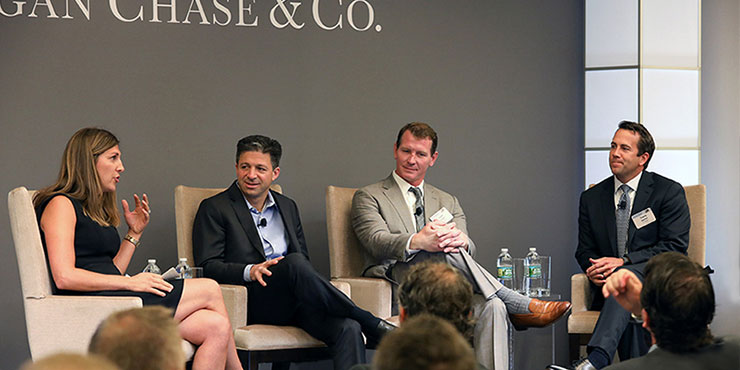 Amy Bonitatibus, Chief Marketing & Communications Officer of Chase Home Lending, discusses what's next for the mortgage industry with Mike Weinbach, CEO of Chase Home Lending; Liam Sargent, Head of J.P. Morgan Mortgage Banking Capital Markets; and Travis Machen, Head of J.P. Morgan's Financial Institutions Group, Corporate Client Banking & Specialized Industries.
The material contained herein is intended as a general market and economic commentary, in no way constitutes JPMorgan Chase research and should not be treated as such. In no event shall JPMorgan Chase nor any of its directors, officers, employees or agents be liable for any use of, for any decision made or action taken in reliance upon, or for any inaccuracies or errors in or omissions from, the information herein. Further, the information and any views contained herein may differ from that contained in JPMorgan Chase research reports.
The above summary/prices/quotes/statistics have been obtained from external sources. JPMorgan Chase does not guarantee their accuracy, completeness or reliability.
Used with permission. The opinions expressed herein are those of the author and do not necessarily reflect that of JPMorgan Chase. JPMorgan Chase believes the information contained in this material to be from reliable sources but make no representation or warranty as to its accuracy or completeness.
---