Leadership
Extending a Helping Hand to the Next Generation
The Fellowship Initiative has helped more than 350 young men of color in low-income communities find mentors and gain education and career skills.
---
Through The Fellowship Initiative, Ramon Rachel connected with Senior Banker Malcolm Johnson, who helped guide him on a path to success.
Ramon Rachal had never been hiking. Growing up in South Central Los Angeles, the opportunity didn't come around often. And at the time, hiking wasn't on Rachal's list of priorities. All of that changed the day he met Malcolm Johnson.
"I wasn't going to go on the trip, but Malcolm convinced me it would be a good opportunity," Rachal said.
Malcolm Johnson, senior banker, Community Development Banking at JPMorgan Chase, was Rachal's mentor through The Fellowship Initiative (TFI). JPMorgan Chase created the program in 2010 to expand opportunities for young men of color in low-income communities by helping them gain the skills, networks and experiences needed to complete high school and prepare for college.
Rachal packed his bag and set out on a 10-day backpacking trip with 39 other young men. Throughout the trip, he experienced nature in a new way.
"It was so quiet," Rachal said. "There's so much noise in LA…There were no cars honking out there, though. Nothing."
Each night, Rachal opened his journal and reflected on his day. Recording each new experience put the trip in perspective. As things were winding down, Rachal realized he had grown close to the group.
New friends. New places. New opportunities. Rachal's growth was hitting a new gear, but he wasn't in it alone.
The Power of a Strong Mentor
Rachal was a strong student at Morningside High School. His teachers knew he had potential—and so did he.
"My goal from the beginning was to go to college," Rachal said.
But it was going to take more than good performance to rise above the application pool.
One of his teachers told him about TFI and its potential impact.
Rachal worked with his mom to complete the application. Shortly afterward, he was on the phone with a man who would make a lasting impact on his life.
Malcolm Johnson knows the value of a mentor. The former NFL wide receiver's many coaches have taught him valuable lessons and helped keep him grounded and focused on his goals. And Johnson's father instilled a commitment to community in all three of his children.
"He required me and my brothers to be highly educated, because he knew knowledge was an equalizer," Johnson said.
Gaining that knowledge and using it to improve his community became Johnson's personal mission.
After his career in football ended, Johnson started a new chapter. He earned an MBA and began a career in real estate finance. Then he joined the Community Development Banking group at JPMorgan Chase in LA, working with organizations developing affordable housing and strategic community buildings in the local market.
After hearing his colleagues discuss the impact of TFI in New York City, he realized this was an authentic mentorship program, and he became TFI's executive sponsor in LA. As an executive sponsor, Johnson works directly with the team to recruit other mentors and identify schools to work with in the area.
"I enjoy all of the work I do with TFI, and spending time with the young men and getting to know them is the most rewarding part," Johnson said.
Leading By Example
Johnson and Rachal have several things in common. They're both athletes who care for their families and feel a responsibility to improve their communities.
"Being under his wing has been so valuable," Rachal said.
Rachal began attending formal events and conferences with Johnson, where he got his first glimpse into the world of business and finance. Throughout high school, Rachal got to know Johnson better personally.
"He's the same person at work as he is at home," Rachal said. "No matter where he is, he shows the same integrity and leadership."
Johnson leads by example and instills confidence in every person he mentors.
"I need them to know that I care about their success," Johnson said.
Rachal's success story is just beginning. With the help of his mentor, he was accepted to the University of California, Merced, where he's studying management and business economics.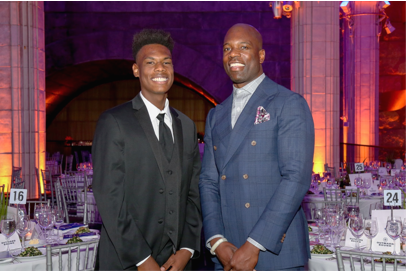 Mentors see the challenges these young men are facing. It's a learning opportunity, and our bankers have gotten an up-close chance to see what young people of color are facing.
Malcolm Johnson, senior banker, Community Development Banking
Building a Lasting Future
More than 350 young men like Rachal have participated in TFI since its inception 10 years ago. JPMorgan Chase continues to see the program's value grow—and not just for the students.
"Mentors see the challenges these young men are facing," Johnson said. "It's a learning opportunity, and our bankers have gotten an up-close chance to see what young people of color are facing."
To help close the gap to and increase access to education and career opportunities, JPMorgan Chase will triple the number of young men of color who participate in TFI's programming. The firm has made a commitment to work with more than 1,000 young men in cities across the United States over the next 10 years.
"We can expand because of the success we've had," Johnson said. "There will be even more opportunities for students and our teammates to learn and contribute to the next generation of leaders."

---