TechTrends
Building an Agile Business
Agile has long been the standard development process for software developers and IT teams. But today—when business moves at an extreme pace, and speed to market can be the difference between dominating a market or becoming irrelevant—organizational agility is more important than ever.
---
Building an Agile Business
WATCH VIDEO
2:10
The world around us is changing faster than ever before. Technology has enabled people to consume innovative, digitally enabled products and experiences in a way that was inconceivable just a few years ago. These digital experiences are faster, better and more transparent, and offer a seamless customer experience. In today's environment, when business moves at an extreme pace and there are new competitive threats in nearly every industry, continually delivering value to customers is more important than ever.
Digitally native companies—typically, young companies fueled by emerging technology—are continuously delivering next-generation experiences to acquire new customers and deepen relationships with existing ones. Yet traditional organizations struggle to keep pace with the rate of change. Customers today demand the same frictionless experience enabled by digital natives—so, how can companies compete in the same markets that are dominated by digital-first companies? Learn how business agility—the ability to continuously listen to and respond rapidly to customers—is helping companies innovate, adapt, and improve quality and speed to market.
What Is Agile?
Agile is a set of values and principles that encourage rapid and flexible response to change and delivery. The foundational pillars of agile place greater value on outcomes—or meaningful results—than on output. For example, traditional measures of success might focus on what was produced and how quickly, while agile methods focus on the value provided to the customer.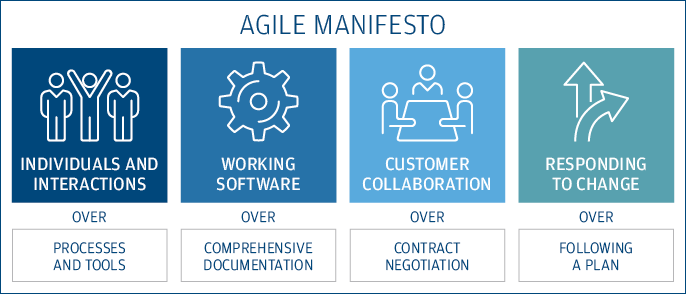 Agile Beyond Software Delivery
Agile culture is deeply embedded in Silicon Valley and more broadly in technology and digital industries. Companies must be fast and nimble in order to gain a competitive edge and adapt to changes in the marketplace. Agile processes put the customer or client at the center of everything, and the product development life cycle is continuous. Instead of a sequential waterfall approach to product delivery, agile processes are iterative, and efforts are broken down into sprints—short one- or two-week cycles. Teams release new functionality to customers at the end of every sprint, and then observe, measure and refine that functionality as quickly as possible.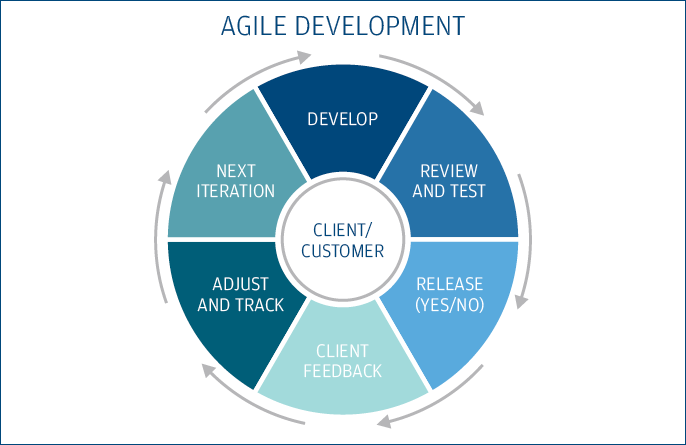 Many digital companies follow a continuous delivery model, which is why you see such frequent updates to your smartphone apps. Companies like Spotify actively listen to customer feedback and respond quickly with new services and features that directly address their needs. Customers start using the new services or features, continue to provide feedback and the loop continues.
Starting and scaling agile requires cultural change across the organization, including changes to processes, governance, workspace, tools and technology—but the benefits can be significant. Employees become more engaged, teams are more collaborative and productive, and new products or services arrive faster, with greater responsiveness to the customer. And while it may not make sense to apply agile to every part of your business, there are ways that companies can operate with more agility and create a culture that is adaptive and collaborative. The following are actionable steps to achieving business agility across your enterprise.
5 Steps to a More Agile Business
Create Multidisciplinary Teams
In a traditional hierarchal structure, teams are organized primarily by function, and employees typically don't make decisions themselves. Rather, decisions are brought to senior management or tabled until the next executive committee meeting, often delaying projects by weeks or even months.
Agile teams are multidisciplinary and include employees from product, technology, customer service, operations and other parts of the business. These are small, entrepreneurial groups designed to stay close to the customer and adapt quickly to changing conditions. Teams are self-governing, and employees are empowered to make decisions themselves. The result is that agile teams are much more engaged, efficient and focused on the same goal: value creation for the end user.
Deliver Value to the Customer Often
Traditional organizations often take several months or even years to bring a new product to market. By the time you're able to get a new product in customers' hands, their needs may have evolved—or a competitor may have beaten you to it.
Agile teams focus on delivering a minimum viable product (MVP) in weeks, testing it and getting customer input, and then quickly refining the MVP. The agile approach focuses squarely on the customer and delivers value early and often.
Encourage Teams to Take Risks and Fail Fast
One of the challenges with being innovative in a constantly evolving business landscape is taking risks. Most people are trained to be risk averse and usually aren't comfortable with the idea of failure. Traditional product development models are complex and require many layers of control and approval. Many products fail initially because customers aren't involved along the way.
Agile culture requires an environment where taking risks is not only safe but encouraged by senior leaders. With agile, fast failure is encouraged. Each new release delivers only a small piece of the overall product or experience. If you fail, you fail at something small, learn from it and continue to innovate.
Establish a Culture of Collaboration
Scaling agile within an organization requires aligning people, processes, tools and resources to the greater cause. But even with the right teams and resources, companies need to embrace cultural change, which can be a radical shift for traditional top-down organizational structures. It requires changing mindsets, behaviors and even workspaces across the organization.
Agile teams, also known as squads, are typically collocated in an agile-friendly workspace to break down barriers and encourage seamless collaboration. Teams typically start each day with a stand-up meeting to level set or discuss progress. This ensures everyone is aligned and working toward a common set of goals. A retrospective meeting is held at the end of each sprint and allows teams to reflect on what's working well and what isn't, so they can focus on improving and delivering more value to customers.
Be a Champion of Agile and Lead by Example
C-suite executives play a crucial role in agile transformation within an organization. Executives need to push for agile adoption and work to unblock any barriers by providing proper funding, training, empowerment and support. Communicate a clear vision, and align teams and individuals to it. This unified approach will ensure that everyone is working toward the same goals.
Increasing business agility starts from the top. To that end, senior leaders need to be agile with their teams—they should visit agile workspaces and work with teams to understand progress and help them advance. Instead of striving for perfection, be comfortable with the concept of an MVP—incremental improvements will be made over time based on end-user feedback. Encourage teams to fail and learn from their failures. By promoting fast failure, teams will feel empowered to take risks and innovate.
---