Community Development Banking
What's Driving the Affordable Housing Crisis in the Northeast?
For many people in New York City and throughout the Northeast, safe and affordable housing is unattainable. Learn what's driving this gap and how governments and businesses can work together to find solutions.
---
Key points:
The lack of affordable housing in the Northeast has reached a crisis point.
High land values and construction costs are among the key contributors to the issue.
Chase Community Development Banking is providing tools to help affordable developers and owners preserve their projects and find solutions.
A growing number of families and individuals in New York City—and across the Northeast—are unable to find a safe place to live at a price they can afford. The demand for new housing spans generations and demographics; college students are graduating and moving to cities to pursue new opportunities, while seniors are selling their suburban homes and downsizing to rental units.
Over the last 20 years, wages for New York City renters have increased by less than 15 percent, after adjusting for inflation. During the same period, the average monthly rent for an apartment in New York City increased by almost 40 percent.1
Rising rents have pushed housing out of reach for many people in the area. There are around 60,000 people—including many families and children—in the New York City shelter system. This is a 63 percent rise from a decade ago.2 Middle-income individuals have also been hit hard. Teachers, firefighters, police officers and other civil servants are caught in the gap—they make too much to qualify for traditional low-income housing but not enough to afford market-rate rents.
City and state officials across the Northeast are moving quickly to address the escalating issue, and have put plans in place to help meet many of needs in the market. But the need is growing faster than current solutions, and it will take a unique approach and creative thinking from a collaborative team of public and private officials to reverse this significant lack of affordable housing.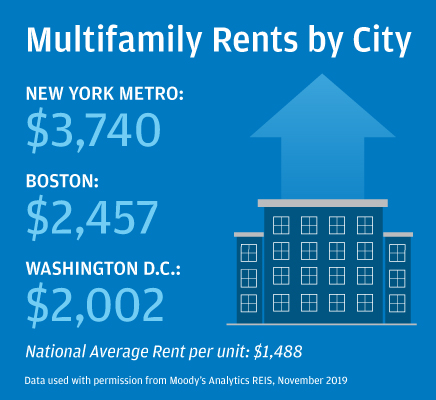 3 Factors Impacting the Future of Housing
High land values and construction costs: Particularly in densely populated cities, there isn't enough land to construct new housing, making it challenging to build projects to scale. The rising costs of land and materials are pushing potential properties out of the price range of most traditional affordable housing developers.
The mixed impact of a recession: An eventual downturn would likely result in job losses and greater demand for affordable housing. However, a slowdown in the economy could also help moderate high construction costs and land values, which would put affordable housing developers on equal footing with market-rate developers. This could potentially allow new projects to get built at a more accessible price point.
More competition among developers: In the past, a significant amount of the financing requests Chase received were for market-rate apartments; today, that's flipped as more developers seek financing for mixed-income, mixed-use projects that contain a significant amount of affordable units. Although affordable rents are regulated and the earning potential is lower than on market-rate apartments, more developers are entering the affordable space.
Exploring Unique Solutions to the Housing Crisis
The Chase Community Development Banking team travels to big cities and small towns, and everywhere it's the same—demand is continuing to grow. Addressing the affordable housing crisis will take more than providing low-income tax credits. And building our way out of the crisis seems unlikely, considering that 10 years of economic expansion hasn't moved the dial in that regard in a meaningful way. It's time to rethink construction and land use to develop different models for both creating new affordable units and preserving existing ones.
Given how expensive and time-consuming it is to build new properties—with most projects taking between three to five years to construct—one proposed solution gaining traction is to provide vouchers to low- and middle-income families to fill the gap between what they can afford and what rent costs. Another potential solution is to create a database that connects landlords with residents seeking affordable housing, which would help fill empty units more quickly.
Key industry players—including government entities, for-profit and nonprofit developers, and financing partners—need to come together to identify alternative methods of financing affordable housing.
How Chase Is Addressing Affordable Housing
Chase Community Development Banking has been a major player in the affordable housing business for decades, whether through new construction or preservation. Historically, that's meant providing the tools necessary for an affordable developer to preserve their projects and working with owners to figure out the right solutions.
The firm also launched AdvancingCities, a $500 million initiative to help support communities in need of economic growth—up to $250 million of which will be low-cost, long-term capital. AdvancingCities will help provide flexible loan options to expand access to economic opportunity in communities, financing critical projects that lack access to traditional capital.
Affordable housing impacts everyone. When low- and middle-income residents are spending the lion's share of their paychecks on rent, there's less buying power to fuel the economy. Higher-income corporate employees are impacted as well, with many commuting for hours into the office because they can't afford to live in the city.
JPMorgan Chase is dedicated to addressing this lack of affordable housing, working hand-in-hand with local governments and applying the firm's resources to effect meaningful change in the Northeast and communities worldwide.
Our firm is bringing together our business and philanthropic efforts to help more residents access economic opportunity. Find out what we're doing to promote affordable housing as a key focus of our strategy.
---