Leadership
When Disaster Strikes
How executives prepare for business disruptions.
---
Business disruptions can take many forms—from severe weather that brings an entire region to a standstill, to the unexpected illness of a key staff member, to a ransomware attack that locks up critical data. Withstanding interruptions is a critical test of organizational health—so how do businesses prepare for the worst-case scenario, and how do they react once it occurs?
Sources of Disruption
In a recent survey of the JPMorgan Chase Executive Advisory Board, 60 percent of executives say their organization has experienced a business disruption.

For businesses that were affected by a natural disaster, 58 percent resumed normal business operations after less than a week and another 24 percent were able to resume operations within one to four weeks of the incident.
When thinking about potential future disruptions, cyberattacks are by far the top concern among executives:

---
Planning for a Crisis
If disaster strikes, it's vital to have the following components in place—although many executives report blind spots in their company's preparedness: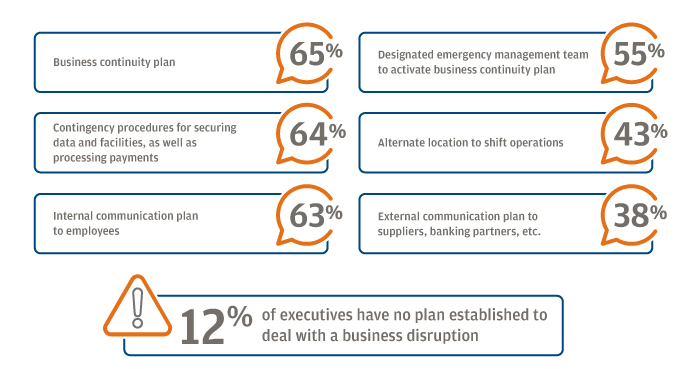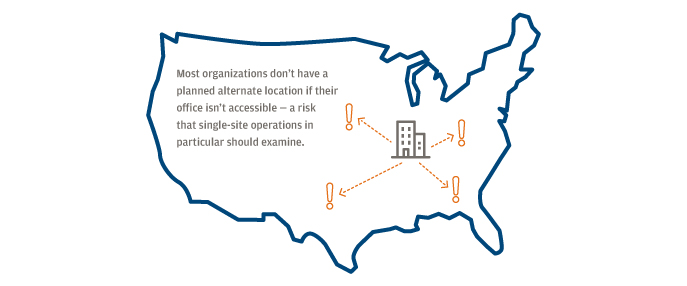 ---
A Sustainable Plan Takes Practice
The vast majority of executives report that their resiliency plans are sustainable for at least a week.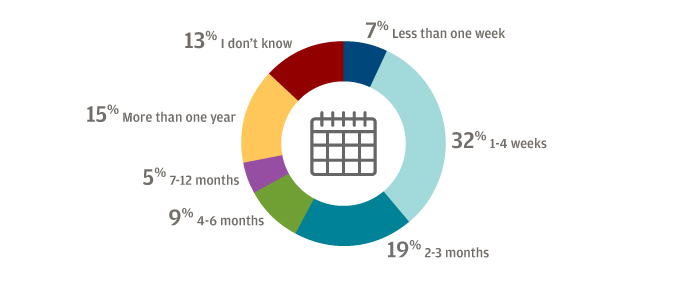 Any continuity plan should be tested to refine its effectiveness—and a majority of executives report they've done so within the last year. Most critical processes should be tested annually at minimum, while more complicated strategies—such as transferring work to another business group—should be tested as often as quarterly, according to Joe Rocheleau, Head of Business Resiliency for Commercial Banking.
---
Testing should be performed based on the criticality as well as the strategy in place for continuity.
Joe Rocheleau, Head of Business Resiliency, Commercial Banking
Learn more about how to handle unexpected business disruptions.
---