J.P. Morgan Markets Security Center
Fraudulent Email Examples
Email fraud is a common tool of an identity thief. It can take many forms, but is usually harsh, demanding and threatening. Here are some examples received by customers. Please remember that these are not legitimate messages - DO NOT RESPOND.
---
Phishing Example 1: Official Looking Email from US Tax Court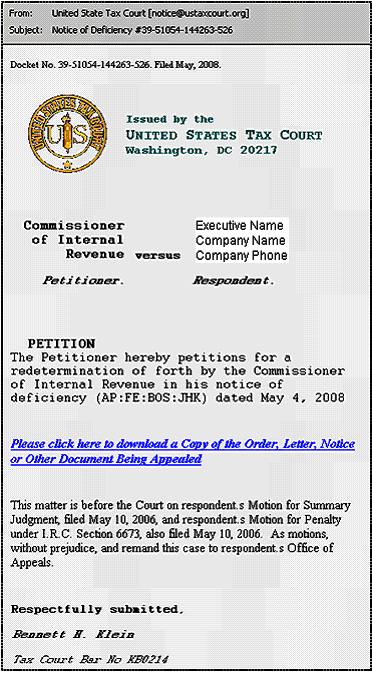 ---
Phishing Example 2: Urgent Request to Validate Personal Information
Dear JPMorgan Chase Customer:
Due to the emergency situation with our server room and the closing of the New Orleans Branch of the Federal Reserve, JPMorgan Chase is presently unable to process wire transfers. Therefore we are asking that customers please refrain from initiating wire transfer requests through J.P. Morgan until further notice. All wires initiated before 12:30 PM CDT will be processed. However, there may be significant delays in doing so.
IMPORTANT: All customers must validate their personal information.
This situation involves circumstances outside of our control, so we ask for your patience. We will keep you advised as the situation changes.
J.P. Morgan - Complete Solutions to protect your business and secure your computer. Thank you.
2008 All Rights Reserved JPMorgan Chase Bank JPMorgan ACCESS logo
---
Phishing Example 3: Online Banking Account Confirmation
From: JPMorgan Chase Bank
Sent: Sunday, May 11, 2008 11:10 AM
To: Recipient Name
Subject: Chase Bank Customer Service: Online Banking Account Confirmation!
Dear Chase bank customer,
As part of our security measures, all Chase bank customers are required to complete a Chase Online Form. We requested information from you for the following reason: your banking records are not updated.
You should complete Chase Online Form on a regular basis. To access the form please click on the following link:
We thank you for your prompt attention to this matter. Please understand that this is a security measure intended to help protect you and your account. We apologize for any inconvenience.
Sincerely,
Chase Online Accounts Department
---
Phishing Example 4: Temporary Suspension of your Account
From: Chase Online
To: customer@isp.com
Sent: Saturday, February 9, 2008 6:08:54 AM
Subject: Secure message
Secure message: Your account is temporarily suspended
Suspension reason: Security Measures
We require you to complete a profile update so we can unlock your account.
To update your profile click here, login to your account and follow the steps.
The information provided will be treated in confidence and stored in our secure database.
If you fail to provide required information your account will be automatically deleted from our database.
---
Impersonation Fraud
Occurs when someone assumes your identity to perform a fraud or other criminal act. Criminals can get the information they need to assume your identity from a variety of sources, such as the theft of your wallet, your trash or from credit or bank information. They may approach you in person, by telephone, text message or on the Internet and ask you for the information.
Remember:
J.P. Morgan will not send email notifications stating your account has been compromised or passwords need to be changed
J.P. Morgan will never ask you for your password
We will never call you to offer log-in assistance unless you have contacted us first
When you call J.P. Morgan, only call your J.P. Morgan Markets Regional Help Desk or your J.P. Morgan Markets client service representative
You're now leaving J.P. Morgan
J.P. Morgan's website and/or mobile terms, privacy and security policies don't apply to the site or app you're about to visit. Please review its terms, privacy and security policies to see how they apply to you. J.P. Morgan isn't responsible for (and doesn't provide) any products, services or content at this third-party site or app, except for products and services that explicitly carry the J.P. Morgan name.