Treasury and Payments
How Real-Time Treasury Drives Corporate Loyalty
J.P. Morgan's Shahrokh Moinian and Karen Webster, CEO of PYMNTS.com, discuss the challenges and opportunities that are driving near- and long-term corporate treasury strategies. This is the first in a podcast series on  "Digital Transformation of Treasury." This podcast was originally published on PYMNTS.com

 
---
Highlights
Today's treasury teams are tasked with creating broader strategic value and mitigating global regulatory, trade, FX and technology volatility.
Faster payments and API integration will help automate and speed the capture of transaction data and create opportunities for real-time treasury management.
Real-time treasury management has the ability to empower treasury teams with more timely and accurate views of cash positions that can help make cash flow more predictable.
Treasurers must be prepared for a world in which incoming payments are initiated anywhere, anytime, in any currency and through both established and emerging platforms as diverse as ACH and mobile wallets.
Already a priority for treasurers, the "always on" payment ecosystem will reward financial institutions that are capable of maintaining strong security and controls.
J.P. Morgan works collaboratively with fintechs that have relevant capabilities and a demonstrated ability to create incremental value for treasury teams.

Shahrokh Moinian, Managing Director, Head of Wholesale Payments, EMEA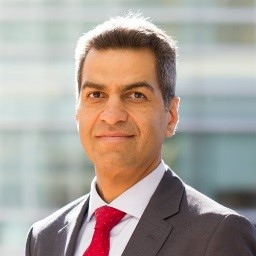 Shahrokh Moinian, Managing Director, Head of Wholesale Payments, EMEA
Shahrokh Moinian is Managing Director and joined J.P. Morgan in July 2019 as the Head of EMEA Wholesale Payments in London.
Prior to joining J.P. Morgan, Shahrokh was the Head of Cash Products within Global Transaction Banking at Deutsche Bank AG in Frankfurt, Germany.  He was also the global sponsor of cross-divisional PSD2 regulatory program, across GTB, Global Markets, Retail and Wealth Management, with direct accountability to the Management Board. Prior to his assignment in Germany, Shahrokh was Head of Trade Finance & Cash Management Corporates for the Americas at Deutsche Bank AG, in New York, between 2010 and 2014.  
Shahrokh had a three-year tenure as the Corporate Treasurer of Essilor, a French multinational in the optical lenses industry before joining Deutsche Bank in 2001.
Not all products and services are available in all geographic areas. Eligibility for particular products and services is subject to final determination by JPMC and or its affiliates/subsidiaries. This presentation does not constitute a commitment by any JPMC entity to extend or arrange credit or to provide any other products or services and JPMC reserves the right to withdraw at any time. All services are subject to applicable laws, regulations, and applicable approvals and notifications.
Notwithstanding anything to the contrary, the statements in this presentation are confidential and proprietary to JPMC and are not intended to be legally binding. Any products, services, terms or other matters described herein (other than in respect of confidentiality) are subject to the terms of separate legally binding documentation and/or are subject to change without notice. J.P. Morgan is the marketing name for the Wholesale Payments business of JPMorgan Chase Bank, N.A. and its affiliates worldwide. This material is not intended to provide, and should not be relied on for, accounting, legal or tax advice or investment recommendations. Please consult your own advisors.
JPMorgan Chase Bank, N.A. Member FDIC.
JPMorgan Chase Bank, N.A., organized under the laws of U.S.A. with limited liability.
© 2020 JPMorgan Chase & Co. All Rights Reserved.