Treasury and Payments
Liink Network Helps Financial Institutions Innovate Payments Economics
---
Liink Network Helps FIs Innovate Payments Economics
WATCH VIDEO
18:00
New Frontiers in Payments

Blockchain technology is helping financial services firms around the world share information securely in real-time and foster greater collaboration.

One area of focus for blockchain is modernizing payments, but there are opportunities for financial services firms to leverage this technology on a wider scale to transform their business models.

In 2020, J.P. Morgan launched Onyx, a business unit dedicated to building next-generation payment capabilities. One of Onyx's solutions is Liink – a production-grade, blockchain network that is designed to facilitate the transfer of payments-related information.

A major obstacle to faster, cheaper payments is the lack of information traveling alongside the payments, causing delays and friction. Liink connects banks securely in a peer-to-peer network so participants can get information quicker.

Liink's first application was Resolve, which helps banks to remedy compliance-related queries for cross-border payments. Previously, manually obtaining names and checking addresses could take days if not weeks. With Resolve information can be gained in minutes. Meanwhile, Liink's Confirm application allows institutions to validate account information before sending a transaction and reduce the chance of returns.

To date, over 400 banks have signed up to the Liink platform. Looking ahead, Liink will enable third parties to build their applications and deploy them though the network across the consortium of banks.
---
Connect with your J.P. Morgan representative to get started today.
---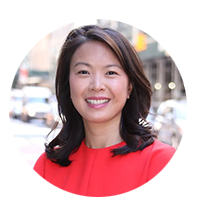 Christine Moy, Global Head of Liink, Onyx by J.P. Morgan
Christine Moy leads Liink by J.P. Morgan, a new ecosystem and network that enables collaboration, easy and direct access to value-added applications, and commercialization opportunities for financial institutions, corporates and fintechs.
Additionally she oversees J.P. Morgan's global Blockchain team, tasked with setting a comprehensive blockchain strategy for the firm and its various lines of business, designing and driving the development of cutting edge technology products, collaborating with the blockchain and crypto ecosystem, and guiding clients on the journey.
As one of the founding members of J.P. Morgan's blockchain program, Christine created and drove its key initiatives in digital assets, tokenized payments, internet-of-things and digital identity.
She is a graduate of Brown University. Christine was recently named in Fortune's The Ledger 40 Under 40 list of "the most impressive, young superstars transforming business at the leading edge of finance and technology."
The views and opinions expressed herein are those of the author and do not necessarily reflect the views of J.P. Morgan, its affiliates, or its employees. The information set forth herein has been obtained or derived from sources believed to be reliable. Neither the author nor J.P. Morgan makes any representations or warranties as to the information's accuracy or completeness. The information contained herein has been provided solely for informational purposes and does not constitute an offer, solicitation, advice or recommendation, to make any investment decisions or purchase any financial instruments, and may not be construed as such.
Not all products and services are available in all geographic areas. Eligibility for particular products and services is subject to final determination by JPMC and or its affiliates/subsidiaries. This material does not constitute a commitment by any JPMC entity to extend or arrange credit or to provide any other products or services and JPMC reserves the right to withdraw at any time. All services are subject to applicable laws, regulations, and applicable approvals and notifications. Notwithstanding anything to the contrary, the statements in this material are confidential and proprietary to JPMC and are not intended to be legally binding. Any products, services, terms or other matters described herein (other than in respect of confidentiality) are subject to the terms of separate legally binding documentation and/or are subject to change without notice. J.P. Morgan is the marketing name for the Wholesale Payments business of JPMorgan Chase Bank, N.A. and its affiliates worldwide.
JPMorgan Chase Bank, N.A. Member FDIC. JPMorgan Chase Bank, N.A., organized under the laws of U.S.A. with limited liability. © 2021 JPMorgan Chase & Co. All Rights Reserved.