2018 Housing Summit
The Importance of Diversity and Inclusion When Building Teams
Promoting diversity and inclusion in the workplace is not just the right thing to do—but it also makes business sense. Learn how creating a diverse workforce can help businesses better serve clients and their communities.
---
Nothing is more vital to the long-term growth of JPMorgan Chase than our ability to attract and retain talented and dedicated employees.
Jamie Dimon, Chairman and CEO, JPMorgan Chase & Co.
Workplace Diversity Is a Good Business Decision
Over the last several decades, there's been an increase in women and minorities entering the workforce, yet few are hired in senior-level roles. The share of female CEOs in the Fortune 500 dropped by 25 percent in 2018. As of May 2018, there are 24 female CEOs on the list—or just under 5 percent of the total list.1
Diversity in the workplace matters—it helps companies better understand and serve their clients, customers and the communities they serve. And new research makes it increasingly clear that companies with more diverse workforces perform better financially.
Ethnically-diverse companies are 35% more likely to earn above-average revenue.
Gender-diverse companies are 15% more likely to earn above-average revenue.2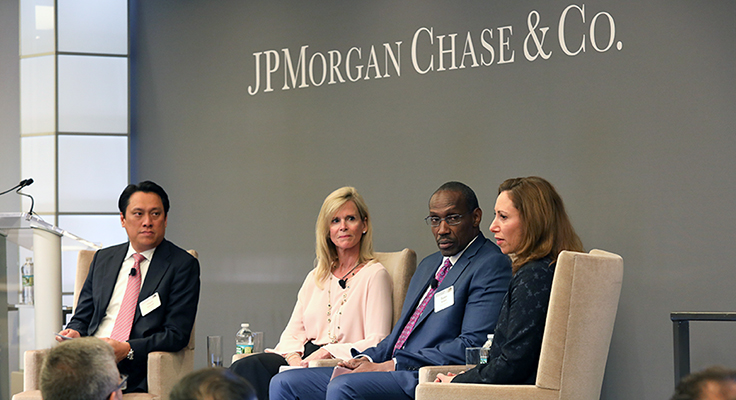 Thanh Roettele, Head of Mortgage Finance, Corporate Client Banking & Specialized Industries at J.P. Morgan, moderated a panel discussion on how to promote diversity initiatives to create a culture of inclusiveness. Panelists included Marcia Davies, COO of the Mortgage Bankers Association (MBA) and founder of mPower; Byron Boston, CEO of Dynex Capital; and Samantha Saperstein, Head of Women on the Move at JPMorgan Chase.
Q: Marcia, why is diversity and inclusion important to you?

A: Women make up over 56 percent of the workforce in the financial services industry, yet only make up 6 percent of CEOs. The job ahead for leaders is to look at the positions that feed our senior management chains and help get women into the leadership pipeline. In the mortgage finance industry, MBA started mPower (Opens Overlay) to unite women and leaders. When women come together to share ideas and leverage talent, it transcends into all parts of the business.
---
Q: Byron, what is your involvement in diversity initiatives as CEO of Dynex Capital?

A: When you're in a leadership role, it's your job to set the philosophy of the team. You can build and motivate a team and lead it in the right direction. As a leader, think about diversity as a tool that can help you gain a competitive edge. With a diverse talent base, you're not limited in where you can find customers—and conversely, you can lose a potential sale by overlooking diversity.

---
Q: Sam, tell us about JPMorgan Chase's Women on the Move initiative.

A: Women on the Move is focused on initiatives both inside and outside the firm to help women clients, consumers and employees. For employees, we're focused on getting more women in senior-level roles and making sure the pipeline for women stays consistent. For our clients and customers, we're addressing a key problem for businesses, which is access to capital. For our communities and consumers, we want to help them reach optimal financial health. Data tells us that many women-run households don't have enough savings or emergency funds. We want to make sure consumers are saving enough and investing for their future.
---
Q: Marcia, how do you think the mortgage industry is doing as a whole in terms of diversity, and what can we do to make bigger strides?

A: When the topic of diversity is on the agenda, whether at conferences or in client meetings, it raises awareness. Organizations need to be purposeful about their initiatives, and this means not only talking about diversity and inclusion but also having plans on how to initiate change. Leadership has to have measurable goals about what the organization will look like in the future and hold other leaders within the organization accountable. It's important that diversity and inclusion are more than just an initiative; they should be part of the organizational culture.

---
Q: Sam, how do we best hold people accountable for diversity and inclusion results?

A: It's important to set transparent goals around diversity. For example, we have goals for recruitment efforts that are shared within the different businesses. Even if every group doesn't hit these goals each year, we know collectively we're making progress. We also need to hold people accountable, and this requires checking in regularly. This is a really difficult task, but it's one we all need to put effort toward to see results.
---
1The Share of Female CEOs in the Fortune 500 Dropped by 25% in 2018, Fortune 500 (Opens Overlay)
2Why Diversity Matters, McKinsey & Company (Opens Overlay)
The material contained herein is intended as a general market and economic commentary, in no way constitutes JPMorgan Chase research and should not be treated as such. In no event shall JPMorgan Chase nor any of its directors, officers, employees or agents be liable for any use of, for any decision made or action taken in reliance upon, or for any inaccuracies or errors in or omissions from, the information herein. Further, the information and any views contained herein may differ from that contained in JPMorgan Chase research reports.
The above summary/prices/quotes/statistics have been obtained from external sources. JPMorgan Chase does not guarantee their accuracy, completeness or reliability.
Used with permission. The opinions expressed herein are those of the author and do not necessarily reflect that of JPMorgan Chase. JPMorgan Chase believes the information contained in this material to be from reliable sources but make no representation or warranty as to its accuracy or completeness.
---