E-commerce Payments Trends
2020 E-commerce Payments Trends Report: China
---
China's urban consumers are setting new e-commerce trends for the rest of the world to follow, however, many rural areas are yet to adopt e-commerce
Key Takeaways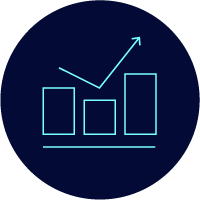 China's e-commerce revenues have raced ahead of the rest of the world, yet there are still hundreds of millions of citizens who are yet to spend online. With a double-digit growth prediction to 2023, the country represents a huge opportunity for ambitious e-commerce merchants.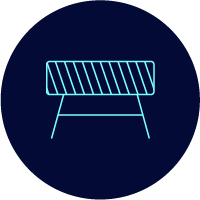 Those hoping to enter this mobile-first market face relatively high barriers to entry. The Chinese government has been quick to change regulations in response to the COVID-19 crisis, such as restricting exports of certain medical products, and is happy to move to keep control of the country's hugely important e-commerce sector.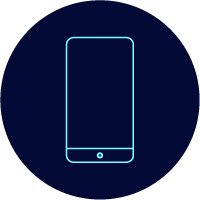 If they do not use a domestic Chinese sales platform, merchants need to create a compelling version of the standard e-commerce entry point in China—a Chinese language smartphone app. Digital wallets are the primary payment method.
Merchants must familiarize themselves with shopping habits that are yet to break into other countries. Current trends include the New Retail concept and livestreaming.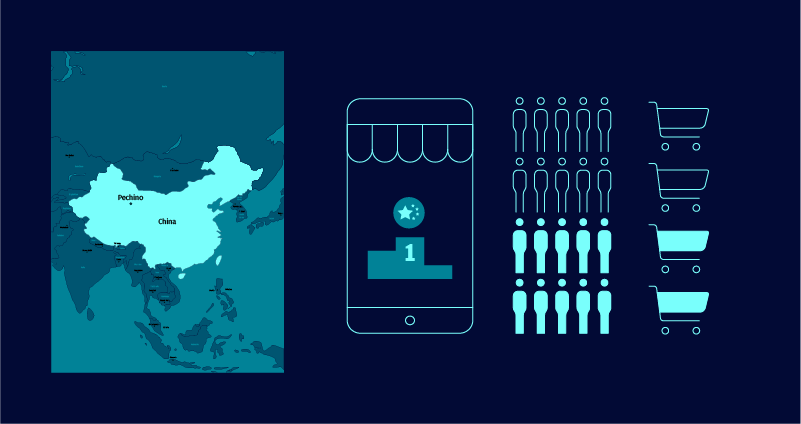 China is the world's biggest e-commerce market, generating US$1.7 trillion in sales a year.1 This is despite the fact that the majority of the population, 56 percent, are yet to make their first online purchase.2 This gives an indication of the scale of China's e-commerce potential—with a population of 1.4 billion,3 there are hundreds of millions of yet-untapped Chinese consumers. On Singles' Day, one of the major online shopping events of the year, a total of $38.4 billion was spent on mega-platform Alibaba.4
Right now, e-commerce in China represents just under a third (29 percent) of total retail sales, one of the highest levels in our report series.5 E-commerce and physical commerce is beginning to converge in China, with native e-commerce giants creating huge physical retail locations to showroom their online products and enable instant purchase—a practice that has been dubbed 'New retail'.6 Post COVID-19, this trend may slow as social distancing encourages pure e-commerce.
Looking ahead, sales growth looks set to be boosted by rising e-commerce outside towns and cities.7 Historically, rural internet penetration has lagged behind more urban areas, but smartphone uptake and the rollout of 5G mobile bandwidths should change this. GDP growth is faster in Chinese rural areas than in cities, suggesting these new potential customers will have rising disposable income to spend online.8
However, a lack of delivery logistics and infrastructure in underpopulated rural areas could present an issue, as online orders from these areas grow. China's reigning e-commerce merchants Alibaba and JD.com are working to solve this by partnering with local delivery providers, testing drone deliveries and hiring their own delivery personnel.9

Sales Growth Slows Down in a Trillion-Dollar Market
China's $1.7 trillion e-commerce market has grown rapidly in recent years, leaping by 17 percent in 2019 alone. Looking ahead, economic pressures are set to dampen this growth. The business-to-consumer e-commerce market is set to expand at a compound annual growth rate (CAGR) of 11.2 percent between 2019 and 2023.10


Growth will be supported by new online shoppers introduced to e-commerce during the COVID-19 crisis in the first half of 2020 continuing to shop online.11 Chinese retail sales fell 2.8 percent year-on-year in May 2020, whilst online sales rose by 22 percent.12 Overall, e-commerce sales are forecast to increase 13.5 percent in 2020.13 The collapse of online travel sales has not impacted China as much as in Western markets, as this accounts for a far smaller proportion of overall e-commerce sales.


China's key online shopping events include Chinese New Year in January/February; 6.18 in June; Golden Week, which begins 1 October; and Singles' Day on 11 November. Sales peak on these key dates and planning for these events with promotions and targeted marketing is essential.14 The largest Chinese e-commerce platforms are heavily subsidizing such events this year to support sales. JD.com, for example, spent $1.4 billion to underpin promotions for its June 2020 6.18 event.

Mobile and Livestreaming are the New Online Sales Channels to Harness
China is a mobile-first country. Sales via mobile devices take a 60 percent share of the overall e-commerce market,15 so merchant sites must be smartphone-ready and available as an app, as this is the preferred platform to access mobile commerce.16 Mobile commerce is expected to slightly outpace overall e-commerce, at a compound annual growth rate of 12 percent to 2023, when it will be a $1.8 trillion market.17


A major trend for 2020 is the rise of livestreaming.18 E-commerce merchants host live video promoting products on their own site, or work with livestreaming influencers—who can range from celebrities to company CEOs to farmers—to market brand products via their personal livestream channels.19 On 2019's Singles' Day, Alibaba's livestream platform Taobao generated $2.9 billion in sales, or 7.5 percent of total sales, on what is China's key e-commerce shopping day.20


Emphasizing good value, the availability of coupon deals, and the inclusion (or exclusion) of sales taxes and delivery costs can make or break a sale when selling via Chinese social commerce. Shoppers like to feel they are getting a bargain.21

5G Rollout is Set to Drive Mobile Commerce Uptake in Underserved Regions
Due to China's large land mass and swathes of underpopulated rural areas, overall internet connection is low in comparison with other major global economies, at just 55 percent.22 A lack of landline-connected internet is driving uptake of smartphones and mobile internet in rural areas.


The Chinese government has prioritized the development of 5G wireless technology, making the country a world leader in its rollout. As of November 2019, 5G's ultra-fast mobile internet speeds are now available across 50 large and mid-sized Chinese cities.23 China's Ministry of Industry and Information Technology has prioritized 5G implementation across the country throughout 2020.24


Local apps are setting new global standards in social commerce. Douyin is social media app TikTok's Chinese platform. It boasts more advanced e-commerce features than the international TikTok app, such as allowing users to buy products they see streaming on the app in real time by tapping the video three times.25

Digital Wallets are China's Favorite Way to Pay, as Cards Lag Behind
Local Influencers are Generating Demand for International Products
Perhaps due to the vast range of domestic goods available to Chinese shoppers, cross-border spending slightly lags behind the wider Asia-Pacific region. Japan (first) and U.S. (second) merchants are the most popular overseas shopping choices.36


Having a strong brand identity is a must when entering the Chinese market. Consumers respond well to Western brands that offer a clear point of difference to local products, often with celebrity backing.37


Viya is China's biggest livestreamer influencer by revenue, selling $27 million in merchandize on Singles' Day 2019 alone.38 She acts as a point of entry for major Western beauty brands wanting to sell products to Chinese audiences. International merchants could investigate similar deals with Chinese livestreamers relevant to their target markets.39

A Complex Market with Significant Market Entry Barriers for International Sellers
Regulation/trends
Chinese authorities are trying to regulate the emerging livestreaming e-commerce market, which is open to fraud as new merchants and influencers flood this sales channel, particularly ahead of key events like Singles' Day.40
Barriers or benefits to e-commerce market entry
Offering product descriptions and site navigation in the Chinese language can present a major challenge to Western merchants, who may opt to use domestic Chinese sales platforms as a route in to this market to circumvent this issue.41


The 2020 global COVID-19 pandemic impacted China's ability to import and export goods. Import and export rules may change in light of the health crisis.42


U.S. firms can take advantage of designated cross-border 'bonded warehouses'. These large-scale warehouses streamline the Chinese customs processes, expediting transactions of pre-approved goods for buyers and merchants. Chinese shoppers can spend no more than $3,820 per year via this method, and no more than $735 per transaction, which may stifle sales of luxury goods via this method. The government plans to expand the number of bonded warehouses across China.43, 44


Outside of the bonded warehouse system, at present, single cross-border transactions made via direct ecommerce channels under RMB2000 ($282) and yearly transactions under RMB20,000 do not have to pay import tariffs.45 Above this level, import duties apply.
Strict rules govern the movement of corporate, bank and individuals' cash in and out of China.46
Factors driving the cost of payment acceptance
J.P. Morgan has analyzed 34 e-commerce markets to decipher the trends and challenges driving global e-commerce in 2020. To access our insights on a country-by-country basis, click here.