Wealth Planning
How to manage your employee stock options
---
If you receive stock options as part of your compensation but are unsure what to do with them, you're not alone. Many employees are confused about how options work and don't have a thoughtful plan for them.
One feature common to all employee stock options is that they expire, so your time to act is limited. Whether or not you choose to exercise your stock options, make sure that your actions are well thought-out. Here is how you can navigate the complexities that come with managing employee stock options.
Stock-based compensation and investment decisions
Like many employees, you might receive options as a portion of your annual compensation. The date you receive the options is called the grant date. Sometimes you have to work at the company for a period of time after the grant date in order for you to be able to exercise the options—that is, to take advantage of the increase in your company's stock price over time. Options "vest" (meaning you come to own the options—they can't be taken away from you if you leave the company) on a schedule set by your company. They can vest monthly, quarterly, annually or on another schedule. "Exercising" the option means you elect to pay your company the strike price and in return receive shares of your company's stock.
The value that you can realize from your options is generally the difference between the strike price (the amount you will pay to exercise the options) and the stock's market price at the time you exercise the option. This difference is sometimes called the "spread." Sometimes employees think the value of their options is the total number of options they have multiplied by the stock price. However, in order to exercise an option you have to pay the company the strike price (which can be done either by paying cash to the company or by the company retaining shares equal in value to the strike price), so the better way to think about the option's value for you is to pay attention to the spread. Note that for non-public companies, you may need an appraisal (which private companies often provide) to determine the stock's price.
If you continue to hold your options and do not exercise them once they vest, you are in effect deciding to take some investment risk associated with potential fluctuations in the stock's value; otherwise, you would likely have sold the resulting shares. This exposure can be an effective investment strategy as long as you deliberately retain the options because you believe that your company's stock is a good investment (or because it's a private company and there's no way for you to sell shares). Most employees who have options, however, tend to retain their options without giving it much thought and without a plan for exercising them. Of course, if you don't exercise your options before they expire, they will be of no value to you.
Consider this: If someone handed you cash equal to the intrinsic value of your options (the spread), would you purchase your company's stock with that money? If the answer is "no," you should think about whether tying your net worth to your company's stock by holding your options—or the resulting shares if you exercise them—is the right decision for you, and particularly whether the concentrated risk fits into your overall investment plan. In addition, consider that you may continue to receive options in the future, giving you more exposure to your company's stock.
And remember, you're making the same investment decision to be exposed to your company's stock if you exercise your options and keep the stock you receive as a result of the exercise. Rather than doing so because you were granted the option, it's always better to know whether and how any investment you make, even in your employer, fits into your strategic plan.
Types of stock options
Employee stock options are generally classified into two broad categories: incentive (or qualified) options (ISOs) and non-qualified options (NQSOs).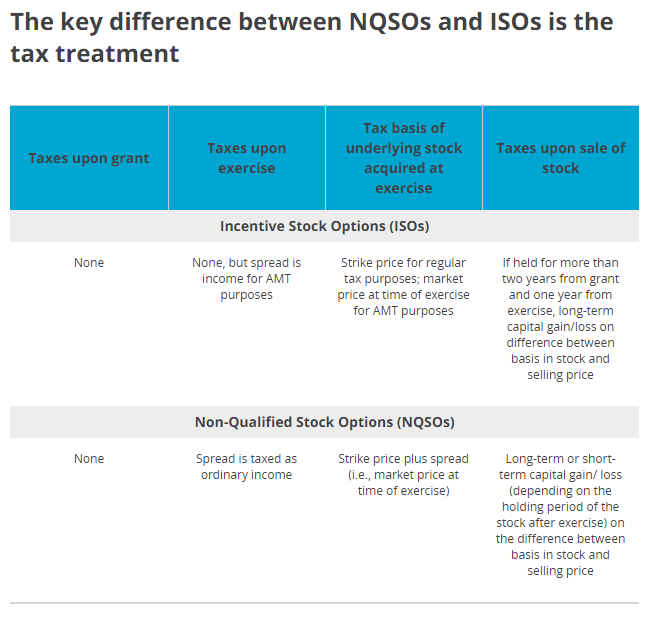 Nonqualified stock options
When you exercise an NQSO, in general the spread will be reportable as compensation on your W-2. As such, it is subject to ordinary income tax as well as payroll taxes when you exercise the option—the exercise is the taxable event, regardless of what you do with the stock you receive from the exercise1. Most companies will withhold enough shares to pay for the exercise, including the strike price and withholding tax, and deliver net shares to you. The shares you receive will generally have a cost basis equal to the market price at exercise, so you can sell them immediately after you exercise the option and pay little or no capital gains tax. As a result, there is little benefit to holding them unless you want additional exposure to your company's stock—which is an investment decision you should make deliberately, considering the concentration risk as well.
Most companies withhold at a flat federal and state rate that may be lower than your ordinary income tax rate. If your ordinary income tax rate is higher, you are likely to owe additional tax above the amount withheld and may need to make quarterly estimated tax payments. You may want to consider exercising and selling enough of the resulting stock to generate the necessary cash for those taxes. You can work with your accountant to estimate how much you'll need.
Incentive stock options and the AMT
When you exercise an ISO, assuming the relevant holding period requirements are met, the spread will not be subject to ordinary income tax. It is, however, added to your other income for alternative minimum tax (AMT) purposes.
The primary benefit of ISOs comes back to taxes: If you exercise ISOs and hold the resulting stock for more than a year from exercise (and two years from the grant of the option), the entire difference between the strike price and the stock price at the time of sale will be taxed at long-term capital gain rates, which are often lower than ordinary income rates. What people often miss, though, is the impact of the AMT. If you are subject to AMT in a given year (and that can change from year to year), it is possible that you could pay more tax by exercising an ISO and holding the stock than if you were to forego the "beneficial" tax treatment.
Here's how: When you exercise the ISOs, if you're subject to AMT, the spread is generally subject to tax at a 26% or 28% rate (depending on the size of the spread). When you later sell the stock, you are taxed on the full spread between your strike price and the sale price at long-term capital gains tax rates (with the 3.8% Affordable Care Act surtax added in certain instances) even though the amount between your strike price and the share price at the time of exercise had already been subject to AMT.
In order to mitigate this "double tax"—that is, the amount subject both to capital gains tax and AMT—there generally is a credit for the AMT you paid. In reality, however, many people cannot use their credit for many years since, under the tax code, individuals can only use an AMT tax credit in a year in which they are not subject to the AMT. Individuals with high deductions are often subject to the AMT every year; as a result, these individuals are often forced to carry forward their AMT credit until a future year when they can use it (and may never be able to use it if they're always subject to AMT). Obviously, the longer it takes to use the credit the less valuable the credit is. And if you can never use the credit, you will have paid AMT plus long-term capital gains tax on the same spread—a combination that in many cases could be higher than the ordinary tax rate you would have paid had you not kept the stock after exercising the ISO.
Tax implications of compensatory stock options can be complex. Your J.P. Morgan Financial Advisor can help you think through the different strategies available to you and work with your accountant and your other tax advisors to craft a thoughtful plan that helps you achieve your goals.
IMPORTANT INFORMATION
Investing involves market risk, including possible loss of principal, and there is no guarantee that investment objectives will be achieved. Past performance is not a guarantee of future results.
Asset allocation/diversification does not guarantee a profit or protect against loss.
Products, accounts and services are offered through different service models (for example, self-directed, full-service). Based on the service model, the same or similar products, accounts and services may vary in their price or fees charged to a client.
JPMorgan Chase & Co., its affiliates, and employees do not provide tax, legal or accounting advice. Information presented on these webpages is not intended to provide, and should not be relied on for tax, legal and accounting advice. You should consult your own tax, legal and accounting advisors before engaging in any financial transaction.
JPMorgan Chase Bank, N.A. and its affiliates (collectively "JPMCB") offer investment products, which may include bank managed accounts and custody, as part of its trust and fiduciary services. Other investment products and services, such as brokerage and advisory accounts, are offered through J.P. Morgan Securities LLC (JPMS), a member of FINRA and SIPC. Annuities are made available through Chase Insurance Agency, Inc. (CIA), a licensed insurance agency, doing business as Chase Insurance Agency Services, Inc. in Florida. JPMCB, JPMS and CIA are affiliated companies under the common control of JPMorgan Chase & Co. Products not available in all states.

JPMorgan Chase Bank, N.A. Member FDIC
---