Adding private investments to your portfolio may enhance and diversify returns. There are structural reasons why private investments have outperformed public markets historically over medium and long terms. We believe this outperformance will continue, and here we outline a few reasons why private investments may help to achieve your long-term financial goals.
Connect with your J.P. Morgan advisor to discuss which private investments may be right for you.

Historical outperformance

Private investments play an important role in long-term investment portfolios. Private equity has historically offered a meaningful return premium over public market equivalent investments.
We expect private markets to continue to command a return premium.
Excess Annualized Returns of Buyout/Growth Equity over the MSCI All Country World Index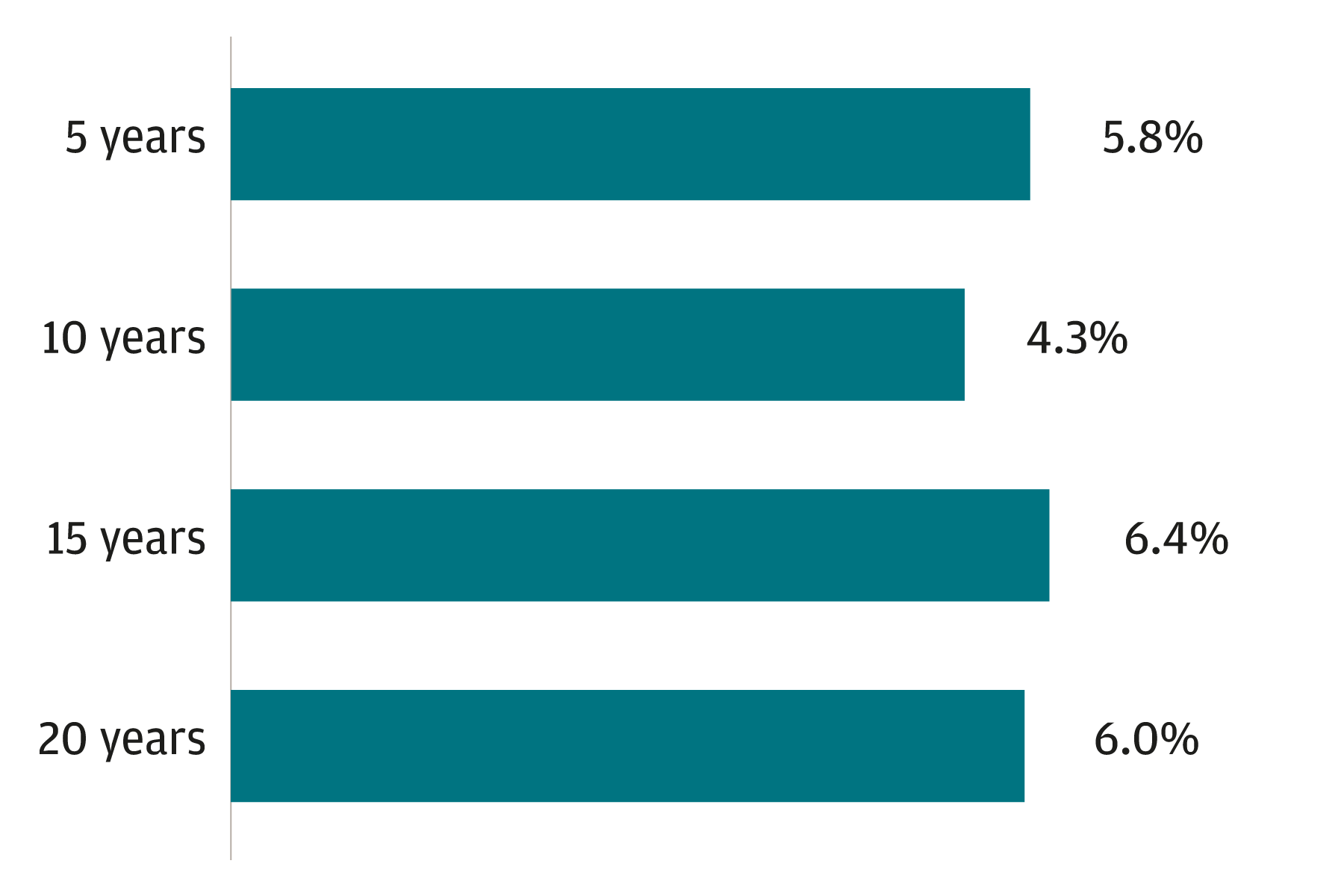 Global Buyout & Growth Equity consists of global buyout and growth equity funds tracked by Cambridge Associates LLC. Indices are not investment products and may not be considered for direct involvement. Past performance is not a guarantee of future results.
Source: Cambridge Associates LLC as of June 30, 2019

Structural drivers of outperformance
Private markets have attributes that may help deliver a return premium over public market investments. A significant one is supply: Companies are opting to stay private longer, a trend that has presented more opportunities for private investment funds relative to public markets.
Once invested, private investment fund managers often are able to actively exert control over assets to attempt to fix, sell or otherwise influence them. And private markets allow for a longer-term focus and informational advantages relative to public markets.
What's more, private investing may provide access to sectors or industries not broadly represented by public markets.
Companies are staying private longer, which has created more opportunity relative to public markets.
How do I invest?
Investors generally gain exposure to private equity, private credit and private real assets through investing in private investment funds. These are long-term, diversified, pooled investment vehicles that acquire, manage and monetize portfolios of equity or debt in privately held companies or other private real assets.
The nature of private investing
Allocating to a private investment partnership is a long-term commitment with unique cash flow patterns. Investors in private equity funds typically experience capital calls early in a fund's lifecycle, with distributions beginning in the mid-to-late years. It is typical to have a relationship with a single fund over a 10- to 12-year period. Click on the legend box below for more information.

Importance of a strategic, active, diversified approach
An optimal private investments portfolio is diversified by fund manager, investment strategy, industry sector, market capitalization and vintage year of commitment.
Assess your investment goal, risk appetite and cash flow needs before committing to invest in the private markets. At J.P. Morgan, we can help you determine which private investments may be appropriate for your portfolios.
Want to know more about private investing? Contact your J.P. Morgan advisor to discuss how these opportunities might help you achieve your goals.

You're now leaving J.P. Morgan
J.P. Morgan's website and/or mobile terms, privacy and security policies don't apply to the site or app you're about to visit. Please review its terms, privacy and security policies to see how they apply to you. J.P. Morgan isn't responsible for (and doesn't provide) any products, services or content at this third-party site or app, except for products and services that explicitly carry the J.P. Morgan name.