A securities-based line of credit can be a flexible and cost-effective way to access liquidity strategically. Whether you are looking to fund a new purchase, renovate your home or take advantage of a timely investment opportunity. Using a line of credit allows you to remain invested and keep your investment portfolio intact.
Benefits that can make a securities-based line of credit a valuable complement to your investment portfolio:
Stay invested. Keep your investment plan and asset allocation in place without disrupting your long-term strategy
Financial flexibility. Quickly access liquidity for a range of uses—whether you're meeting large financial obligations or seizing an opportunity
Cost-effective. There are no setup fees, and only the funds you use incur interest charges, which are often lower than other financing options.
Potentially tax-efficient. A securities-based line of credit can potentially be structured in a tax-efficient way, which may allow you to more effectively grow and preserve your wealth.
As with all investment decisions, it's important to understand the risks of borrowing before moving forward. Events beyond your control, like market fluctuations that may reduce the value of your pledged securities, could lead to a margin call. We're here to help you make the best decisions for your needs. Today and in the future.
Borrowing vs. Liquidating Portfolio Holdings: Which Strategy is Better?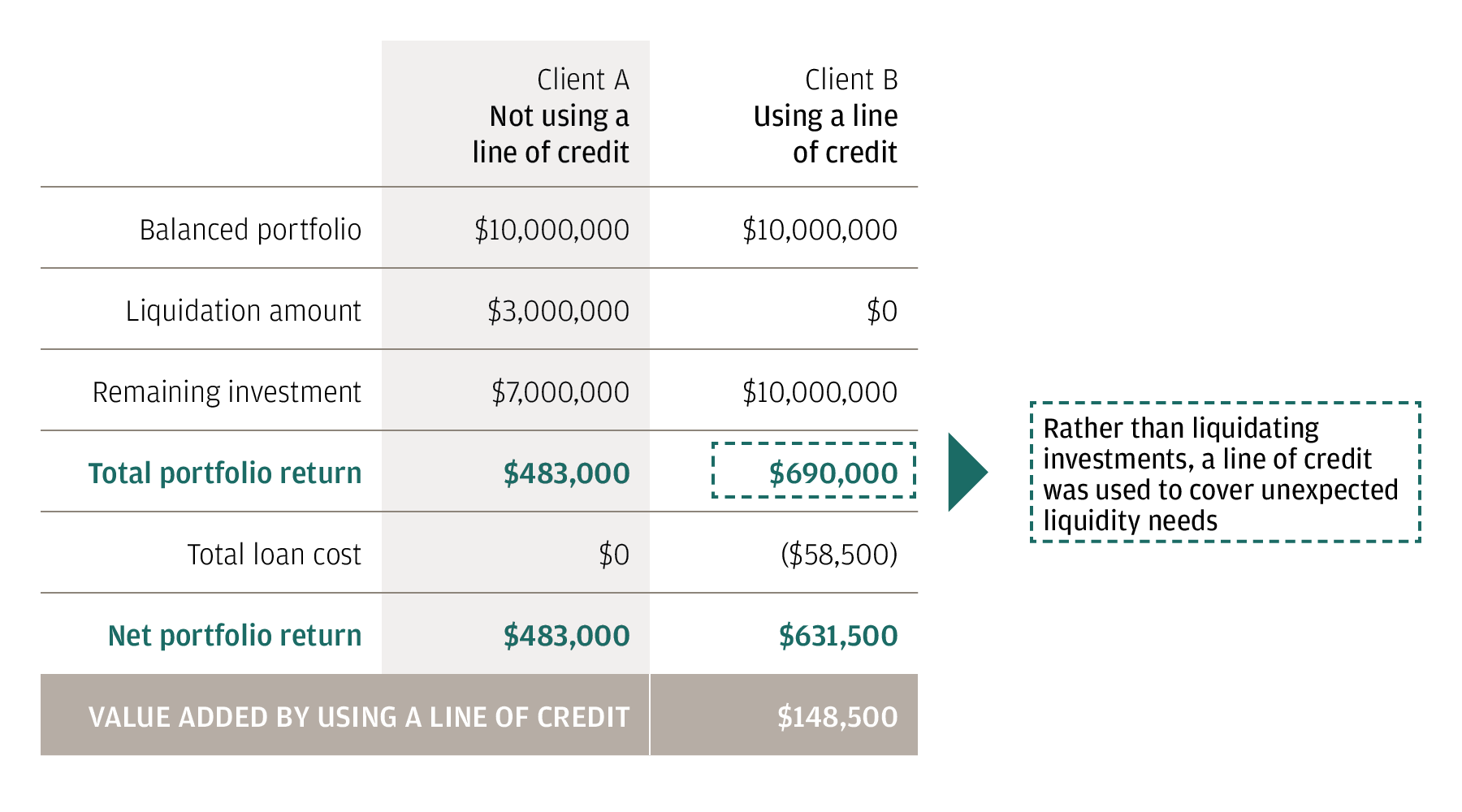 Both examples posit a $10,000,000 portfolio and a $3,000,000 debt. In the first example, Client A sells $3,000,000 worth of securities. The remaining $7,000,000 portfolio earns $483,000 during the timeframe under consideration. In the second column, Client B uses a line of credit to pay the $3,000,000. His $10,000,000 portfolio remains untouched and returns $690,000 over the same timeframe. Though interest on the loan comes to $58,000, Client B still nets $631,500—which is $148,500 (31%) more than Client A received.
You're now leaving J.P. Morgan
J.P. Morgan's website and/or mobile terms, privacy and security policies don't apply to the site or app you're about to visit. Please review its terms, privacy and security policies to see how they apply to you. J.P. Morgan isn't responsible for (and doesn't provide) any products, services or content at this third-party site or app, except for products and services that explicitly carry the J.P. Morgan name.