Our management style
Grounded in four pillars, it guides the design of our team and our investment process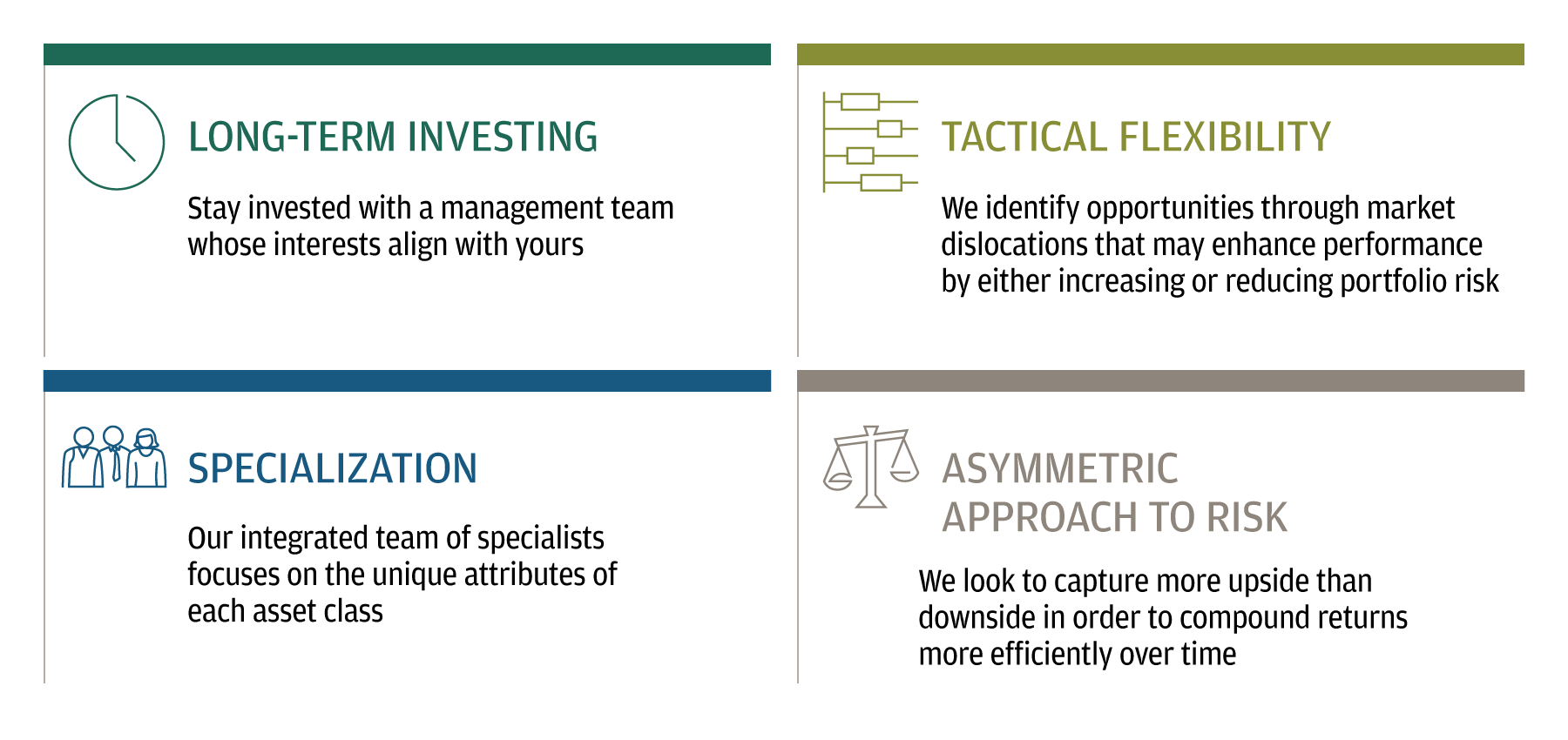 This table describes the four pillars of the J.P. Morgan Private Bank investment management style. They are: long-term investing, tactical flexibility, specialization, and an asymmetric approach to risk.

Meet the team
Led by Chief Investment Officer Richard Madigan, our team consists of specialists that work together to enhance a portfolio's risk and return potential.
Disclaimer: There is no assurance that professional currently employed will remain employed by J.P. Morgan Private Bank or that the past performance or success of any such professional serves as an indicator of such professional's future performance or success.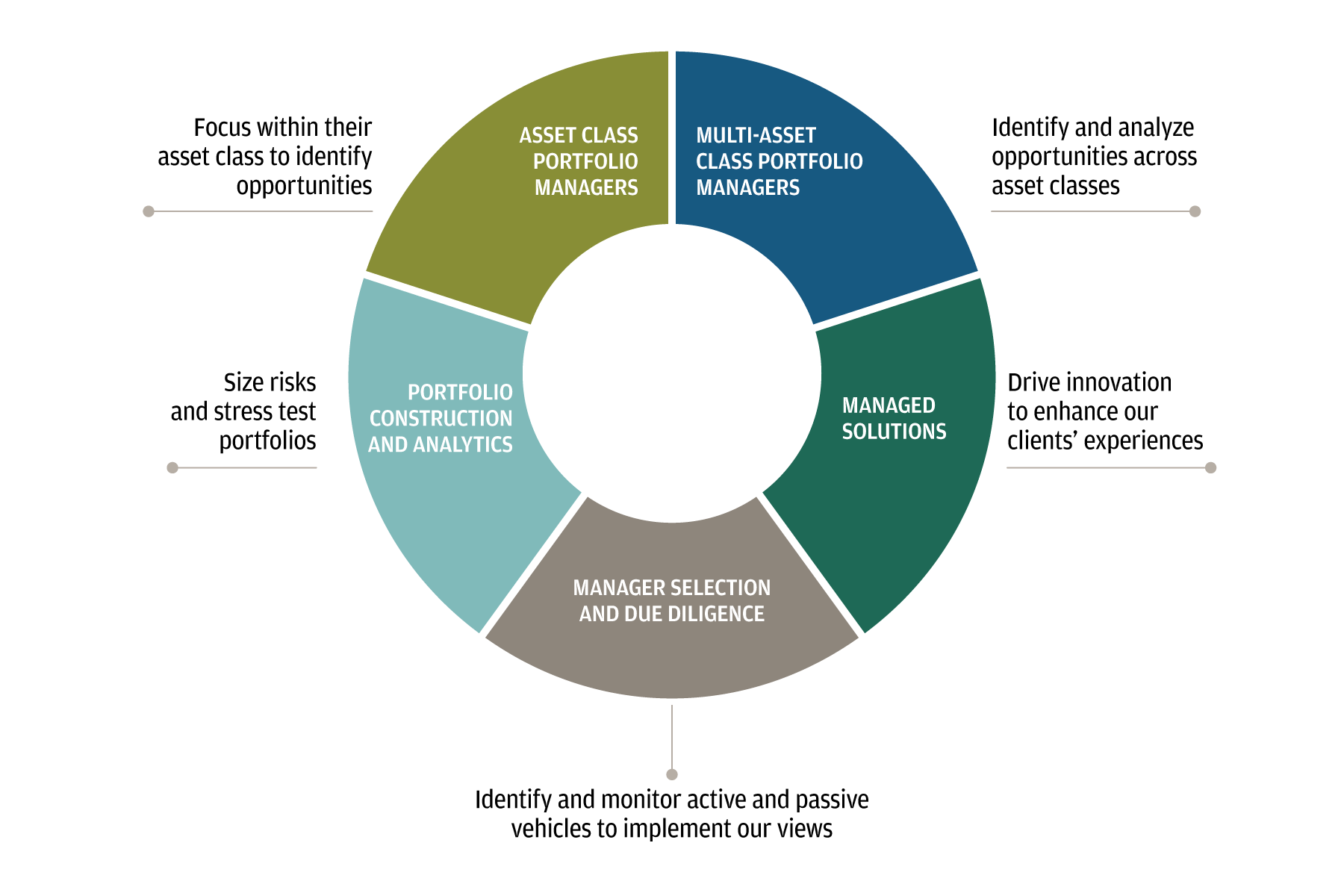 This pie chart categorizes the five elements of the portfolio construction and management process. They are: portfolio construction and analytics (where risks are evaluated and portfolios are stress tested); asset class portfolio managers (they focus within their asset classes to identify opportunities); multi-asset class portfolio managers (they identify and analyze opportunities across asset classes); managed solutions (driving innovation to enhance our clients' experiences); and manager selection and due diligence (to identify and monitor active and passive vehicles to implement our views).

Identifying your goals and preferences
Our disciplined investment approach is anchored in your goals. We consider your return expectations, tolerance or appetite for risk, time horizon, liquidity needs and other factors specific to you to create your personalized portfolio.
Laying the foundation
Your portfolio's strategic asset allocation is the "North Star" for your return expectations and risk tolerance. We believe a well-diversified portfolio built for the long term starts with three key building blocks: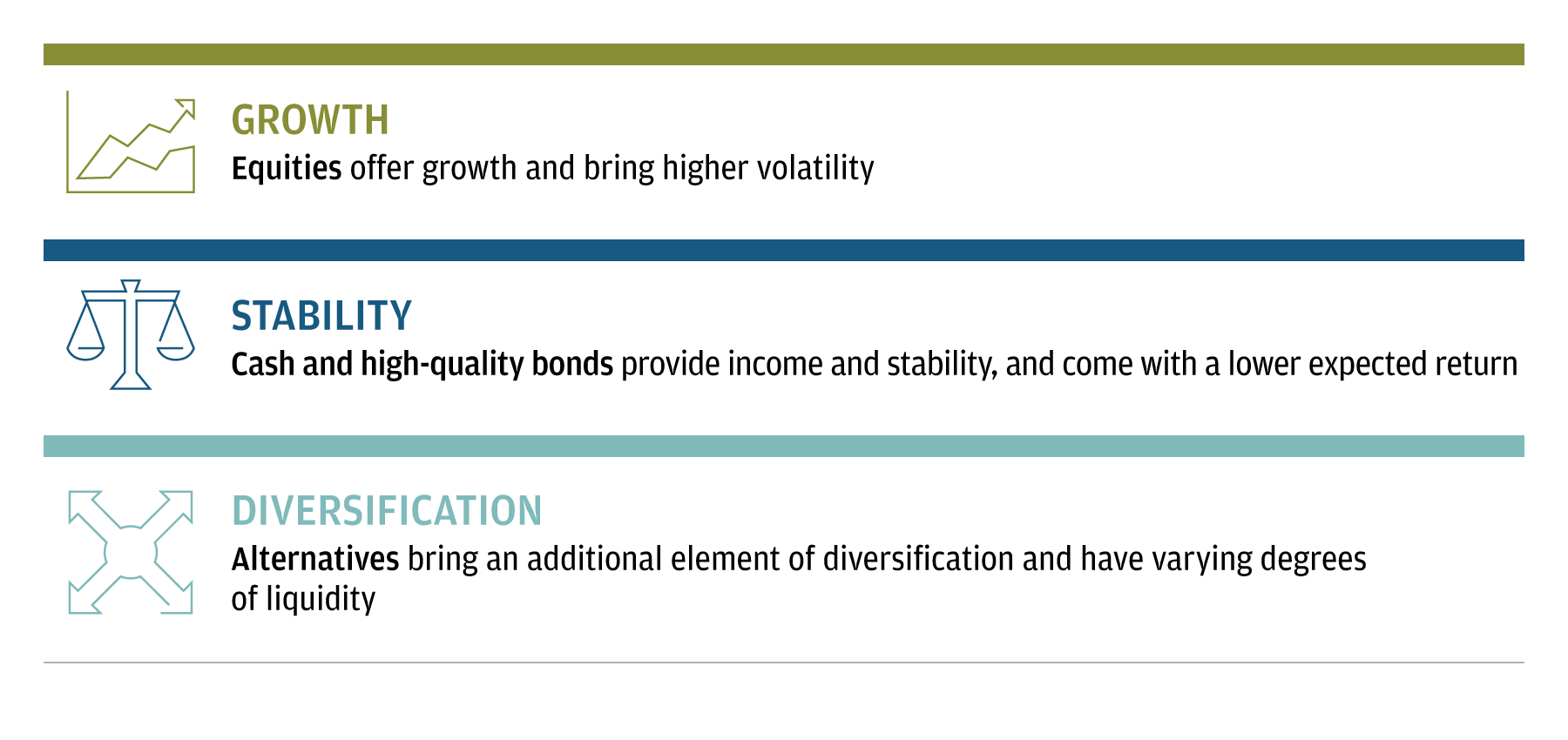 This table defines the three key ingredients of the portfolio-building process. They are: growth, stability and diversification. Equities offer growth and bring higher volatility. Cash and high-quality bonds provide income and stability, and come with a lower expected return. Alternatives bring an additional element of diversification and have varying degrees of liquidity.

Layering on tactical flexibility
Our Chief Investment Officer and his team continually assess the market environment for tactical opportunities. These opportunities are meant to enhance the return, risk or diversification of the overall portfolio.
Our specialists assess opportunities and dislocations within and across asset classes before making any recommendations. They evaluate the recommendations' expected contribution to the portfolio under various economic conditions. Next, they propose the vehicle best-suited for the investment. While vetted vigorously across the entire team, the final decision for all transactions lies with our Chief Investment Officer.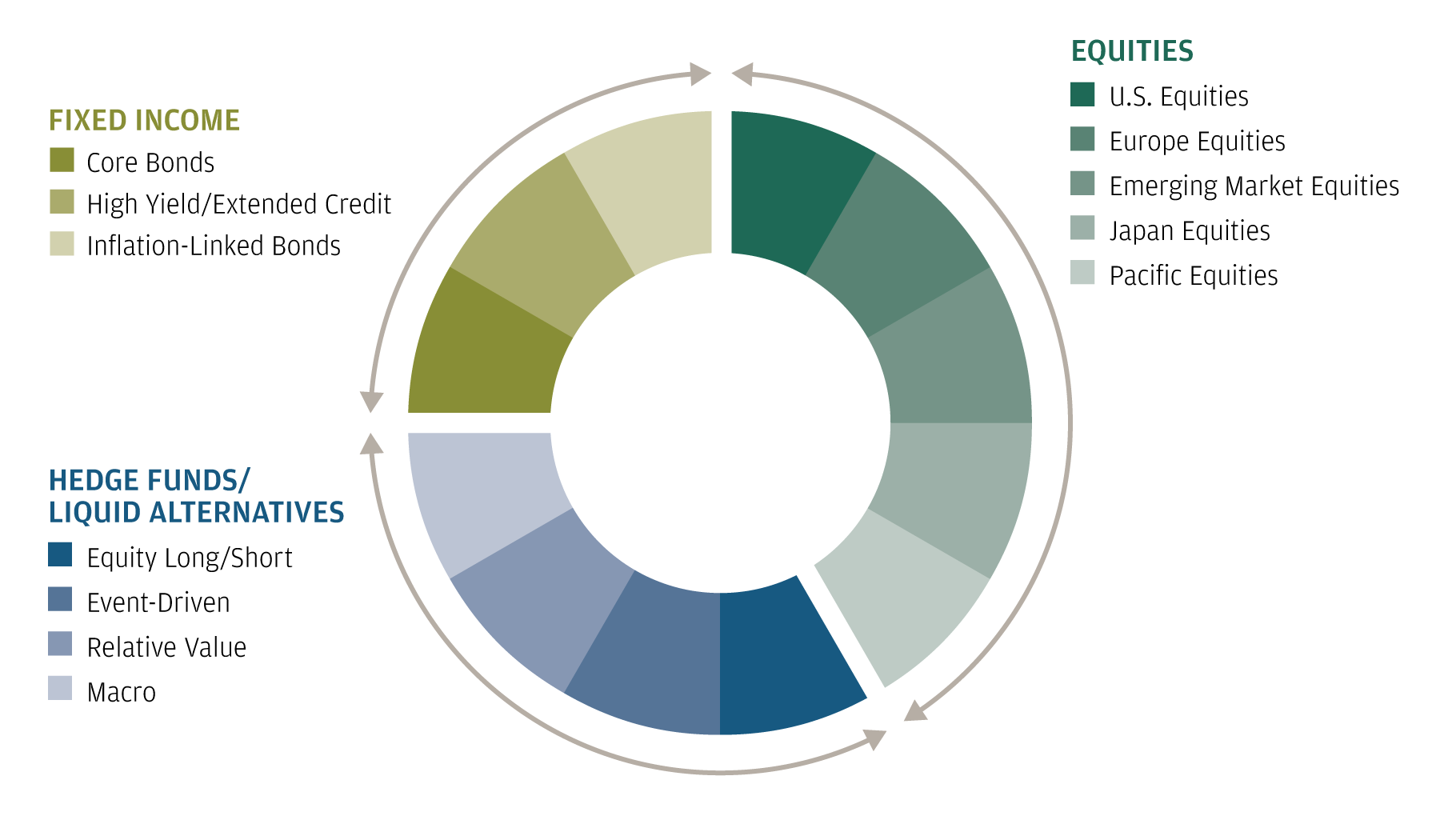 This pie chart divides a hypothetical portfolio into its component asset classes, adhering to the principles of growth, stability and diversification. Growth is achieved by investments in U.S. equities, Europe equities, emerging market equities, Japan equities and Pacific equities. Stability is represented through core bonds, high yield/extended credit bonds, and inflation-linked bonds. Enhanced diversification is provided by investments in hedge funds and liquid alternatives, which include equity long-short, event-driven, relative value and macro strategies.

Asking (and answering) the right questions
Designing the right portfolio for you begins with a thorough understanding of your financial objectives as well as your desire and comfort for taking risk. Your portfolio will incorporate your preferences, coupled with our guidance.
We work with you to create a portfolio based on four investment decisions:
This graphic represents the four investment decisions central to a customized portfolio. They are: performance benchmark, geographic focus, implementation preference, and inclusion of alternatives.

Performance benchmark: How will we measure performance? Is the goal to outperform the market? Or are consistency and stability more of a priority?
Geography: Based on your preferences, does it make the most sense to invest in your home market or globally?
Implementation: What investment vehicles align with your goals and preferences? Active managers or passive investments? Or both?
Alternatives: Hedge funds and more liquid alternatives may enhance the diversification of your portfolio – are you in?
The final result
The right portfolio has a level of risk that feels manageable to you, giving you the confidence to always stay invested, even during drawdowns. That is critical to creating and preserving wealth over the long term.

Managing Your Wealth


Our Chief Investment Office has been entrusted with almost $300 billion of our clients' wealth. Watch as professionals from the team discuss our process for investing on your behalf.
You're now leaving J.P. Morgan
J.P. Morgan's website and/or mobile terms, privacy and security policies don't apply to the site or app you're about to visit. Please review its terms, privacy and security policies to see how they apply to you. J.P. Morgan isn't responsible for (and doesn't provide) any products, services or content at this third-party site or app, except for products and services that explicitly carry the J.P. Morgan name.