Investing
Gene therapy's potential to change lives and industry
Groundbreaking work on potential treatments—and cures—for cancers and rare diseases is changing how companies and investors think about biotech.
---
Imagine a world where genetic blindness, severe muscular dystrophy, blood and bone marrow cancer, and many other diseases are not just treated, but cured. Thanks to groundbreaking work being done in gene therapy, what once was a dream is coming closer to reality.
Instead of treating symptoms of disease, a prolonged and costly undertaking, a one-time gene therapy treatment has the potential to fundamentally address the root cause. This can be done by inserting a missing gene into a patient's DNA—known as gene therapy—or repairing a defective gene, which is known as gene editing.
The treatment potential of gene therapy spans a wide variety of rare diseases, including single-gene disorders such as cystic fibrosis, hemophilia and sickle cell disease. And it also holds promise for the treatment and prevention of more complex diseases, such as cancer, heart disease, mental illness and HIV infection.
In our view, the perfect storm is taking shape for investment in gene therapy. Substantial unaddressed need, solid balance sheets of large pharmaceutical companies with excess cash for acquisitions, and maturing pipelines of gene therapy products should support the valuations of smaller gene therapy companies.
Meanwhile, the bigger pharmaceutical players, especially in Europe, should see their earnings growth improve meaningfully in the coming years1 as they replenish their pipelines—and gene therapy is likely to be a prominent feature.
Larger pharmaceutical companies in Europe should see their earnings growth increase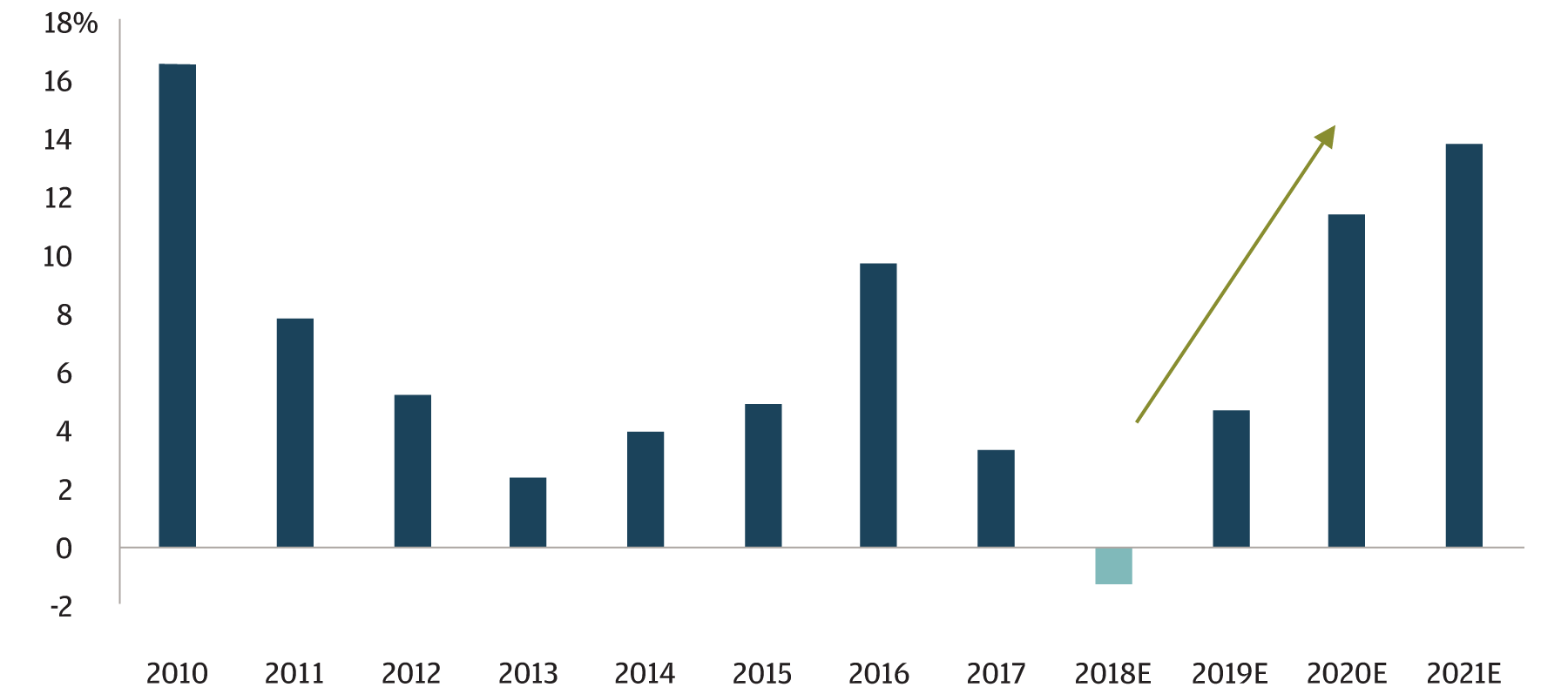 Source: BofA Merrill Lynch global research estimates, as of December 31, 2018. Above shows average earnings-per-share growth rates for the following large-cap European pharmaceutical companies: AstraZeneca, Bayer, GlaxoSmithKline, Merck KGaA, Novartis, roche Holdings, Sanofi, Nova Nordisk and Shire.
Bar chart showing average earnings-per-share growth rates for large-cap European pharmaceutical companies from 2010 to 2018, as well as our expectations for 2019–2021. The peak is 2010, then the bars gradually decline from 2011 to 2013, increase slightly from 2013 to 2016, then reach a negative in 2018. Our expectations show the bars reaching another peak in 2021.
Wide-ranging applications
Duchenne muscular dystrophy (DMD) is a severe and common type of muscular dystrophy, a condition that usually begins around age 4 in boys and worsens quickly, with most unable to walk by 12. Gene therapy could be used to deliver a correct form of the dystrophin gene, which is otherwise mutated in those who suffer from this condition. While this particular therapy has been challenging because of the size of the gene, another form of treatment aims to fortify the structural integrity of the muscle by increasing expression of other proteins not mutated or lost in the disease.
Cancer patients are also benefiting from cell and gene therapy. The Food & Drug Administration (FDA) approved two cancer therapy treatments in the United States in 2017 to treat childhood leukemia and adult large B-cell lymphoma.
How these therapies—known as CAR T—work:
T cells, which are white blood cells, are collected and genetically modified to include a new gene that is infused into the patient. The new gene directs these modified T cells to target and kill cancerous cells. And it has been successful. In Novartis's clinical trials of 63 children and young adults with a type of acute leukemia, 83% of the patients that received CAR T therapy experienced remission within three months. At 12 months, 79% had survived.2 The adult lymphoma treatment works in a similar way.
CAR T therapy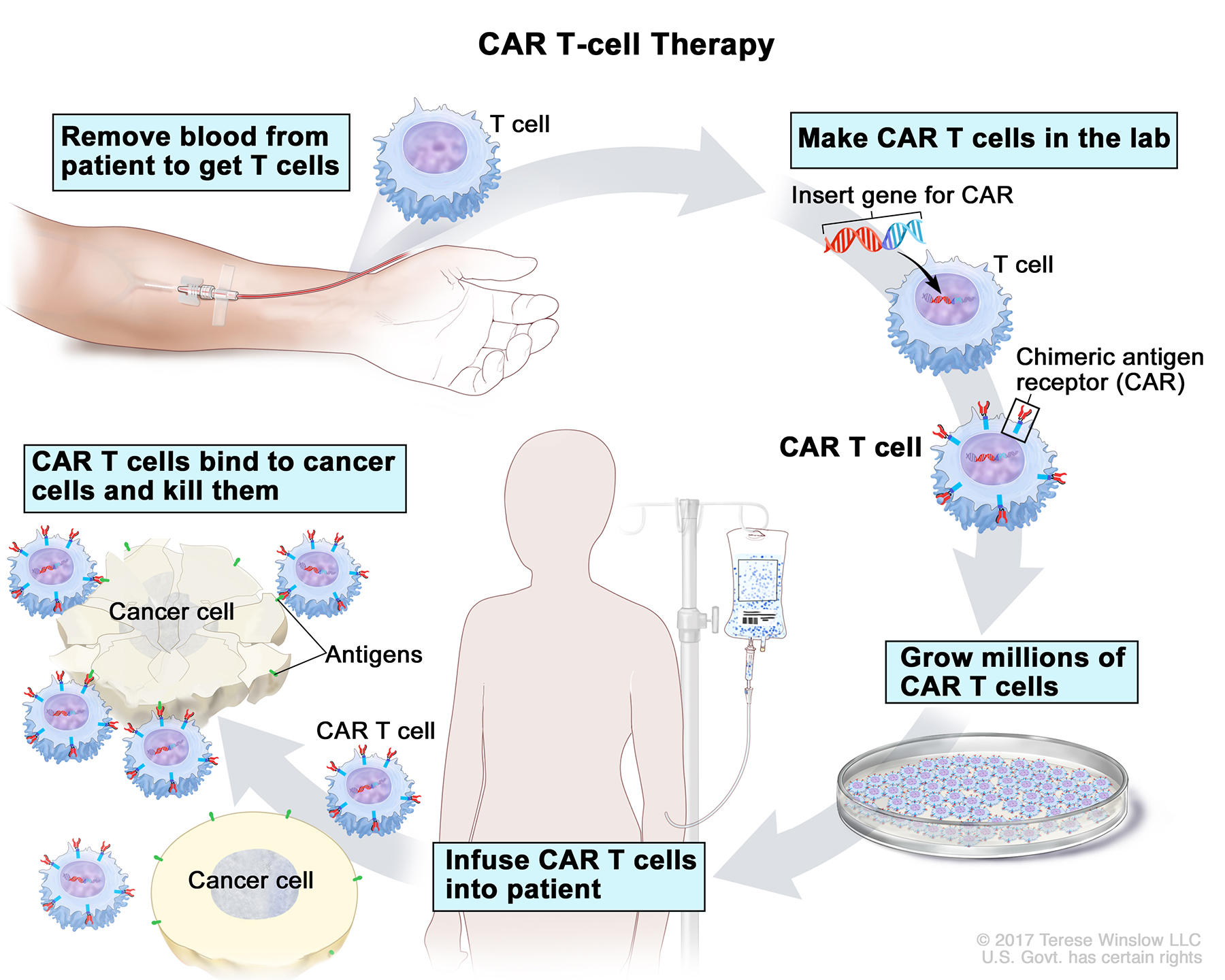 Image explaining the process of CAR T therapy.
The first gene therapy treatment approved in the United States treats retinal dystrophy, an inherited eye disease that causes severe visual impairment beginning in infancy.3 Spark Therapeutics' one-time treatment, known as Luxturna, targets the disease, which can eventually lead to blindness. In a Phase 3 clinical study with 31 participants, the group that received Luxturna demonstrated significant improvements in the ability to complete an obstacle course at low light levels compared to the control group.
Great need for better treatment
While certainly not without risks and still in early stages, these types of gene therapies are promising, and the unmet need to treat or cure rare diseases is significant. National Institutes of Health (NIH) estimates there are about 7,000 rare diseases that affect more than 25 million Americans—and many have no approved therapies.
So, with all this potential, how far are we from commercial reality? Much closer.
The FDA has said it expects by next year to be receiving more than 200 new drug applications annually for gene therapies, building on the more than 800 applications it already has. By 2025, it expects to be approving 10 to 20 such products each year. And MIT's New Drug Development Paradigms program estimates FDA approval of three dozen new gene therapies by 2022.
These types of treatments often receive priority designations, demonstrating the FDA's commitment to expediting their development and review.
The number of gene therapy projects has increased rapidly in recent years. Deloitte estimates that recently launched and pipeline cell therapy products will reach 40% of Top 20 Pharma's 2018–2024 cumulative sales, and gene therapy products specifically will reach 7%.4
The funding and number of gene therapy projects have increased in recent years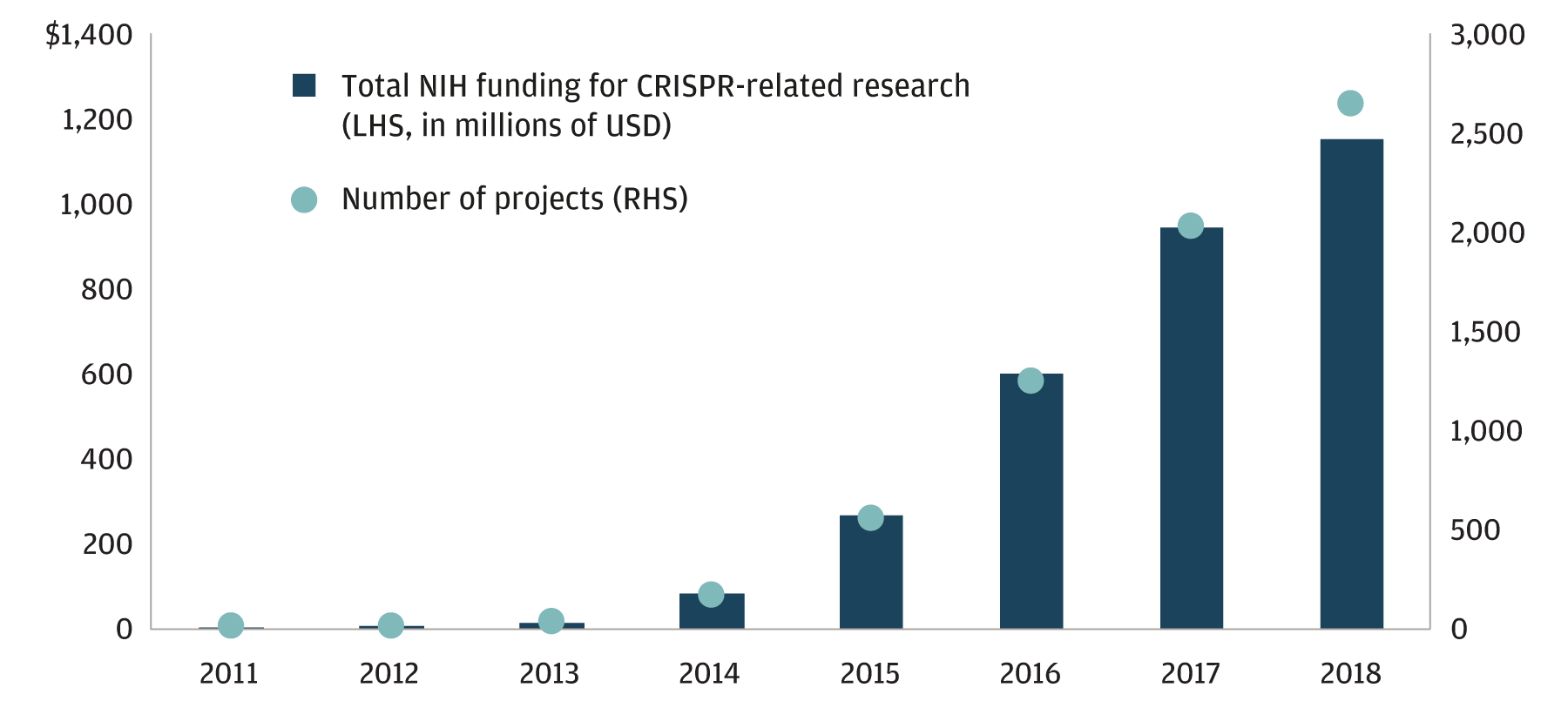 Source: National Institutes of Health (NIH). Data as of November 20, 2018. CRISPR: Clustered regularly interspaced short palindromic repeats. A family of DNA sequences found within the genomes of prokaryotic organisms such as bacteria and archaea.
Bar chart showing both the total National Institutes of Health (NIH) funding for CRISPR-related research (in millions of USD) and the number of CRISPR-related projects from 2011 through 2018. Both have increased dramatically over this time period, reaching peaks in 2018.
An eventful year for gene therapy
Even though the true potential of gene therapy will take years to realize, 2019 is shaping up to be a banner year for this industry because of three key catalysts:
1. The FDA is expected to introduce policies by the end of 2019 to further expedite development of gene therapy treatment
2. Approvals and clinical data expected throughout the year are likely to continue to draw investor attention to the space:
2019 gene therapy watch list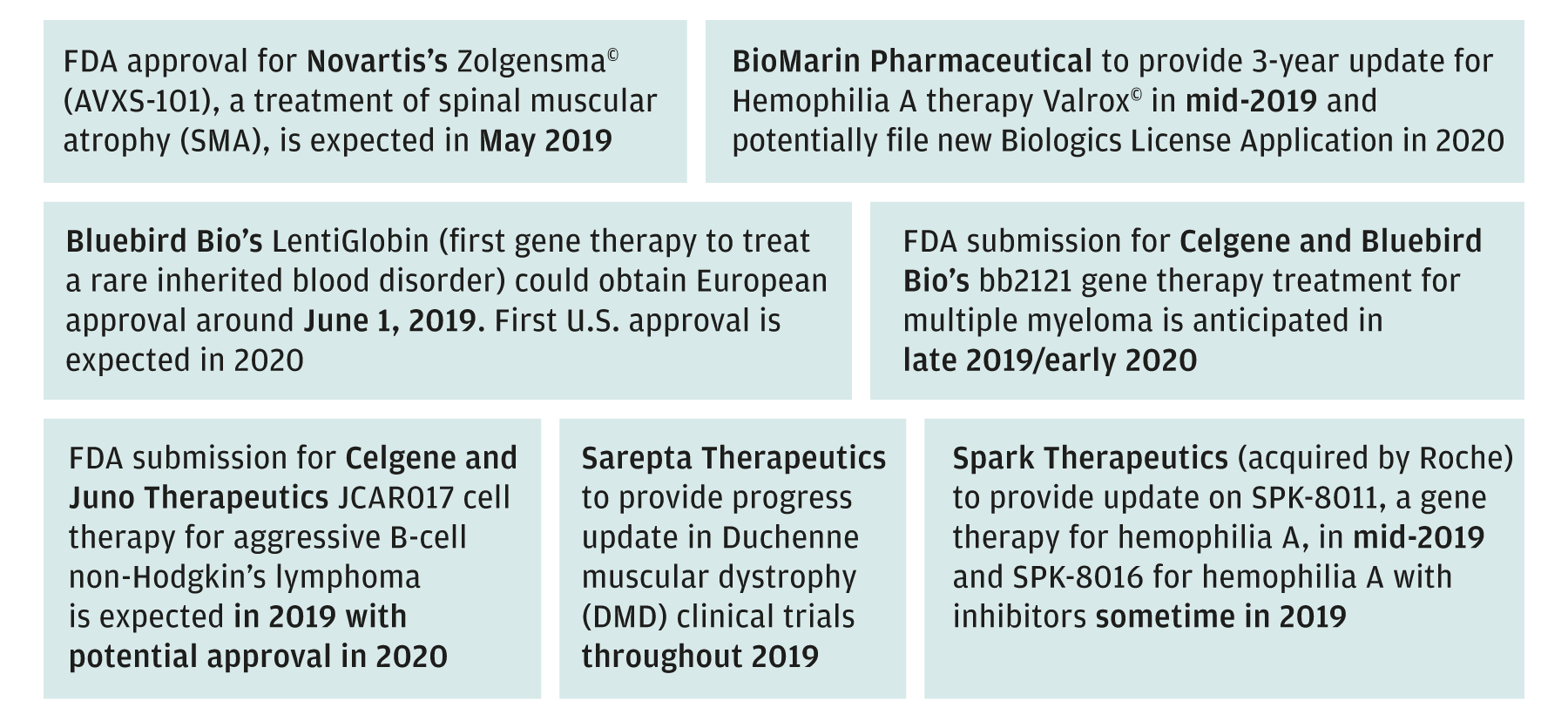 Note: Specific company names referenced in the table above are for illustrative purposes only. These are not investment recommendations.

Table showing upcoming events/approvals taking place in 2019 and 2020 within the gene therapy space.
3. Recent M&A activity confirms gene therapy is a big focus of larger pharmaceutical companies and investors, and that is likely to continue in 2019
In February, Roche announced it would acquire Spark Therapeutics for a 122% premium. In addition to the Luxturna therapy, Spark also brings to Roche four products in clinical trials and other programs in development for diseases such as hemophilia and Huntington's disease.
Shortly after the Spark news, Biogen announced its acquisition of Nightstar Therapeutics for a premium of 68%. Nightstar's array of gene therapies includes a potential treatment for a rare retina disorder, which could be the next treatment to receive approval
The promise is great, but so are the hurdles
Despite all the potential, there are some tough issues to work through. For starters, these treatments come with hefty price tags. A one-time treatment for non-Hodgkin's lymphoma can cost close to $400,000. And it can run as high as $850,000 for a gene therapy injection in each eye to treat hereditary vision loss.
Fortunately, there are ongoing discussions between payors, providers and gene therapy manufacturers meant to address this issue. Payors may be willing to pay for critical therapies if they are effective and can result in a lifetime of savings versus a conventional but often lifelong treatment plan.
In addition to the "sticker shock," there are also difficulties with scalable manufacturing, transportation, administration and management, and unpredictable demand.
Conclusion
A lifetime of savings with a one-time treatment is a tangible, quantifiable figure. But the biggest benefit is immeasurable: the promise and potential for a better quality of life for patients, their families and caretakers.
Imagine a world where life-changing and life-saving gene therapy is an option available to anyone who needs it. That is the world we want to invest in.
1Bank of America Merrill Lynch, European Pharma Review, December 14, 2018.
2https://www.technologyreview.com/s/608771/the-fda-has-approved-the-first-gene-therapy-for-cancer/.
3Two cell therapies (Kymriah and Yescarta) and one gene therapy (Luxturna) are currently FDA approved and have commercial scale. Others are available but are less used. The full list can be found here.
4Deloitte, Evaluate Pharma, May 31, 2018.
Important Information
This material contains general information on a type of investment product that may be issued by various Issuers. This material does not relate to a particular investment product issued by a particular Issuer. The terms, conditions and risks of any such investment product will vary. Please refer to the specific materials in relation to any particular investment product or Issuer. This material is distributed with the understanding that it is not rendering accounting, legal or tax advice. Consult your legal or tax advisor concerning such matters. Investors are urged to carefully consider whether derivative products are suitable for their needs. This information is not intended as an offer or solicitation for the purchase or sale of any financial instrument. Products may not be suitable for all individual investors and are subject to investment risks. Typically, such investment ideas can only be offered to suitable investors through a confidential offering document, which fully describes all terms, conditions and risks. Investors may get back less than they invested. • Structured products: This is a structured product that involves derivatives. Do not invest in it unless you fully understand and are willing to assume the risks associated with it. If you are in any doubt about the risks involved in the product, you may clarify with the intermediary or seek independent professional advice.
RISK CONSIDERATION • Past performance is not indicative of future results. • The prices and rates of return are indicative, as they may vary over time based on market conditions. • Additional risk considerations exist for all strategies. • The information provided herein is not intended as a recommendation of or an offer or solicitation to purchase or sell any investment product or service. • The investment products or strategies herein may not be suitable for all clients. • Opinions expressed herein may differ from the opinions expressed by other areas of J.P. Morgan. This material should not be regarded as investment research or a J.P. Morgan investment research report.
This material is intended as a general market commentary, and not intended to be a forecast of future events. All companies referenced are shown for informational purposes only, and are not intended as a recommendation or endorsement by J.P. Morgan in this context. The views contained herein are not to be taken as advice or a recommendation to buy or sell any investment in any jurisdiction, nor are they a commitment to participate in any of the transactions mentioned herein. This information may differ from those expressed by other areas of J.P. Morgan, views expressed for other purposes or in other contexts, and this material should not be regarded as a research report. Outlooks and past performance are not guarantees of future results. Please read all Important Information at the end of the material.
PURPOSE OF THIS MATERIAL
This material is for information purposes only and intended as general market commentary. J.P. Morgan Global Investment Opportunities' views may differ from other JPMorgan Chase & Co. ("JPM") affiliates and employees. This constitutes our judgment based on current market conditions, which are subject to change without notice. There is no guarantee that any outlooks and views will occur in the future.
The information contained herein should not be relied upon in isolation for the purpose of making an investment decision. More complete information is available, including product profiles, which discusses risks, benefits, liquidity and other matters of interest. Contact your J.P. Morgan representative for additional information concerning your personal investment goals. You should be aware of the general and specific risks relevant to the matters discussed in the material. You will independently, without any reliance on JPM, make your own judgment and decision with respect to any investment referenced in this material.
This material is not a product of the J.P. Morgan Research Department and is not a research report, although it may refer to a research report or research analyst. This presentation should be reviewed in conjunction with U.S. research published by J.P. Morgan Securities LLC to the extent that such research exists. The opinions and ideas expressed herein do not take into account individual client circumstances, objectives and needs. Transactions in any securities that may be referenced herein may not be suitable for all investors.
This material is confidential and intended for your personal use. It should not be circulated to or used by any other person, or duplicated for non-personal use, without our permission.
GENERAL RISKS & CONSIDERATIONS
Any views, strategies or products discussed in this material may not be appropriate for all individuals and are subject to risks. Investors may get back less than they invested, and past performance is not a reliable indicator of future results. Asset allocation does not guarantee a profit or protect against loss. Nothing in this material should be relied upon in isolation for the purpose of making an investment decision. You are urged to consider carefully whether the services, products, asset classes (e.g., equities, fixed income, alternative investments, commodities, etc.) or strategies discussed are suitable to your needs. You must also consider the objectives, risks, charges, and expenses associated with an investment service, product or strategy prior to making an investment decision. For this and more complete information, including discussion of your goals/situation, contact your J.P. Morgan representative.
NON-RELIANCE
Certain information contained in this material is believed to be reliable; however, JPM does not represent or warrant its accuracy, reliability or completeness, or accept any liability for any loss or damage (whether direct or indirect) arising out of the use of all or any part of this material. No representation or warranty should be made with regard to any computations, graphs, tables, diagrams or commentary in this material, which are provided for illustration/reference purposes only. The views, opinions, estimates and strategies expressed in this material constitute our judgment based on current market conditions and are subject to change without notice. JPM assumes no duty to update any information in this material in the event that such information changes. Views, opinions, estimates and strategies expressed herein may differ from those expressed by other areas of JPM, views expressed for other purposes or in other contexts, and this material should not be regarded as a research report. Any projected results and risks are based solely on hypothetical examples cited, and actual results and risks will vary depending on specific circumstances. Forward-looking statements should not be considered as guarantees or predictions of future events.
Nothing in this document shall be construed as giving rise to any duty of care owed to, or advisory relationship with, you or any third party. Nothing in this document shall be regarded as an offer, solicitation, recommendation or advice (whether financial, accounting, legal, tax or other) given by J.P. Morgan and/or its officers or employees, irrespective of whether or not such communication was given at your request. J.P. Morgan and its affiliates and employees do not provide tax, legal or accounting advice. You should consult your own tax, legal and accounting advisors before engaging in any financial transactions.
IMPORTANT INFORMATION ABOUT YOUR INVESTMENTS AND POTENTIAL CONFLICTS OF INTEREST
Conflicts of interest will arise whenever JPMorgan Chase Bank, N.A. or any of its affiliates (together, "J.P. Morgan") have an actual or perceived economic or other incentive in its management of our clients' portfolios to act in a way that benefits J.P. Morgan. Conflicts will result, for example (to the extent the following activities are permitted in your account): (1) when J.P. Morgan invests in an investment product, such as a mutual fund, structured product, separately managed account or hedge fund issued or managed by JPMorgan Chase Bank, N.A. or an affiliate, such as J.P. Morgan Investment Management Inc.; (2) when a J.P. Morgan entity obtains services, including trade execution and trade clearing, from an affiliate; (3) when J.P. Morgan receives payment as a result of purchasing an investment product for a client's account; or (4) when J.P. Morgan receives payment for providing services (including shareholder servicing, recordkeeping or custody) with respect to investment products purchased for a client's portfolio. Other conflicts will result because of relationships that J.P. Morgan has with other clients or when J.P. Morgan acts for its own account.
Investment strategies are selected from both J.P. Morgan and third-party asset managers and are subject to a review process by our manager research teams. From this pool of strategies, our portfolio construction teams select those strategies we believe fit our asset allocation goals and forward-looking views in order to meet the portfolio's investment objective.
As a general matter, we prefer J.P. Morgan managed strategies. We expect the proportion of J.P. Morgan managed strategies will be high (in fact, up to 100 percent) in strategies such as cash and high-quality fixed income, subject to applicable law and any account-specific considerations.
While our internally managed strategies generally align well with our forward-looking views, and we are familiar with the investment processes as well as the risk and compliance philosophy of the firm, it is important to note that J.P. Morgan receives more overall fees when internally managed strategies are included. We offer the option of choosing to exclude J.P. Morgan managed strategies (other than cash and liquidity products) in certain portfolios.
The Six Circles Funds are U.S.-registered mutual funds managed by J.P. Morgan and sub-advised by third parties. Although considered internally managed strategies, JPMC does not retain a fee for fund management or other fund services.
LEGAL ENTITY, BRAND & REGULATORY INFORMATION
In the United States, bank deposit accounts and related services, such as checking, savings and bank lending, are offered by JPMorgan Chase Bank, N.A. Member FDIC.
JPMorgan Chase Bank, N.A. and its affiliates (collectively "JPMCB") offer investment products, which may include bank-managed investment accounts and custody, as part of its trust and fiduciary services. Other investment products and services, such as brokerage and advisory accounts, are offered through J.P. Morgan Securities LLC ("JPMS"), a member of FINRA and SIPC. Annuities are made available through Chase Insurance Agency, Inc. (CIA), a licensed insurance agency, doing business as Chase Insurance Agency Services, Inc. in Florida. JPMCB, JPMS and CIA are affiliated companies under the common control of JPMorgan Chase & Co. Products not available in all states.
eferences to "J.P. Morgan" are to JPM, its subsidiaries and affiliates worldwide. "J.P. Morgan Private Bank" is the brand name for the private banking business conducted by JPM.
This material is intended for your personal use and should not be circulated to or used by any other person, or duplicated for nonpersonal use, without our permission. If you have any questions or no longer wish to receive these communications, please contact your J.P. Morgan representative.
© 2020 JPMorgan Chase & Co. All rights reserved.
---