Investing
Will a "Phase 1" deal lead to a lasting trade peace?
No. This is all about soybeans.
---
A new round of high-level talks have finished following days of volatile news flows. China has agreed to purchase billions of agricultural products and not competitively devalue its currency, while the U.S. has halted upcoming planned tariff increases and lifted some sanctions. President Trump and Vice Premier Liu He shake hands in the Oval Office. We have a truce.
Sound familiar?
Because it is. In case any readers are counting, this is officially the third truce since the trade war started. The first one occurred back in January 2019 when both sides agreed on a 90-day "no additional tariff" period, which ended after April talks broke down. The second one was reached just before the G20 Summit in June when Xi and Trump met, and broke down 20 days later. Will this one be more successful? We're not holding our breath.
The answer lies in soybeans and pork
Market sentiment has improved on the "mini-deal," but if we take a closer look, neither side has made any meaningful concessions. The U.S. simply agreed to hold off on threatened tariff increases, yet all existing tariffs remain. The big win for the U.S. was a commitment by China to buy reportedly $40 to $50 billion of American agricultural products per year. On the surface it looks like a positive step, even a win for U.S. negotiators, but a look under the surface reveals that this is likely all about China's demand for soybeans. Viewed this way, it might actually be a shrewd deal for the Chinese. China needed to start importing large quantities of American soybeans, but also needed to do so without conceding "defeat." A negotiated "mini-deal" was the answer.This deal is a result of immediate economic necessity — China's need for soybeans and the U.S. desire to avoid hurting the consumer with future tariffs. Economic necessity will likely be the catalyst of any broader agreement, but beyond "Phase One" the issues are more structural in nature. As such, the important point remains that we don't view this as a meaningful step towards a comprehensive deal, but rather a short-term bargain.
Let us explain: China imports roughly $40 billion in soybeans a year as a crucial component in animal feed. It can't meet its needs through domestic production so it must import from other producers. To do this China turns to the U.S., Brazil, and Argentina, the three countries that dominate global soybean production. Together these countries account for nearly 100% of China's imports and 84% of total soybean consumption. However, soybean production is highly seasonal. Due to seasonal harvesting schedules China imports from the Northern Hemisphere (U.S.) roughly during the months from October to April, and the Southern Hemisphere (Brazil and Argentina) covers the others months from April to October. Together this North/South combination can meet China's year-round needs (see Exhibit 1).
Exhibit 1: China's soybean imports from major partners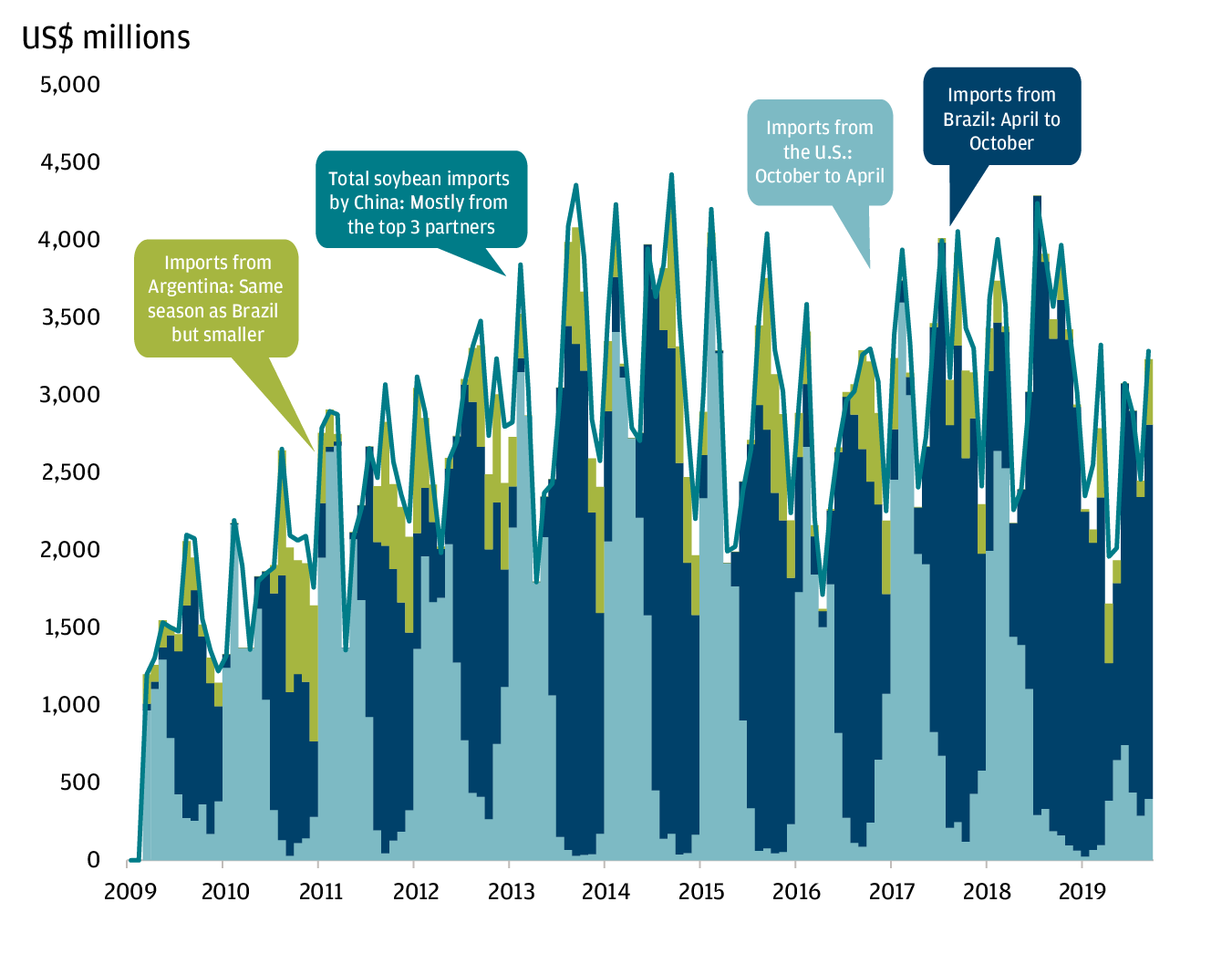 Source: China Customs, data is as of August 31, 2019.
A chart showing China's monthly soybean imports from major partners including Argentina, United States and Brazil from 2009 to 2019.
---
This gives the U.S. a near monopoly as the sole large producer during the North America harvesting season, more or less forcing China to buy from American farmers.
However, because Chinese tariffs made import prices prohibitively expensive for Chinese cattle farmers, China cut back on its purchases of U.S. soybeans (see chart), seeing imports from the U.S. fall 86% in 2018/2019 compared to 2016/2017.
To fill the gap, China has been purchasing much more from Brazil. And luckily for China, Brazil experienced a bumper crop last year allowing them to fill the gap left by American soybeans.

Exhibit 2: China's soybean imports from major partners II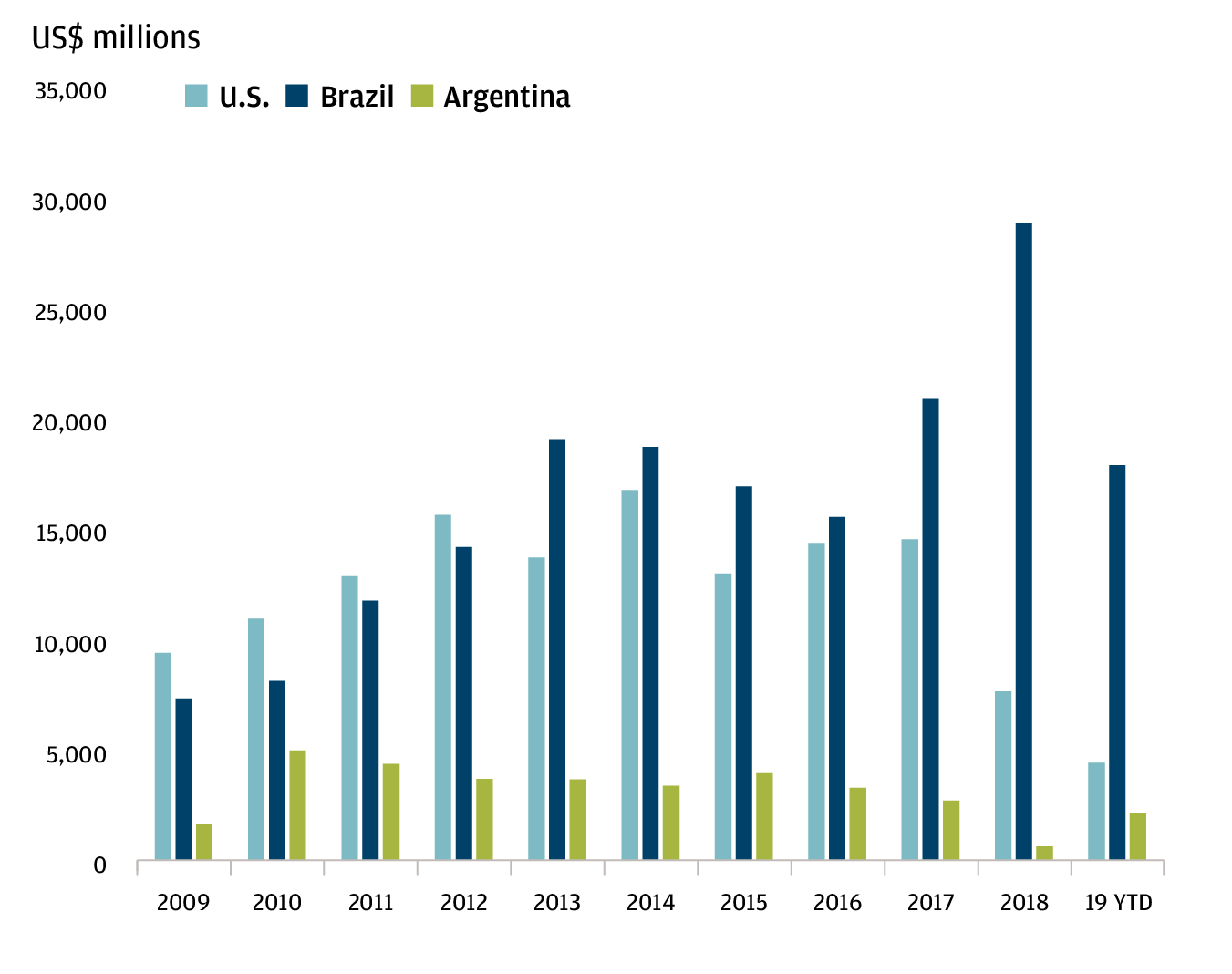 Source: China Customs, data is as of August 31, 2019.
A bar chart showing China's annual soybean imports from major partners including Argentina, United States and Brazil from 2009 to 2019.
---
However, after producing record volumes, Brazilian supplies are exhausted and the next harvest is still many months away. Brazil produced a record amount of soybeans in 2017/2018, which helped China weather the trade war, but drought problems are affecting current supply. Heading into prime U.S. soybean production season and with global inventories depleted, China does not have many options. It likely has to buy American.
Complicating matters further, pork prices in China have been skyrocketing in recent months due to the African swine flu outbreak. Since pork is a staple of the Chinese diet and a large component of consumer spending, broad consumer prices have been on the rise as well. Higher consumer prices complicate efforts to lower interest rates and stimulate the economy. Because soybeans are an important source of hog feed, higher soybean prices (because of tariffs) could further push up the price of pork to potentially destabilizing levels.
To summarize, China needs to import U.S. soybeans, but it needs cheap soybeans so as not to push up the price of the pork.

Exhibit 3: A combination of rising consumer prices and falling producer prices leaves both households and business in stress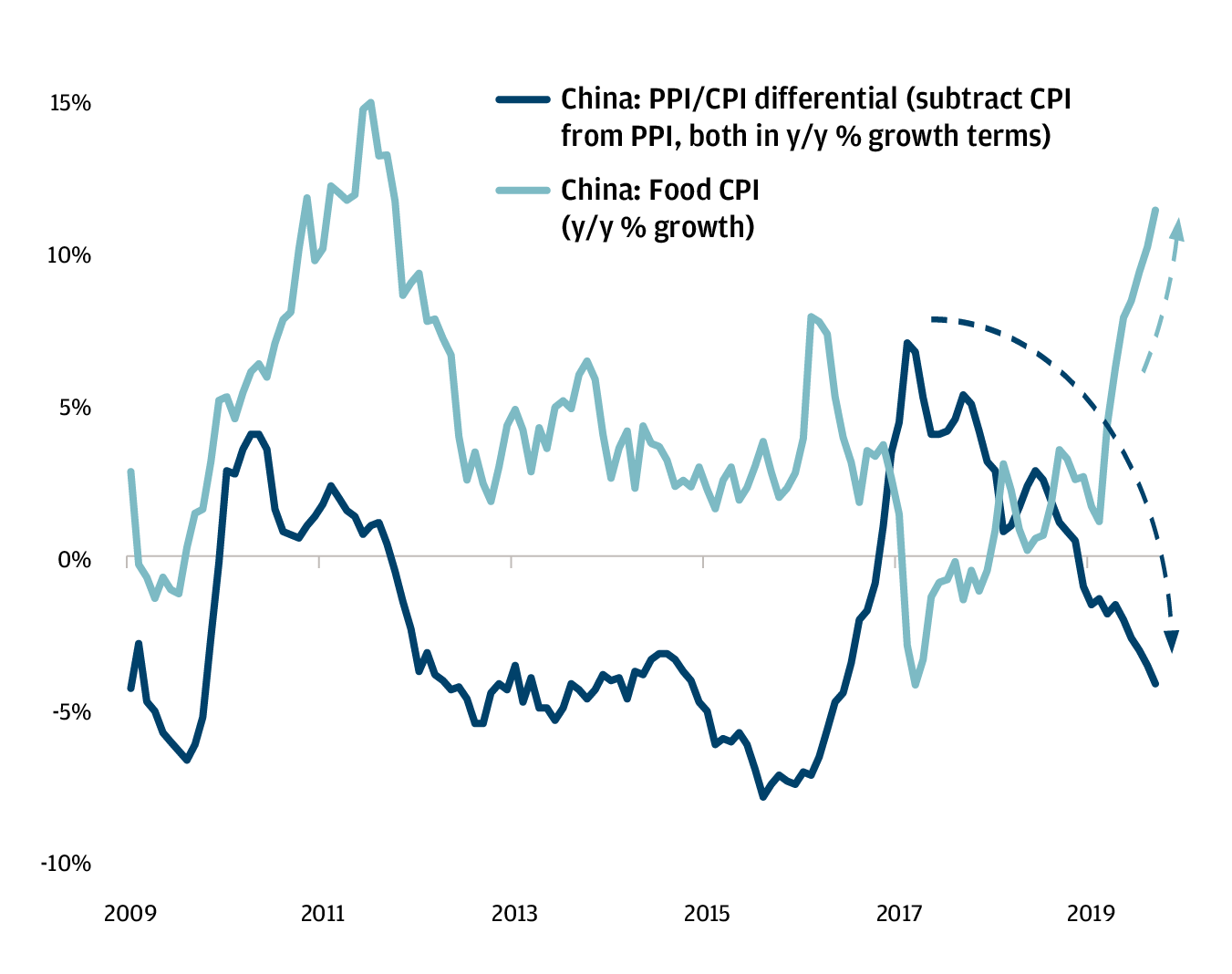 Source: China National Bureau of Statistics, data is as of September 30, 2019.
This left China with three options:
Its farmers could import American soybeans while the government continues to fight the trade war. If Chinese tariffs remain then Chinese farmers will be forced to buy at higher prices (or the government will have to purchase on their behalf). If the former, this could push up pork prices.
It could unilaterally remove tariffs or issue waivers. This allows farmers to buy at market rates but concedes "defeat" in the trade war, as they would lower the most damaging tariffs, gaining nothing in return from the U.S.
It can negotiate a "truce." Chinese negotiators can restart talks and offer an implausibly high import number in an attempt to convince U.S. negotiators to reduce tariffs on Chinese goods. This plan allows the Chinese to reduce their tariffs on soybeans, but not have it look like a concession or a defeat, instead it is a tit-for-tat reduction as part of "Phase 1."
We now know which option they chose. Given that China likely had to import U.S. soybeans anyway, using their purchases as leverage to negotiate a tit-for-tat tariff reduction allowed Beijing to remove their soybean tariffs (which they probably had to do anyway) but also help Chinese exporters through lower U.S. tariffs. Furthermore, the timing of this truce is not a coincidence. October is when China begins to rely on the U.S. harvest to satisfy its soybean needs, a large one-off purchase can satisfy demand until the next Brazilian harvest is ready. From this perspective, it looks like a smart negotiating tactic.
So how does this affect the long-term trade war outlook?
We maintain our base case of a stalemate between the two countries, expecting no further tariff escalation and no deal that significantly reduces tariffs. Because of the near-term need to import American soy and Trump's desire to avoid further tariffs that could hurt U.S. consumption, we are inclined to see this latest truce as a short-term maneuver to import a significant amount of soybeans without losing leverage. A truce or "first-phase" deal may mean little more than further delays to additional tariffs by the U.S., and China buying more U.S. agricultural products. In other words, a continuation of the status quo.
For this reason, we don't see this Phase 1 agreement leading to a more substantial comprehensive agreement. Economic pressures still incentivize a deal, but the broader interests of both countries are in opposition, not alignment. The situation is highly unpredictable, but the one certainty in our view is that U.S.-China tensions are on an inexorable rise, and the only certainty is higher volatility as the stresses of "decoupling" become more apparent.
Important Information
This material is for information purposes only, and may inform you of certain products and services offered by J.P. Morgan's wealth management businesses, part of JPMorgan Chase & Co. ("JPM"). Please read all Important Information.
GENERAL RISKS & CONSIDERATIONS
Any views, strategies or products discussed in this material may not be appropriate for all individuals and are subject to risks. Investors may get back less than they invested, and past performance is not a reliable indicator of future results. Asset allocation/diversification does not guarantee a profit or protect against loss. Nothing in this material should be relied upon in isolation for the purpose of making an investment decision. You are urged to consider carefully whether the services, products, asset classes (e.g. equities, fixed income, alternative investments, commodities, etc.) or strategies discussed are suitable to your needs. You must also consider the objectives, risks, charges, and expenses associated with an investment service, product or strategy prior to making an investment decision. For this and more complete information, including discussion of your goals/situation, contact your J.P. Morgan representative.

NON-RELIANCE
Certain information contained in this material is believed to be reliable; however, JPM does not represent or warrant its accuracy, reliability or completeness, or accept any liability for any loss or damage (whether direct or indirect) arising out of the use of all or any part of this material. No representation or warranty should be made with regard to any computations, graphs, tables, diagrams or commentary in this material, which are provided for illustration/reference purposes only. The views, opinions, estimates and strategies expressed in this material constitute our judgment based on current market conditions and are subject to change without notice. JPM assumes no duty to update any information in this material in the event that such information changes. Views, opinions, estimates and strategies expressed herein may differ from those expressed by other areas of JPM, views expressed for other purposes or in other contexts, and this material should not be regarded as a research report. Any projected results and risks are based solely on hypothetical examples cited, and actual results and risks will vary depending on specific circumstances. Forward-looking statements should not be considered as guarantees or predictions of future events.

Nothing in this document shall be construed as giving rise to any duty of care owed to, or advisory relationship with, you or any third party. Nothing in this document shall be regarded as an offer, solicitation, recommendation or advice (whether financial, accounting, legal, tax or other) given by J.P. Morgan and/or its officers or employees, irrespective of whether or not such communication was given at your request. J.P. Morgan and its affiliates and employees do not provide tax, legal or accounting advice. You should consult your own tax, legal and accounting advisors before engaging in any financial transactions.
LEGAL ENTITY, BRAND & REGULATORY INFORMATION
In the United States, bank deposit accounts and related services, such as checking, savings and bank lending, are offered by JPMorgan Chase Bank, N.A. Member FDIC.

JPMorgan Chase Bank, N.A. and its affiliates (collectively "JPMCB") offer investment products, which may include bank-managed investment accounts and custody, as part of its trust and fiduciary services. Other investment products and services, such as brokerage and advisory accounts, are offered through J.P. Morgan Securities LLC ("JPMS"), a member of FINRA and SIPC. Annuities are made available through Chase Insurance Agency, Inc. (CIA), a licensed insurance agency, doing business as Chase Insurance Agency Services, Inc. in Florida. JPMCB, JPMS and CIA are affiliated companies under the common control of JPMorgan Chase & Co. Products not available in all states.
References to "J.P. Morgan" are to JPM, its subsidiaries and affiliates worldwide. "J.P. Morgan Private Bank" is the brand name for the private banking business conducted by JPM.
This material is intended for your personal use and should not be circulated to or used by any other person, or duplicated for non-personal use, without our permission. If you have any questions or no longer wish to receive these communications, please contact your J.P. Morgan representative.
© 2019 JPMorgan Chase & Co. All rights reserved.