Investing
What a difference a quarter makes
The world looks and feels very different now than it did at the start of the year. To further contextualize how different today feels from three months ago, we put together five charts we feel compare "then" and "now."
---
Our Top Market Takeaways for April 1, 2020.
Spotlight
What a difference a quarter makes
We entered this year riding the coattails of the longest economic expansion on record. The risks of Fed tightening, the U.S.-China trade war and a global manufacturing slowdown had abated by the end of 2019, and global equities saw their best year since 2013. This year seemed to be well positioned for continued economic growth—albeit slower than in years past (we were still late cycle, after all).
The outlook wasn't entirely rosy—we expected wild cards ahead, like the upcoming U.S. presidential election or a potential re-escalation of U.S.-China trade tensions. However, no one anticipated a global pandemic, or that it would bring forth severe market turmoil and liquidity issues, unprecedented policy action from central bankers and governments, the lowest interest rates on record, and an imminent recession. The question now seems to be not if a recession is on the horizon, but how long one will last.
Yesterday marked the end of the first quarter, and it was characterized by both all-time highs for stocks and the fastest selloff on record. We'd highlight a few notable moves:
Safe havens were a hot spot. U.S. Treasuries (+8.2%) and Gold (+4.2%) rallied, while all major global equity indices sank. The Stoxx Europe 600 (-22.5%) had its worst quarter since 2002, and the S&P 500 (-19.6%) and Japan's TOPIX (-17.5%) had their toughest quarters since 2008.
We saw the wildest swings on record. March alone saw the S&P 500 move 5% on average daily, far outstripping November 1929's record of 3.9%.
All S&P 500 sectors were in the red. Technology (-11.9%), along with more defensive sectors like Healthcare (-12.7%), Consumer Staples (-12.7%) and Utilities (-13.5%), broadly outperformed, albeit still in the red by double digits. The biggest losers were Energy (-50.5%) and Financials (-31.9%), with the former plagued by the crude's worst quarter in history, and the latter by record-low interest rates and unexpected credit stresses.
Credit spreads widened to levels not seen since 2008. Both U.S. investment grade and high yield spreads over Treasuries widened to levels not seen since the Global Financial Crisis (GFC), only to later notch historically notable recoveries.
To further contextualize how different today really feels from three months ago, we put together five charts we feel compare "then and now." We hope you find them insightful.
1. The recession flag is waving
Then: Coming into the year, investor sentiment was buzzing. Stock prices had soared globally in 2019, propelled higher on the back of substantial multiple expansion. Valuations across asset classes were well above historical averages, and in many cases looked full. Equities were still preferred over bonds, as suppressed yields skewed the tradeoff in stocks' favor.
Now: As the COVID-19 pandemic hit headlines, stocks sold off and bond spreads blew out. As a result, valuations plummeted. Markets have come off their lows from last week, but still remain well below the levels before the crisis emerged. With valuations now below historical levels in both equities and fixed income, opportunities appear to be emerging.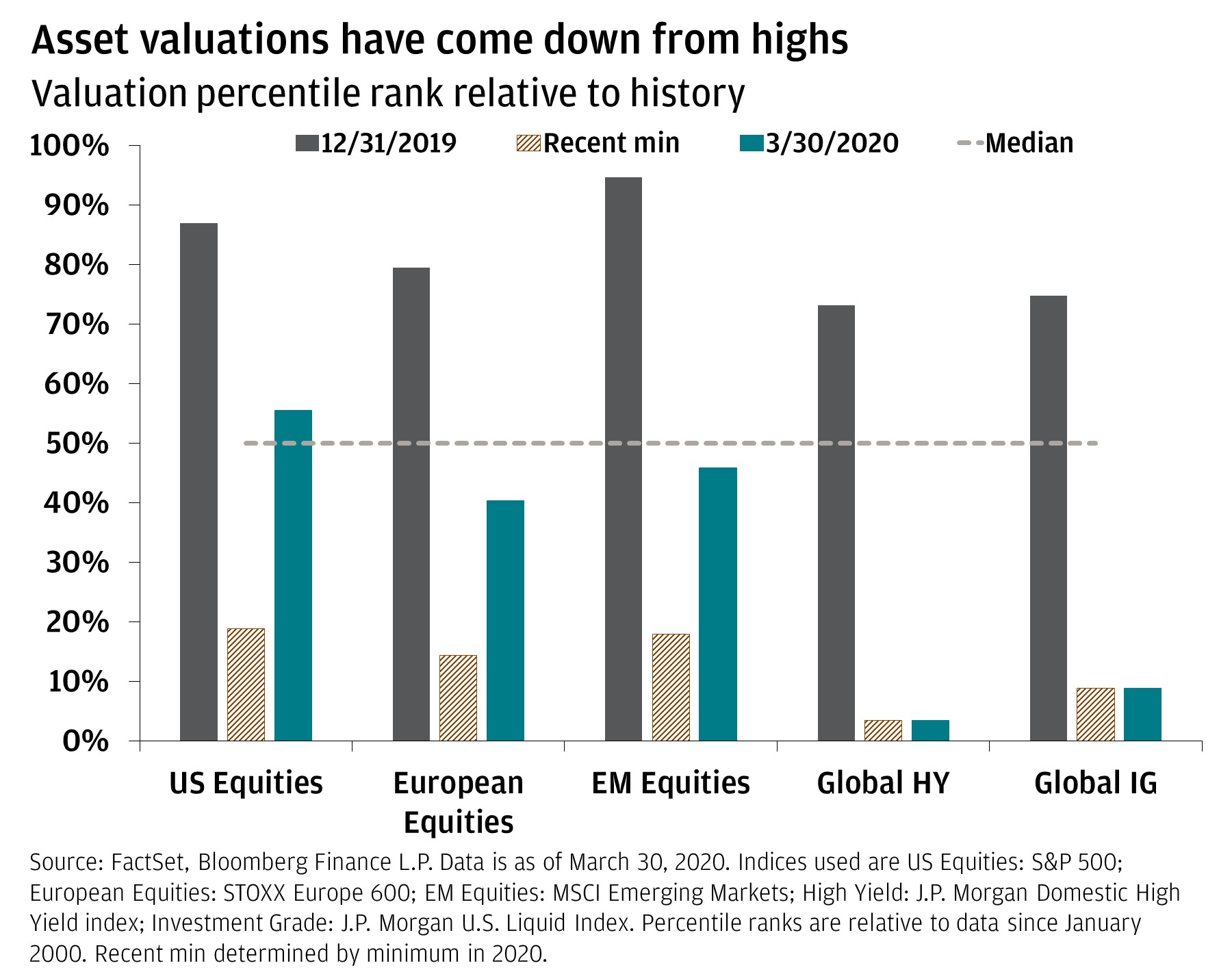 The bar chart shows the valuation percentile rank relative to history for 12/31/2019, 3/30/2020, and the recent minimum for U.S. equities, European equities, EM equities, Global HY, and Global IG. It shows that asset valuations are down from highs.
2. The Fed's turn for "whatever it takes"
Then: Throughout 2019, the Fed had quickly shifted its policy from restrictive to accommodative. Following nine hikes over the prior few years, the Fed pivoted to cut rates three times in 2019. Its biggest concern at the time seemed to be extending the length of the economic cycle and incentivizing stubbornly low inflation. At the start of the year, the Fed seemed to be back in "wait and see" mode—ready to act if needed and maintaining a "data dependent" approach.
Now: When the COVID-19 crisis unfolded, the Fed quickly sprang into action, much to the surprise of investors and other policymakers. The Fed cut interest rates 150 basis points in a two-week timeframe—the fastest and largest magnitude in the U.S. central bank's history. Additionally, the Fed dusted off a handful of GFC-era facilities (and created some new ones) to ease financial conditions and allow credit to flow to the real economy.
Even with all the measures taken, it doesn't look like the Fed is anywhere close to finished when it comes to providing liquidity and lending support to the economy. Chair Jay Powell made it clear that the Fed will continue to be creative and aggressive in doing whatever it takes to keep the wheels of the economic machine turning. This includes restarting Quantitative Easing, supporting money market funds, and lending directly to corporations for the first time.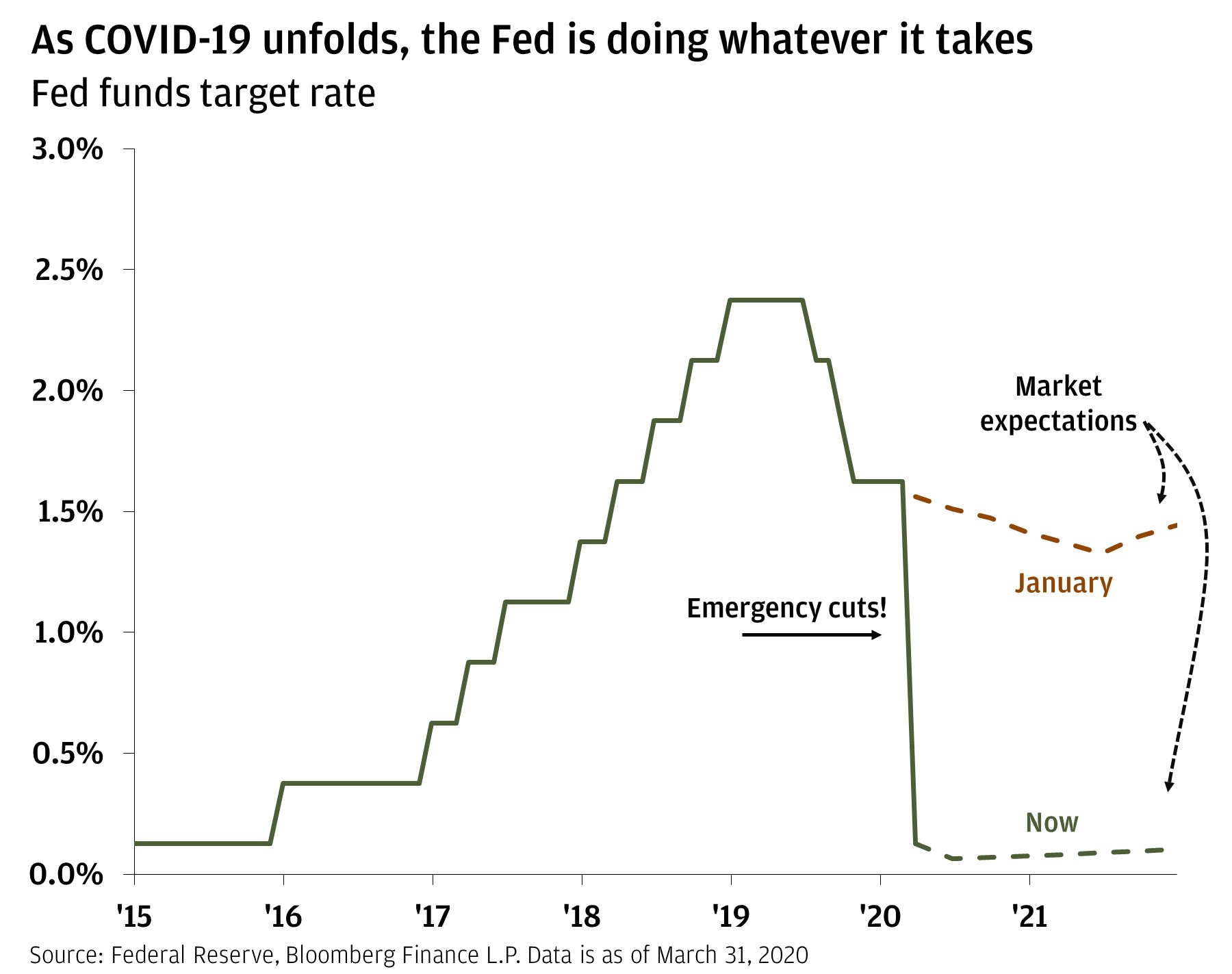 The line chart shows the fed funds target rate from 2015 through March 31, 2020. It shows the emergency cuts the Fed made.
3. When the world stops turning
Then: The world was turning, trade was unimpeded, and travel was unrestricted. Only a small handful of cases of COVID-19 were known. With the holiday season in swing at the time and no major signs that the virus would erupt into a global pandemic, life carried on as usual.
Now: Travel bans and containment strategies have, in many ways, halted normal day-to-day activities. The global marketplace is now a fraction of what it was. And as the first country to suffer an outbreak, China has served as a template for other economies. The path of how quickly consumers and businesses can snap back from the outbreak could be telling for the depth and the duration of not only China's slowdown, but the global economy's. That said, the severity of the containment measures put in place vary widely across countries, and China's relatively swift containment of the outbreak may not be replicated in other countries.
In China, some activity is already starting to come back online, but overall still remains very weak relative to its trend. We took a look across a variety of indicators that reflect daily life—traffic, home sales, clothing purchases, subway riders, car sales and the like all plummeted in China as the depth of the outbreak hit. But as new infections in the country have nearly stalled and production has come back online, economic activity has come back into motion—but notably, in rolling year-on-year growth terms, it still remains very weak.
For comparison, London, Milan and New York City are all operating at around 10%–20% of their average traffic congestion levels during peak times. King's Cross and Grand Central Station remain eerily quiet.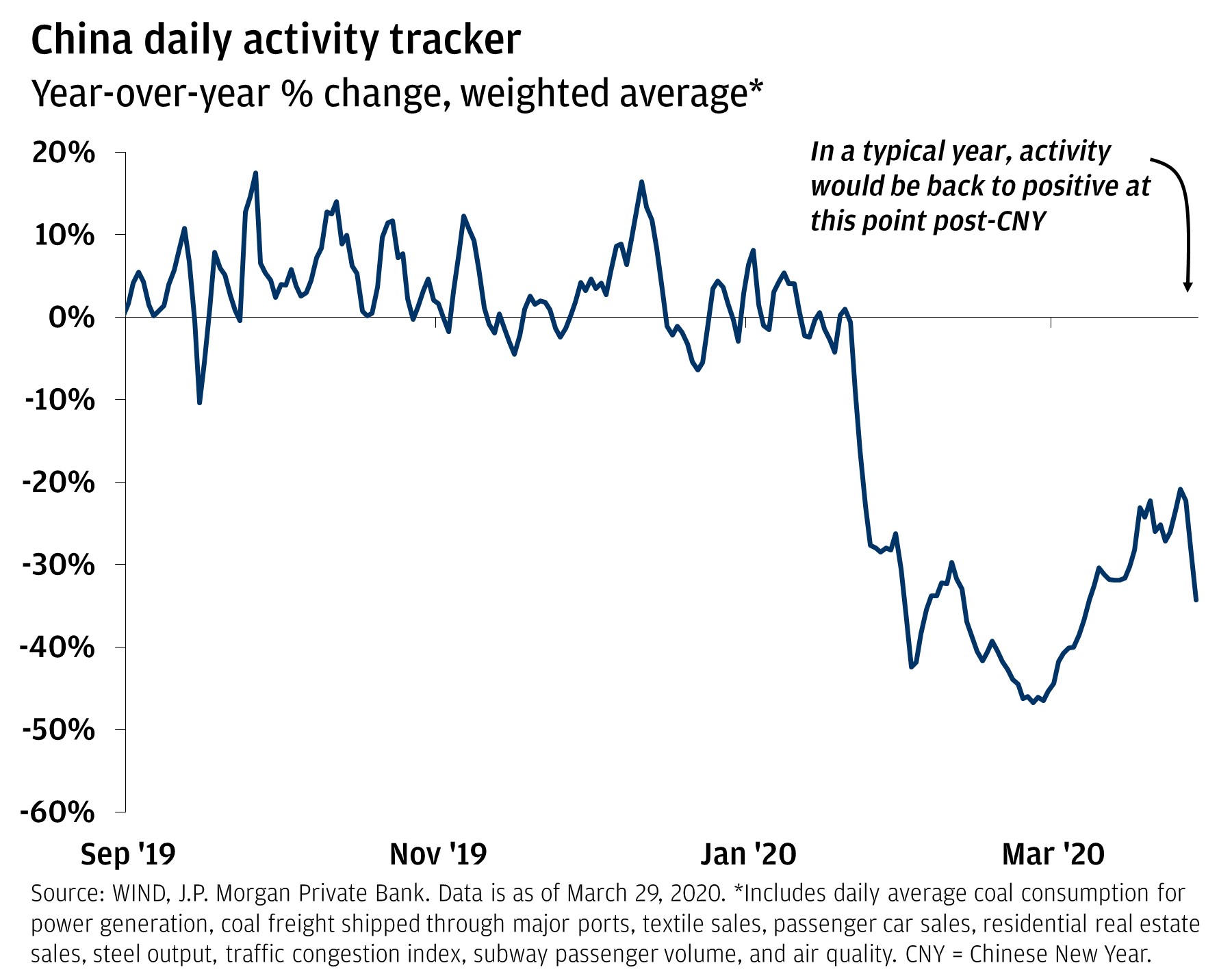 The line chart shows the year-over-year % change as a weighted average of China's daily activity tracker. It shows activity from September 2019 through March 29, 2020, and shows that levels have been under 0% since January 2020.
4. A two-man race has emerged
Then: The landscape for the potential Democratic nominee was a crowded one at the start of the year, and from what appeared to be dramatically different schools of thought and policy proposals. Prediction markets implied that former Vice President Biden had just regained an edge on the other candidates and had a 38% chance of securing the nomination, but Senator Sanders (25%), Senator Warren (12%), Mayor Buttigieg (13%) and Mayor Bloomberg (8%) all still had strong campaigns underway. Over the last few months, the number of candidates has dwindled down to two, leaving Vice President Biden and Senator Sanders standing alone.
Now: While Sanders started hot out of the gate early on in the U.S. primary season, Biden made a comeback following Super Tuesday and has led in the polls for the nomination since. Prediction markets now place Biden at a 79% chance of winning the Democratic nomination and a 42% chance of winning the U.S. presidency. While politicking seems to have taken a backseat amid the global pandemic, President Trump's and the eventual Democratic nominee's reactions to the crisis will be of particular note as the election draws closer. We expect the election to spring back into headlines in the months to come.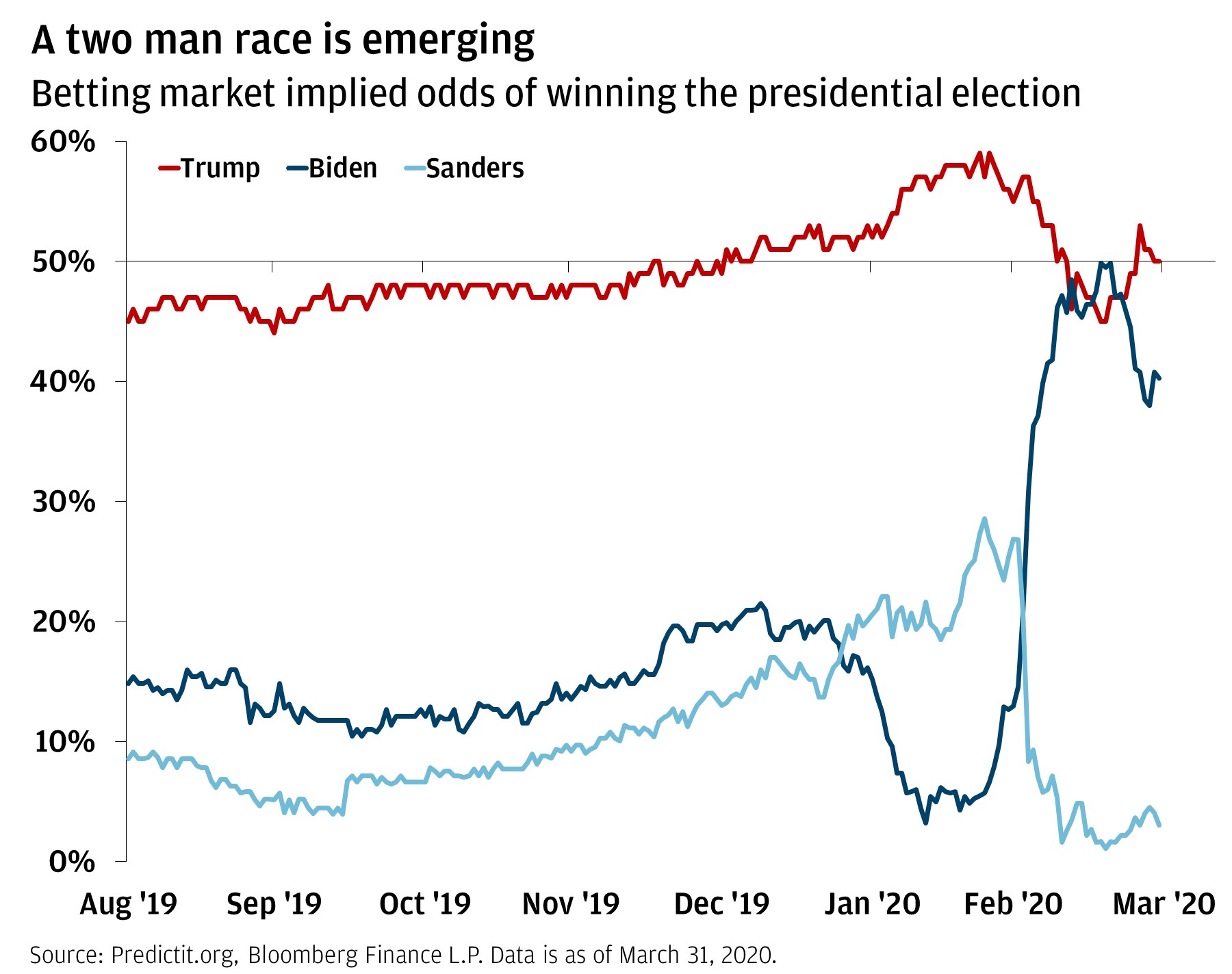 The line chart shows the betting market implied odds of Trump, Biden or Sanders winning the U.S. election from August 2019 through March 31, 2020. It shows that Sanders's odds have drastically decreased, and currently Trump has the highest odds of winning.
5. A new cycle begins
Then: The expansion that began from the depths of the Global Financial Crisis was not only notable for its length, but also for its accomplishments—during that time, the U.S. economy added 22 million jobs, global stocks gained 260%, and unemployment sank to record lows (at 3.5% at its last reading). Importantly, the crisis that gave way to this expansion began as an imbalance in the financial system (household and corporate leverage), later infiltrating the real economy.
Now: All cycles must come to an end. And when one cycle ends, a new one begins. As the economic data starts to roll in to evaluate the first quarter of this year, it's very likely we'll be saying goodbye to the 11-year economic expansion and entering the start of a new cycle.
By comparison, this crisis has begun with a sudden stop in the real economy and worked its way into financial markets. The full scale of the economic impact of the COVID-19 outbreak remains nebulous, but the data so far has been unprecedented—namely, the lowest business surveys and highest claims for unemployment on record. We don't know exactly when growth will trough (it's likely to get worse before it gets better), or how long it will take to fully recover, but we do think the world will be in a better place a year from now.
We'll end on this point: Economic cycles tend to be marked by long summers and short winters—historically, the time spent in expansion has far exceeded the time in recession. While there are undoubtedly tough times ahead, perspective is key. And, given the nature of this crisis and the speed of economic and policy reaction, it's also possible that this recession—while it looks likely to be severe—could be short-lived.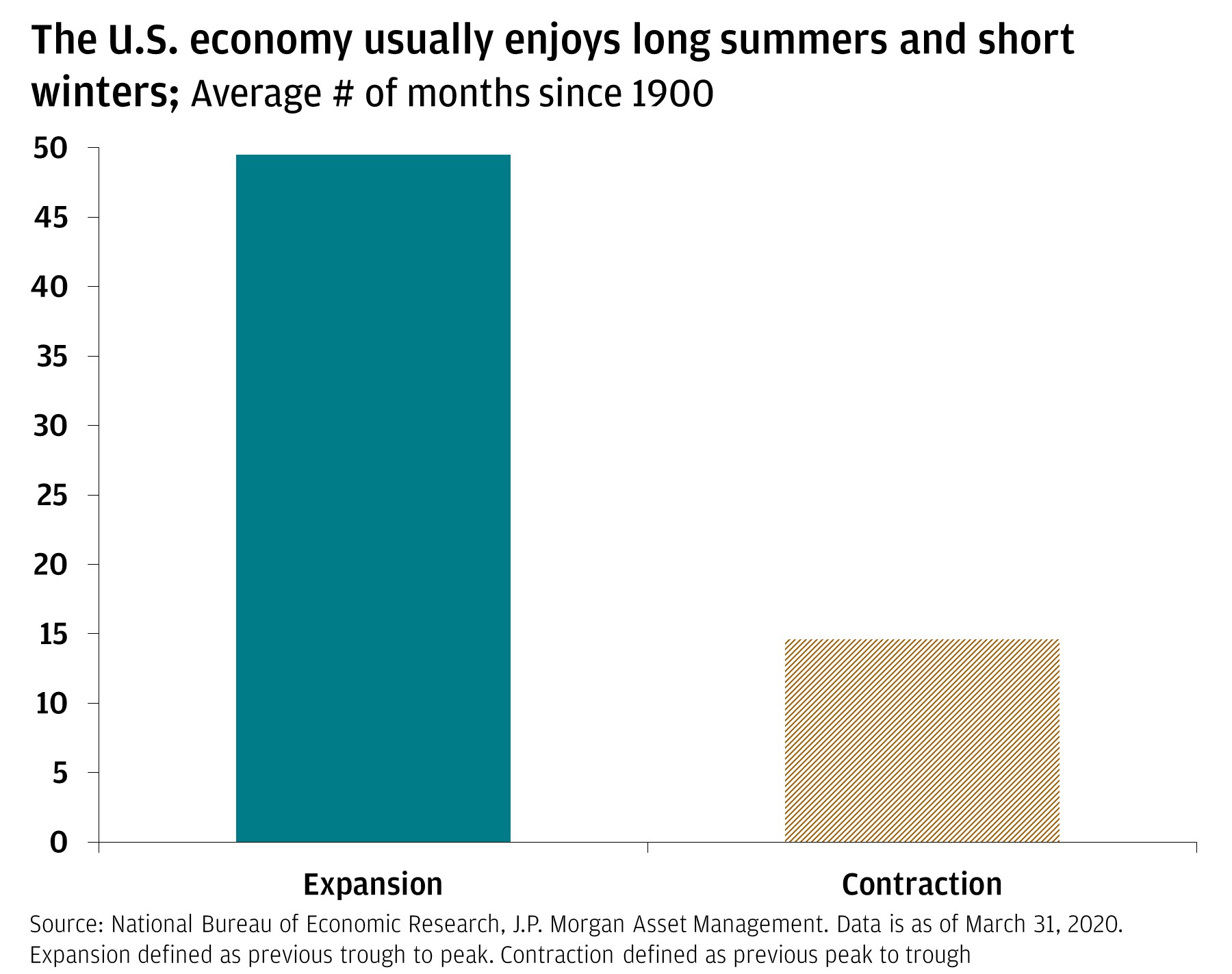 The bar chart shows the average number of months since 1900 the U.S. economy has spent in expansion versus contraction, and it shows that the U.S. economy spends a far greater number of months in expansion.
All market and economic data as of April 2020 and sourced from Bloomberg, FactSet and Gavekal unless otherwise stated.
We believe the information contained in this material to be reliable but do not warrant its accuracy or completeness. Opinions, estimates, and investment strategies and views expressed in this document constitute our judgment based on current market conditions and are subject to change without notice.
RISK CONSIDERATIONS
Past performance is not indicative of future results. You may not invest directly in an index.
The prices and rates of return are indicative, as they may vary over time based on market conditions.
Additional risk considerations exist for all strategies.
The information provided herein is not intended as a recommendation of or an offer or solicitation to purchase or sell any investment product or service.
Opinions expressed herein may differ from the opinions expressed by other areas of J.P. Morgan. This material should not be regarded as investment research or a J.P. Morgan investment research report.
Important Information
All companies referenced are shown for illustrative purposes only, and are not intended as a recommendation or endorsement by J.P. Morgan in this context.
All market and economic data as of April 2020 and sourced from Bloomberg, FactSet and Gavekal unless otherwise stated.
The information presented is not intended to be making value judgments on the preferred outcome of any government decision.
This material is for informational purposes only, and may inform you of certain products and services offered by
J.P. Morgan's wealth management businesses, part of JPMorgan Chase & Co. ("JPM"). Please read all Important Information.
The MSCI China Index captures large- and mid-cap representation across China H shares, B shares, Red chips, P chips and foreign listings (e.g., ADRs). With 459 constituents, the index covers about 85% of this China equity universe. Currently, the index also includes Large Cap A shares represented at 5% of their free float adjusted market capitalization.
The Standard and Poor's 500 Index is a capitalization-weighted index of 500 stocks. The index is designed to measure performance of the broad domestic economy through changes in the aggregate market value of 500 stocks representing all major industries. The index was developed with a base level of 10 for the 1941–43 base period.
The STOXX Europe 600 Index tracks 600 publicly traded companies based in one of 18 EU countries. The index includes small-cap, medium-cap and large-cap companies. The countries represented in the index are Austria, Belgium, Denmark, Finland, France, Germany, Greece, Holland, Iceland, Ireland, Italy, Luxembourg, Norway, Portugal, Spain, Sweden, Switzerland and the United Kingdom.
This material is for informational purposes only, and may inform you of certain products and services offered by
J.P. Morgan's wealth management businesses, part of JPMorgan Chase & Co. ("JPM"). Please read all Important Information.
GENERAL RISKS & CONSIDERATIONS
Any views, strategies or products discussed in this material may not be appropriate for all individuals and are subject to risks. Investors may get back less than they invested, and past performance is not a reliable indicator of future results. Asset allocation does not guarantee a profit or protect against loss. Nothing in this material should be relied upon in isolation for the purpose of making an investment decision. You are urged to consider carefully whether the services, products, asset classes (e.g., equities, fixed income, alternative investments, commodities, etc.) or strategies discussed are suitable to your needs. You must also consider the objectives, risks, charges, and expenses associated with an investment service, product or strategy prior to making an investment decision. For this and more complete information, including discussion of your goals/situation, contact your J.P. Morgan representative.
NON-RELIANCE
Certain information contained in this material is believed to be reliable; however, JPM does not represent or warrant its accuracy, reliability or completeness, or accept any liability for any loss or damage (whether direct or indirect) arising out of the use of all or any part of this material. No representation or warranty should be made with regard to any computations, graphs, tables, diagrams or commentary in this material, which are provided for illustration/reference purposes only. The views, opinions, estimates and strategies expressed in this material constitute our judgment based on current market conditions and are subject to change without notice. JPM assumes no duty to update any information in this material in the event that such information changes. Views, opinions, estimates and strategies expressed herein may differ from those expressed by other areas of JPM, views expressed for other purposes or in other contexts, and this material should not be regarded as a research report. Any projected results and risks are based solely on hypothetical examples cited, and actual results and risks will vary depending on specific circumstances. Forward-looking statements should not be considered as guarantees or predictions of future events.
Nothing in this document shall be construed as giving rise to any duty of care owed to, or advisory relationship with, you or any third party. Nothing in this document shall be regarded as an offer, solicitation, recommendation or advice (whether financial, accounting, legal, tax or other) given by J.P. Morgan and/or its officers or employees, irrespective of whether or not such communication was given at your request. J.P. Morgan and its affiliates and employees do not provide tax, legal or accounting advice. You should consult your own tax, legal and accounting advisors before engaging in any financial transactions.
IMPORTANT INFORMATION ABOUT YOUR INVESTMENTS AND POTENTIAL CONFLICTS OF INTEREST
Conflicts of interest will arise whenever JPMorgan Chase Bank, N.A. or any of its affiliates (together, "J.P. Morgan") have an actual or perceived economic or other incentive in its management of our clients' portfolios to act in a way that benefits J.P. Morgan. Conflicts will result, for example (to the extent the following activities are permitted in your account): (1) when J.P. Morgan invests in an investment product, such as a mutual fund, structured product, separately managed account or hedge fund issued or managed by JPMorgan Chase Bank, N.A. or an affiliate, such as J.P. Morgan Investment Management Inc.; (2) when a J.P. Morgan entity obtains services, including trade execution and trade clearing, from an affiliate; (3) when J.P. Morgan receives payment as a result of purchasing an investment product for a client's account; or (4) when J.P. Morgan receives payment for providing services (including shareholder servicing, recordkeeping or custody) with respect to investment products purchased for a client's portfolio. Other conflicts will result because of relationships that J.P. Morgan has with other clients or when J.P. Morgan acts for its own account.
Investment strategies are selected from both J.P. Morgan and third-party asset managers and are subject to a review process by our manager research teams. From this pool of strategies, our portfolio construction teams select those strategies we believe fit our asset allocation goals and forward-looking views in order to meet the portfolio's investment objective.
As a general matter, we prefer J.P. Morgan managed strategies. We expect the proportion of J.P. Morgan managed strategies will be high (in fact, up to 100 percent) in strategies such as cash and high-quality fixed income, subject to applicable law and any account-specific considerations.
While our internally managed strategies generally align well with our forward-looking views, and we are familiar with the investment processes as well as the risk and compliance philosophy of the firm, it is important to note that
J.P. Morgan receives more overall fees when internally managed strategies are included. We offer the option of choosing to exclude J.P. Morgan managed strategies (other than cash and liquidity products) in certain portfolios.
The Six Circles Funds are U.S.-registered mutual funds managed by J.P. Morgan and sub-advised by third parties. Although considered internally managed strategies, JPMC does not retain a fee for fund management or other fund services.
LEGAL ENTITY, BRAND & REGULATORY INFORMATION
In the United States, bank deposit accounts and related services, such as checking, savings and bank lending, are offered by JPMorgan Chase Bank, N.A. Member FDIC.
JPMorgan Chase Bank, N.A. and its affiliates (collectively "JPMCB") offer investment products, which may include bank-managed investment accounts and custody, as part of its trust and fiduciary services. Other investment products and services, such as brokerage and advisory accounts, are offered through J.P. Morgan Securities LLC ("JPMS"), a member of FINRA and SIPC. Annuities are made available through Chase Insurance Agency, Inc. (CIA), a licensed insurance agency, doing business as Chase Insurance Agency Services, Inc. in Florida. JPMCB, JPMS and CIA are affiliated companies under the common control of JPMorgan Chase & Co. Products not available in all states.
References to "J.P. Morgan" are to JPM, its subsidiaries and affiliates worldwide. "J.P. Morgan Private Bank" is the brand name for the private banking business conducted by JPM.
This material is intended for your personal use and should not be circulated to or used by any other person, or duplicated for nonpersonal use, without our permission. If you have any questions or no longer wish to receive these communications, please contact your J.P. Morgan representative.
© 2020 JPMorgan Chase & Co. All rights reserved.